How 'Masafet El Sekka' Takes Us on a Ride Through Cairo's Streets
Featuring 18 Cairo-based artists, the 'Masafet El Sekka' exhibition takes its visitors through a reimagined Cairo.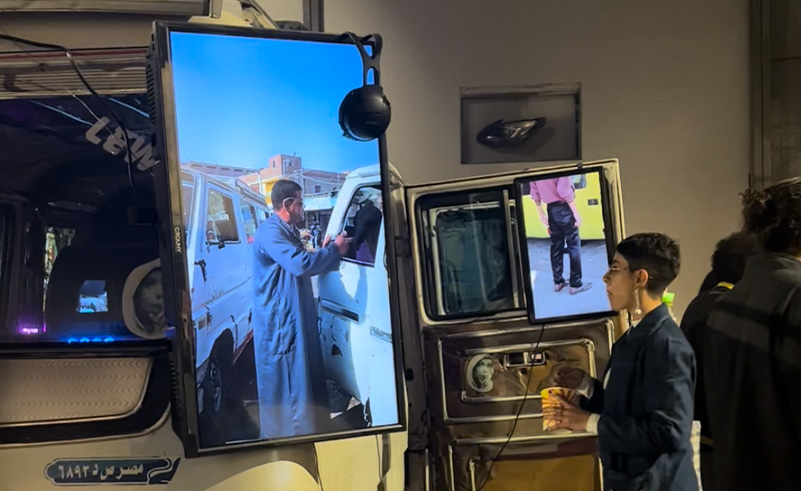 Amidst an ever-changing urban landscape, a group of Cairo-based artists experimented with the city's loud visual culture in 'Masafet El Sekka', an exhibition currently taking place at The Hanger in Downtown Cairo until March 6th.
Featuring the works of 18 artists from various disciplines, the exhibition is curated by Nour Fakharany, who sought to step outside of traditional mediums and invite visitors to not just reflect, but play as well. "This was an especially interesting exhibition because each piece was created specifically for this concept," El Fakharany tells CairoScene. "This truly brought the entire exhibition to life."
With intimacy woven and hidden into a saturated urban landscape, the exhibition's name - which translates to a colloquial version of 'on my way' - examines the persona ascribed to Egypt's most popular mode of transportation: the car.
"The car has become a piece of civic space that the pedestrian can enjoy, a private space in an inherently public setting," El Fakharany says. "I wanted this connection, which everyone already feels, to feel exaggerated and accessible because it truly can be."
From virtual reality, to pieces that simulate traffic, and stickers of street icons hanging on the gallery walls, the exhibition spotlights oft-overlooked elements of our everyday life.