'The Legend: Farouk Ibrahim' Exhibit is a Window Into Egyptian History
The exhibition is a celebration of late photojournalist Farouk Ibrahim's legacy throughout Egypt's most momentous events.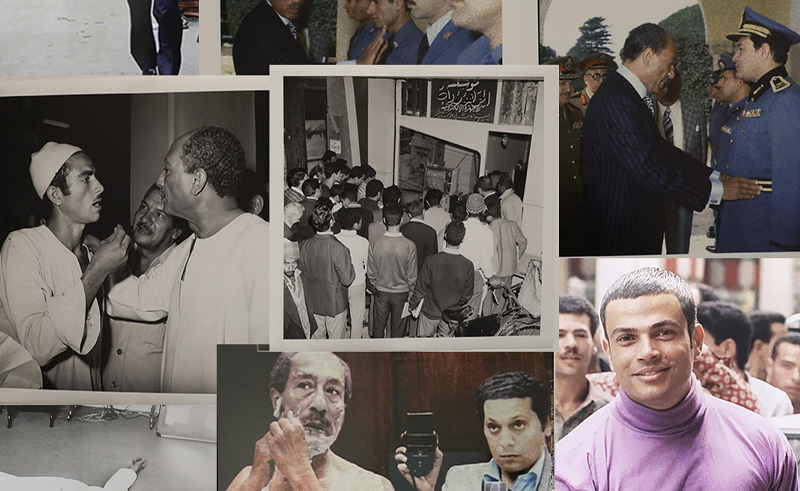 The late Farouk Ibrahim was often referred to as a masterful photojournalist, a hacker who found himself in all the right rooms with all the right people witnessing and creating history with one click on a camera from 1952 to 2011. In honour of his momentous career, his son - photojournalist Karim Farouk Ibrahim - and art curator Nadia Mounir displayed his archive with an exhibition titled 'Farouk Ibrahim: The Legend', which ran during Cairo Photo Week at Downtown Cairo's Access Art Space.
After spending five months re-living his father's remarkable journey through an archive of negative film, getting to know him all over again and discovering new aspects of his craft, Karim Ibrahim Farouk sought to cover the gallery walls with his father's legacy.
"I wanted people to walk out of the exhibition admiring the photographer, the source of the subjects," Ibrahim tells #CairoScene, "I tried to escape the usual persona ascribed to prominent figures, Umm Koulthoum's picture where she appears anxious for example, the journalistic lens would choose to display a more composed or 'powerful' photo of her, but that wasn't my intention." Mounir adds.
The Downtown Cairo exhibition has attracted crowds of visitors since its opening, with the gallery extending past its opening hours to welcome curious guests in. Due to its popularity, the closing date of the exhibition was extended from February 18th to February 28th. We visited the exhibition and spoke with Karim Farouk Ibrahim, where Ibrahim delved deep into the process of rediscovering his father's archive, his desire to honour his legacy, and his low-key jealousy of the camera constantly occupying their family car's front seat.
Farouk Ibrahim's career began as a 12-year-old boy, standing next to a newsstand where he demanded recognition and credit for his published front-page image, which captured the tragedy of the Cairo Fire in 1952. Later, Ibrahim found himself in the dark room of the 'El Masry' newspaper as a punishment from his mother. Upon seeing Egyptian actress Faten Hamama's photos hanging there, he fell in love with the medium and the job - eventually coming into close contact as a photographer with some of Egypt's most famous figures, including Faten Hamama herself.
His experimental work with iconic Egyptian artists reflected his talent to capture these prolific faces in a new light. With a career spanning six decades - from the 1952 revolution to the 6th of October War, and his last photograph in the heart of the Tahrir Square during the 2011 revolution - Ibrahim's photos are a window into Egyptian history.