How Women Are Closing the Gender Gap in MENA's Tech Ecosystem
Whether through inclusivity programmes or by eliminating barriers, these tech pioneers are changing the industry for other women.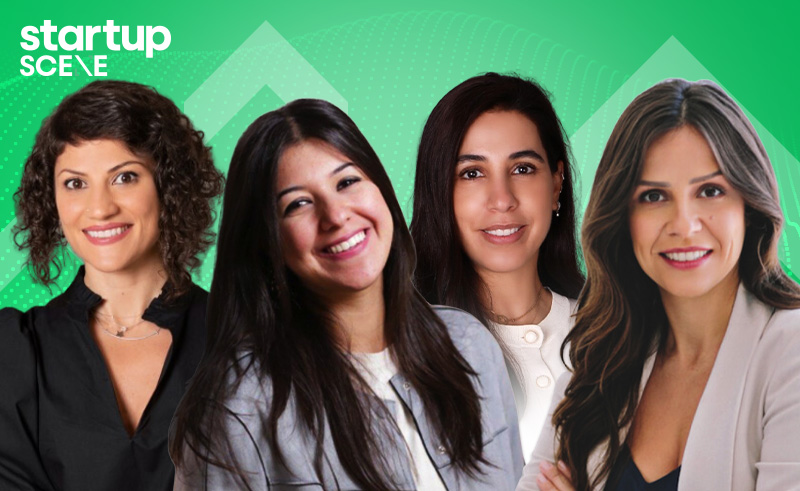 When Egyptian entrepreneur Nadia Gamal El Din launched her tech startup Rahet Bally in 2015, she never thought that it would turn into a full-fledged business. Reaching 74 million women every month across the MENA region, she leveraged the power of technology to kickstart and grow the motherhood platform. It was through her startup journey that she became a leading woman in tech entrepreneurship in the region, and an ambassador for Women in Tech Global, a platform that promotes gender equity in tech.
"I didn't anticipate that Rahet Bally was going to turn into a business. When I first launched it, I passionately did it to support mothers," Nadia Gamal El Din, Founder and CEO of Rahet Bally, tells StartupScene. "As it grew, I capitalized on technology to deliver all our services through our hybrid experience."
El Din is one of a growing number of female tech entrepreneurs. In the MENA's tech ecosystem, about 34% of entrepreneurs are women; a rate which is believed to be much higher than in Silicon Valley, according to the UN World Tourism Organization (UNWTO). In Saudi Arabia alone, participation of women in tech reached 28% in Q3 2021, way above the European average rate of 17.5% during the same period, according to Endeavor Insight.
Despite these positive growth trends, however, women in tech are still underrepresented in the Middle East. They make up 24.6% of the workforce, one of the lowest in the world, according to a recent report by McKinsey.
SHATTERING MISCONCEPTIONS
While the region may still be a long time away from closing the gender gap in tech, some women are taking matters into their own hands to accelerate change in this space and shatter common misconceptions.
Melda Akin, award-winning computer scientists and founder of D14.AI, an AI company specializing in solving businesses' optimization challenges, recently launched Sirius Labs to attract more women in tech. A platform dedicated to providing training, mentorship and bootcamps for women, Akin aims to improve women's tech skills in hopes of setting them up for promising careers in the future.
"Sirius Labs actually talks about one thing," says Akin. "We want to see more females in tech hands on, who work as product managers, project managers, software engineers, AI scientists, data scientists. Whatever you name it, but it should be in tech."
Contrary to common misconception, a career in tech is not only limited to coding. Tech is a vast field and includes a wide variety of jobs including project manager, product tester, UX specialist and business analyst amongst others.
Angela Halawi, Client Director for Financial Services at Microsoft and UAE Chapter Ambassador for Women in Tech Global, adds that tech today encompasses all areas of business including leadership, product managers, marketing, sales and finance, amongst others.
"Tech is now part of everything we do," says Halawi. "For example, in financial services where I'm at, when you speak to consumer, corporate or investment banking, everybody is leveraging the power of technology. And this can be seen across all industries, not just in the financial services sector, but also in automotive, aviation, and retail for example. Previously, tech used to be only about coding, cybersecurity or data science, but today it is in everything we do, such as customer journeys or process automation, even in coaching and soft skilling."
IDENTIFYING GENDER BIASES
But it will take more than just learning about the diverse roles in tech to see increased female representation in the industry. Addressing gender biases, particularly when it comes to salary, position or funding for female entrepreneurs is crucial in helping bridge the gap for women in tech.
In 2022, women in tech made up 28% of technology jobs, according to WomenTech Network. Women in tech leadership roles are also declining. While some big tech companies like Meta and Alphabet reported higher levels of women in senior roles YoY, 36.7% and 30.5% respectively, according to their annual diversity report, the percentage of women in leadership roles in tech is falling. According to the 2023 Global Leadership Forecast by DDI, a global consulting firm, female tech leaders currently stand at only 28%.
Meanwhile in the entrepreneurship space, only 2% or $6.4 billion of VC investments is directed at female-founded startups, according to PitchBook.
"Fundraising is a huge issue for female founded startups, because there is always a stereotype that if you're a woman, a mother, or if you have kids, you won't be really dedicated," says El Din from Rahet Bally. "I coach and mentor tons of entrepreneurs who struggle to raise, and their interviews are also usually different from male interviews. Sometimes I mentor two different people that are trying to raise from the same VC, and I can tell you the different types of questions that get asked to men versus women."
Nancy Najm, Co-Founder and CEO of Cloudhoods, a community platform for women, is experiencing first hand the challenges of fundraising now that she's trying to attract investments for her startup. "I am required to demonstrate a twofold increase in both my capacity and my potential in order to secure funding for my startup."
BRINGING ABOUT CHANGE
But times are changing. As more women in the region enter tech as employees and entrepreneurs, the more they are able to progress and transform this space, whether they are spearheading inclusion or eliminating barriers.
A few months ago, the Women in Tech Global made its debut in the UAE to encourage women in the country and the wider region to embrace technology.
"We want to work towards closing the gender gap," Halawi tells StartupScene. "We also want to make a difference in giving the right skills and instill the right confidence in women, for them to have the right network and be able to really take themselves to the next level in their careers or their own individual aspirations."
Women on their own are also starting to play an active role in supporting other women in tech. For Najm, who learned to build an app from scratch without any prior experience, she is always keen on sharing her experience to help other women on their tech journey.
"Now that I can play a small role in anyone's journey, I feel like I have to pay it forward," she says. "In my opinion, the key to the success and growth of the industry lies in the inclusion and amplification of diverse ideas, perspectives, and innovations from women specifically regarding the field of women in tech."
With technology evolving rapidly with the emergence of ChatGPT and other AI tools, it is presenting an opportunity for more women to enter this field. This is not only important for gender parity, but also crucial for creating an effective and accurate system.
Ultimately, however, increasing representation rests with women themselves. According to Akin, while having support networks, mentorship opportunities and role models is important, women also have a role to play in closing the gender gap in tech. "I think that whatever happens, it happens in our minds," Akin says. "It's more important to focus on what you want and move forward than dwell on the negatives or why you can't achieve it because of gender. That's how you succeed."