750 Journalists Sign Open Letter Condemning Bias in Reporting on Gaza
The letter comes as 39 journalists have reportedly been killed by Israeli airstrikes in the Gaza Strip.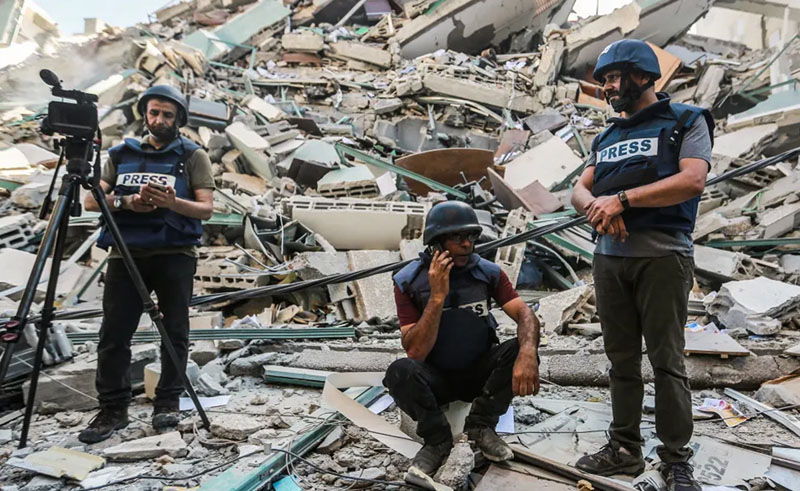 More than 750 reporters have signed an open letter jointly criticising violence against journalists in the Gaza Strip, as well as perceived double standards and bias throughout Western media regarding Israel's escalating violence in Gaza.
Signatories from major outlets such as Reuters, the Los Angeles Times, the Boston Globe and the Washington Post lent their names to the letter, including Pulitzer finalist and former editorial board member at the Boston Globe, Abdallah Fayyad.
According to the letter, newsrooms fail to acknowledge Palestinian accounts with the same gravity as Israeli statements. Coverage overly relies on government sources, neglects to portray the disproportionate suffering of Gazans under relentless bombardment, and downplays forced displacement as ethnic cleansing. The letter also decries the dehumanising language being used in the press when describing Palestinians.
The letter calls for a change in the international press corp's terminology when describing the assault on Palestine to include words such as "genocide", "apartheid" and "ethnic cleansing"- terms which international media has been hesitant to use when describing Israel's crimes in Palestine.
With 39 journalists killed by airstrikes so far - including a targeted Reuters journalist, according to Reporters Without Borders - the letter seeks to emphasise civilian casualties and Israel's deliberate targeting of journalists reporting on the realities on the ground in Gaza.
The Israeli occupation forces informed both Reuters and Agence France-Presse that they would not guarantee the safety of the press corps in Gaza.