Four Egyptian Students Win World Architecture Community Awards
In its 45th cycle, the world-renowned awards witnessed a full Egyptian sweep of its interior design/student category.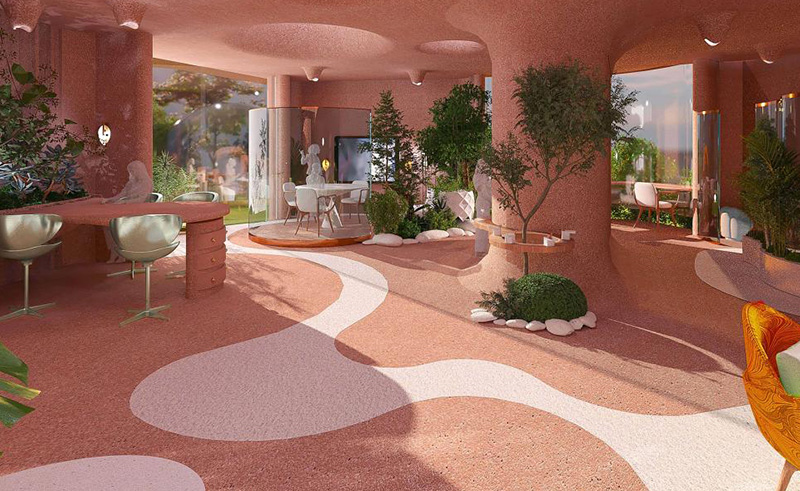 The World Architecture Community announced the winners of the 45th cycle of its awards - and within the 'Interior Design/Student' category, Egypt had a full sweep.
Egyptian students Hend Hatem, Maryam Salah, Mohammed Younis and Yomna Ahmed, all hailing from MSA University, won the category with four different designs that range from reimagining the iconic yet abandoned Villa Badran into a design hub to revitalising Bab El-Louk Market in Downtown Cairo.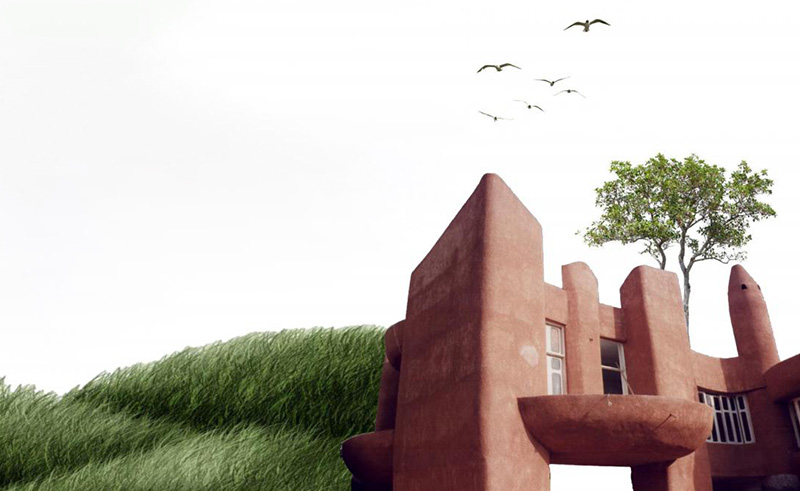 The young designers were awarded by votes from the WAC Community Members, including winners from earlier cycles. All projects were completed under the supervision of MSA University faculty members, including Associate Professors Hoda Madkor, Doaa Shehata and Karam Abdullah as well as Professors Khaled Hawas, Ola Hashem and Rasha Elzieny.
'Revitalizing Bab El-Louk Market Through Interior Urbanism Approach' by Maryam Salah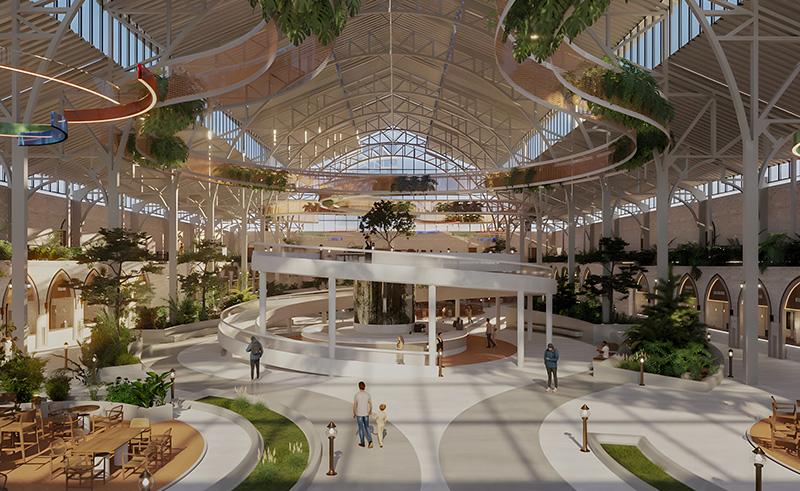 Located between downtown Cairo landmarks Tahrir Square and Abdeen Palace, the 'Marche de Bab El Louk' was a thriving food market. The original existing building blends French architecture with Islamic inscriptions and a classic exterior, while the entire market is covered with iron trusses covered with corrugated sheets.
"The design approach focuses on creating functional spaces to accompany a variety of functions and services that meet the needs of end users through an interior urbanism approach featuring hybrid zones," Maryam Salah says in her project's description. Those hybrid zones assist the space by providing a variety of functions. Sustainability standards were taken into consideration through the use of sustainable materials, passive ventilation and facilitating natural lighting.
"The project's scope is to initiate a green building that's designed with nature to leverage the human experience in public indoor buildings and revive a positive interaction between the building and society," Salah adds. The interior is guided by waves and maze-like forms to instil an air of extravagance to the experience, with transparent elements and dynamic lines.
'Reviving Villa Badran's Organic Architecture Into a Multidisciplinary Designer's Hub' by Hend Hatem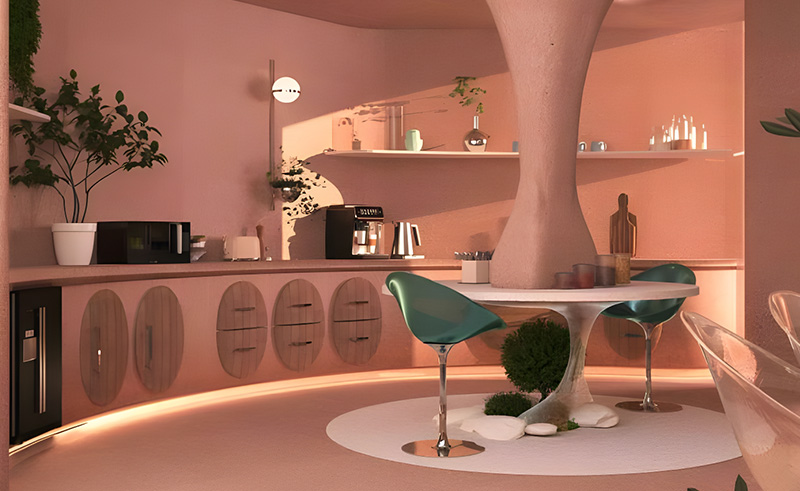 Villa Badran was built in Sudan St. in Mohandessin in the 1970s by renowned Egyptian architect Gamal Bakry, who chose to voice his rebellion against standard approaches to modernism that took over the architectural scene in Egypt at the time. Its curvy, free-flowing facades inspired Hend Hatem to create a living space that has the same almost-bubbly essence.
Hatem proposes the adaptive reuse of Villa Badran from an abandoned restaurant to a space for designers from different disciplines to work and communicate. "Villa Badran has such a unique organic architecture that designers would appreciate," Hatem says. "Reviving the building and its landscape to mimic a piece of raw nature as a rebellion today's extreme modernism, gives the users a feeling evocative of a forest or a cave."
'Transforming Ismail pasha El-Mofatesh Palace Into A Co-Living Co-Working Expanse' by Mohammed Younis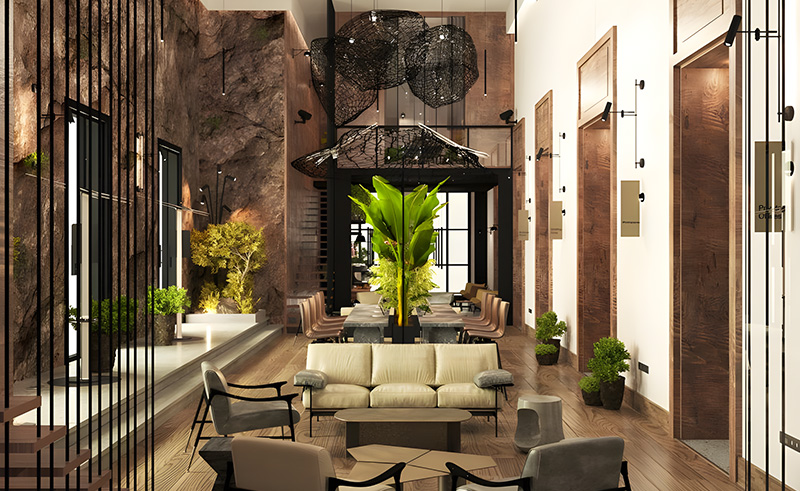 Built between 1866 and 1876, Ismail Siddiq Pasha El-Mofatesh Palace was home to the former Minister of Finance during the rule of Khedive Ismail. Located in Downtown Cairo, adjacent to the AUC Tahrir Campus, it presented itself to Mohammed Younis as in desperate need for adaptive reuse, whose approach was to contrast the existing structure while preserving its valuable and original details.
"A co-living, co-working space is a place where you can exchange thoughts and experiences with others in similar disciplines, as well as develop relationships that may lead to potential jobs," Younis says of his project. The ground floor is used as a co-working space while the first floor is a co-living space that includes a common area, entertainment areas, kitchen, gym and accommodation.
The palace has three courtyards, all of which are used in the design for formal and entertainment events, one being a restaurant and bar, another an outdoor theatre and the garden would host a plethora of functions. "The adaptive reuse of the building and giving new function to a neglected palace is analogised with the plant that grows between rocks and gives new life, changing it from dusty grey solid rock to a new green environment," Younis says.
'Reusing Kodak Shops As A Multidisciplinary Design Hub To Enhance Innovation' by Yomna Ahmed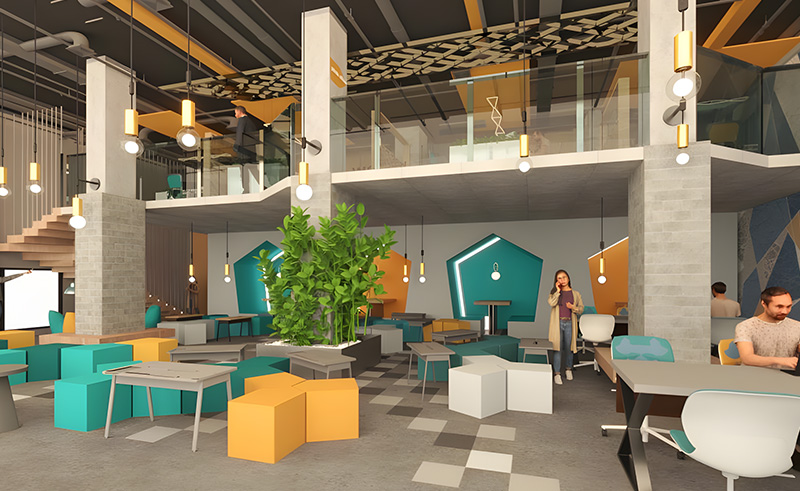 One of Downtown Cairo's most iconic venues, the Kodak Shops are yet to get a permanent tenant or use. Located at 20 Adly St., it hosted the first Kodak shop in the Middle East.
Yomna Ahmed proposed using the century-old space as a multidisciplinary design hub for up-and-coming designers to help them navigate the field and improve their skills. The design features a co-working space, a gallery and a lounge for socialising.
"The design's dynamic style solved problems in the building as it consists of a lot of columns in the centre and has limited daylight and ventilation, especially in the basement," Ahmed explains. Her solution was to increase vertical and horizontal circulation, using stairs to link multiple levels of the hub and increase openness.