Bablerich's Bold Luxury Designs are Disrupting Egyptian Menswear
A new mode for men, Bablerich is rethinking luxury menswear, blending heritage with an edge of the rebellious.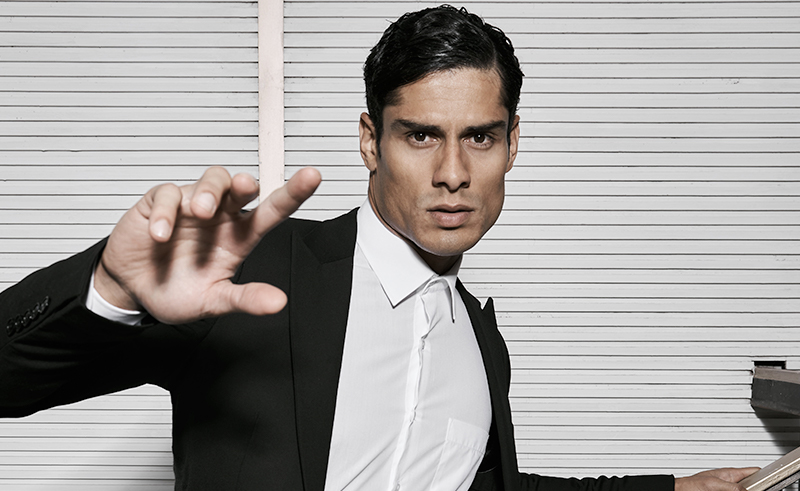 "I create clothing for people, not just customers; it's a community—a statement I'm passionate about and eager to spread."
Men's fashion has long been constrained by tradition and conformity, but Bablerich is here to shake things up. This new luxury menswear label based in Cairo is breaking the mould with its bold, artistic designs that redefine elegance for the modern man. Founded by Abdelrahman El Bably, Bablerich represents a harmonious fusion of timeless craftsmanship and contemporary style that borders on the rebellious.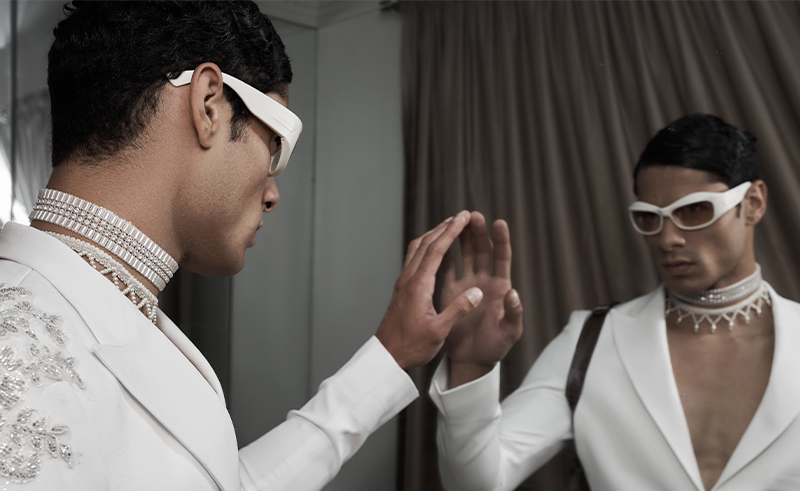 "I don't refer to my creations as mere suits; they are designs with a deeper purpose and meaning. Each one carries a message that I strive to communicate," Abdelrahman El Baby, founder of Bablerich, tells SceneStyled. "Entering the world of fashion demands resilience, self-guidance, and introspection. In fashion, there's no predefined rulebook; you craft your unique perspective and meaning," he adds.
Initially launching his label in 2020, the emergence of COVID-19 forced El Bably to pause his entrepreneurial dreams. However, in 2022, a serendipitous opportunity to style a photoshoot reignited his inspiration. "I needed to gauge the market's response and determine if people would embrace what I had to offer," shares El Bably.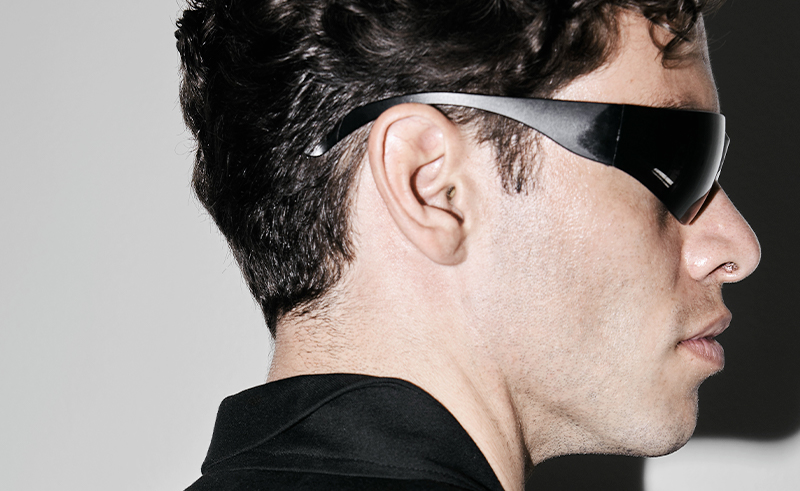 The risk paid off, as El Bably's collection was eagerly met by fashion enthusiasts thirsting for something fresh and innovative. For this collection, El Bably selected black and white as the signature colors, aiming to showcase their versatility and visual impact. "I wanted to challenge the notion that black and white are 'basic' colours by executing masterful designs that are refreshingly irregular—something that isn't usually seen," El Bably shares with Scene Styled.
This artistic ethos carries through to every unique design, like the Janus Noir suit with its bold asymmetrical style, split purposefully down the centre. "My aim is to craft designs that stand apart from the traditional, exuding a boldness and power that resonates with the unconventional."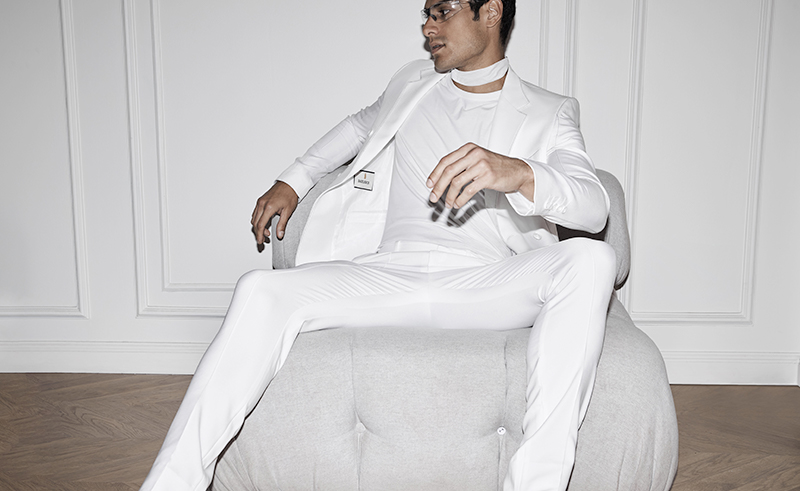 El Bably also derives inspiration from traditional Islamic architecture, evident in the Muqarnas Noir suit that mimics the airy, interwoven look of 'mashrabiya' screens. "While my architectural studies were not completed, I weave my engineering background into my designs, incorporating inspirations from old Islamic architecture," shares the designer.
Beyond aesthetic vision, El Bably pours deeper meaning into each garment. The 'Luminous Blanc' suit features embellished crowns on the shoulders, symbolising confidence and knightly honour, conveying a message that whoever dons the Luminous Blanc is nothing short of royalty; no one but a king.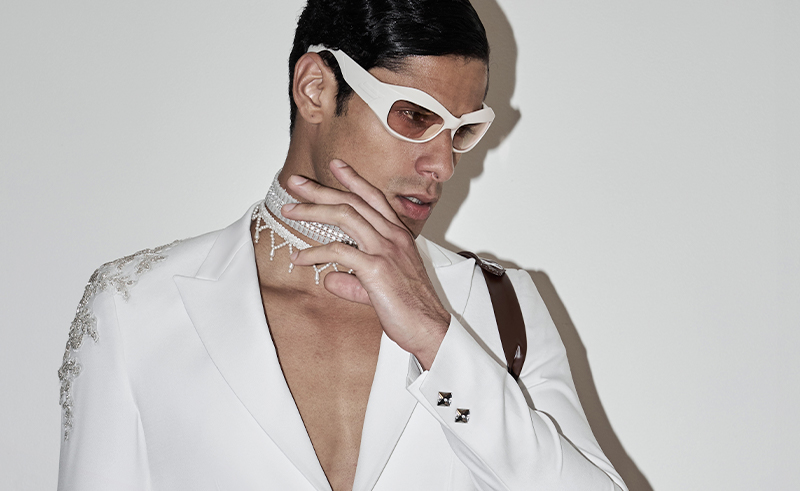 The 'Serendipity' suit playfully nods to life's surprises, marked by a 'mistake' button kept on purpose. And the 'Luminous Noir' suit's mismatching shiny and matte fabrics represent the public triumphs and private struggles of success.
"For the Luminous Noir, I combined contrasting fabrics to symbolise the dual nature of success. The shimmering fabric represents the visible triumph that people aspire to, while the plain pitch black material signifies the unseen challenges endured on the path to success."
El Bably elaborates, "This collection carries a message for men, encouraging them to explore and experiment with style and fashion. My designs embody a sense of boldness and uniqueness while remaining rooted in our cultural heritage." The young designer's perseverance and singular perspective have allowed him to manifest his artistic vision while also spreading an important message of self-expression and unconventional elegance.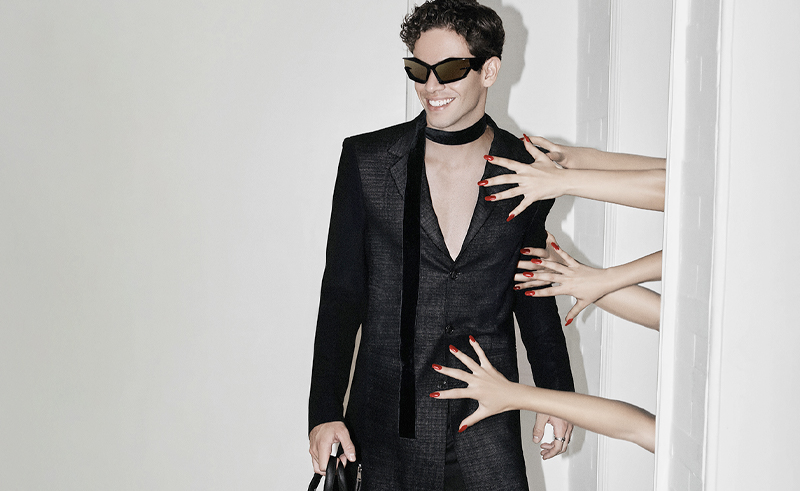 "This collection represents the culmination of my journey—the risk I took to pursue fashion and the innate love I have for the craft," El Bably shares with Scene Styled. "As a designer, I hold myself to high standards of perfectionism, but as an entrepreneur, I needed to find a balance between my artistic ideals and practical realities."
Indeed, El Bably has proven his business savvy by growing Bablerich in a strategic yet authentic way. He tells Scene Styled, "I create clothing for people, not just customers—it's a community, a statement I'm passionate about." This community-focused ethos shines through in the brand's thoughtful details, like El Bably's logo featuring a crown to treat clients like royalty.
Looking ahead, the ambitious designer has his sights set high. "Bablerich is not just an Egyptian label in the Egyptian market—I want to go global, up there with all the big names—and I know I can." Given the brand's originality and thoughtfulness, it seems only a matter of time before Bablerich ascends in the world of luxury fashion.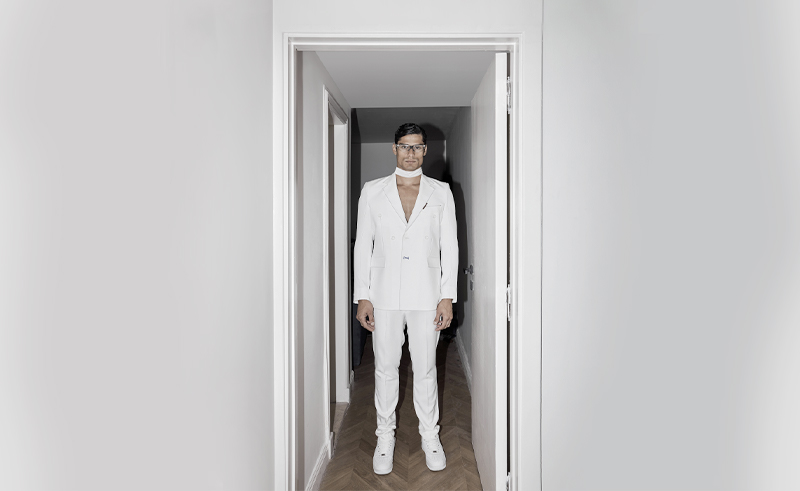 The shoot's art director, Esraa Wagdy, who had been collaborating with Abdelrahman El Bably on various projects, also shared her thoughts on the label's unique approach. "What sets Bablerich apart is its commitment to storytelling through fashion; each design tells a story and it's refreshing to see a menswear label that pushes boundaries and encourages men to express themselves boldly."
Bablerich's debut collection has undoubtedly made a statement in the realm of men's fashion, challenging conventions and inviting men to explore their own individual style. With its fusion of craftsmanship, contemporary aesthetics, and meaningful design elements, Bablerich is carving a unique path in the luxury fashion landscape.