Trashy Clothing is the Palestinian RTW Label Serving Up Kitschy Satire
Flmmakers and creative engineers Omar Braika and Shukri Lawrence founded Palestinian RTW label Trashy Clothing to reify a fragmented personal identity in the face of occupation.
Trashy Clothing offers a creative haven amidst social turmoil. The label bridges tacky overdone garments with a quaint form of cultural upheaval. It actively archives Palestinian heritage and its respective personal stories, while attempting to recount violence to be used as ammunition in the face of occupation. Trashy's garments, from their Stolen Souvenir skirt to their Inspection pants, work towards proactively reclaiming their bodily autonomy; an overarching message and a sentiment that deeply weaves itself into every piece. This form of spiritual and physical union is one that not only birthed the brand, but that is actively re-articulated through their more collaborative collections.

It's also very bold, but not 'OMG! Beyonce's braid danced alongside her like an orchestrated symphony' bold, rather, it's bold like those paintings in the Louvre that span over walls and slightly impede your vision. Essentially, Trashy is made to reify a fragmented personal identity; one torn apart by greed.

Filmmakers and creative engineers Omar Braika and Shukri Lawrence met at University in Jordan. Diasporic in their upbringings, both designers took to art as a means of reclaiming bodily autonomy. An overarching message and a sentiment that deeply weaves itself into every piece, and this form of spiritual and physical union is one that not only birthed the brand but one that is actively re-articulated through their more collaborative collections.
Having entrenched themselves into every art form under the scorching Arab sun, Braika and Lawrence began actualizing their fondness for the regional art scene in 2018. Braika's affinity for visual storytelling meshes seamlessly with that of his film background and, by default, allows him to create pieces such as those of a personal jilbab for his mum; one enshrouded in a cape to connote her heroic presence in his life. Much like Braika, Lawrence also engages with the brand on an intimate level, archiving Palestine's art history, architecture, and rich culture through multimedia alongside clothing.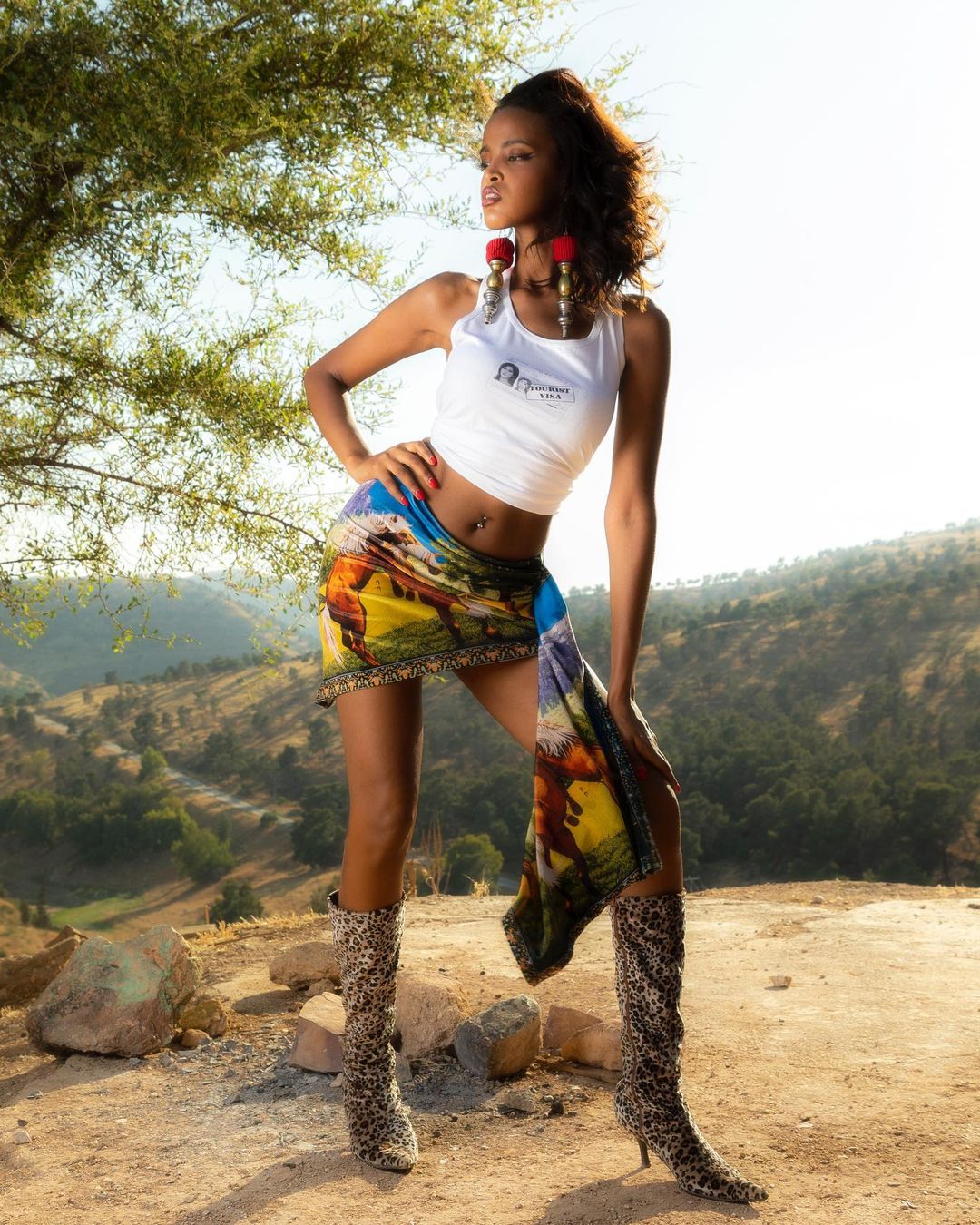 Why a satirical label? Is satire what you use as a protective means or is it more so like it exists? Satire exists next to commentary and there's room for both.
"Satire is just the way we communicate best, especially when introducing a concept or idea. So, in a way, satire is our method of commentary, which positions it at the core of the brand. It's our first language, and our twist on things, if you will."
Where do you find inspiration?
"We find inspiration everywhere. It could be a person we saw on the street, a building, or a sign because anything that we see can serve as the beginning of a concept to be translated or weaved into a story. So, we'd see a truck with a witty line painted on its back and we'd snap a photo of it to archive and add to our visible or public mood boards. Books, films, music…everything serves as a guide to a concept or a story worth exploring."

How has it been trying to navigate media and the digital world when it comes to storytelling?
"We started online because that was our home. Based in Palestine, the internet became our gateway into the world, providing easy access to the wider international community. Hence why we mostly focus on digital communication. It allows us to collaborate with numerous creatives and like-minded individuals from our studios in either Jordan or Palestine. We unlocked how to create collections from across different geographical locations, and tapping into that gave us an edge when we started, one that still sets us apart today."

In terms of the production process, do you produce everything in Palestine and Jordan? How does that work?
"We produce between Palestine and Jordan, but we're mainly in Jordan as of right now. Jordan was much easier to navigate through the pandemic, too. We like to shoot our own campaigns because we enjoy the autonomy of narrating the story through both the collection itself, and the visuals for their campaigns. It's very much hands-on, and we push to make sure that everything is produced from Jordan to support our artisans within the local design sphere. You know, we're creating and supporting a community and an ecosystem for like-minded individuals.
You cater to, well, everyone. Is that your brand philosophy, which you then extend to encompass everything, or do you make an effort to do so?

"It's both. When designing each catalogue or piece, we do it with a person in mind. We try to create different personalities and identities and include them within the larger story of the collection. We also try to allow people to reclaim their identities wherever there's space to do so. We have jackets with zippers covering designs with specific messages, allowing you to have a say in whether you show your identity or not. This sentiment encompasses different approaches to identity politics, but it also aligns with the brand as well; we're claiming our identity and deciding when and how we're censored, ultimately creating our own spaces."
What was a collaboration that stood out to you or that was the project that was the most fun to work on?
"One of our first collaborations on a full collection was with Iranian designer, Hushidar Mortezaie. He was an icon amongst the 90s designers most famous for his fusion of Iranian culture and western pop culture. Of course, he was very much disruptive in the regional design industry, and it was an honour to work together to produce our A/W2020 collection. The collection we worked on was inspired by belly dance, diving into the fantasy of Club Sultana; reclaiming bodies and the craft that is belly dance, and attempting to show how belly dance empowers women.
Hushidar hand-painted the metal from which the dresses were made, effectively bringing that sentiment to life through the collection. Another highlight was when we collaborated with a German label called GMBH. We collaborated on a top that debuted in every Fashion Week for their spring S/S2022 collection and the top was a sort of pastime design that we've produced from our archives and actually, Bella Hadid wore it."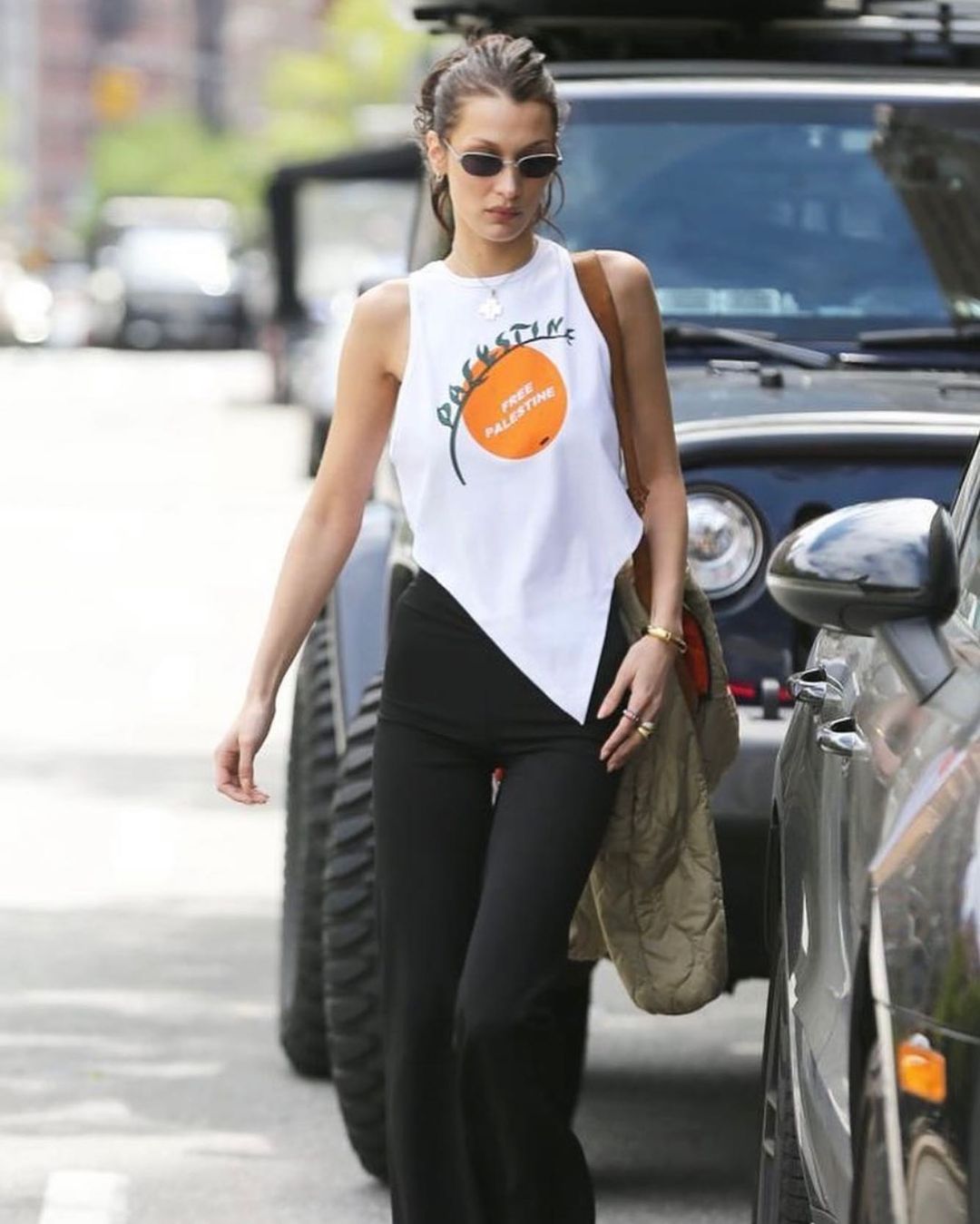 What has the regional and global reception of Trashy Clothing been like?
"The reception has been great. Of course, there will always be people who do not understand the message, but that's not our concern. Satire could be easily missed, and Trashy is more about connecting with the people that will get it and building conscious relationships with them, because our brand is, above all else, about storytelling. They see what we see."
Is it surreal to like to design something with your own kind of personal message and then have it resonate with someone so much that they just buy it and wear it? And equally, having it be spotted randomly by paparazzi?

"Yes. Yes, it was. It was very much a highlight. We love Bella and she was definitely on our mind when we produced it, so her wearing it made us so happy."

You mentioned, really briefly, archiving Palestine and how that influences your work. Do you mind elaborating on that?

"We are very much about curating digital archives. Our collection of archives includes vintage images of Palestine, Arab pop culture, and street photography spanning the entire region. This process of image curation is, essentially, our research process for each collection. Archiving also allows for each collection to tell a different story. We archive our personal stories and those of the people around us, as well as narratives of Palestine through our clothes. For example, in our S/S 2022 collection, we introduced the Inspection Trousers, which are designed to limit accessibility to the parts of the body that undergo inspection at checkpoints in Palestine. The zippers are designed to be fully operated by us, which allows us to reclaim our bodies by deciding when to unzip our pants."
How do you come up with what to focus on when there's so much that needs to be told? The way your shoots and campaigns are curated, even the models feel like they become spokespeople for the brand, especially because they're so diverse. Is that intended as a way to encompass something different?

"We always start with what we're seeing with each collection, with a focus on the kind of story we're trying to tell. With each campaign, we like having everything be the focus. Casting also tells its own story, so it's a crucial aspect for us in terms of the construction of our campaign. We try, as best we can, to include everyone in each story we tell; attempting to represent different identities in every shoot we produce. So, the model is a focus and so are the clothes and by default, the location is as well. It's very similar to shooting a film. In order to showcase a world you're trying to create, there needs to be seamless choreography and even better casting because at the end of the day, everything is crucial and everything serves a purpose. It's an extremely diligent and detail-oriented sequence of events."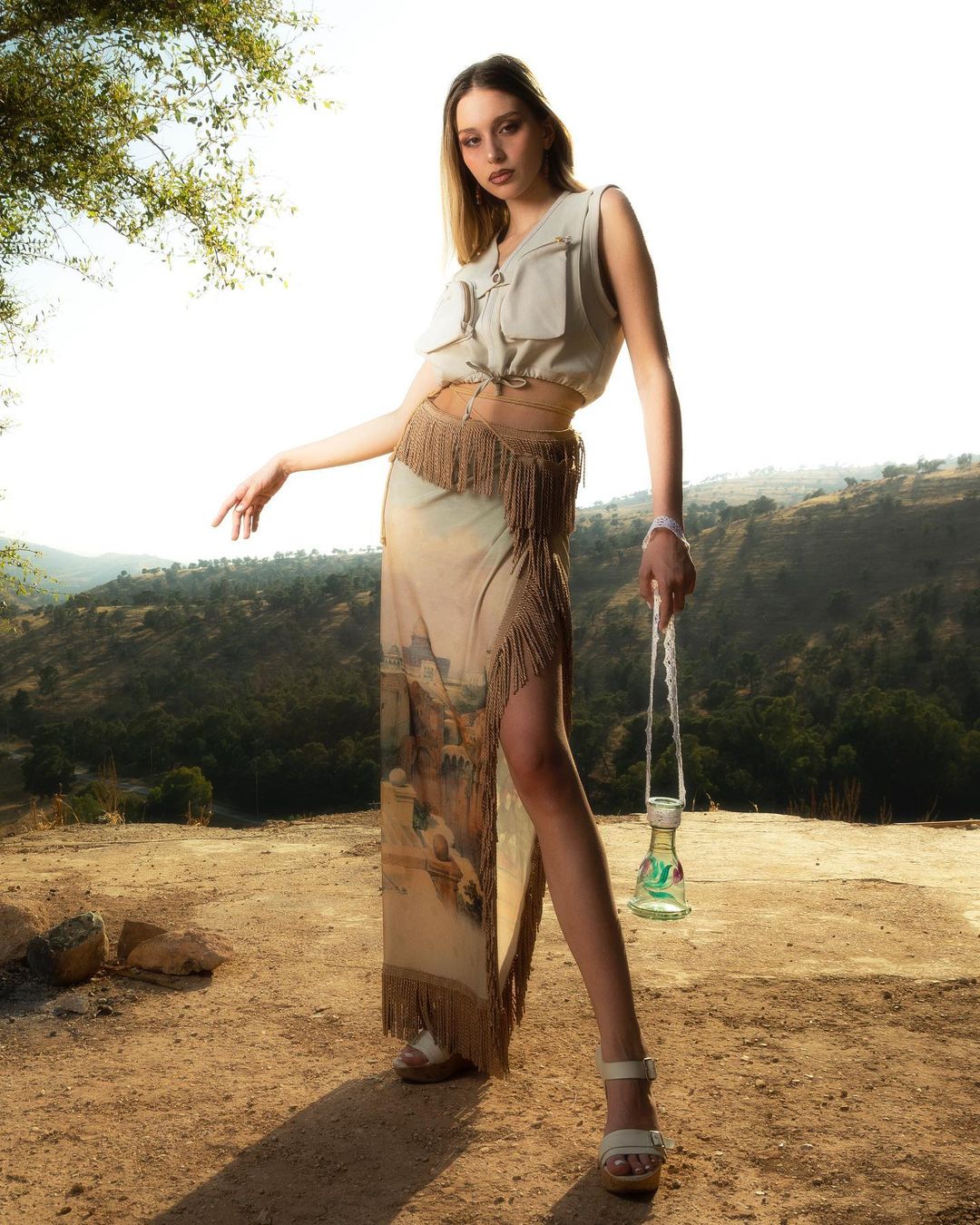 How does conflict feed into your storytelling? You briefly mentioned how conflict shapes all those aspects that guide you, can you tell me a bit more about that?

"Conflict is something that affects us, and by extension, our stories and processes. Something as simple as shipping orders becomes a bit more convoluted, for example. We have to be creative about the way we approach things, so we would package things differently to not show the necessary message of the piece at hand. In our A/W 2020 collection, we had a keffiyeh printed scarf with Hello Kitty decals. So, when we packed our orders, we placed the Hello Kitty side upwards as a means of self-preservation. We're playing around and navigating things as best we can.

Sometimes we have pieces that are abstract and other times our pieces are very direct, both extremes come together to serve the whole picture, similar to how authoring a book or writing a script works. There's this essential piece we need to have because it tells a side of the story that another piece lacks. Equally, our campaigns then continue the narratives and so will the runways because when pieces move, so do the stories' own timelines."
Are there other pieces that you've curated with the intent of satirising and commenting on and things you've noticed all around you?

"Every collection is really like that. For example, our latest collection, Souvenirs of Conquest, talks about how cultural practices such as tourism serve as appendages of occupation. How sites of the occupation forces' destruction are essentially being turned into tourist sites. We talk about the concept of how the occupation could benefit from tourism and also how easy it is to steal lands and appropriate cultures and have them serve as souvenirs. For instance, we have a skirt called The Stolen Souvenir skirt, where it's filled with outside and inside pockets all around where you can just hide souvenirs."

Speaking of, are there any books or songs that instantly get you going if you're in a creative rut?

"Yeah, every collection has a music playlist that serves to articulate the concept. Whether it's the feeling or the actual work, we see all those different facets as a soundscape for a specific scene in each collection. Playlists also punctuate our shoots and our design processes, so everything works towards actualizing that little world that we're trying to oversee."

How did your virtual Fashion Week come about? Was that COVID-induced or was it an offshoot of being based everywhere but Palestine at that point?

"Before the pandemic, we had a show planned in Iceland, and one week before our flight the world went on lockdown. Stuck in quarantine, we started brainstorming ways to allow for our show to come to fruition, and so we fell back on digital communication once more. We also wanted to make it a community kind of thing, where everyone can present their collections accessibly, despite being physically confined to our homes. That's how cyber fashion came about.

We had people from all over the world - from Hong Kong, Berlin, New York, Los Angeles, France, and Palestine - collaborating. 3D artists were collaborating from across the globe, virtually, with designers and stylists on one project."
There's been a huge emphasis on NFTs and their impact on the fashion industry. Do you see yourselves partaking in that or tapping into blockchain technology? Or do you want to keep it grounded to preserve your tangible style of storytelling?

"We haven't dived into that world and we're not planning on doing so just yet because we're still unsure about how we could fit into it. We feel as though it's very much inaccessible for us as well. But we're still doing it in our own way through Cyber Fashion Week, where we tell stories virtually and navigate the complexities of that process."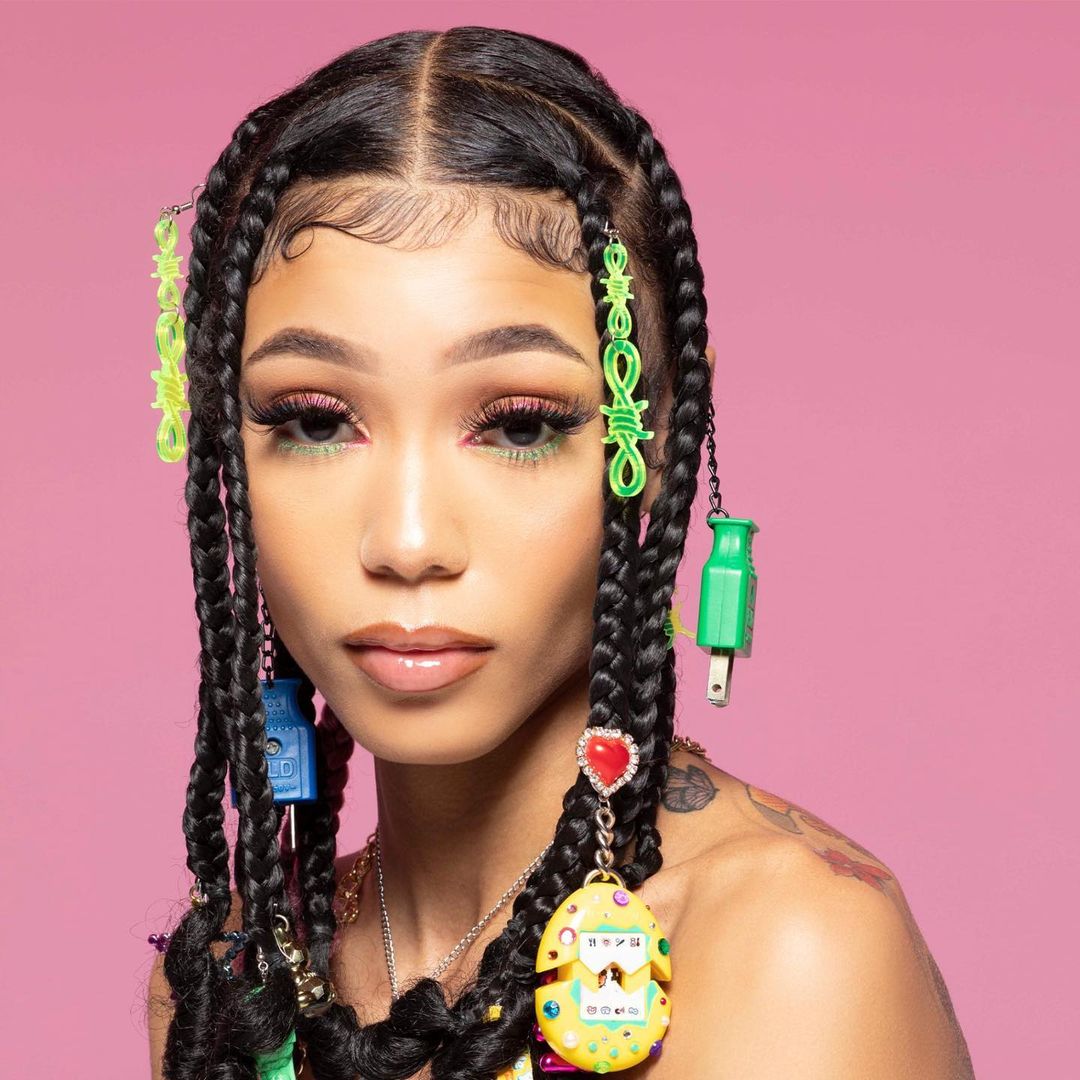 What are you hoping to achieve through Trashy Clothing? Is there an underlying message that guides your design process for every collection?

"We aim to not only celebrate art, fashion, and culture but also talk about topics that affect art and culture. Our other Instagram account, Trashy Files, is open to submissions since it's where we share our mood boards with our followers. Our goal is really to get into spaces that allow us to talk about our existence and fight for our representation."

After clicking that big red 'End Call' button and watching the screen go dark, I found myself surfing through the waves of my newfound appreciation for the budding designers. Braika and Lawrence embody the nonvolatile nature of art. Their fashion love child, Trashy Clothing, is a product of the ramifications of a made-up convoluted sentiment that screams: 'life is pummelling me with batches of rotten lemons and now I'm expected to make a funky fresh cup of lemonade?'
The two-hour interview felt like navigating the ashes of a fire you've only heard of. My in-depth exploration of Braika and Lawrence's relationship with Trashy was akin to varnishing a couch, peeling the varnish, only to re-varnish it later on; once I began scraping the surface of what the label had to offer, I was consistently met with new-found revelations.