11 of the Most Beautiful Riads in Marrakech
Marrakech may be home to 2,000 riads, but these eleven stays are definitely the most beautiful amongst them all.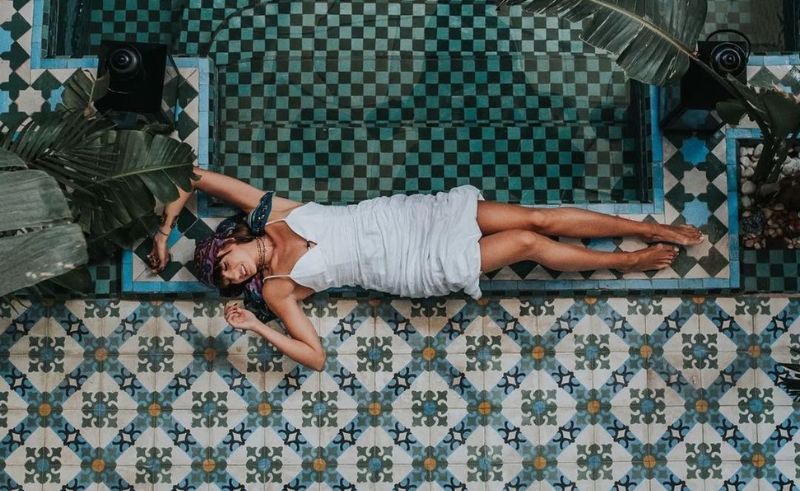 "Marrakech taught me colour," Yves Saint Laurent once said. "Before Marrakech everything was black."
Marrakech is a symphony of senses, an enchanting blend of vibrant colours, tantalising scents, and exotic sounds. The city's ancient medina is a labyrinth of narrow alleyways and bustling souks, where merchants hawk their wares and craftsmen ply their trades. Amidst this hustle and bustle, you'll find tranquil courtyards and lush gardens, where the sweet scent of orange blossoms perfumes the air. Marrakech is a place where the ancient and modern coexist, a sensory feast that will leave you spellbound.
To fully immerse yourself in the city's rich cultural heritage and indulge in its exotic charms, you need to stay in a riad, a traditional Moroccan house or palace built around a central courtyard or garden. And while Marrakech alone is home to over 2,000 riads, we've handpicked 11 of the ancient city's most exquisite riads that offer a truly luxurious and memorable stay.
La Sultana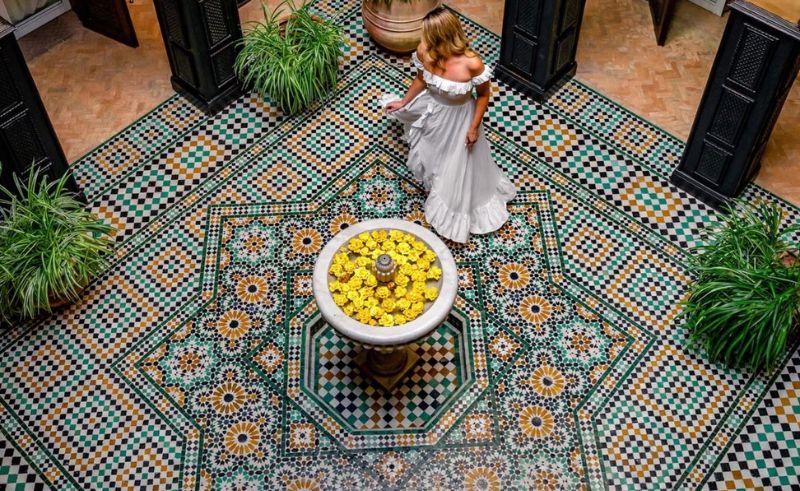 La Sultana Marrakech is the crown-jewel of luxurious riads in Marrakech. Located in the heart of the Kasbah neighbourhood, a UNESCO World Heritage site, the hotel was originally a palace dating back ten centuries, and incorporates elements of the Almohad, Saadian, and Alaouite dynasties. In 2001, the building was restored to exacting standards using traditional methods and expert craftsmen by the Moroccan Ministry of Culture and transformed into a five-in-one riad.
The hotel features subtle brickwork, vaulted ceilings, and decorative arts like wrought metal, sculpted wood, and zellige tiling. The result is a stunning example of the art of living in a historic Medina. The hotel's patios were once part of a granary that supplied the royal family, and terraces on the upper floors overlook the Mausoleum of the Saadian Princes. La Sultana also boasts a spa, a rooftop pool, and a gourmet restaurant that serves Moroccan cuisine.
Price: From USD 670 per night.
Maison MK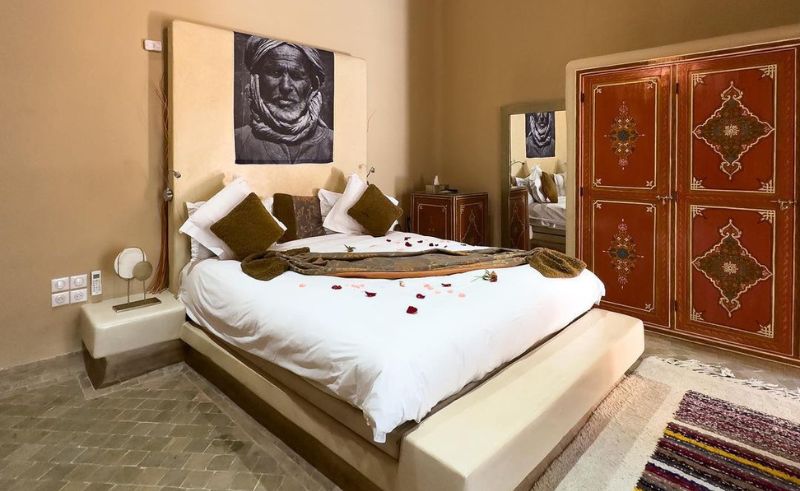 Maison MK is widely known as English restaurateur Jamie Oliver's favourite Moroccan stay for rather obvious reasons. The courtyard boasts a central plunge pool, surrounded by lounges and beaten-silver-topped low tables, inviting guests to relax and enjoy the peaceful sounds of birds and locals chatting. Two cave-like rooms offer a cosy retreat, with one adorned in hot shades of orange and red velvet cushions and a stunning chandelier made of traditional Moroccan glass lanterns.
The attention to detail extends to the bedrooms, with polished tadelakt plaster surfaces, luxurious rugs, and bed throws, soft lighting, and freshly scattered rose petals. The master suite is particularly sumptuous, with a canopy of aubergine silk hovering over the huge bed and a fireplace richly adorned with traditional Moroccan artistry.
Price: From USD 385 per night.
L'Hotel Marrakech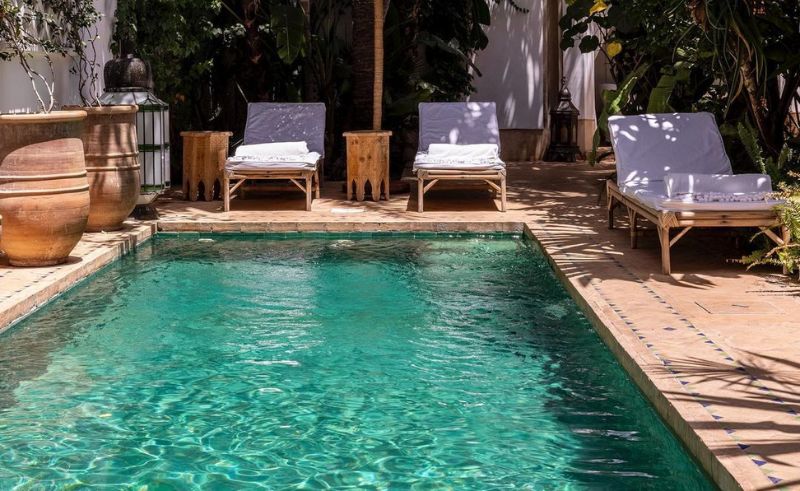 L'Hôtel Marrakech is a stunning 19th-century riad, exuding old-world glamour and understated elegance. Brought to life by world-renowned English designer Jasper Conran, the boutique hotel boasts five sophisticated suites, each uniquely adorned with antique furniture, Egyptian-cotton linens, and a curated collection of art. The crown jewel of L'Hôtel Marrakech is the Casablanca Suite. Adorned with an impressive zouac ceiling, the private terrace offers guests spectacular views of the courtyard garden. The lap pool, set amidst fragrant gardens, offers a serene respite, while the roof terrace is the perfect spot for indulging in multi-course meals. Amidst the lemon-hued salon, floor-to-ceiling French windows bathe the sun-drenched white surroundings with natural light, lending itself favourable to novel readers and poets alike.
Price: From USD 570 per night.
Le Riad Yasmine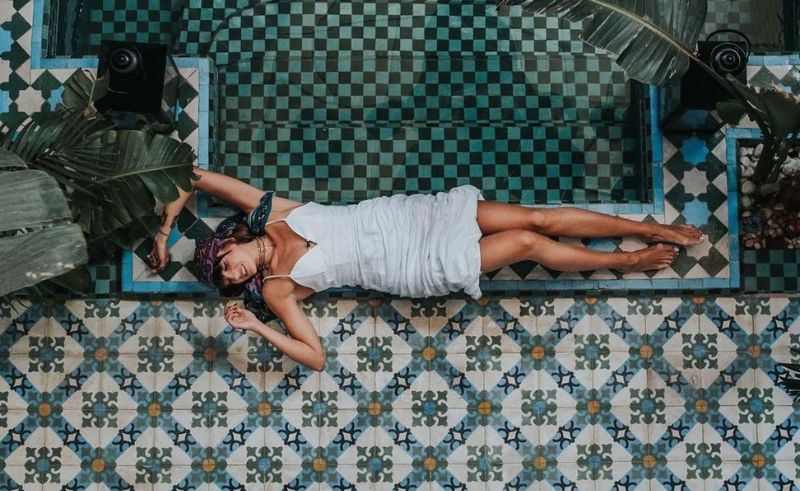 As you step into the enchanting Riad Yasmine, nestled in Marrakech's medina, you'll be struck by a feeling of tranquillity. A sun-drenched courtyard, verdant with lush greenery and adorned with quaint seating areas, beckons you in. The owners, Gabriel and Alice, will warmly welcome you with a refreshing hot mint tea and biscuits served poolside, the perfect start to your Moroccan adventure.
The traditional riad boasts seven individually decorated rooms that embrace Moorish design elements. The centrepiece of the interior courtyard is a refreshing dipping pool, surrounded by an inviting indoor seating area. Upstairs, a magical rooftop offers panoramic views of the bustling medina, providing one of the best spots to catch the fiery sunset.
Price: From USD 165 per night.
Riad Elegancia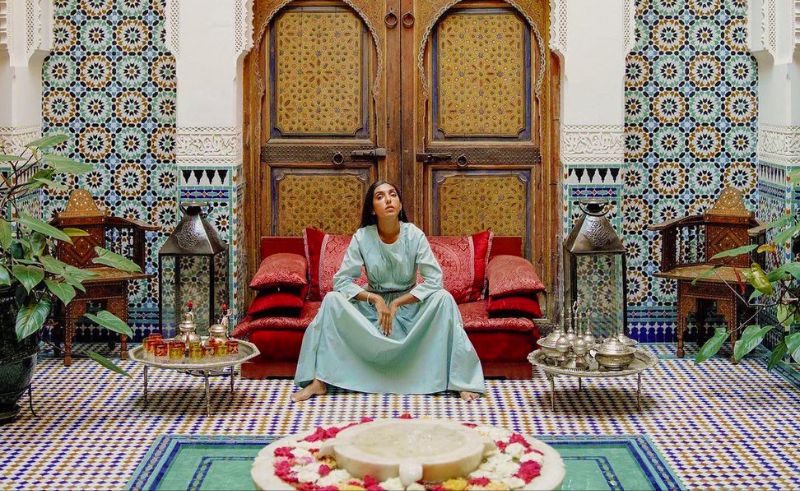 This 11-room riad features traditional Moroccan design with Arab-Andalusian architectural elements, paying homage to local craftsmanship. Hand-carved and painted cedar wood ceilings, nickel silver and chiselled copper features, and colourful zellige tiles create a vibrant atmosphere. The rooftop terrace, painted in Morocco's characteristic Majorelle blue, pink, yellow and green, offers 360-degree views of the city. A heated pool, hot tub, sundeck, restaurant, and bar provide ample opportunities to enjoy the sunsets. The basement level houses the intimate Espace Raha spa with a traditional Moroccan hammam, treatment rooms, a relaxation area, a fitness room and rooftop yoga mats.
Price: From USD 250 per night.
Dar Darma Riad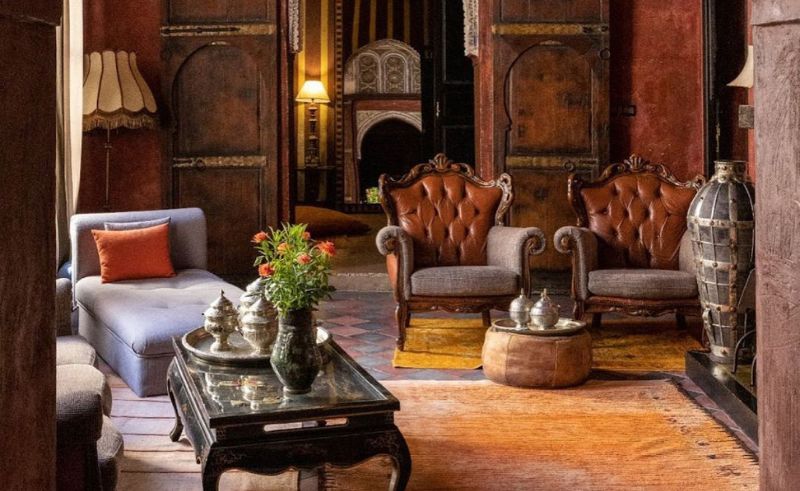 Located in the ancient Moqf district of Marrakech, Dar Darma is an intimate riad that exudes maximalist decadence. Each of the six guest suites is a lavish display of elegance, featuring ornate doorways, sumptuous columns, and rich earthy colours that adorn the velvet cushions, intricately tiled arches, and handcrafted ceramics. Italian designer Dario Locatelli drew inspiration from the city's 18th-century past to craft this stunning riad that's filled with breathtaking details and artistry.
Price: From USD 420 per night.
Riad Goloboy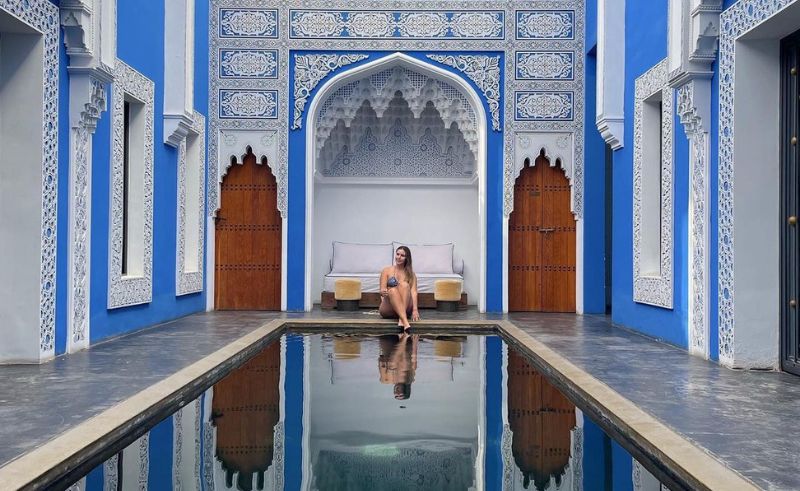 Riad Goloboy is one of the best kept secrets in Sidi Mimoun, a neighbourhood brimming with history and culture. This boutique eight-bedroom riad is a haven of tranquillity in the midst of the city's bustling medina. From the striking Majorelle-blue courtyard to the tastefully decorated bedrooms painted in shades of purple, green, and grey, Riad Goloboy is a masterclass in whimsical style.
Price: From USD 161 per night.
Riad Jardin Secret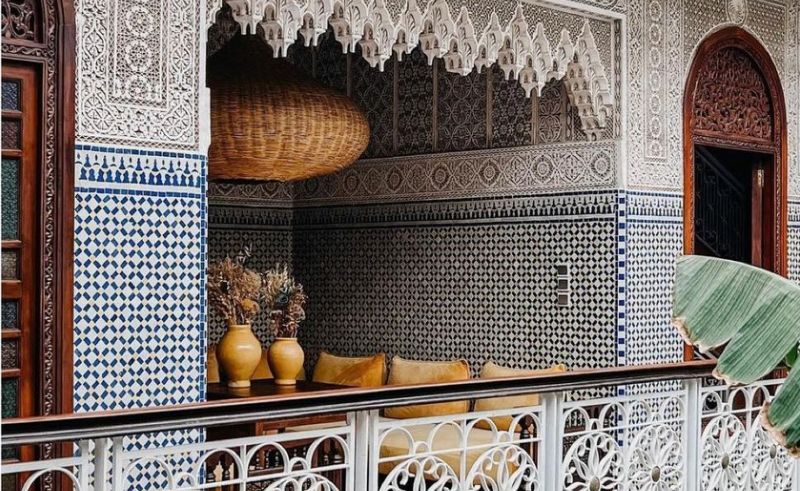 Riad Jardin Secret is a hidden oasis, where a resident cat basks in the sun and chirping birds flit among the swaying trees of the central courtyard. Each room is a treasure trove of thoughtful interior details, sourced from local markets, creating a sense of authenticity and warmth. The riad is not only a haven for travellers seeking respite but also a creative hub, where artists can take up long-term residencies to find inspiration from Marrakech's thriving arts scene.
Price: From USD 164 per night.
Riad Melhoun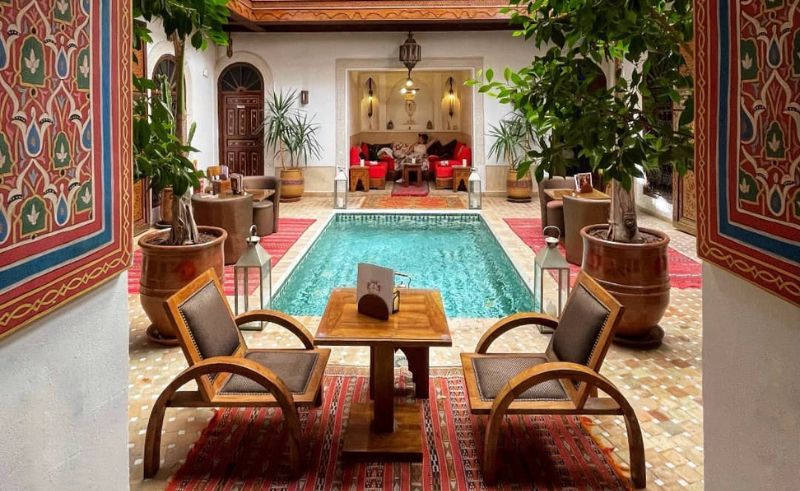 Nestled near Bahia Palace, this expansive eight-bedroom riad seamlessly combines the luxuries of a modern hotel with the timeless charm of Marrakech's traditional architecture. The riad features not one but two swimming pools, each with its own distinct character - one perched on the rooftop amidst a garden of cacti, and the other inspired by the pool at Ben Youssef Madrasa, the largest Islamic college in Morocco. Its many quiet corners offer the perfect opportunity for escape with a cup of mint tea and the in-house hammam makes for the ideal refuge after a long day of exploring the bustling souks.
Price: From USD 137 per night.
Oasis Riad by BE Marrakech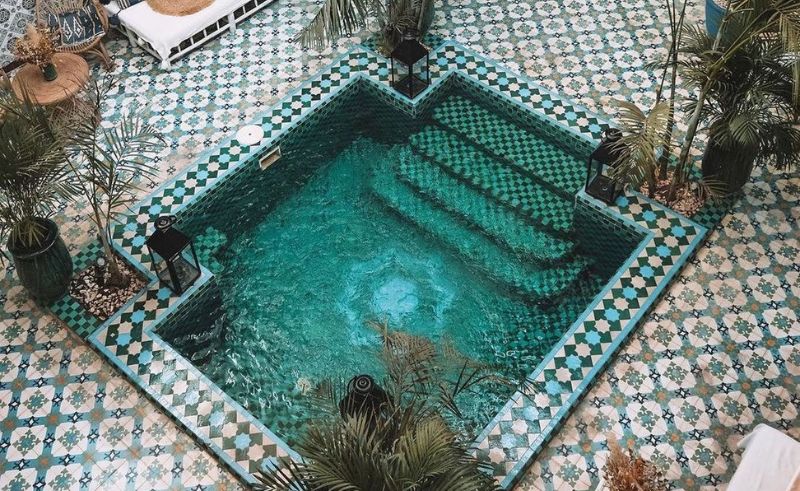 Riad BE in Marrakech is an oasis of colour, culture, and creativity, owned by Swiss-Moroccan couple, Nicole and Mohammed. The riad's retro, ceramic-tiled interiors and a playful mix of pattern and colour transport guests into a world of exuberance. The five rooms in the Oasis Riad are Instagram-perfect, boasting brightly tiled shower rooms, ornate floors, and artful textiles.
Price: From USD 66 per night.
Riad Tahyra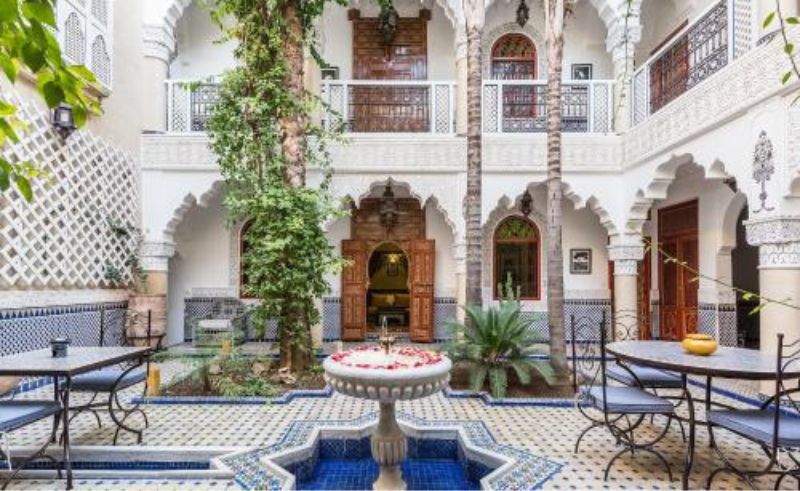 You'd never conceive that you're an actual stone's throw away from Jemaa el-Fnaa, the bustling heart of Marrakech, from inside the peaceful walls of Riad Tahyra. Once the home of a carpenter, the seven-room riad is an exquisite ode to Moorish architecture; complete with intricate mosaic tilework, beautifully carved arches and a vibrant central courtyard, all set to the lulling soundtrack of an ever bubbling fountain.
Price: From USD 56 per night.