Sheraton Grand London Launches Girls Trip for Emirati Women's Day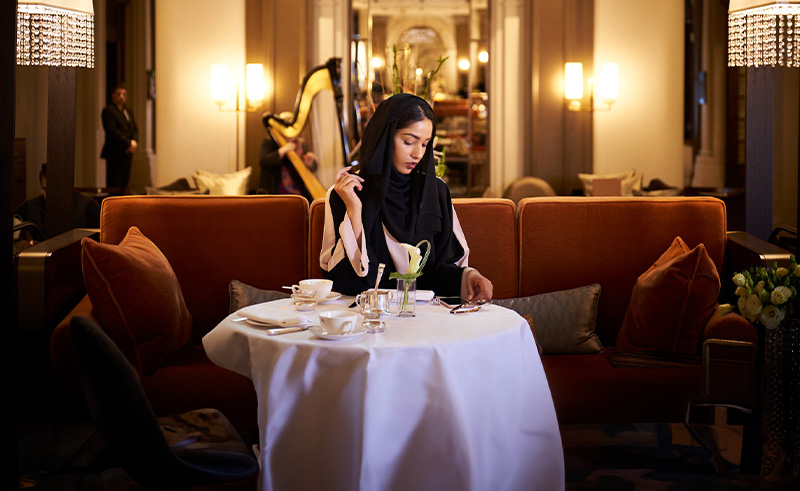 A traditional sun-soaked (or rain-riddled) morning in the world of London-bound Arab girlies usually starts with a hefty dose of collagen powder and freshly-brewed sugar-free iced vanilla lattes (no whip). Silk pillowcases are swiftly prepped - alongside Hermes Twillies - to be dry cleaned, as Joe and the Juice UberEats orders are carefully placed and daily itineraries are tentatively penned in baby pink Moleskine planners. Much like clockwork, these daily rituals backdrop a myriad of intricate thought processes. Specialist knowledge regarding how to pair Van Cleef bracelets (in order of durability) underscore debates on whether investing in a third pair of So Kates will yield a higher (heeled) ROI. As these decisions sway back and forth, the aromatic trail of Maison Francis Kurkdjian's 'Baccarat Rouge 540' effortlessly blends with the allure of 'that new sports car smell', drawing an irresistible convergence toward the lush corners of Park Lane, where a certain Sheraton Grand hotel finds its place.
In the heart of London's bustling cosmopolitan canvas, Sheraton Grand London Park Lane unveils a narrative of cultural celebration and luxury hospitality with its latest offering: the 'Girls Trip: Emirati Women's Day Package.' A bespoke experience meticulously curated to commemorate Emirati Women's Day, this unique package cradles its visitors in a (600 thread count) cloak of luxury. Welcomed with open arms, guests entering the space will find themselves ensconced by a selection of Arabic tea, tender dates, and Emirati confections that encapsulate the essence of luxury and hospitality.
The crescendo of this exquisite experience reaches its zenith with an Emirati-infused afternoon tea hosted within the hotel's 1920s Art Deco Palm Court. A convergence of culinary traditions unfolds as Emirati and British delicacies intermingle harmoniously. Amidst the fragrant aromas of freshly baked scones, delectable cakes, and dainty sandwiches, the afternoon is further punctuated by the presence of homemade seasonal preserves and velvety clotted cream. As dawn crawls its way into being, daily breakfast is served in Mercante, the hotel's Italian dining haven.
The pièce de résistance within the 'Girls Trip' tapestry is an exclusive foray into the hallowed halls of London's iconic luxury emporium, Fortnum & Mason. Justin Pinchbeck, General Manager at Sheraton Grand London Park Lane, reflects on the sentiments shaping the initiative: "We are delighted to introduce this exclusive Emirati Women's Day Package, designed to create an extraordinary experience for our valued guests from the Middle East. At Sheraton Grand, we are committed to offering unparalleled hospitality and celebrating cultural diversity. This exclusive package is our way of honouring Emirati Women's Day and expressing our appreciation to our esteemed guests."
The 'Girls Trip: Emirati Women's Day Package' stands as an emblem of unity, an homage to Emirati culture, and an embodiment of Sheraton Grand London Park Lane's dedication to harmonising luxury and cultural resonance. Bookings are available until September 3rd via the hotel's website.