Meet the First Egyptian Actress to Play Jasmine in the Aladdin Musical
Egyptian actress Rita Sebeh has the honours of not just playing Princess Jasmine in one of the biggest musicals in Europe, but to be the first Egyptian to do so at Germany's State Theater Stuttgart.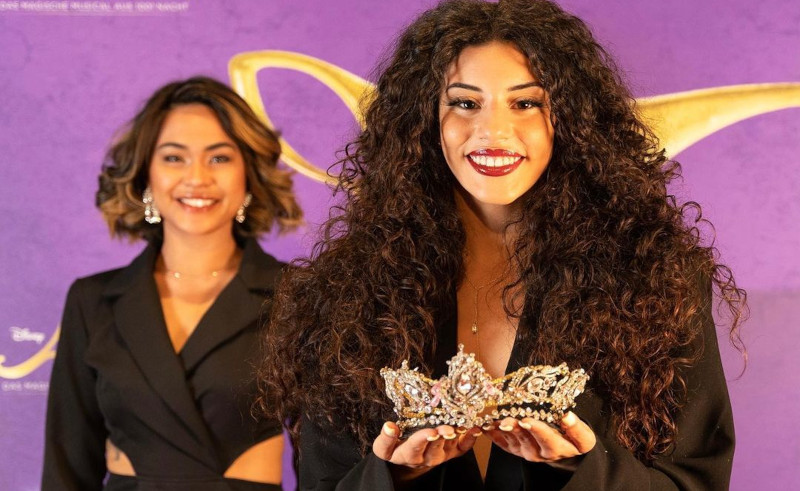 We know you've sung 'A Whole New World' while fantasising about going on a magic carpet ride at least fifty times since your childhood, and in all honesty we can't judge you for it. Whether we saw them on TV or at a Disneyland parade, the cast of 'Aladdin' were some of the most relatable Disney characters we could relate to as Egyptians and Arabs (after all, would Disney ever make another children's movie where a character sincerely says "Praise Allah" like they did back then?). For us little girls in particular, Princess Jasmine with her brown skin and proud nose gave us someone we could see ourselves in, a way to help us feel like we could be princesses ourselves.
Egyptian stage actress Rita Sebeh was not like those girls however. She didn't want to be a princess locked up in her castle and her happily-ever-after. Rather she wanted to be the one who put herself out there in front of an audience, to be the representative rather than to simply feel represented. So it was more than fitting when she walked in to audition for the role of Princess Jasmine for Disney's Aladdin musical at Germany's iconic State Theater Stuttgart - THE biggest theatre in Europe - and pulled it off perfectly. Now Sebeh has the honours of not just playing Princess Jasmine in one of the biggest stage musicals on the continent, but to be the first Egyptian to do so at the State Theater Stuttgart.
"It had always been my dream to be a part of Disney," Sebeh tells CairoScene. "Since I never had access to drama classes during high school I always relied on raw intuition to get me through my auditions and competitions at the time. I had such faith in myself because of how much I loved it, that taking risks and trying out was never an issue for me, in fact, it was my favourite thrill."
Sebeh's passion for theatre sparked early in her childhood, when she would put on her own productions in the bedroom of her Heliopolis home. "I had noticed that art was the common factor that kept me interested in all my activities," Sebeh recalls. "There was always a song to be sung, a dance to be taught, or a script to be written and played out for the fun of everybody involved." She began her formal education in Europa Schule Kairo, training under Samia Allouba. Then, on a school trip to Germany, an incredible opportunity arose.
In 2016 she attended an open audition for the Stage School Hamburg, a German performing arts school that happened to be taking place during her senior year trip. After getting accepted she took a leap of faith, packed her bags and moved to Hamburg, where she graduated in 2019. Afterwards, Sebeh headed to New York, where she studied in the American Musical and Dramatic Academy of the Arts, perfecting her craft under the Broadway and theatre greats. Once she graduated from the academy, she returned to Germany and signed with the renowned agency YOU-OMA.
Sebeh always knew that she'd end up playing Jasmine at some point. She had auditioned for the live action remake in 2017, and while Sebeh didn't get the part, it was always at the back of her mind. Five years later, she got that chance again; the Disney associates were looking for authentic Middle Eastern actors for the musical adaptation, and she walked in at the right time.
"It is a really good time for us to put ourselves out there and believe it's possible for us too," Sebeh says. "Having the advantage of speaking German was the reason why I got cast in the German adaptation of Aladdin. And since the team on Broadway is the same team casting for Germany, it was a different way in. When I do make it to the actual Broadway street after starting out with a bedroom performance in Heliopolis, Cairo, I'll really believe that all is possible."
While her talents and heritage made her a natural fit for Princess Jasmine, Sebeh doesn't consider it a conventional role for her, personally. "Ironically enough I love the cynical, complicated characters with attachment issues," she explains. "So the Disney princess was not really on the map for me. So you can imagine my surprise when all of a sudden at the audition playing her felt more natural to me than any other role I've ever played before. By then I already had a feeling, yet when I learned the news I was still shocked to my core. It took me at least two weeks to grasp the situation and sign the contract. It was unbelievable."
Sebeh premiered as Princess Jasmine at Stuttgart's 'Aladdin - Das Musical' on July 21st, and is scheduled to perform nearly every day (except Mondays) until January 19th, 2023.