AUC Team Wins First Place at Johns Hopkins Healthcare Design Contest
A team of AUC undergraduate engineers developed a glucose blood monitoring device for diabetics, GlucoClip, and won first place at the 2022 Johns Hopkins Healthcare Design Competition.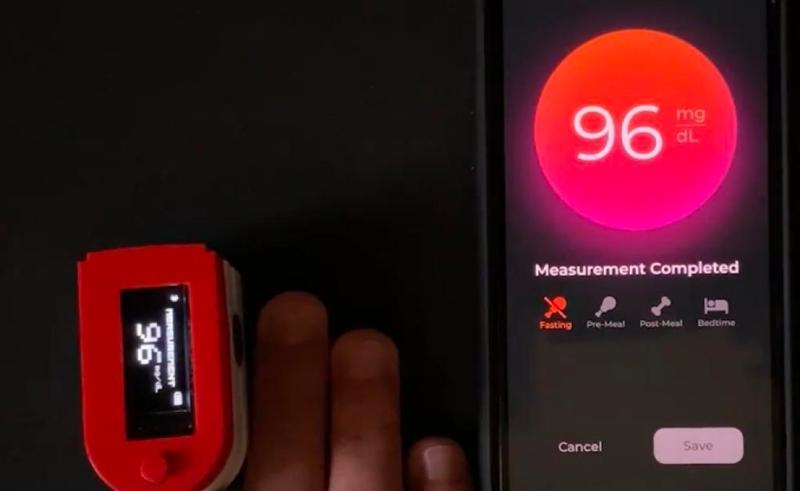 A team of five undergraduate electronics and communications engineers from the American University in Cairo (AUC) represented Egypt in the 2022 Johns Hopkins Healthcare Design Competition, a global health-care solutions contest, and came out victorious.
The Johns Hopkins Healthcare Design Competition is an annual and international event open to student-led teams from all over the world who have the passion and skill to design medical devices, surgical tools, diagnostic devices, health IT solutions, drug delivery devices, mHealth solutions, and global health innovations.
It started when class of '21 students Maha Shatta, Fatema Lokma, Mostafa Nosseir, Ahmed Elghoul, and Seif Ahmed formed a group for their undergraduate thesis project in the Department of Electronics and Communications Engineering (ECNG) at AUC.
The group of five developed their project, GlucoClip, a glucose blood monitoring device for diabetics, under the supervision of ECNG department professor and engineer Hassanein Amer.
"We're all proud to have represented AUC and Egypt at this international competition," Nosseir tells CairoScene. The GlucoClip is a significant development in the field of health solutions, with far-reaching consequences since, according to Nosseir "It has the potential to influence the lives of 537 million diabetics around the world."
GlucoClip uses near-infrared spectroscopy to safely and non-invasively monitor blood sugar levels with a high level of accuracy, which sets it up as a replacement for more intrusive blood tests like finger pricking, overall improving the quality of life for diabetics. "Traditional testing methods actually create a psychological barrier for many people, preventing them from making regular measurements," explains Lokma. The device is linked to a mobile app, a perk that makes monitoring blood sugar levels safer, more accessible, and more convenient.
Over the course of a year, the students worked on their project, creating a prototype and testing it on a group of over 100 people. Despite the small sample size, the team successfully finished the GlucoClip prototype and demonstrated reasonably high accuracy.
This year's Johns Hopkins Healthcare Design Competition received 120 proposals from 74 universities in 18 countries, and despite the challenges presented in the medical and healthcare fields due to the pandemic, this small group of AUC engineers managed to secure first place.
"To present this project, which we have worked really hard on, to an international panel at such a prestigious university known for its intensive research programs is a very rewarding feeling," says El Ghoul. Feeling emboldened by this victory, the group announced its plans to further develop this device. "This award has encouraged me to continue developing and improving our idea until it reaches the global market," adds Lokma.