These Arab Women Taught Us the Value of Rage
A look at the activists, authors and trailblazers who have single-handedly expressed, time and time again, the value of rage.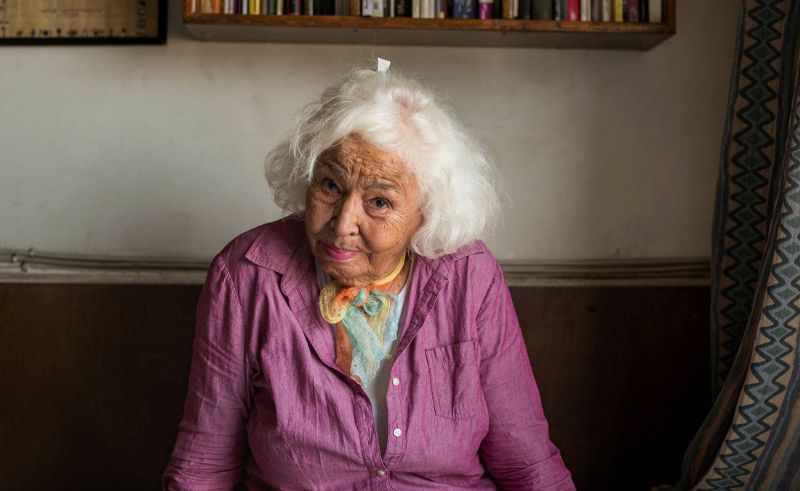 Whether she's a Palestinian poet and playwright, a journalist from Lebanon or a Yemeni activist based in the UK, these are the Arab women who have demonstrated righteous anger in the face of injustice in the region - and have shown us how in doing so we can become catalysts for change.
Suheir Hammad
Amman-born Palestinian poet and playwright, Suheir Hammad, is famously known for her poetry collection 'Born Palestenian Born Black' that channels the pain of violence in a series of rhythmic poetry. Hammad is celebrated for her use of hip hop like structure, which meets beautifully with cutthroat choices of words; resulting in a harmonious mixture of her identities both as a black woman and as a Palestinian.
"I will not dance to your war drum. I will not lend my soul nor my bones to your war drum. I will not dance to your beating. I know that beat. It is lifeless. [...] This heartbeat is louder than death. Your war drum ain't louder than this breath."
-Suheir Hammad, What I Will
Nawal El Saadawi
Arguably the most controversial feminist in contemporary Egyptian history, Nawal El Saadawi was a doctor, an author, and a speaker who was relentless in her pursuit of rights for women. Far ahead of her time, she was the first woman to bring to light the enormity of FGM [Female Genital Mutilation] in Egypt and the role the patriarchy played in continuing this horrific practice. El Saadawi is best known for her outspoken commentary on female bodily autonomy and liberation.
"They said, 'You are a savage and dangerous woman.'
I am speaking the truth. And the truth is savage and dangerous."
-Nawal El Saadawi, Woman at Point Zero
Salma El Wardany
A published author and feminist powerhouse, Salma El Wardany weaponizes words and uses language as a tool for resistance against the patriarchy. As a third-culture kid and diasporic to boot, El Wardany tackles issues of identity, femininity, and religion in a way that is equally thought-provoking and settling.
"You cannot raise women on a battle line and when I say the battle line I mean they're always looking over their shoulder for the next thing that will kill them and when I say thing I mean men."
-Instagram Post
Joumana Haddad
TV presenter, author, community organizer, public speaker, journalist, and human rights activist Joumana Haddad is a renown Lebanese name in the region. An advocate for women's rights and sectarianism; Haddad has played an active role in shaping resistance on-ground in Lebanon through her various endeavors.
"I feel that over years of endurance, hard work, and perseverance of determination and conviction, of claiming our rights to stay alive, to be free and to be ourselves, of fighting the biggest wars as much as the smaller ones, our will can indeed move mountains for us."
-Joumana Haddad, I Killed Scheherazade: Confessions of an Angry Arab Woman
Fatema Mernissi
Fatema Mernissi is an iconic Moroccan feminist who is widely acknowledged as an incredible writer, scholar and woman. Her works; Her Dreams of Trespass, Tales of a Harem Girlhoods, Scheherazad Goes West: Different Cultures, Different Harems and many others alike have shaped the ways in which we conceive mysticism, classical Islam, the harem, modernity and the concepts of love.
"But when your situation is hopeless, all you can do is turn the world upside down, transform it according to your wishes, and create anew."
-Fatema Mernissi, Dreams of Trespass: Tales of a Harem Girlhood
Nada El Ahdal
A child bride almost twice over, Yemeni activist Nada Al Ahdal first rose to fame through a video she posted on YouTube in 2009, when she was 9 years old, screaming for help as her family tried to marry her off a second time. Al Ahdal, with the help of her uncle, ended up fleeing Yemen to the UK, where she still continues to raise awareness about child marriage in the Middle East.
"I should help as many people as I can raise their voices to the world. I will talk for the girls, be their voices, I really believe in that."
-Nada Al Ahdal, Interview with imix
Muna El Kurd
Born in Sheikh Jarrah, Palestine, activist and journalist Muna El Kurd has been advocating against the demolition of her neighborhood and the displacement of Palestinian people online since she was 13 years old. Kurd, who has a mesmerizing grip on the Arabic language, continues to fight for her home and people through documenting the crimes of the apartheid state of Israel.
"Grandma, here I stand. I graduated and carried my case and my country wherever I went, just like you taught me. I will continue your legacy until Palestine is free, in its entirety, from its sea to its river."
-A Tweet