Ancient Egyptian Statue Unearthed in Poland
The artefact was part of a lost collection, which had been confiscated by the Nazis during World War II.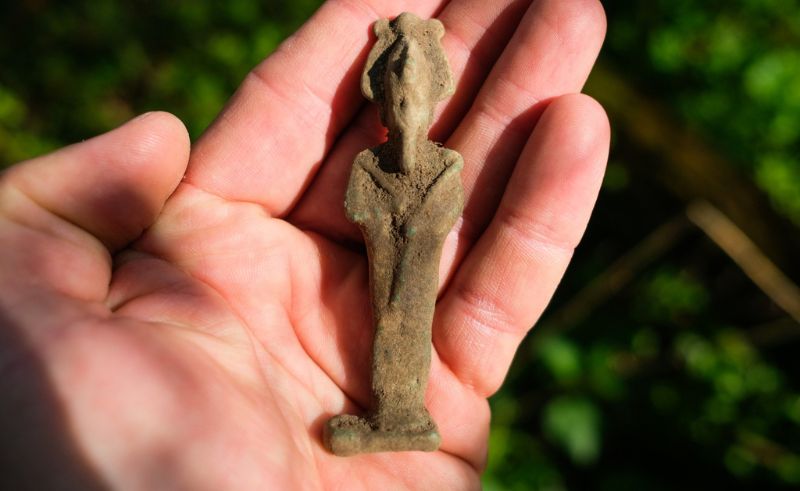 Researchers from the Institute of Archaeology and Ethology at the Polish Academy of Sciences managed to identify the origin of a green statuette of the ancient Egyptian god, Osiris, which was mysteriously discovered during an archaeological excavation in Kluczkowice, a small village in eastern Poland. The statue was uncovered alongside a bust of Bacchus, the Roman god of wine, raising questions as to how these two distinctly different artefacts could be found in Poland.
After a year of research, archaeologists found that the Osiris sculpture and the bust of Bacchus were part of a personal collection of artefacts that had been gathered by a member of the local Kleniewski family, Maria Kleniewski. After examining Maria Kleniewski's diary, as well as her correspondence with the State Archaeological Museum in Warsaw, it was revealed that she had collected the Osiris statue during her visit to Egypt in 1908, where she stayed at Helwan and Alexandria.
Maria's collection would be lost a few decades later when the Kleniewskis fled to Warsaw in 1942 to escape the Nazis, who had confiscated their possessions. Maria's fate remains unknown, whilst her son, who inherited the estate, passed away during World War II.
The bronze Osiris sculpture and the bust of Bacchus, both of which date back to the first century BC, will be part of the collection of the National Museum in Lublin, Poland.