Electric Scooters Will Be Available at Cairo Metro's Third Line
The scooters - provided by mobility sharing platform Rabbit - are available for a three-month trial period starting October 1st.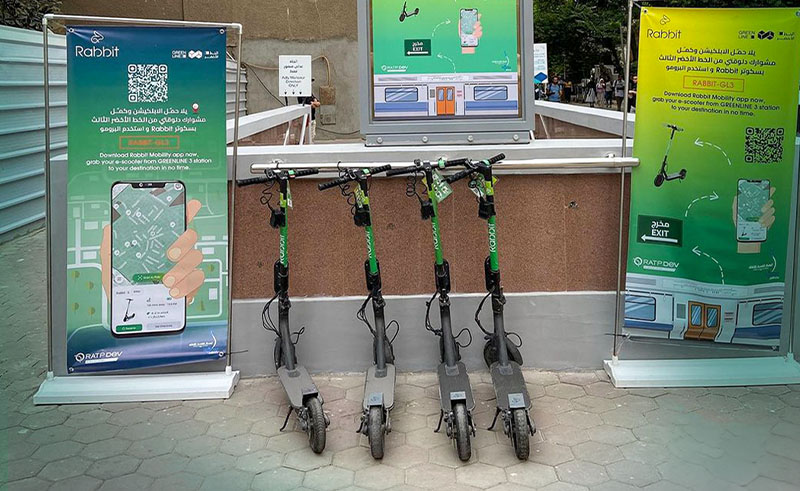 RATP Dev Cairo Transport Company, the entity responsible for managing and operating the third green line of the Cairo Metro, has partnered with Rabbit, Egypt's first micro-mobility sharing platform for short-distance environmentally friendly transportation. The collaboration aims to provide a modern and efficient mode of electric transportation outside select stations of the third metro line.
Electric scooters are available for a three-month trial period starting October 1st. This initiative is positioned to facilitate transportation at a reduced price to and from several stations, including Heliopolis, Al-Ahram, Koleyet El-Banat, and Safaa Hegazy stations.
"We are proud to provide this integrated service to our passengers, and to enhance our efforts that aim to support the transition towards sustainable and green transportation, especially through this cooperation with a company like Rabbit, which provides smart and pioneering solutions in the field of mobility in Egypt," Engineer Wadih Bousheha, CEO of RATP DEV Transport Cairo, tells CairoScene.
The introduction of electric scooters near metro stations is a step towards providing commuters with convenient options for first and last-mile connectivity. By leveraging electric transportation, passengers can efficiently cover short distances and overcome the challenges of traffic congestion, thereby reducing their reliance on private vehicles.