Narrative Summit 2023 Brings Egyptian Storytelling to a Global Stage
The annual PR summit is bringing together eminent industry names across Egypt and the world, this year at the Red Sea destination of Somabay.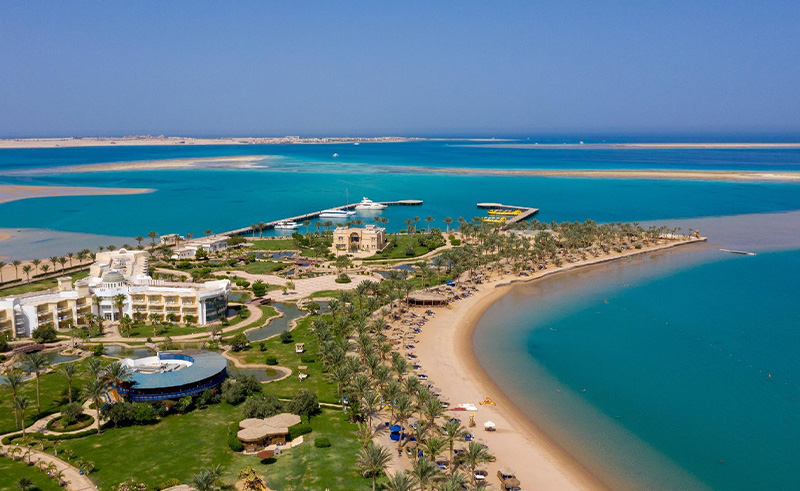 Omm El Donia, Mother of the World. Birthplace of ancient Pharaonic regality, crucible of cultural innovation – especially in terms of music, film, and more recently fashion – and strategic business lynchpin between Africa and Southwest Asia. When posing the question of what Egypt means for its people, and its significance on the world stage today, we reap answers and possibilities as vibrant and fertile as its Nile river.
Conscious of the power of representation, and seeking to weave these perspectives into a cohesive and intricate tapestry, the Narrative Summit is taking place in September at the Red Sea resort town of Somabay, under the auspices of the Ministry of Tourism and Antiquities and the Egyptian Tourism Authority. Launched by Lamia Kamel in 2016 as Egypt's first initiative for international PR and nation branding, the annual Narrative Summit has brought together opinion leaders and key figures across multiple sectors as spokespeople to showcase and promote all things 'Egypt' on a world stage.
After a three-year hiatus, what distinguishes this year's summit from previous editions is its invite-only guest list, carefully curated to welcome some of the world's biggest names in terms of storytelling and thought leadership, taking the summit's potential for narrative-shaping to new dimensions. Selected to craft the vision for this year's event, conceptualised as "Egypt Forever Forward," is a board of Egyptian leaders and innovators, led by Mohamed Mansour, renowned businessman and former Egyptian Minister of Housing and Transportation.
Joining Mansour on the board is Rawya Mansour, Founder of Ramsco Agriculture and twice named by Forbes Middle East as one of the region's most powerful businesswomen; Lamia Kamel, founder of the PR Narrative Summit and Board Member of Orascom Development, as well as Former Assistant Minister Tourism and Antiquities Egypt; Mohamed Sultan, COO of CIB Egypt; Ibrahim El Missiri, CEO at Abu Soma Development Co; Amy Mowafi, Founding Partner & CEO of MO4 Network & CairoScene; Hesham Gadallah: CEO and Chairman of Orascom Pyramids; Mohamed Shelbaya, CEO of Pepsico Egypt and SVP North Africa; Mai Salama, Creative Industry Summit-Founding Partner; and Ahmed Ebeid, Managing Director at RMC Worldwide.
By putting heads together in an inspiring setting on the shores of the Red Sea, it is hoped that attendees, board members and speakers might develop shared strategies and test new approaches to building and nuancing awareness around Egyptian society and community, and the country's potential in the coming years.
"The world knows Mo Salah, but they don't know we have a Mo Salah in every corner of Egypt and in every discipline," Lamia Kamel, founder of the Summit, tells CairoScene. "When founding the summit I thought, how can we utilise progressive leadership in every relevant discipline – in investment, business, technology, art, culture, tourism, education, politics and sustainability – to speak about Egypt in a youth-oriented, dynamic way that addresses everyone?"
Some of the first speakers to be confirmed this year include Ben Elliot, nephew of Queen Camilla and a leading figure in British business and politics, being the founder of luxury lifestyle group Quintessentially. Joining him will be Mohamed Diab, LA-based Egyptian film director who is most recently known for Marvel's Moon Knight series, and Steve Shepperson, president of the Chartered Institute of Public Relations (CIPR) based in the UK and top executive of the Vodafone Group. Also speaking at the summit will be Azza Fahmy, global jewellery designer, Mohamed Sultan, COO of CIB Egypt, Dr Zahi Hawass, renowned Egyptologist and Former Minister of Antiquities, and Khaled El Enany, former Minister of Tourism and Antiquities and nominated President of UNESCO.
Springboarding off of the COP27 UN Climate Change Conference that took place in Sharm El Sheikh in late 2022, this year's Narrative Summit will focus its attention on Egypt's burgeoning sphere of sustainable business. One board member committed to this is Rawya Mansour, who was named one of Forbes' 100 most powerful businesswomen in 2023 for her company RAMSCO and one of Africa's most influential leaders for her environmental conservation efforts through projects in organic farming and waste recycling.
"As an active participant in COP27 through my projects in zero-waste eco villages, I have seen a lot of appetite for eco-projects and eco-tourism in Egypt," Mansour shared with CairoScene. "With our awareness and commitment to sustainability, this year's Summit will kick off with a good grounding for furthering discussions that emphasise Egypt's growing environmentalism."
For board member Hesham Gadallah, the summit represents not an end, but a window to a whole programme of new national incentives. "It's like a retreat for leaders across sectors to sit, brainstorm and dish out 'recipes' on how Egypt can be better positioned in the global arena." Gadallah is the chairman and CEO of Orascom Pyramids, which has hosted a luminous programme of international events at the Giza Pyramids in collaboration with the Supreme Council of Antiquities, including last year's Dior catwalk, Art d'Egypte modern art exhibition, and most recently, the Backstreet Boys concert on May 2023. "I believe the Summit will trigger a series of further events, actions and commitments from the private sector and possibly from the government to realign and set priorities."
"I've always said that Egypt is the land of "100 million opportunities,"" shares Ahmed Ebeid, Narrative Summit board member and Founder of RMC Worldwide, a leading marketing communications agency in Egypt. However, for Ebeid, authenticity and real-talk are prioritised; Egypt's weathering of global economic pressures will not simply be breezed over in discussions at the summit. "Our narratives should be told authentically, and we shouldn't stop at storytelling: we should also be unafraid to tackle the dilemmas that the country is facing. We're talking about a country with a history of resilience and prosperity."
Agreeing with Ebeid on the need for realism and authenticity is Ibrahim Missiri, CEO of ASDC, the master developers of Red Sea coastal destination Somabay. "The country has come under severe economic pressure owing to a plethora of global and local issues, but the building blocks and fundamentals are there to turn it around. Egypt is young, resourceful and energised," Missiri says. "It has the brains and high calibre to figure things out. We need to work on restoring confidence, shining a light for people to see the path ahead. It's time to bounce back."
The annual summit will take place this year at Somabay, situated just south of Hurghada; its beautiful and airy surroundings are anticipated to put attendees in the best headspace for discussion and debate. "We also wanted to showcase the beauty of the Red Sea, a place that Egypt has forever been proud of," founder Lamia Kamel explains. "Post-COVID, Egypt's tourism numbers have been on the rise and we wanted to show that Somabay is just as fit for business discussions and creative dialogues as it is for tourism."
With this year marking the conference's fifth edition, Mai Salama, founding partner of Egypt's Creative Industry Summit, shared with CairoScene: "I'm very excited that the Narrative Summit is back. The Narrative Summit is a truly important forum acting as a voice for Egypt, and I'm humbled to be a board member." Salama's CIS has organised an abundance of conferences, festivals, workshops, university pop-ups, and other structural initiatives that fuel a creative economy in Egypt – making her well-placed to assess and outline potential roadmaps on the matter. "I believe this year's edition will be very special and will have an incredible impact."
"Egyptians were the original storytellers, our history and heritage literally etched onto the world's greatest monuments for posterity," Amy Mowafi, Narrative Summit board member and founder of the MO4 Network, told us. "Now is the time to show the world that our contemporary stories - of our people, places, and events, our natural wonders and man-made experiences - can make a mark just as powerful."
Whilst the event itself will be hosted privately, founder Lamia Kamel stresses the importance of national participation online and on social media, during and after the conference. "There are no better ambassadors to Egypt than the Egyptians themselves," Kamel says. "By engaging in the conversation, following the content, promoting it, giving thoughts on their social media platforms, and attempting to put forth actions in their own sectors, that would be a very constructive participation."
"We want high net worth individuals to come, visit and possibly invest in Egypt. We want them to see our beautiful beaches and enjoy the unique Egyptian cultural experience," Rawya Mansour shares, speaking on the outcomes she hopes will emerge from this year's edition. "We want to try and speak less to ourselves and more to the world. There's so much that the world doesn't know about our country and we sincerely believe that Narrative can contribute to changing that."