Waldorf Astoria Opens Its First Egyptian Luxury Hotel in Heliopolis
Hilton's luxury brand is making its entrance into Egypt with an Art Deco-style hotel that pays homage to ancient Egypt.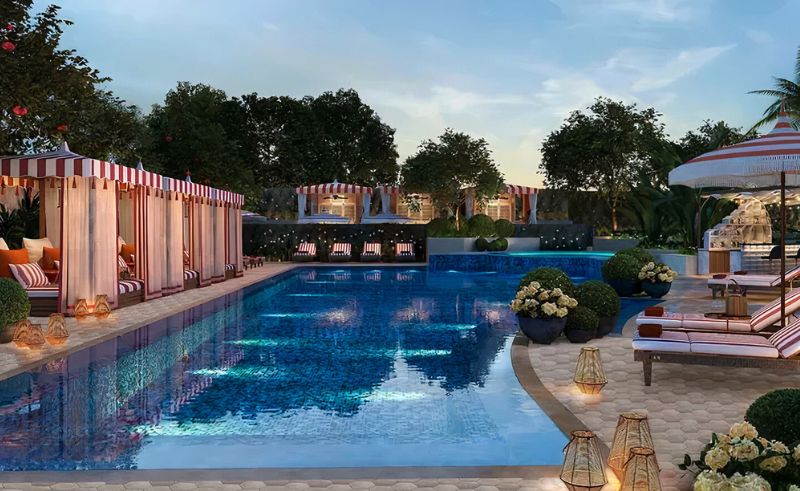 Waldorf Astoria and Hotels, the luxury hospitality brand by Hilton Worldwide Holdings Inc., is opening its first hotel in Egypt within the Cairene neighbourhood of Heliopolis, featuring 252 luxurious rooms overlooking a verdant botanical garden.
Designed by Adrian Barboza Designs, a London-based design firm, the interior décor of the hotel is set in the Art Deco style with colour palettes of rich greens and blues, and wood tones that provide warm and calming surroundings. The design also pays homage to ancient Egyptian art, with the hotel's glass atrium curved into the shape of the eye of the ancient Egyptian sun god, Ra. The hotel's guest rooms have also been incorporated with designs of the white and blue lotus, symbols of strength and power in the age of the Pharaohs.
"Waldorf Astoria Cairo Heliopolis will appeal to discerning guests seeking world-class luxury, offering enriching experiences and unparalleled service within easy reach of Cairo's vibrant cultural and heritage sites," Simon Vincent, Hilton's Executive Vice President and President Europe, Middle East and Africa, tells CairoScene.
The hotel features a signature restaurant called Brasserie Ayda, with a menu inspired by Mediterranean and French cuisine. A more informal tearoom, Peacock Alley, will allow guests to enjoy artisanal pastries as well as afternoon tea and morning coffee. Guests can also look forward to a jazz bar, Bar Raa, as well as a pool bar. The Waldorf Astoria Spa will also invite guests to luxuriate within its walls later in 2023.