Experience the 'Finer Slice' of Life at This Artisanal Sandwich Deli
This Maadi-based eatery gives your fried eggplant an Italian twist (and sticks it into a loaf).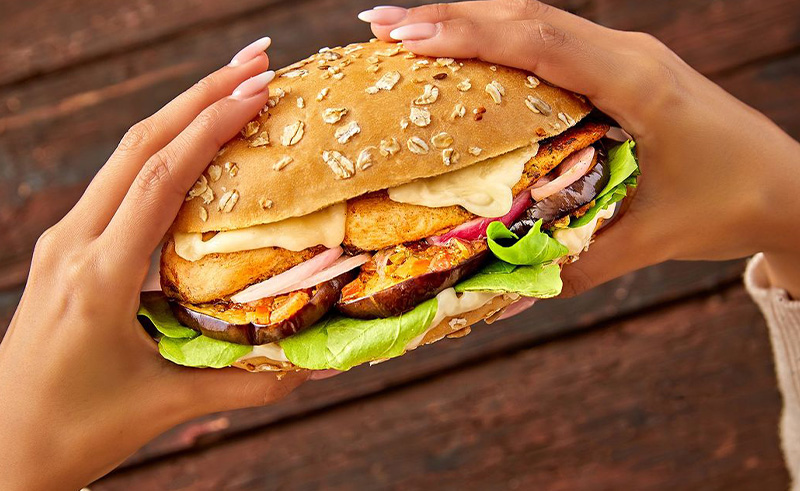 There's not much we'd think film fanatics, Michelin-star chefs and tired troglodytes would come to agree on, except for an unshakable fondness for mundane but oh-so-warm slices of life – which is exactly the Finer Slice's specialty.
We've all seen The Menu (2022), we all know that, sooner or later, an inevitable breakdown in every global chef's life brings them closer to 'normal people food' or, more specifically, the world of the sandwich. It is exactly this strangely specific trope that the Finer Slice portrays in its meticulously stacked, artisanally painted loaves.
Primarily utilising Italian ingredients (with the customary Egyptian twist) and recipes to serve up universes of pizza between two (fine) slices of bread, the Finer Slice dishes out an exciting array of elegant sandwiches you're not sure whether to photograph or eat (correct answer: do both).
The delivery-based eatery facilitates all sandwiching preferences, from the simple halloumi (paired with spicy roasted veggies for a not-so-simple twist), to the classic chicken-based and the hearty marinated beef fillet. The Finer Slice's Pharaoh, for example, features tender slices of grilled chicken, fried eggplant, arugula and creamy mozzarella for a multicultural feast.
For post-sandwiching munchies however, dive into a plate of fried olives, roasted veggies or, a sweeter option, apple pie fingers.