Five Must Visit Traditional Houses in Old Cairo
A look behind the Mashrabiyyas inside some of Old Cairo's historical residences.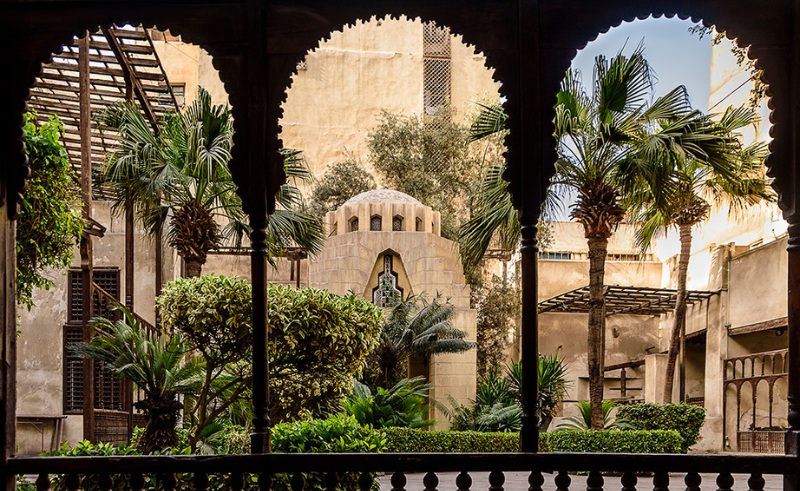 Old Cairo is a treasure trove of heritage and among its countless historical sites houses offer the clearest window into life in the 17th century, from ornate interiors that acted as sets for James Bond films to others that were called home by the likes of Hassan Fathy, the Aga Khan and Geyer Anderson
While privacy reigned supreme in traditional households in Cairo, social values weren't the only factor shaping their spaces. The real genius of their designs, which continues till this day to attract visitors from across the globe, lies in how traditional spaces were modified to adapt to climate conditions.
Open courtyards functioned as temperature regulators, diffusing cool air retained overnight during the day while domed openings acted as an outlet for hot air. The 'Takhtabush' sitting area promised cool air in the morning and the 'Maq'ad' always faced north to catch prevailing winds during day and night.
Essentially, every feature present in Old Cairo was applied to make sure life felt good, from the high ceilings and water fountains to the marble surfaces and Mashrabiyya screens. Aesthetic visuals were just a beautiful by-product of their technical prowess.
Beit El Kritliya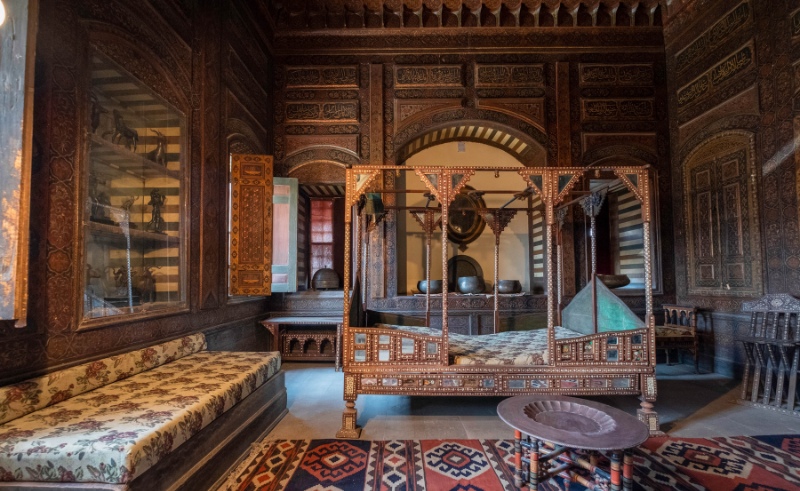 More famously known as Gayer-Anderson Museum, Bayt Al Kritlyya got its name from one of its owners, a lady from Crete, who was one of many different inhabitants of the house. Initially, one of the two houses that constitute the modern-day art museum was built by the scholar Abd Al-Qadir Al Haddad in 1545, while the second belonged to Hajj Muhammed ibn Salem ibn Jilmam Al Jazar in 1631. In 1935, Geyer Anderson, an English officer, requested to live in the two houses to furnish them in an Arabic style. Anderson gathered a collection of ancient Egyptian and Islamic antiquities which later became public property after he left the houses. These houses then became the Gayer Anderson Museum, an active art museum which also served as the set of the 1977 James Bond film, 'The Spy Who Loved Me'.
Beit El Suhaimi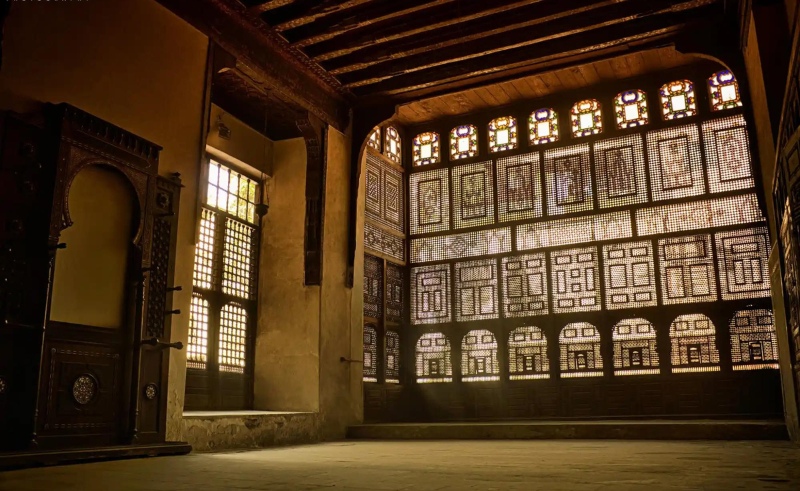 Bayt Al-Suhaymi was built in 1648 with additions in 1796. At the time when Abdel Wahab El Tablawy first built it in Darb Al-Asfar, the house sat in one of Islamic Cairo's most valuable areas. It was purchased by Sheikh Ahmed as-Suhaymi, whose family kept it for several generations. The house has a strictly public area, the salamlik, and the private spaces, the haramlik. The salamlek included a 'Takhtabush', a benched area with Iwan-like openings into the courtyard, where business was carried out in mornings, the second-story loggia and the qa'a, the formal reception hall.
Beit El Sit Wassila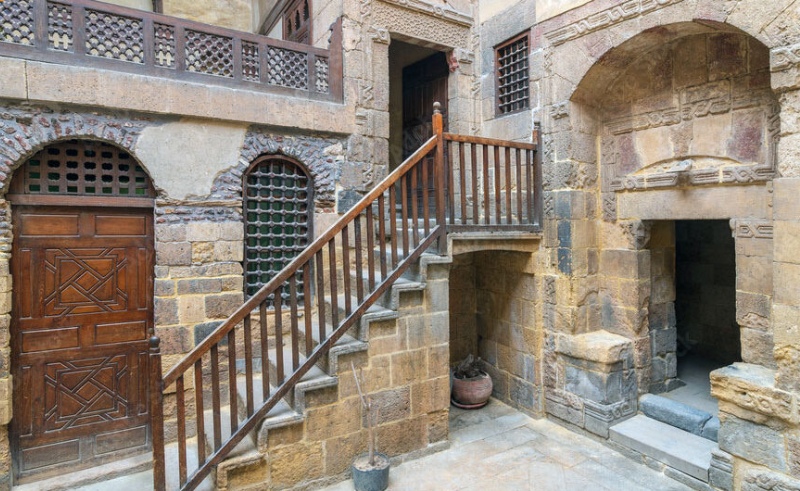 The Sitt Wasila House was built in 1646 AD by two brothers, Abdel Haq and Lotfi, as a testament to the architectural splendour of the Ottoman era. Its beauty lies in a design that prioritised the sanctity of the household, creating a haven for its inhabitants. Today, it's a cultural shrine, rich in both history and art. Nicknamed the 'Cafe Riche' of the 17th century, the house hosts marvellous details, adorned with white marble and beautiful decorations. A stone staircase leads to a loggia overlooking the private courtyard below. The second floor is dedicated to serve as a poetry house, while the Ottoman hammam is still gloriou with its domed ceiling and coloured glass.
Beit Ali Labib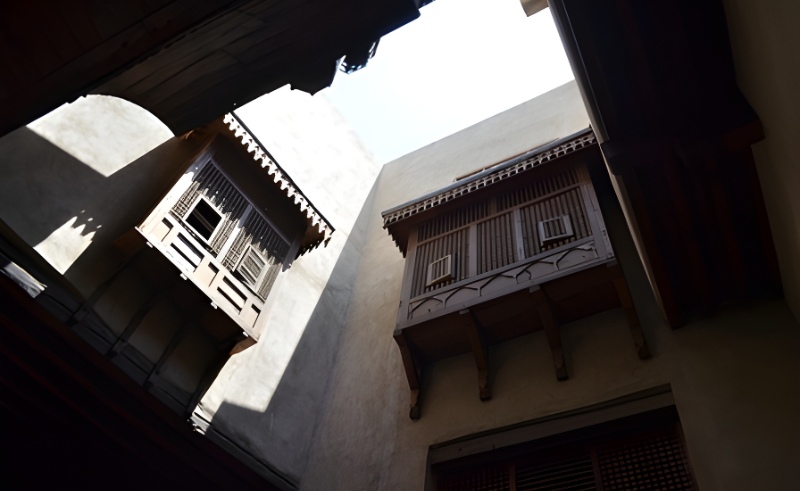 Imagine a house so enchanting in its living experience that Hassan Fathy, Egypt's most popular modern architect, the Aga Khan, Muhammed Nagy, a pioneering Egyptian painter and Beppi Martin, an orientalist painter, all chose it as a place of residence. Enter the house of Egyptian architect Ali Labib - the fifth notable figure to call it home, after whom the residence was named.
Known at a point in time as Maison des Arts, the house originally belonged to an Ottoman merchant and is located in El Darb El Ahmar in the neighbourhood of Darb El-Labanna, in close proximity to Mosque-Madrass of Sultan Hassan and Al Rifai Mosque. From its beautiful facade to its courtyards, the house is a portal back in time, filled with antiquity and priceless memorabilia - including a cut-out of a cat placed on a table, in homage to Hassan Fathy's habit of feeding street cats in his home.
Beit Gamal El Din El Dahabi
Commonly referred to as the Golden House - after its original owner; Jamal El Din El Dahaby, who was the chief of gold merchants in 17th century Cairo - this Arabic household doesn't seem like much from the outside and therefore doesn't attract as many visitors as its more popular counterparts. But once you step inside, you'll immediately realise the wealth that rests within.
Located in Hosh Qadam, branching out from Moez St., the archeological site was built in 1637. Full of intricate Islamic inscriptions, the house has three stone facades and is centred by a marble water fountain. The main hall is entered through a double heighted pathway that precedes a Mashrabiyya wall. Meanwhile, the flooring throughout is covered with colourful marble. It was covered with a wooden dome, with two Iwans on both sides.