DUAT brings industrial techno in a night of villain-themed electronica
A show of gritty, industrial techno, inspired by ancient Egyptian mythology in the heart of Cairo.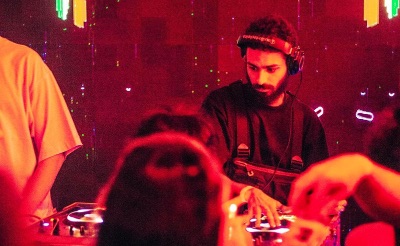 If you are in the market for a rapturous night of hard-hitting techno and gritty industrial music, then we bet you wouldn't want to miss out on DUAT.
Set in the heart of Cairo, DUAT is a party series founded by DJ and distorted music aficionado Samir Gobara, aka Gobara. Inspired by ancient Egyptian mythology, DUAT's name is the word for the passageway between heaven and hell in ancient Egypt, and it was also chosen because it represents DUAT's core principles for their parties; Duality, Unity, Affection, and Thrill. Sounds cool? There's more.
This iteration of DUAT, will be held in the Helix club on Friday, June 2nd is going to be themed, and the theme is villains, meaning the music will be cherry picked to be industrial, hardcore, distorted, and punk themed. Dark, heavy, and hard. And for this recipe, a lineup of grade A DJs is planned to perform alongside Gobara with each one bringing a new element to the table. Fresh off of March's 'Fresh Meat' we have Mostafa El Meteni who will be starting the night with some dark, hypnotic beats. Marawan will follow with hard techno beats. Then Khaled Weshahy and Hesham Yassin are planned to follow, bringing punchy industrial, gritty drones, and distorted percussion into the formula. Mohamed Magdy will follow with sick rave stabs before Gobara delivers the mercy finish with trademark high tempo hard kicks, stabby textures and juicy synths.
Some nights sound too good to be true, and for lovers of hard hitting techno and abrasive, heavy industrial music, DUAT's gig will be easily among those nights. Reasonably priced, conveniently located in the heart of Cairo, and with a strict code for the safety of all partygoers, the gig would be a big shame to miss.