Amina Muaddi Reigns as Footwear's Most Wanted at New Harrods Boutique
The Jordanian-Romanian stylist-turned-designer proves her momentum can't be slowed as she opens a stunning shop inside one of London's most iconic luxury destinations.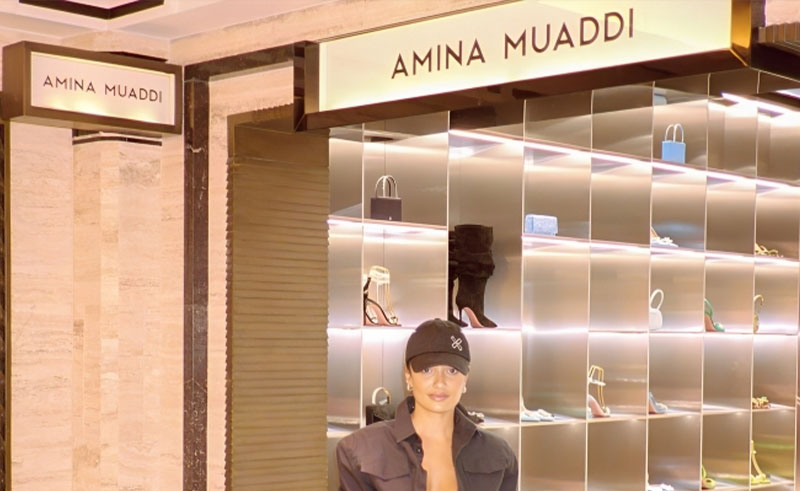 Since launching in 2018, Amina Muaddi's eponymous brand has steered the ship of footwear trends with unrivaled stamina. Evidence of the Muaddi effect can be seen on the feet of A-Listers like Rihanna and Kim Kardashian, as well as in the hundreds of knock-offs and pastiches pumped out by fast fashion labels over the past five years.
The designer, now based in Paris, is fuelling her ascent as one of the most sought-after labels on the world footwear stage. Her campaigns and designs are both beautifully informed by Arab identity, with her August 2022 campaign starring Egyptian-Moroccan-Dutch supermodel Imaan Hammam posed in front of a myriad of Cairo cityscapes. Muaddi is the latest iteration in a long tradition of designers from the MENA region shaping high fashion.
The launch of her own permanent boutique within the iconic Harrods marks a significant point in the brand's journey. Claiming its own 1,000 square foot plot in Harrods' fifth floor 'Shoe Heaven', Amina Muaddi truly sits amongst high fashion footwear heavyweights such as Jimmy Choo, Manolo Blahnik, and Louboutin, just to name a few.
The beautiful space, clad in mirrors, reflective metals, and blush pinks, was executed with the design and architecture studio Crosby Studios. It is the brand's first permanent retail location and could signal a first step into more physical stores in the young label's exciting future.