Egyptian Label Ausetia Re-imagines Ancient Magic into Modern Pieces
Like unearthed relics come to life, Egyptian label Ausetia translates ancient grandeur into contemporary pieces that enthral.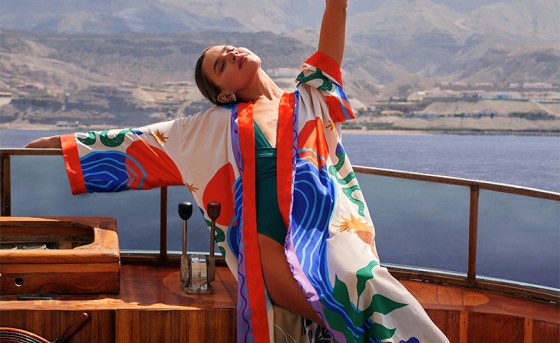 "In a world where Identities are often lost, we wanted to preserve our own."
Like unearthed relics come to life, Egyptian label Ausetia translates ancient grandeur into limited edition contemporary pieces that enthral. Hieroglyphics dance across diaphanous silk, lotus blooms flutter down flowing sleeves, and temple motifs adorn drapes that ripple like desert sands.
At Ausetia's hands, antiquity awakens with modern marvel.
Founded by husband and wife duo Salwa El Shamy and Abdelrahman (Absher) Shereef, Ausetia draws from the depths of Egyptian history to craft a signature aesthetic.
A fascination with Egyptian culture sparked the inception of Ausetia.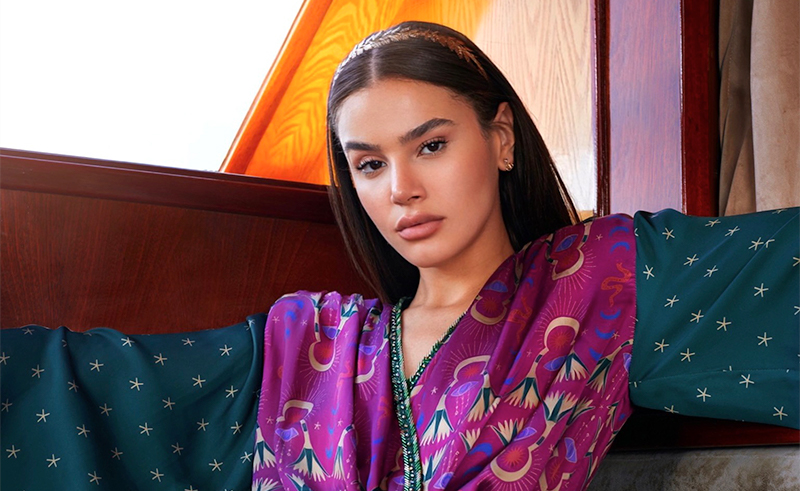 "Having been in the fashion industry for almost a decade now, I've always had this desire to create a luxury brand that was unapologetically Egyptian. Ancient history called, and I just had to heed, especially since I have always been fascinated by visiting and learning about the historical sites." El Shamy begins, "Auset (Isis) was one of the most important goddesses in Egyptian history, which we used as a symbol for women empowerment," she adds.
Like a modern-day Isis, El Shamy sanctifies female power through fashion that tells the tales of legendary goddesses. "Auset, Neith, Hathor, Nut, and Nephthys - all of these Egyptian Goddesses were powerful leaders - and we want to showcase that through our label," she professes.
In conversation with Scene Styled, El Shamy emphasizes that "every element, every motif in our designs tells a story, makes an artistic statement and pays homage to Ancient Egypt."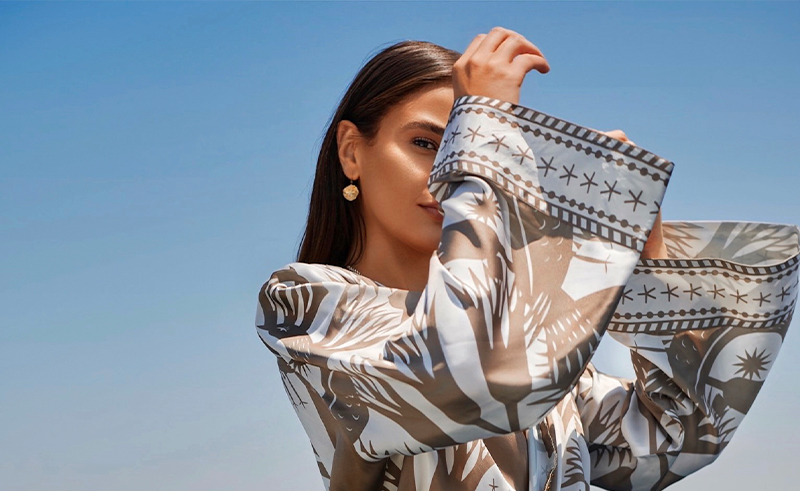 Staying true to its heritage and adding meaning to the motifs, Ausetia's pieces are etched entirely by hand. As Absher describes, "Egypt has no shortage of skilled and talented women who just need the right platform to showcase their artistry. We wanted to support that, we wanted to use our label and our platform to showcase their skills. Everything at Auset is handmade by women for women."
From gossamer dresses cascading like desert dunes to kimonos with hieroglyphic trim that spark curiosity, Ausetia's creations are visual poetry. "It's a lot of research that goes into Ancient Egyptian history and how to embed that in our designs - I want Ausetia's pieces to speak in subtle yet powerful ways, not in your face," shares El Shamy.
Subtlety aligned with showmanship, Ausetia's designs make muted statements that nevertheless command attention. Flowing fabrics, diaphanous drapes, and gilded motifs craft an aura of mystery and allure.
The conceptualization process requires finding the perfect balance. As El Shamy explains, "This is the challenging part to find the balance between designing a piece very trendy but at the same time telling a story about Ancient Egypt so yeah it takes a lot of energy and research to come up with methods to embed the art and stories of ancient Egypt between the lines of trending everyday designs."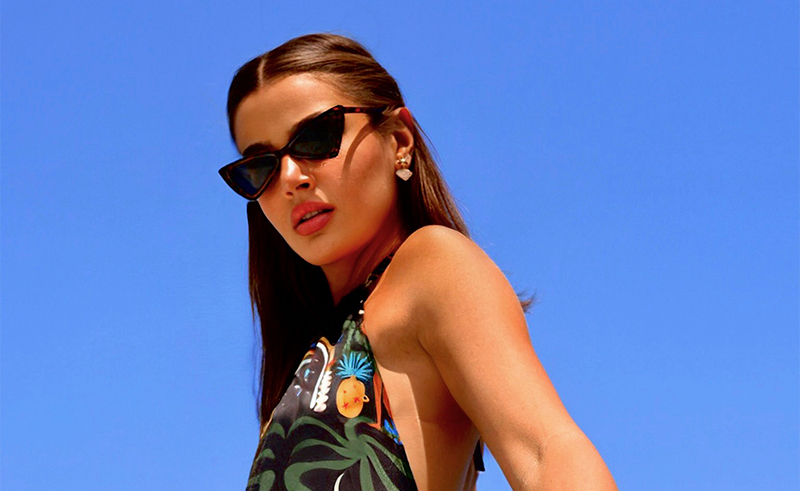 For Absher and El Shamy, Ausetia has been a profoundly personal experience. As Abdelrahman tenderly shares, "the brand has brought us so much closer together - it emphasised our realisation that we truly complete each other - we even wrote a namesake song about the label."
Their journey began after marriage when their passion for Egyptian heritage aligned. "Ausetia strengthens the bond between us while leaving a lasting impression on our customers. We see success as making a positive impact on the lives of as many people as possible, and we are committed to achieving that through Ausetia," Absher explains.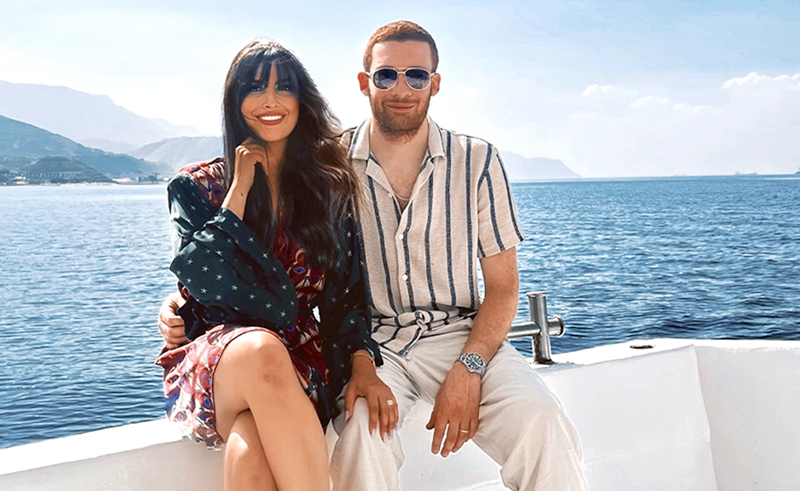 As Ausetia continues to ascend within the realms of luxury fashion, its message rings clear - honouring heritage and empowering women are at its core.In El Shamy's words, "In a world where Identities are often lost, we wanted to preserve our own."
The brand has ambitious plans for expansion while remaining dedicated to its core values. As Abdelrahman hints, "we are working on new collections for the fall, Christmas and the New Year season. We're adding new production lines, and to say we're excited would be an understatement."
Their vision is to reach new heights in the fashion world. "We aspire to become the first Egyptian International High-End Fashion Brand with all possible lines of production, leaving a strong signature in the international fashion league," Absher shares with Scene Styled.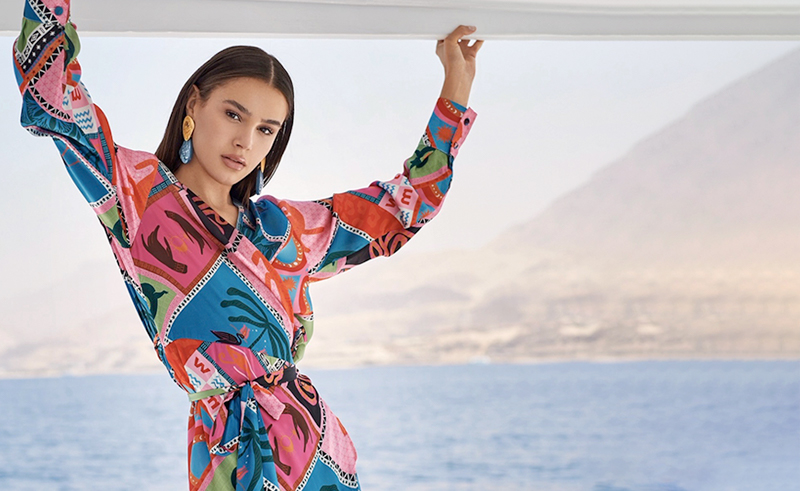 El Shamy and Abdelrahman's combined passion, talent and dedication drive Ausetia's unique position in the luxury fashion sphere. "I manage everything related to design, styling, branding, and art direction. Absher manages the website, advertising, customer experience, logistics, and finance. We're perfectionists and we make sure every detail reflects that," explains El Shamy.
Some of the brand's stunning highlights include the beaded Bastet Universe Dress, the multi-styling Golden Sopdet dress/kimono with flare sleeves, and the backless Mystical Summer Nights dress. Each piece flawlessly blends ancient inspiration with contemporary design.
Yet, Ausetia's tale is not confined to the realm of fashion alone. It is a story of sustainability, etched in every choice they make. They proudly bear the banner of a cruelty-free brand, committed to using only ethically sourced materials, free from the shadows of animal-derived components. Ausetia envisions a better world, one where luxury is conscious, and fashion embraces a sustainable future.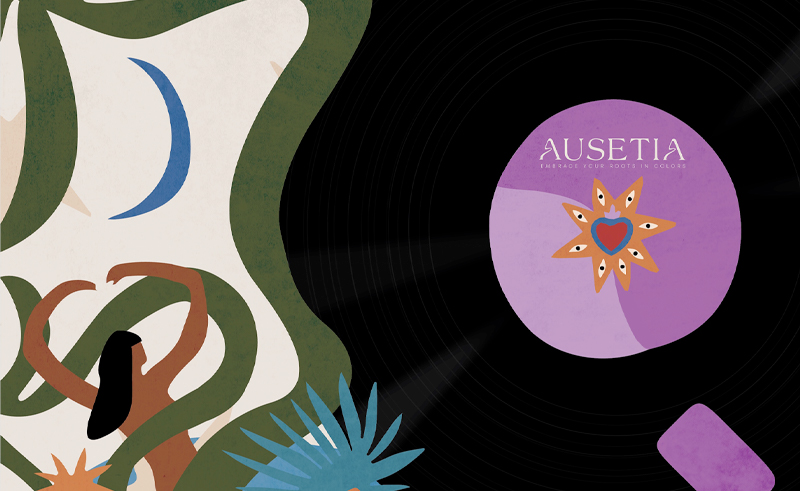 In the sanctuary of Ausetia, fashion transcends mere attire; it becomes a bridge to ancestral roots and an ode to identity. Ausetia's creations are not mere garments; they are individual artworks, each brushstroke of ancient Egyptian motifs telling a new tale of Egypt's grandeur. Lotuses, golden falcons, water lilies, temple gates – these motifs dance upon fabrics adorned in vibrant, captivating hues, evoking the very soul of Egypt.
"What we want to reflect is identity, heritage, and authenticity. We seek to inspire people to view fashion from an unconventional perspective - an artistic and educational perspective."