Float Above the Mediterranean in This Tunisian Guest House
One week out of the year, the guest house returns to its previous status as home to Catalan business mogul, Alex Estilles.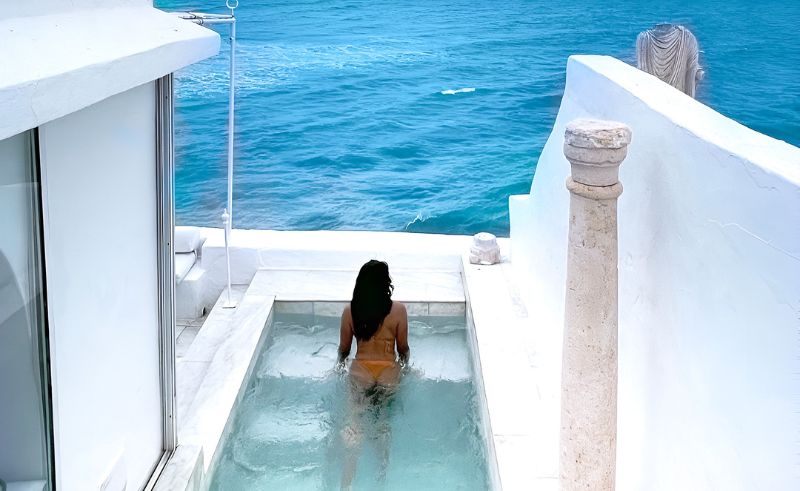 On the periphery of Tunisia's La Médina d'Hammamet, precariously positioned atop the very edge of a cliff directly overlooking a fringe of the flax-gold sand giving way to the seemingly cosmic Mediterranean waters, is a stark all-white villa known as Dar El Bhar.
Dar El Bhar is actually the home of Catalan business mogul, Alex Estilles, whose friend circle includes the likes of Christian Louboutin and former French president François Mitterran's nephew. He's also the founder and director of XXL Comunicacion; a Spain-based marketing agency with a client roster that includes Hermes, Barbie, Ferrari, Maserati, Mont Blanc, Tom Ford and Roberto Cavalli. Towards the end of each year, Estilles invites a list of Spanish and French celebrities - who often include Victoria Abril, Bibiana Fernández, Rossy de Palma, Cayetana Guillén Cuervo and Hiba Abouk - for a week of relaxation and fun, before they vacate the home, leaving it open to rent by visitors from across the globe.
The villa turned guest house embodies a traditional Ibadi Berber style of mosque architecture, all low-lying structures in stone, barrel vault roofs, domed rooms and a beautifully-carved Arabesque minaret, all covered in white wash. While in theory, a bleached-out space can sound both stark and cold, the visuals tell a story world's apart from our imagination.
Dar El Bhar's milky foundation allows it to stand out against the backdrop of the roiling turquoise waters; its cool texture-rich and ivory-infused interiors offer an all-natural feel that serves to suck in your stress, leaving you feeling as oddly cleansed as the walls themselves, a blank canvas perfect for beginning anew.
Upon stepping through the villa's beautiful ancient marble relief door, you'll be greeted by a central courtyard decorated in an Arab-inspired rococo style, with a pillowed resting bench positioned directly beneath a ceiling opening, leaving it drenched in sunlight, and absolutely perfect for a nap. The marble floors, fully crossed arches, and - oddly enough (or maybe not, considering the marble relief) - Roman columns - blend with elements of granite, to offer a sensual fusion of Arabic and Roman feel perfect for seaside living.
The guest house is comprised of three suites, a kitchen, dining room, a traditional hammam and two terraces - an open rooftop terrace and a more private one extended over the edge of the villa's second floor, dangling directly above the sea, with an old-school infinity pool providing a panoramic view of the crystalline Mediterranean waters.
The bedrooms are all furnished with vibrant duvets, colourful paintings and eccentric chandeliers. The dining room, on the other hand, has not a speck of colour from the dining table to the cutlery, it's all white, the only pop of colour being the veritable feast presented for breakfast and dinner.
Completely out of character for the guest house but incredibly spot on for Tunisie is the hammam; an earthly room with a raised central hot tub made of green-brown-grey marble and an oversized and multi-layered khulkhal for a chandelier, complete with only a hush of floor lighting and a smatter of tiny candles.
Reserving the guest house if you're two people comes at a total of USD 195 per night, if you're three then it's USD 245, if you're four it's USD 237 and if you're six individuals - booking the full guest house - then your total bill is USD 395 per night.
To reserve, message Dar El Bhar on their official instagram page, @DarElBhar.