The Nile Goes Nordic: The Viking Aton Floats Through History in Aswan
All aboard, budding Egyptologists!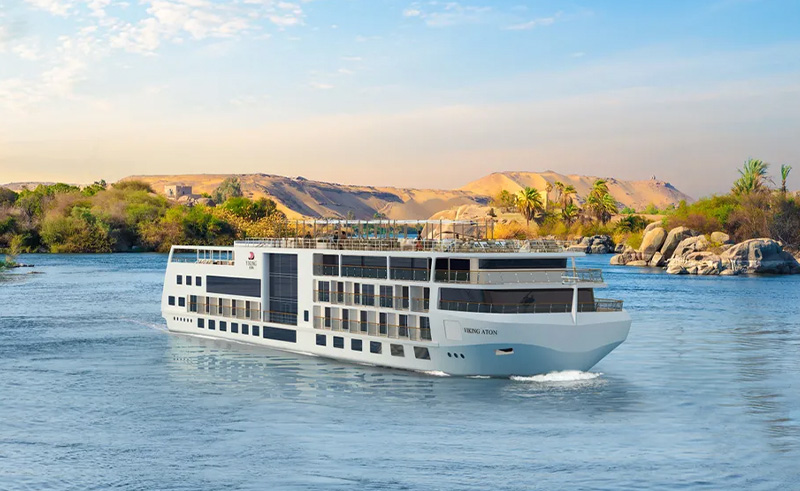 Where a million vessels have passed before, over thousands of years of recorded importance to the human race, how can a ship make its mark? The Viking Aton is a floating Aswan hotel and Nile navigator set to take guests along one of the world's most beloved river routes.
Hosting just over 80 guests, this intimate affair is one of the most comfortable ways to traverse the world's longest river and discover the ancient treasures along its banks. A world-class luxury belhotel, just without the foundations, Viking's newest project is complete with a sun-soaked pool, dreamy terraces for taking in Upper Egypt's natural beauty, top-tier restaurant, and of course, on-board Egyptologists to answer burning questions and leave passengers with a smidge more encyclopaedic than when they first stepped on deck.
As Egypt's popularity amongst international tourists grows stronger year by year, the demand for these serene cruises grows in tandem; the Ministry of Tourism and Antiquities is striving for a yearly crop of 30 million visitors by 2028.
With the world's collective curiosity and fascination with Egypt's illustrious ancient past failing to wane, there has been a veritable invasion of opulent Nile cruising options promising to deliver a unique and holistic experience of Egyptian heritage and culture through the ancient body of water which has sustained Egypt from the days of Kemet to this morning. The Viking Aton is the next, most lavish and inviting iteration of this globetrotting tradition.