Downtown Cairo Will Welcome Runners With Historic Half Marathon
This year's marathon marks a decade since the first Cairo Half Marathon and is focused on mental health.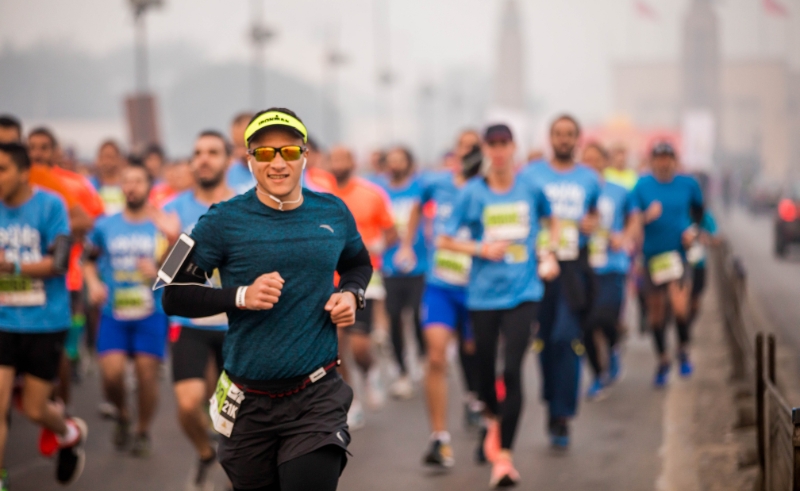 What is Cairo if not Al-Qahera the conqueror, a city built on the blood and sweat of its people and its enemies alike? Downtown Cairo isn't just the centre of the capital; it's the heart of Al-Qahera, beating to the stories of those who walk its streets and those buried beneath them.
Its streets smell strongly of garlic because there are koshary shops at every corner, and the 9:00 AM rush of traffic leaves people throwing curses at each other using their car horns, and the long line at 'am Mohammed's foul cart, with downtown's persistent hum serving as a pleasant background to your reflections.
You can experience all those things right now amidst the infamous Cairo traffic. Or, if you've signed up for the Cairo Half Marathon's historic run this March, you will be able to stride through the emptied streets a part of a larger community of runners.
Since this edition of the Cairo Half Marathon will mark a decade since the inception of Cairo Runners, the event organisers sought to make this one for the books. This year's marathon is inviting you to take in downtown's beauty, and to run parallel to places where Egypt's most significant events in the past century - heart-lifting and heartbreaking both - have taken place.
Under the auspices of the Ministry of Youth and Sports, the Cairo Half Marathon strives to promote kindness, togetherness, and an empathetic approach to mental health and wellness through their partnership with Shezlong, the first online therapy platform in the Middle East and Africa. The goal is to touch the lives of people who need mental health support and expand last year's efforts to promote mental well-being.
With over 3,000 runners expected to participate in categories ranging from a 21KM Half Marathon to a 2KM Family Run, the Cairo Marathon offers an opportunity for runners to connect with others, challenge themselves, and support a meaningful cause.
Don't miss your chance to be a part of this powerful movement for change and register now by visiting www.cairorunners.com/register