Egypt's Sinai Development Projects are Helping Develop 26 Bedouin Communities
On a recent visit to the Sinai peninsula to check-up on progress, Dr. Rania Al-Mashat was quick to highlight the importance of local Bedouin communities in the ambitious development plan.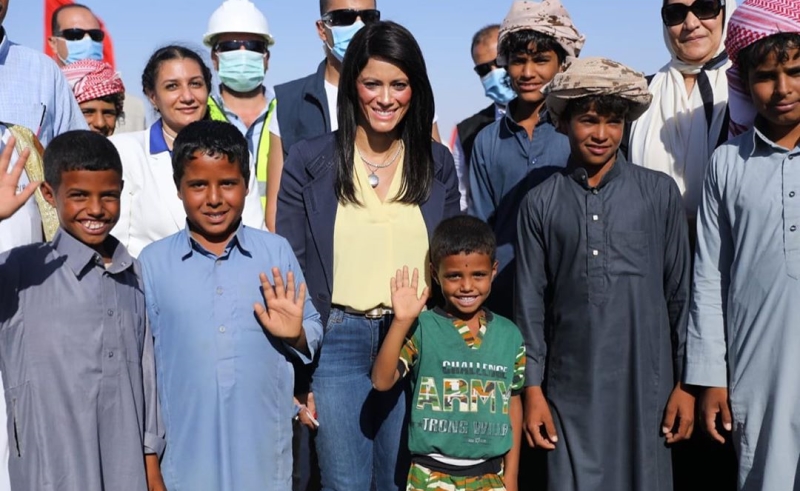 There's something undeniably alluring about the unproduced, organic charm of Sinai. While for many it falls under the category of 'places I go when I want to disconnect with modern society as we know it', for locals, Sinai is in urgent need for modern intervention and development.

It's something at the very core of a slate of development projects spearheaded by Minister of International Cooperation, Dr. Rania Al-Mashat, in collaboration with the Saudi Fund for Development and the Arabic Fund for Economic & Social Development.

The Sinai Peninsula Development Program is certainly ambitious in its goal of what Dr. Al-Mashat and the ministry are calling 'broad and robust growth'. On a recent visit to Sinai, however, Dr. Al-Mashat was quick to point out what she considers to be the most important piece of the puzzle: the Bedouin communities that have called the peninsula home for generations.

Sinai is, of course, a touristic jackpot-in-the-making that has yet to really fulfil its full potential beyond the globally appreciated Sharm El Sheikh, for example. For Al-Mashat, however, the key to a fully-formed Sinai lies in human potential and investing in people.

Fuelled by Al-Mashat's 'New Global Partnerships Narrative' of 'People & Projects & Purpose' (conceived to hone Egypt in on achieving the UN's Sustainable Development Goals), the development projects will establish social housing, educational institutions, a health unit, a sports area, a commercial complex and 18 agricultural centres which are hoped will also produce jobs for locals.

There are already several elements in the works, including 1,381 Bedouin homes and community service facilities at a cost of $1.1 billion. A second project is the development of 18 specific communities with 971 homes and community service facilities at a cost of $113.3 million. 13 different agricultural complexes covering a combined area of 23 million square metres have also been actioned. These projects are being financed by the Saudi Fund for Development, while the Arab Fund for Economic & Social Development has thrown its funding into a $170 million project to provide clean water and improve irrigation, alongside the Baht El-Baqar drainage system.

It's difficult to ascertain a time as to when the Bedouin communities will begin to feel the impact of these ambitious projects, but if there's one thing we can leave you with to demonstrate the sheer breadth and depth of the projects it's this: the Ministry of International Cooperation has been working with various Arab funds since 1974, on projects amounting $12.5 billion. The current portfolio of projects makes up $6.9 billion of that.