How to Turn Your Social Media Content into Charity With Impactyn
Want to turn your organic social media content into a way to help your community? Check out our guide with Egyptian AI-powered app Impactyn…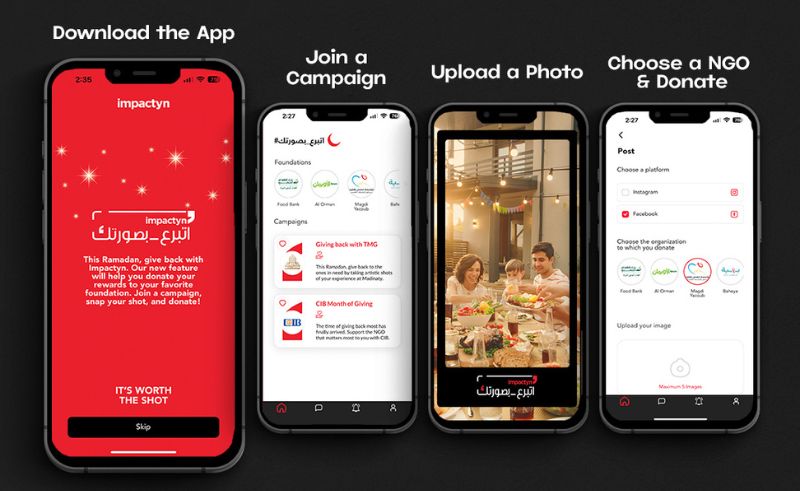 During Ramadan, many of us look for ways we can give back to the community and make a difference – but posting on social media probably isn't the first thing that would spring to mind. Impactyn is an Egyptian AI-powered app that has been allowing its users - aka 'Impactyrs' - to easily monetise their organic user-generated content. And now, Impactyn is channelling their innovative platform towards a charitable cause as part of their 'Etbara' Bi Sortak' campaign.
Throughout the holy month, Impactyn has partnered up with Egyptian NGOs and corporate entities so that impactyrs can help donate to a good cause - and all they need to do is post a picture! Here's a quick step-by-step guide on how to use the app to give back to the community…
Step 1: Download the App
The Impactyn app is available on both the App Store and Google Play. Download and install it on your mobile device to get started.
Step 2: Choose a Brand Campaign
Once you have the app, you can choose from the available brand campaigns. These campaigns are organised in partnership with various NGOs and corporate entities.
Step 3: Check the Campaign Guidelines
Before creating your content, make sure to review the campaign guidelines. These guidelines will provide you with important information on what you can and cannot do while participating in the campaign.
Step 4: Upload Your Content
Snap a picture and make a post! It's as simple as that. Whether it's a story or a post, you just need to upload it to the app first. You can add text, images, or videos to make your content engaging and impactful.
Step 5: Choose Your Social Media Platform
Select the social media platform where you want your content to be posted. You can choose from popular platforms like Instagram or Facebook.
Step 6: Choose Your Foundation
Next, choose the foundation you want your monetary reward to be donated to. Impactyn's NGO partners include well-known organisations such as the Baheya Foundation, the Egyptian Food Bank, Al-Orman Association, Hand in Hand, and the Magdi Yacoub Heart Foundation.
Step 7: Finish and Donate
Once you have completed all the steps, your content will be posted on your chosen social media platform, and the brand associated with the campaign will owe a donation to the NGO partner. The reward amount will be based on the views and engagement of your content. The brand will then donate the monetary reward to the foundation you selected, directly contributing to the cause.