Sahel Sneak Peek: The Hottest Destinations on Egypt's North Coast
Here's our rundown of the hottest destinations opening on Egypt's North Coast this season.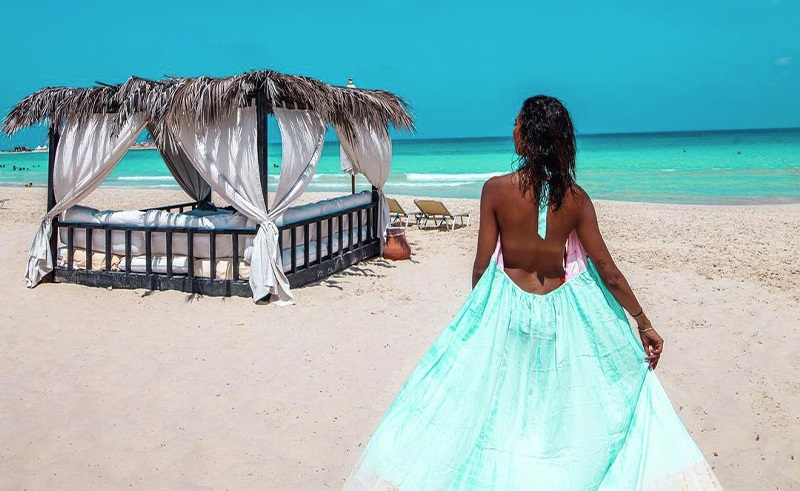 Between a slew of Egyptian entrepreneurs creating world-class lifestyle concepts and the simultaneous arrival of some of Lebanon's biggest nightlife and dining brands, Egypt's North Coast is set to experience its hottest summer ever.




Our beaches have always arguably been amongst the most gorgeous on the Mediterranean but this new era for 'Sahel' could see it become a serious contender to some of Europe's most popular sun, sea, and party destinations.




From ravishing restaurants and breathtaking beachside lounges to sizzling superclubs, CairoScene has curated an exclusive insider list of the hottest spots to look out for in the Sahel Summer of 2022.
CASA NOKU // MARASSI BEACH CLUBHOUSE
G'nK group and G'nK Hospitality - the masterminds behind KIKI's Beach Bar, Mazeej Hotels, byGanz Extraordinaire, Shawlaki and Stanley restaurants - are breathing Mediterranean magnificence into our summer with this new spot. Galal Kerdany - the famed restaurateur behind The Tap West, East and Maadi, as well as co-owner of the famous Spanish 'Brunch and Cake' concept opening later this year - is also joining in as co-owner and manager of Casa Nōku. The new venture actively invites newcomers to partake in the lavish side of beach culture with a menu that includes rich lobster risotto, fresh and zesty tempura, and crisp rocca salad. With a team of foreign mixologists, their drinking experience is bound to be unrivalled. Savour a mouthful of juicy steak accompanied by an opulent glass of red wine, while the explosive bass music punctuates every bite.
AHM // PLAYA
This summer, Factory People teamed up with Venture Lifestyle to bring AHM to Sahel's Playa. There it will be built from the ground up in the spirit of the Factory People, who have also made their mark across the region and Europe. Having started as a group of artists and musicians looking to enrich Beirut's clubbing and music community 11 years ago, the Factory People is one of the most influential forces in the region, having produced venues like Anya, Isolé, Reunion, Soul Kitchen, The Grand Factory and Warehouse. The Sahel venue will be split into two, one as AHM and one as the much more intimate Reunion.
BAIA BEACH HOUSE // TELAL AL ALAMEIN
Pristine white fabrics, pale woods, delicate beige palm leaves - these are the elements that without fail pull us out of whatever urban funk we may be struggling with, the smog and the noise and the oppressing ceiling closing in on us, and instead takes us to the Mediterranean. Tamer Banna, founder of Beyond Entertainment, is the man bringing this new concept to the shores of Sahel this summer, and we're absolutely here for it. Their cuisine is set to sample the best of the Mediterranean with a smorgasbord of a menu inspired by France, Italy, Greece, Spain, Morocco and Turkey all washed down with insta-worthy cocktails.
SAX // MARASSI
Hailing all the way from Beirut, G'nK Group were able to join forces with Sky Management to once again bring the iconic fine-dining spot to the shores of the North Coast. From the custom-made bar to the signature chairs, the elegant stools to the Murano glass-covered space, the fan-favourite salmon tartar and goat cheese roulade, everything you've come to love about SAX will be making a comeback this season. Located at the Address Marassi Golf Resort, you can start living your best life right now.
PIER 88 // ALMAZA BAY
It would be a disservice to simply call Pier 88 an Italian restaurant or a nice outing, in truth it is one of the definitive fine dining experiences in Egypt. Having first set sail at El Gouna, Pier 88 has opened locations all around the nation and is making its annual return to the North Coast with Pier 88 Almaza Bay. After an immensely popular run last year, Pier 88 is preparing to welcome back guests with its Italian cuisine from truffle burrata and vitello tonnato, to some of the most authentic pizza you can find and seafood as fresh as the Mediterranean besides you.
LUCIDA // HACIENDA RED
With Sahel season upon us, Ahmed Beltagy, party planner par excellence, who brought us iconic hotspots like TIU and Tamarai Ahmed Beltagy, is serving up a slice of the Mediterranean on the North Coast's Hacienda Red with his newest fine-dining project. Lucida, which is Latin for the brightest star in a collection, comes through with an all-white everything aesthetic that'll truly take you somewhere where dreams come true. Upon entering the restaurant, it'll instantly evoke a warm, summery ambience. Aside from the indoor area, they have a legendary beach bar where you can unwind and literally forget about all your troubles.
THE TAP NORTH // ALMAZA BAY
With locations all over Cairo, The Tap is heading to the beach with The Tap North in Almaza Bay. Famous for hosting live musical performances at its casual hangout spots, The Tap North will also bring the franchise's all-you-can-eat chicken wings every Sunday, Game Night and Karaoke Night alternating every Tuesdays with them. Oh, and there's more because The Tap North is coming through with the ultimate all-you-can-eat experience, AKA After Beach BBQ, every Saturday from 4PM until 7PM. Not only will you get to have unlimited wings because that's a given, but you also get to eat your way (and feels) through endless burgers and hotdogs. They've also flown in renowned deck meister DJ Pitto all the way from Holland (yes, the same exact one who won Grand Prize) where he'll be acting as the resident DJ at the North Coast's latest hotspot. We don't know about you, but this is what summer dreams are made of.
BEEFBAR // PLAYA
With 14 restaurants open around the globe in cities including Paris, London, Mykonos, Saint Tropez, Hong Kong, Dubai and more, we find it super exciting that the North Coast will be receiving its branch of Beefbar very soon. Originally launched in Monte Carlo by the iconic Riccardo Giraudi, Beefbar carefully selects prime meat cuts then cooks it to perfection using both international and local recipes. You'll find the rarest meats of the world on the menu, which boasts popular recipes for those looking for a platter that combines elegance with simplicity, as well as feeds their carnivorous cravings. Couple the modern luxurious element with the Mediterranean's soothing waves and you got yourself your ultimate destination on the North Coast for a high-end vibrant dining experience. No official date has been announced for the opening of Beefbar, but we're counting-the-seconds excited for it to grace our lives with its presence.
SCALINI // HACIENDA WHITE
If you aren't familiar with Scalini, kindly sit for a quick crash course. The fine-dining Italian eatery was established in London in 1988 where it played an influential role in the rise of Italian trattorias throughout the country and won the hearts of all your favourite celebrities including Jude Law, Cheryl Cole, Kate Moss, Simon Cowell, among many others. Brought to you by Eatco, Scalini will be opening its first Egypt branch in Hacienda White on the North Coast this summer. They currently don't have an exact date on when they will open, but we'll be updating as soon as they have one. One thing is for sure, however, Scalini promises an exquisite culinary journey, bringing a taste of its diverse heritage to Om El Donia.
SASS // HACIENDA BAY
The all new destination is set to open its door in Hacienda Bay. Just like its Zamalek counterpart, Sass is going to be a restaurant and nightclub, but this time it's outdoor, surrounded by the smell of the sea and the pristine view of the beautiful Mediterranean shores. In the morning, you get to lounge on the pool or beach while being served Sass's delectable menu and perfectly crafted cocktails. At night, It's the hotspot for the best parties, live performances and DJs! So put on your best beach clothes, and ready yourselves for the best szn.
CAPITAINE // MARASSI MARINA
This just in! The Smokery just teamed up with an actual Michelin star chef to bring us the epitome of culinary excellence, Capitane. The new eatery is possibly Egypt's next top fine dining experience and it's making its way to Sahel this summer and we couldn't be more excited. Set by the sandy beaches of Marassi Marina, the view is nothing short of spectacular. As you walk in, you'll seriously consider leaving everything behind just so you can live here forever. As a collaboration between The Smokery and world-renowned chef Christian le Squer, Capitaine is already set to take the culinary scene by storm. Serving contemporary French cuisine, you can indulge in their legendary spaghetti debout made by a three Michelin star chef, just divine. We currently have no official date as to when Capitaine will open, however, be on the lookout for the first week of July.
THE COOKERY CO. // ALMAZA BAY
If you're a foodie who loves to socialise, then you've definitely stumbled upon The Cookery Co. one way or another. The local brand has been successfully elevating the catering scene in the country for the last few years, and it is now ready to venture into a new era. Whether you want to pass by to pick up a loaf of bread and some pastries for home, have breakfast/lunch/dinner with the posse, or even gorge on a post-workout meal after the gym, The Cookery Co. has got your back with their new Almaza Bay location.
RATIOS // ALMAZA BAY
Yes, you read that right. Ratios is heading to the North Coast this season to make sure all your needs are well taken care of. If you're not grasping how this is a game changer to all of us , let us enlighten you. You can finally have their iconic blueberry muffins by the beach. If that's not your thing, then having their pesto sandwich for breakfast at your chalet is certainly going to be. Nope? How about their lemon tarts for a post-swim moment? Exactly. Not only is their new location a two-story shop, but they're introducing their very own coffee for the first time ever. Oh, and there's more! Beach delivery is now going to be a thing. Ratios will be opening its doors to the public on June 30th where it'll be taking over Almaza Bay. We don't know about you, but colour us very excited.
SUZETTES // MARASSI BEACH
The café may have opened only six months ago at Sheikh Zayed's Walk of Cairo, but it's already taking on a grand new venture. Known for its all-day breakfast menu and its unique, Instagrammable space that makes you feel as though you've teleported to Paris, its Sahel counterpart will invoke the same feelings…except you're by the beach.
MONKEY ROOFTOP // ALMAZA BAY
The Zamalek hotspot has decided to migrate to Sahel this summer with a resto-bar vibe that serves fusion dishes, colourful cocktails, and most importantly, good vibes. The new rooftop is set to take over Almaza Bay with a whole new lewk that is bound to make Monkey Bar enthusiasts fall in love with the place.
BBQ BROS // MARASSI
If you were one of the unlucky ones who haven't gotten the chance to experience BBQ Bros, let us catch you up real quick. Venture Lifestyle's very own Rabih Mockbel and Mario Aoun introduced us to this carnivorous carnival concept and nothing was ever the same. For starters, you need to try their truffle fries, bang bang chicken, and guacabowl. No questions asked. When it comes to their meats, anything from their prime cuts menu is a winner. From the Australian beef ribs to the US ribeye, South African tomahawk; the meat limit will not exist.
WHAT THE CRUST // HACIENDA WHITE
The popular Maadi pizzeria just announced that they're entering their Sahel era with their new location. Expect the same menu you've grown to love back in their Cairo branch with a few more added surprises that will only be available in Sahel. ''We're going to be releasing three new pizzas, however, we're keeping them all a secret for now,'' Darin Akkad, the Wonder Woman behind the brand, tells CairoScene.
MYU // SIDI HENEISH
MYU's story began in Lebanon when Michelin-starred chef Joe Mourani decided to open up a tiny little eatery in Gemmayzeh. The reason Venture Lifestyle picked Sidi Heneish as its Egypt location was the fact that it was an untouched piece of land, making it, in its own way, the new Sahel. This beachside spot handcrafts delicious meals made with fresh ingredients and produce. This is the kind of restaurant that truly respects the ingredients it works with. When you're lounging around by the sea, enveloped by nature, nothing is more appetising than a fresh and zesty tuna sashimi nicoise salad or a freshly caught sea bass. You can find MYU in the positively Instagrammable Smeralda Bay.
EM ALI // PLAYA
With it being Sahel season, everyone (but us) is taking care of their forma in the most extra of ways. Burgers? No, thanks. Pizza? La2a. Saj? You can, but only from Em Ali. Originating from the country that brought us icons like Fairuz, Venture Lifestyle's Em Ali don't play, which is why she made her way all the way to Egypt to find herself serving some Lebanese brekkie realness (as in mana2eesh and saj and only that) at Seashell Playa. Let us tell you one thing though, she looks like a dream.
GRECCO // PLAYA
As its name suggests, this eatery specialises in Greek food – from grade-A souvlaki to mouthwatering moussaka and freshly grilled fish of all kinds right by the beach. Apart from serving quality food, Grecco also knows how to throw a party. Not only have they brought huge acts like Tamer Hosny and Wael Kfoury, they also hosted international performers such as BLOND:SH and Monolink.
MARIOLINO // PLAYA
This spot brings authentic Italian al fresco vibes to the shores of Playa where you get to sip wine, gorge on pizza and pretend you're somewhere in Sicily. That's it. That's the whole vibe, sis.
KIKI'S BEACH BAR // HACIENDA WHITE
We can't have a Sahel listicle without including G'nK Group's iconic Kiki's. The bar is perfectly situated on a rockless beach where the horizon Instagrammable meets the sea. The spot is perfect for socialising, enjoying refreshing cocktails and indulging in Mediterranean-Greek creations.