New Theme Park El Malahy is Bringing a World of Joy to Katameya
Featuring a huge host of rides and attractions for people of all ages, El Malahy is becoming a hotspot for a family day out.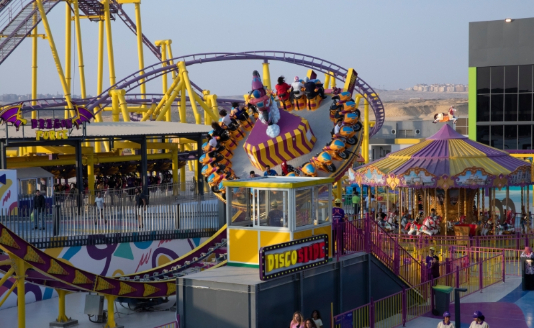 A new theme park has opened its gates in New Cairo! Located opposite District 5, El Malahy Amusement Park has quickly become a go-to destination for families and shellas alike seeking a day of entertainment, filled with whimsical carousels, heart-pounding roller coasters, and comically sized carnival food.
Picture a landscape of live buskers, mesmerising magic and clown shows, and spectacular fireworks displays amidst a kaleidoscope of colour and design across the park's 20,00 sqm, and you've just scratched the surface at El Malahy. Here you'll find rides like the heart-in-stomach Scream Drop, Air Trance, a 30 metre high soaring chair ride, and Rock n Race, the first ride in Egypt produced by global ride makers Zamperla.
The theme park is home to a massive arcade, where little ones (and not-so-little ones; we don't judge) can show off their skills and win prizes across more than 45 games. Additionally, the park will house plenty of retail stores and over 16 food and beverage outlets, ensuring that your day of fun is thoroughly fueled. You can even find the biggest ice rink in Egypt here, where you can skate all your troubles away.
What sets El Malahy apart, however, is its unwavering commitment to safety – it's the first and only amusement park in Egypt to meet rigorous international safety standards.
El Malahy welcomes visitors daily from 4 PM to 11 PM on weekdays and until midnight on weekends. Be on the lookout for exciting weekend events starting this Friday, September 15th, with a live performance featuring Egyptian pop sensation, Mahmoud El Esseily. Tickets are available exclusively on ticketsmarche.com. For more information on El Malahy, call 02300900093.