200 Shams New Visual 'La Wa2t Yesra2' is Retro Futurism at its Finest
200 Shams' latest track and music video is filled with twists and turns.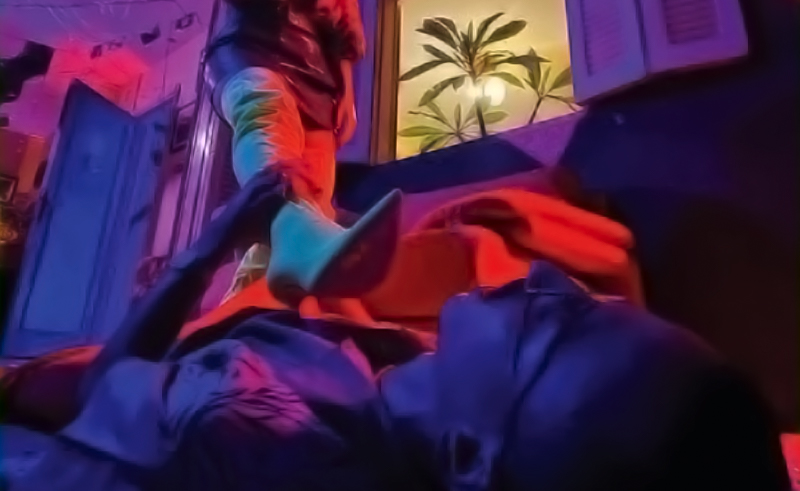 An experimentalist in his own right, Egyptian eclectic artist 200 Shams has released an interesting visual for his retrofuturist track 'La Wa2t Yesra2'. The song touches upon themes of paranoia, insomnia, and fear, all of which are reflected cinematically through the music video directed and edited by Salma Saleh.
'La Wa2t Yesra2', loosely translating to 'when time is stolen/wasted' is 200 Shams' first release of the year, and the artist certainly kicked off 2022 with a bang. Sonically, the track is robotic, almost alien. Accompanied with a gory visual, the entire experience of the track feels otherworldly.
The video stars creative director and co-founder of Palestinian independent record label BLTNM, Shabmouri, who plays the character of a young man going to meet a girl at her flat for what initially seems like a harmless hang out. Shabmouri has brought with him a cassette, (200 Shams' track, of course) and, upon playing it, is brutally murdered by the girl he came to see. Shabmouri falls to the ground with confetti flying out of his stab wound, his body covered in blue blood. The narrative is a bold and abstract metaphor for insomnia and paranoia, with extreme close ups of the girl breaking the fourth wall and looking directly into the camera.
Sonically, 200 Shams conveys these uneasy themes of paranoia and insomnia with the use of a heavy tremolo, phaser, and echo effect on his vocals. The eeriness and discomfort radiates from the track, which is grounded by trap-inspired drums along with the fluctuating synth-line and ascendingly arpeggiated lead hits.
200 Shams's inventive mind and innovative ear makes him undoubtedly one of the most exciting producers, singers, and songwriters in the scene. His consistent work that deliberately pushes the envelope of the conventional and expected is what adds a new dimension to the growing music scene in the region.
Watch the video below.