Saudi's Mohammed Ashi Opens First Edition of Riyadh Fashion Week
Saudi's Ashi Studios kicked off Riyadh Fashion Week with silhouettes paying homage to the kingdom's heritage.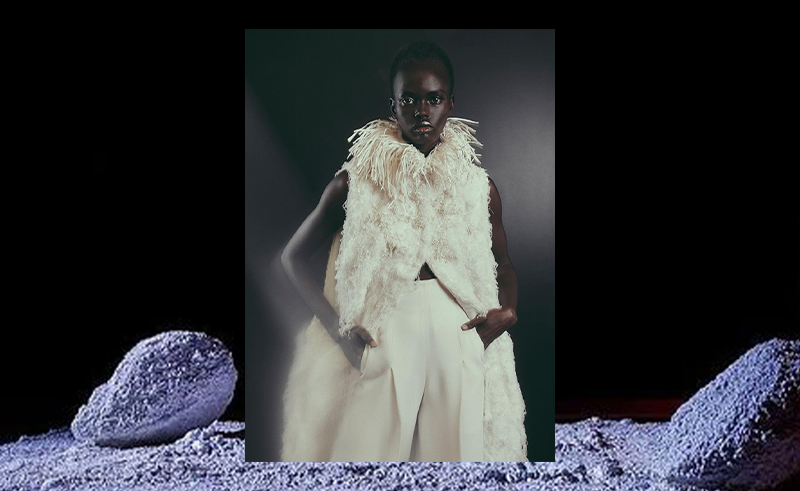 Under the enchanting desert moonlight, Riyadh Fashion Week debuted with a show by renowned Saudi designer Mohammed Ashi. His latest collection, '8pm,' paid homage to the captivating beauty of his homeland after sunset. Models gracefully strolled down a runway framed by installations that evoked the sands of the nighttime desert, their garments – robes, dresses, and gowns – echoing the blend of ancient heritage and cosmopolitan elements.
Ashi's inaugural show in Riyadh paid tribute to his Saudi heritage and the city's dynamic fashion landscape. Known for his romantic and geometric designs, the couturier introduced a collection of evening wear that beautifully captured the nocturnal desert ambiance. Flowing silhouettes and extended, swaying fringe evoked the image of serene sand dunes bathed in moonlight.
While wispy whites dominated like starlight, Ashi embraced bolder tones as well. Crimson silk and shimmering fabrics smoldered like distant fires across the sands. Feminine, yet strong, the collection reflected the modern Saudi woman in all her complexity. Traditional abaya silhouettes were reimagined with alluring cuts, fusing heritage with high fashion.
After over a decade in Paris, Ashi's homecoming showcases his pride in Saudi style on an international stage. Earlier this year, he made history as the first Saudi designer invited to present during Paris Haute Couture Week. Now, he returns during another landmark moment - the launch of Riyadh Fashion Week.
The inaugural event spotlights Saudi Arabia's flourishing fashion identity over seven days. Curated runway shows invite celebrated designers like Ashi to share their artistic visions. With support from the Saudi Fashion Commission, the gathering provides a platform to nurture local talents and propel them onto the global scene.
Since founding his eponymous brand in 2006, Ashi has dressed A-list stars such as Beyoncé and Lady Gaga. However, the designer's commitment to his Saudi heritage shines through his work, where traditional influences are subtly interwoven. By inaugurating Riyadh Fashion Week, Ashi's most recent collection completes the circle, returning to the sands that have profoundly shaped his aesthetic vision.