Urban-Chic French Brand Sandro Opens Its First Store in Cairo
Located next to its sister brand Maje, Sandro Mall of Arabia ushers in a new era of Parisienne-chic designs.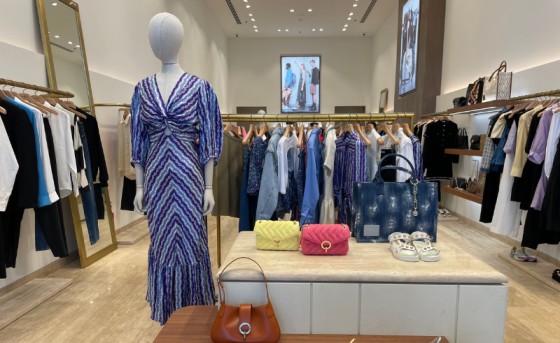 Amidst Cairo's bustling heartbeat, a new chapter in the fashion narrative is being written - one that intertwines the eternal allure of Parisian elegance with the vibrant spirit of Egypt's capital. Sandro Paris has unveiled its first boutique in Cairo, nestled within the vibrant walkways of Mall of Arabia.
The year was 1984, and Evelyne Chetrite embarked on a journey to encapsulate the essence of French refinement. What ensued was the birth of Sandro, a brand that goes beyond clothing to embody emotion, authenticity, and an understated sophistication - a manifestation of the Parisian soul. Sandro Paris treads the delicate line between elegance and audacity. It's a brand that dances with sophistication while whispering notes of rebellion. From meticulously chosen shooting locations to intricately curated mood-boards, Sandro's visual stories mirror reality - a commitment to grounding its aesthetic in the tangible narratives of life, making each piece a reflection of the diverse cosmopolitan mosaic.
As Sandro Paris graces Cairo's landscape, it does so with a revolutionary agenda - to democratise luxury. The brand redefines opulence by merging it with accessibility, proving that haute couture sensibilities can coexist with down-to-earth charm. With each dawn over Cairo's cityscape, Sandro Paris heralds the rise of a new era, where luxury is not just for the elite, but for all who appreciate refinement. From the enchanting streets of Paris to the vibrant lanes of Cairo and beyond, Sandro's odyssey transcends geographical borders. With over 540 points of sale worldwide, the brand's influence is a testament to its ability to seamlessly weave tradition with innovation.
As the doors of Sandro Paris swing open in Cairo, it's not merely a boutique launch; it's a declaration of elegance. Cairo's fashion-conscious populace finds themselves on the brink of transformation - a union between the effortless charm of Paris and the dynamic spirit of Cairo. The catwalks may change, but Sandro's commitment to authenticity, elegance, and a dash of audacity remains unwavering. Welcome to a new era of Cairo chic - the era of Sandro Paris.