Football & Food: The 15 Best Dining Establishments in Doha
From Beefbar to Nobu, here's where to dine upon your football-induced trip to Qatar this season.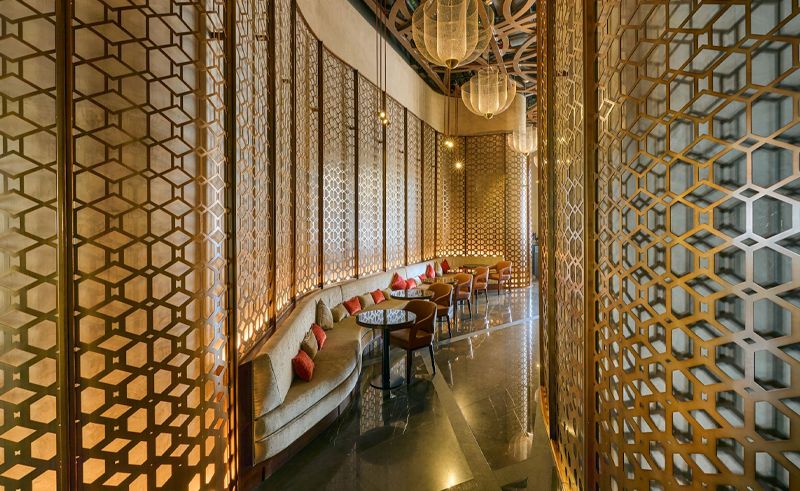 To fully succumb to a city and its magnitude one must explore the flavours that birthed its culture. And as the 2022 FIFA World Cup gains momentum, the human urge to dine out becomes insuppressible. The golden ceilings and low hanging chandeliers of Doha's finest dining destinations shine brighter when the world's gaze - and claws - dig further into its very fabric, with demand rising higher than ever. We've curated a list dedicated to feeding your Qatar endeavours with a selection of the best restaurants its capital has to offer…
BEEFBAR
Al Maha Island, Doha In light of the endless array of Wagyu sandwiches plaguing our Instagram feeds, we've heralded the king of meaty munchies, beefbar to satiate our picture perfect cravings. Located in the heart of Lusail Yacht Club, Doha, the restaurant ushers in date nights brimming with medium-rare gold-rimmed steaks and endless outpour sweet salads.
HAKKASAN
The St. Regis, Doha
A knightsbridge cult classic - one that is home to Soundcloud rappers of all streaming capacities and corporate lawyers, respectively - forges a new home at The St. Regis Doha's glistening terrace. Much like its English counterpart, the restaurant - and its crispy duck salad - usher new waves of upscale dining experiences. NOBU
Four Seasons Hotel, Doha
Acai bowls for breakfast and pilates girls rejoice! Nobu Doha is here to satiate the endless wormhole that your Friday afternoon lunch dates. Promising a whimsical escape - from the moment you come up the floating driveway, cross the bridge over a reflecting pool moat and into the three-story establishment – the architectural masterpiece serves food as divine as the view you will have of the Arabian Gulf.
LA BODEGA NEGRA
Al Gassar Resort, Doha
Imagine a luxurious Mexican villa - owned by an arts patron whose plaid shirts come in chartreuse and salmon variations - and that's what you'll come to find when you walk into La Bodega Negra. IZU Mandarin Oriental, Doha To those whose LV bags cannot touch the tabletops of mundane coffee establishments and restaurants, IZU serves to accommodate their lux needs. With a selection of French delicacies - including croque monsieur for breakfast, quiche and calamari 'à la Provençale' (prepared with garlic and olive oil) - you'll quite literally think you've landed on the crystalline shores of St-Tropez.
SHIRVAN MÉTISSE
The Pearl, Doha
Shirvan Métisse's - home to black hummus, seafood pie, frozen baklava and lobster pastilla - draws on North African culture for inspiration. Overlooking Doha's marina, the restaurant is a feast for the senses; one that beckons visitors to unwind beneath the setting sun and indulge in fine Mediterranean delicacies.
MORIMOTO
Lusail Expy, Doha
In the elevated Art Deco and exuberant arches of the Doha Mondrian, only one thing can satiate your suddenly turned-artistic appetite, the international delicacy that is sushi. Spearheaded by iron chef Masaharu Morimoto, the Mondrian's sushi bar showcases the true unabridged beauty of luxury Japanese cuisine, the perfect feast to indulge in after a big win.
BIBO
The St. Regis, Doha
Supplying our mid-game munching needs with something a little more dignified than the usual chips and store-bought dips is the elite Spanish dining-slash-munching-slash-drinking spot BiBo. Specialising in both Andalusian platters and tapas delicacies, it's no secret that the Dani-Garcia-led restaurant has earned a title as the Best European Restaurant in Doha for 2022.
SCALINI
Al Gassar Resort, Doha
All the way from the heart of Chelsea to the World Cup capital, worldwide franchise Scalini's Italian-English fusion goodness has long-populated Qatar streets to help you find romance in the post-match Qatar air. Whether you split a heart-shaped Napolitana or recreate Lady and the Tramp with an artisanal fettuccine tartufo, Scalini is helping us keep the date spirit alive amidst all the football drama.
SUMOSAN
Barahat Msheireb, Doha
If you're into history, Sumosan's twenty years of experience in the field of contemporary Japanese cuisine are certain to toot your culinary horn. Boasting a perfected craftsmanship of the most intricate of Japanese delicacies whose precision has earned the admiration of Vogue - twice - and GQ, Sumosan is an unmissable sushi spot on your trip to Qatar.
SAFFRON
Al Khaleej Street, Doha
Forget roses, Saffron is the holy crocus of Doha dining serving you an enticing fusion of dark academia made oriental, with a side of absolutely impeccable Thai food. Creating an engulfing sense of greatness, Saffron is the spot to visit after a big win, where the panoramic Doha views twinkle just below your eyeliner.
PARISA
Souq Waqif, Doha
Embodying Persian legends in the heart of the Ritz-Carlton's Souq Waqif, Parisa is the colourful Iranian cuisine eatery carrying a wandering sensorium around the world. The cultural wonderland's cuisine, as colourful as the restaurant, dutifully brings to life the delicate fusions of the cuisine's spices.
ZUMA
Al Maha Island, Doha
Providing everyone with yet another excuse to lovingly gaze into the eyes of their one true love is world-class dining establishment Zuma. After years of reddit threads posing the question of when the beloved restaurant will open, Al Maha Island - a hub for all things F&B - stepped in and remedied regional broken hearts. Vibrant in essence, the bar and restaurant lets you graze on endless orders of sushi, steak and small talk.
CHOTTO MATTE
The St. Regis, Doha
Housing a slew of business-affiliated discussions and CEOs - alongside a delectable array of Japanese Peruvian dishes - famed restaurant Chotto Matte is where to head to when your collection of soiree blazers next.
NAMMOS
Al Maha Island, Doha
Offering beachfront views set against the backdrop of the Doha skyline, Nammos is the Mediterranean restaurant serving memorable moments. A literal feast for the senses, Nammos's Grecian decor mimic those of the countless Santorini images lining our Pinterest boards.