Here are the Winners of Egypt's First-Ever People's Choice Awards
The Creative Industry Summit is spotlighting the standout talents behind Egypt's most popular series and ads with their new award.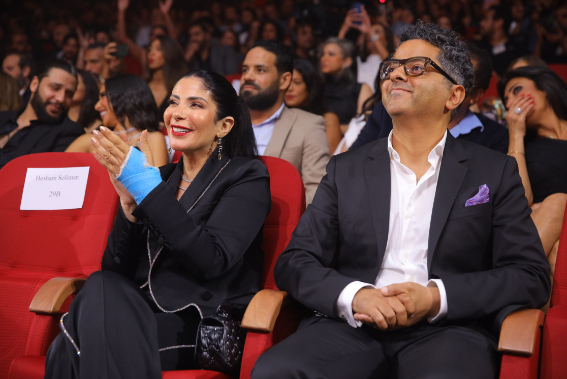 The people have spoken! After getting more than 80,000 viewer votes, Creative Industry Summit has revealed the winners of the first-ever 'People's Choice Awards - Ramadan Edition'. These storytellers and creatives have captivated viewers with their exceptional contributions, leaving their mark amongst Egyptian audiences.
TELEVISION SERIES
Best Director of Photography
Beshoy Rosefelt - 'Taht El Wesaya'
Hit Ramadan show 'Taht El Wesaya' has left viewers in awe of its story, picturesque locations, and - most importantly - its frames. Director of Cinematography, Beshoy Rosefelt captured the beauty of the Suez governorate and the actors.
Best Costume Designer
Hassan Mostafa - 'Harb', 'Gat Saleema'
Through two starkly different series, a thriller and a mystical comedy, Hassan Mostafa brings their characters to life through his meticulously designed costumes.
Best Screenwriter
Khaled Diab & Sherine Diab - 'Taht El Wesaya'
The brother-sister duo managed to shed light on inheritance and guardianship laws while creating a gripping story over 15 episodes. Khaled and Sherine Diab previously collaborated on 'Tayea' (2018), 'Induced Labor' (2018) and 'El Gezira' (2007).
Best Composer
Khaled Al Kammar - 'El Harsha El Sab'a'
Famed composer Khaled Al Kammar's subtle yet powerful soundtrack flowed throughout the events of the mini series, amplifying its emotions without dictating the story. Al Kammar previously composed the soundtracks for 'Qabeel' (2019), 'Al Ekhteyar' (2021) and 'Finding Ola' (2022).
Best Soundtrack
'Kelma' by Massar Egbari - 'El Harsha El Sab'a'
The indie band's song was one of the season's most unskippable intros. While director Karim El Shenany previously used one of their original tracks, 'Raghm El Massafa', in 'Khaly Balak Min Zizi' (2021), Massar Egbari created 'Kelma' specifically for El Shenany's latest Ramadan show.
Best Rising Star
Taha Desouky - 'El Sofara'
The actor and stand-up comedian has been adding his charisma to many television shows recently, including 'Family Matter' (2021) and 'Far' Khebra' (2021), and his biggest role to date in 'El Sofara' further positioned him as one of his generation's funniest rising stars.
Best Supporting Actress
Aya Samaha - 'El Sofara', 'Kamel El Adad'
The actress previously worked on Netflix's original series 'Paranormal' (2020) and 'Grand Hotel' (2016). This year, she starred in two comedies - 'Kamel El Adad' and 'El Sofara' - catching viewers' attention with a witty and effortless performance.
Best Supporting Actor
Ahmed Dash - 'Ga'afar El Omda'
The young actor first made his debut in 'Lamo'akhza' (2014) and has since starred in a multitude of acclaimed films and popular series. His most recent role in 'Ga'afar El Omda' as Mohamed Ramadan's long-lost son left its mark on millions of viewers.
Best Comedy Actor
Ahmed Amin - 'El Sofara'
The comedy actor has tickled audiences' funny bones with his impeccable timing and hilarious performances, gaining recognition through his memorable roles in popular series like Netflix's original 'Paranormal' (2020) and 'Ghamam's Island' (2022). With his knack for comedy, Ahmed Amin continues to bring laughter and joy to screens, and his latest Ramadan show 'El Sofara' was no different.
Best Drama Actress
Mona Zaki - 'Taht El Wesaya'
The acclaimed actress has mesmerized audiences with her compelling performances and talent over the past two decades, leaving an indelible mark on the Egyptian film industry. With an impressive repertoire of work, Mona Zaki has graced the screen in notable films such as 'Ehy Ya Shahrazad' (2009) and 'Perfect Strangers' (2022), showcasing her range and ability to portray complex characters with depth and authenticity. Her latest performance as a widowed mother in 'Taht El Wesaya' brought millions to tears over the course of 15 episodes.
Best Drama Actor
Mohamed Ramadan - 'Ga'afar El Omda'
The 'Number One' star is known for resonating with a wide range of audiences across the Arab world through his series, becoming one of the holy month's most viewed protagonists. This year, the actor's performance as Ga'afar graced the screens of every cafe, home and even office space across Egypt.
Best Comedy Series
'Kamel El Adad'
The 15-episode comedy is about a single mother named Laila who falls in love, and navigates the challenges of her new relationship while raising four children. The series stars Dina El Sherbiny and Sherif Salama along with up-and-coming actors Aya Samaha, Gehan El Shamashergy, Ahmed Gamal Saeed and Ahmed Kamal, and veteran actress Isaad Younis. 'Kamel El Adad' was directed by Khaled El Halafawy and co-written by Yousr Taher and Rana Abo El Reesh.
Best Drama Series
'Taht El Wesaya'
The mini-series explores the struggle of single motherhood and guardianship in Egypt. Amidst the coastal governorate of Suez, the protagonist (Mona Zaki) takes charge of her late husband's fishing ship and takes viewers along a challenging journey of trying to provide for her children.
Best Director (30 Episodes)
Mohamed Sami - 'Ga'afar El Omda'
The series follows the story of Ga'afar, whose life is changed after his newborn son gets kidnapped. 'Ga'afar El Omda' stars Mohamed Ramadan, Ahmed Dash, Hala Sedki, Eman El Assi, and Zeina Reda.
Best Director (15 Episodes)
Mohamed Shaker Khodeir - 'Taht El Wesaya'
The acclaimed filmmaker previously directed hit series 'Grand Hotel' (2016) and 'Every Week Has a Friday' (2020). His latest project, 'Taht El Wesaya', also won the Best Series Award.
Honorary Spotlight Award
'Resalet El Imam'
The period drama stars Khaled El Nabawy as Islamic scholar Al Imam Al Shafi'i. The 15-episode series was authored by acclaimed Egyptian writer Mariam Naoum (known for her work on 'Khaly Balak Min Zizi', 'Wesh w Dahr' and 'Between Two Seas'), and directed by Syrian director Laith Hijo (who previously worked on '24 Carat' and 'Awlad Adam').
ADVERTISEMENTS
Best Production House
Kay-Oh Productions
Best Use of Celebrity
Etisalat by e&
The star-studded ad featured the likes of renowned composer Omar Khairat and superstar rapper Wegz.
Best Creative Director
Nourhan Moaz - 'FP7 McCann Cairo'
The award-winning creative director boasts an extensive advertising portfolio that encompasses renowned brands such as Nescafe, Etisalat, McDonald's, and various esteemed Egyptian governmental entities, among others.
Best Stylist
Aisha Abo Youssef - 'Magdi Yacoub Heart Foundation'
Abo Youssef worked with a roster of celebrities and public figures across the region, whether in editorial shoots, television series or her latest ad for Magdi Yacoub Foundation.
Best Copywriter & Songwriter
Filpeno Ahmed
Ahmed was behind the captivating lyrics for Magdi Yacoub Foundation's ad. Sung by Egyptian superstar Angham, the song was one of the highlights of the season.
Best Director of Photography
Beshoy Rosefelt
Rosefelt is one of the industry's rising stars, with his distinct frames leaving their mark in both advertising and television series..
Best Producer
Shady Abd El Aziz & Ahmed Amr Arafa - 'Orange / MYF / Madinaty / Bank Du Caire'
Having worked on some of the season's best advertisements, the duo share the Best Producer Award.
Best Director
Hamba & Doss - 'Orange'
The copywriter-turned-director duo worked on this Orange ad, which struck a chord with many through its message of resilience.
Best Motivational Ad
'Orange'
From the get-go, the ad resonated with many throughout the holy month, with its message of hard work and resilience serving as a powerful motivational mantra.
Best Comedy Ad
'valU'
Featuring superstars Nelly Karim and Maged El Kedwany and directed by acclaimed commercial director Ali Ali, the satirical ad follows the story of a couple who attempt to pay off their child's ransom through valU's instalment plans.
Best Corporate Ad & Best Ad
'Vodafone'
Scoring both the Best Ad and Best Corporate Ad Awards, the advertisement features football legend Mohamed Salah.
Best Agency
'FP7 McCann Cairo'
The global leading creative agency FP7 McCann's presence spans multiple continents and has consistently delivered innovative campaigns for a diverse range of clients.
Best Jingle & NGO/CSR Ad
'Magdi Yacoub Heart Foundation'
The charity foundation's campaign featured a heartfelt ballad by Egyptian superstar Angham.
Honorary Creative Impact Award
Mohamed El Saadi, Co-founder of 'Media Hub'
Having co-founded one of Egypt's leading creative hubs along with longtime friend and business partner Ihab Gohar, El Saadi received the Creative Impact Award for his trailblazing presence across the entertainment industry.