Red Bull Basketball World Championship Final to Take Place at Pyramids
The Red Bull Half Court World Championship final will be held in a custom-built all-glass court at the foot of one of the world's most astounding wonders, the Pyramids of Giza.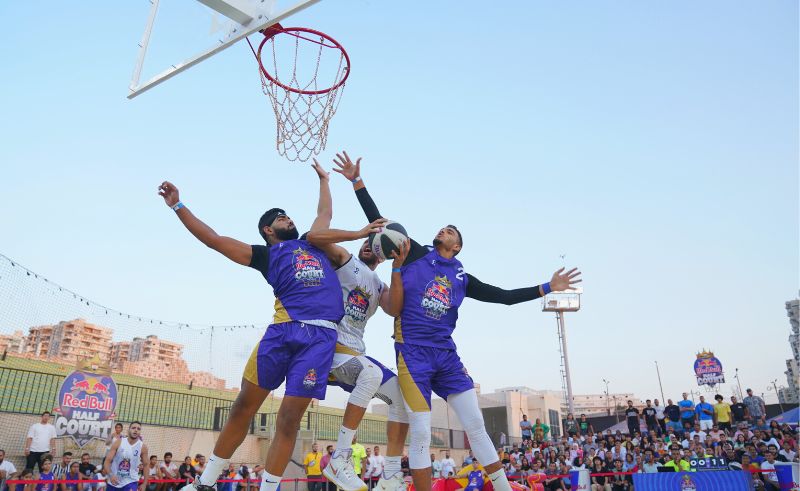 The Red Bull Half Court World Championship final will be held in an all-glass court at the Pyramids of Giza, with over 25 countries competing and almost 300 players competing on October 1st.
The Red Bull Half Court is an international basketball championship founded by Red Bull to encourage, support, and empower local streetballers all around the world. A half court means that instead of the original five-on-five players, it's three-on-three with one hoop through which to aim at (or, well, dangle from post-epic-dunk). The championship has fast grown into the most global streetball championship in the world, with over 12,000 players participating on a yearly basis.
Egypt's men's team, 'Show Time', is participating, as are the 'Three Amigos', the team representing Egypt's women ballers.
For the first time since its inception, the Red Bull Half Court final will be played in Egypt, after having caused a (happy) riot in Rome last year. The Egyptian Basketball Association and the Ministry of Youth and Sports are both supervising the event, with the added attendance of NBA shooting coach, Lethal Shooter.
For the championship closing, Egyptian rap star Afroto will take center stage, followed by the best '3 -on- 3' player in the world, Dusan Bulut, in the presence of Al Ahly players, basketball player Ehab Amin, as well as player Nadine Al-Salawi.