Researchers Create 3D Recording of Ancient Graffiti in Temple of Isis
Simon Fraser University's researchers collaborate with the University of Ottawa to produce a 3D recording of the Temple of Isis.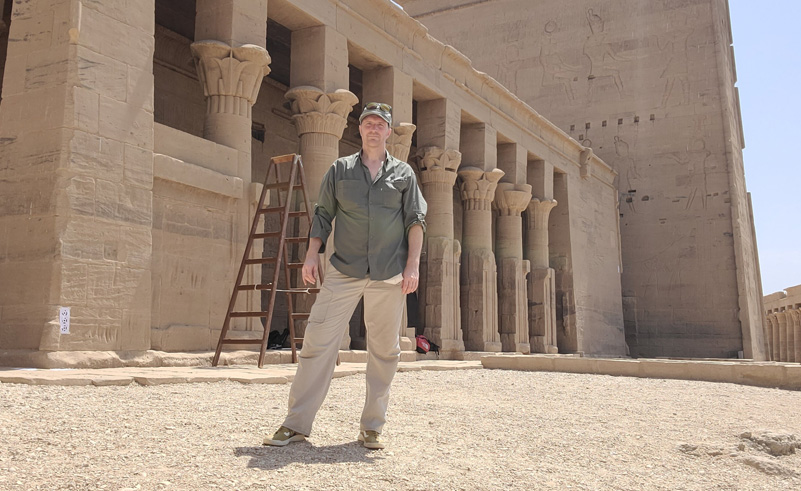 The Temple of Isis in Philae contains a plethora of 2,000-year-old graffiti, some of which are carved less than a millimetre deep on the temple's columns, walls, and roof. In order to preserve these easily-overlooked etchings, Simon Fraser University researchers joined forces with the University of Ottawa to preserve these millenia-old writings using 21st century methods, including 3D imaging.
Nick Hedley, a geography professor at Simon Fraser University, who is also an expert in spatial reality, is using advanced methods like photogrammetry, raking light, and laser scanning to document these graffiti, their architectural context, and the spaces where they are found.
The graffiti will be recorded through a series of photographs in a three-dimensional visualisation allowing researchers to study the relationship between a figural graffito, the graffiti that surrounds it, and its location in relation to the structure of the temple architecture, and off-site.
This technique will offer a cutting-edge three-dimensional recording of the temple's entire surface, ultimately changing how the graffiti and the temple can be studied. It will allow the interior and exterior of the temple as well as the graffiti to be viewed and studied –virtually anywhere –from critical viewpoints without missing any details.
With this technique, Hedley aims to build a definitive set of digital wall plans for the Mammisi at Philae, while demonstrating how emerging spatial reality capture methods can fundamentally change how data is gathered and produced, transforming our ability to interpret and analyse these spaces.