Self-Love Community Sukun Studios Finds New Home in New Cairo
Their new home will serve to actualise the dreams of preserving human connections and finding peace in difficult times.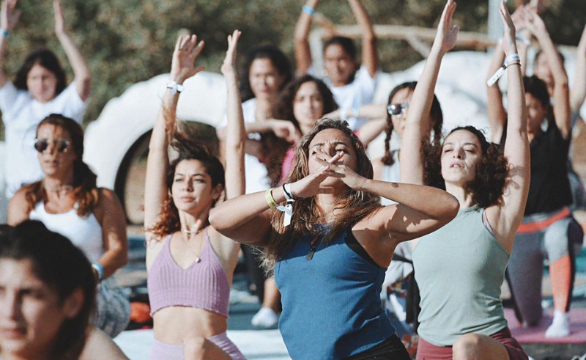 Dropping the rigidity of corporate life and 10 years entrenched in the logo-laced world of global organisations, Sarah Abdelmoneim embraced a quaint Balinese life in the hopes of remunerating the soul damaging ramifications. In her pursuit of personal peace, Abdelmoneim delved into the world of yoga - teaching and pondering the meaning of life in the process - only to leave with a strong desire to bring her findings back home with Sukun Studios in 2020.
A hub for all types of conscious activities and a community of like-minded individuals, Sukun is a judgement-free zone that aims to unite people from all walks of life, "We're not just a yoga studio," Abdelmoniem tells CairoScene. "We're more of a community and a space that brings and connects people. It's unfortunate to say, but all of the relationships we've been building as of late have been virtual and they very rarely enable anyone to forge a sense of community, one filled with people you can confide in and who are always there for you."
What started as an introspective trip soon grew to encompass wellness festivals such as Red Sea's Rabaata and a nomadic group of partners (including Nour El Ganzoury and Mostafa Ismail) who together enable people - even those passing by COP27's Green Zone - to embark on their own journeys of self-discovery. Their new home, located in New Cairo's Element Five, will serve to actualise the dreams the partners have of preserving human connections and finding peace (or 'sukun') amidst the hardest of circumstances.
"Our space is going to offer anything under the umbrella of conscious activities," Abdelmoneim continues. "Yoga, pilates, sound healing, art therapy, dance, acting, hypnotherapy, martial arts, prenatal activities, music and everything in between. We're also working towards offering unconventional workshops that embrace and invite imperfection and new conversations."
Sukun Studio's new home is set to officially open on February 25th.