How an Abandoned Family Home & Its Archives Became an Art Exhibit
Egyptian artist Nada Baraka dug into the home of her late grandfather and Minister of Irrigation, Ahmed Ali Kamal, to create a lively exhibition based on his personal archives.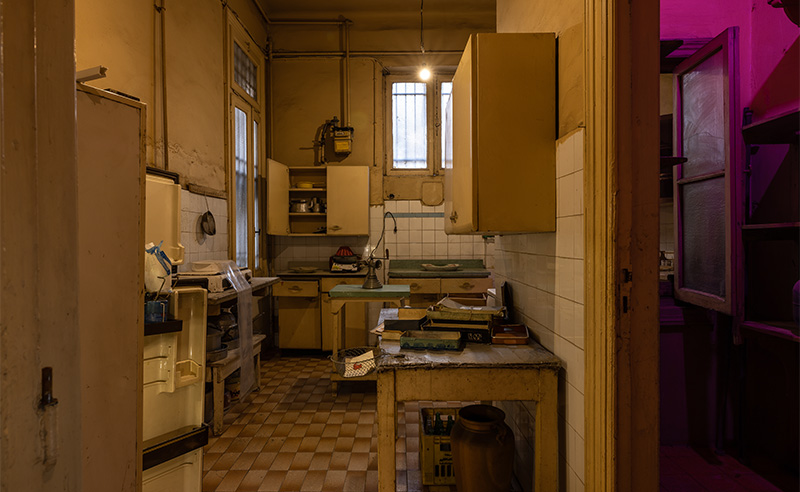 When we step into someone's home for the first time, we're often overcome with a sense of inhibition, despite our curiosity to take the space in - politely refraining from digging too deep into the pictures and mementos that represent the homeowners' memories, identities and aspirations. However, this particular home in Garden City invites strangers to fully delve into its history when Egyptian contemporary artist Nada Baraka transformed it into a public exhibition, 'The Valley of Walls'.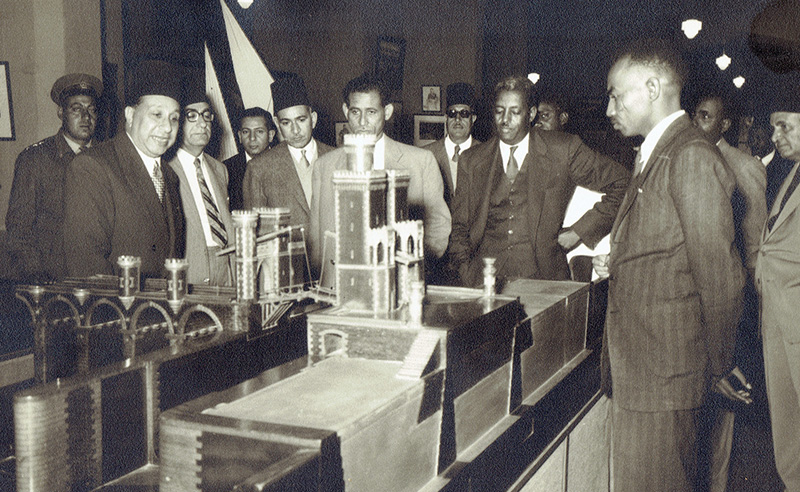 Motivated by her curiosity about her grandparents' abandoned Garden City apartment and the legacy of her late grandfather Ahmed Ali Kamal, who served as the Minister of Irrigation, Baraka had always wanted to explore the space and its extensive collection of photographs, documents and images. Her grandfather - a photographer, archivist, and a conscientious traveller - left behind a vast archive that spanned most of the 20th century, providing his granddaughter with an opportunity to connect with his essence.
Initially, Baraka had her doubts about the seemingly daunting task, which delayed the process. However, her path crossed with Egyptian artist Hany Rashed, who teamed up with her and began experimenting with the possibility of creating an exhibition within the abandoned space.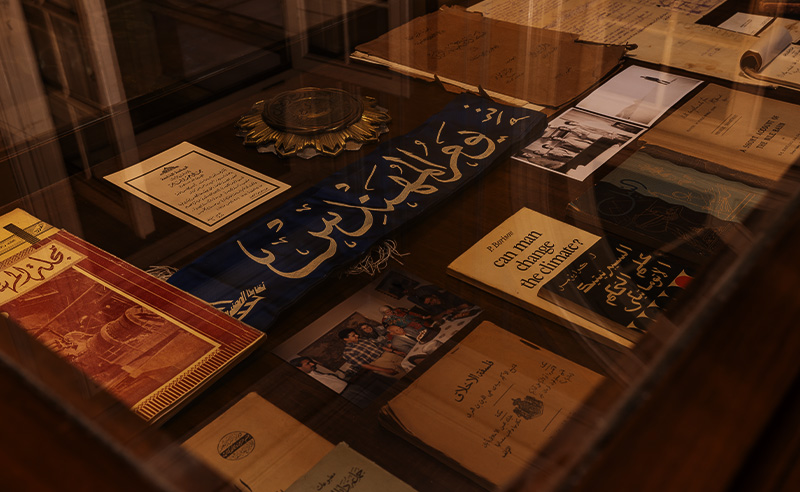 Rashed and Baraka were then joined by Egyptian artists Mohamed ElMaghraby and Malak Yacout, along with curator Farida Youssef. They collectively dedicated two years to digging into the archive and conceptualising a set of site-specific archival-based installations. As Baraka proudly puts it, "I don't think any of the artworks are solely owned by one of us. We all worked collectively and developed our concepts together."
As viewers navigate the exhibition, Baraka reflects on how 'The Valley of Walls' breathes life into the space. "I think spending so much time here, and seeing the space lively with people brought back many childhood memories," Baraka tells CairoScene. "I would've never known all this, even if he was still alive. It's a different perspective because it feels like I met him at all stages of life since he archived everything. My intervention by adding a layer of my hand writing and my artwork was as if I was having a secret conversation with him."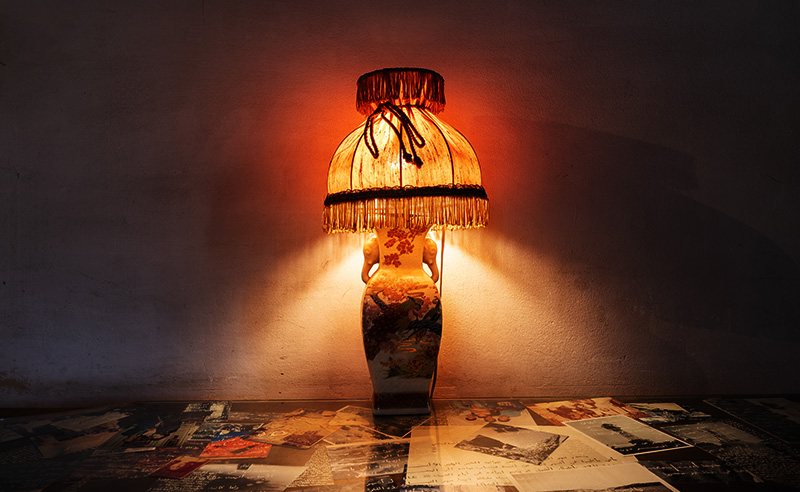 Inside its bedroom, dining room or kitchen, each artist engages with both the physical space and Kamal's archive, which Youssef explains equally demanded their attention, stating that artistic decisions were made 'with the apartment'.
"The walls were left barren so the dust traces could be heightened. Much of the space is also empty which allows the audience to take the apartment in. Not to mention the choice of artistic medium, installations, which helps us immerse ourselves in the space," Youssef tells CairoScene. "The exhibition is about how the artists' dialogue intervened within the apartment and allowed it to take the lead."
El Maghraby and Yacout drew inspiration from documents related to water management, and both of them use storytelling to highlight overlooked aspects of the collection. Baraka and Rashed, on the other hand, employed the act of categorization to breathe life into domestic spaces by invoking the memories they might hold.
Using installation as their medium, the artists showcase their collaboration with the apartment and its ecosystem. In Baraka's 'An Epoch of Grace', the apartments' kitchen and its objects become the main question. Through a watercolour painting of a prescription contextually (mis)placed, the artist strips the space and its objects of their function. The fridge, the toaster, the sink all become part of her colourful drawings.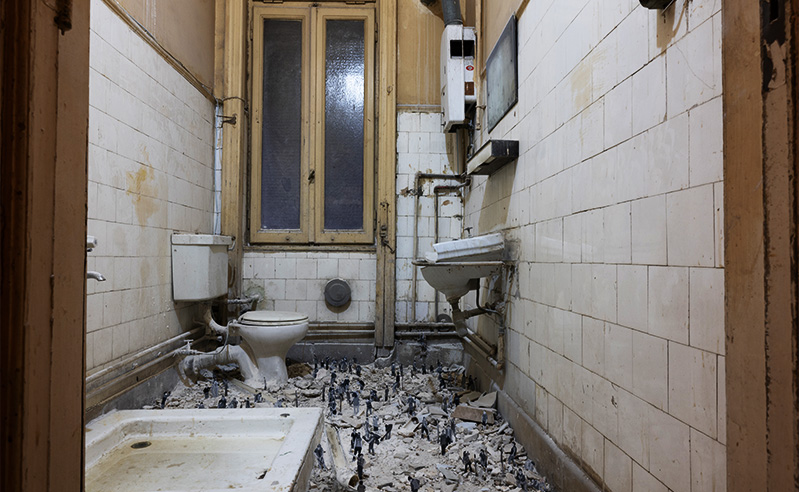 Youssef explains how the apartment's 'rust and dust' contribute to its character, and how the relationship between the artworks and preexisting objects develops through this 'intervention' into a space abandoned for 22 years. When visitors step foot into the apartment, a sense of emptiness within the dimly lit space persists. The installations, however, create a playfulness and a contrast with what feels and looks like a burnt out home.
In a 'Land of Hypocrisy' by Hany Rashed, bright sticky notes cover and replace jars' labels of seeds and plants with virtues like 'patience' and 'evil', or 'hasad' in a steel cabinet. The idea of preservation and creatively classifying the archive, and with it Kamal's memory, create a new understanding of him and his home. "For an irrigation engineer, it is easy to assume he would have compiled material about engineering and the environment. To find a constant stream of material on ethics put his meticulousness and diligence into context," Youssef explains.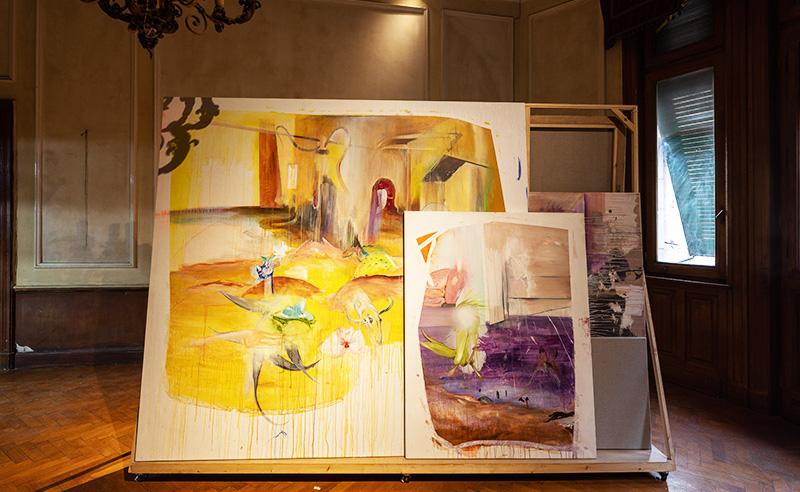 Whether it's a technical drawing residing within a wooden cabinet, originally intended for Kamal's computer in Maghraby's 'Physiology of an Unknown Instrument,' or in Malak Yacout's 'In Living Spaces of Murmurs: A Broken Record', the artists find unique ways to understand the space.
In Yacout's installation, she works with documents related to the Qanater barrage. These documents have parts that are scribbled out and worn down, making them impossible to read. Yacout then recreates these patterns by carving them onto the marble slabs that cover the floor of one of the storage rooms. In doing so, she makes meaning of the previously indecipherable details that were absent from the archive.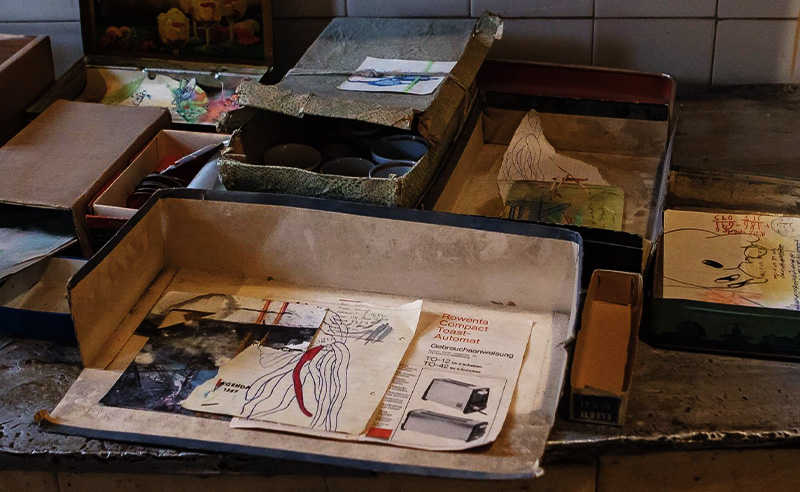 Throughout the exhibit a convergence between the different elements of Kamal's archive is constructed, making meaning through the art pieces of both the archive's diverse nature and the abandoned space.
Supported by New York-based nonprofit organisation Apexart, the exhibition will be open until November 22nd - from 5 PM to 9 PM on Sundays through Thursdays, and from 3 PM to 9 PM on Saturdays - at Ali Kamal's residence in Garden City.