A Delectable Dive Into Cairene F&B Hotspots by Segments Architects
Founder Karim Elassal guides us through some of the fundamental design features behind some of Cairo's visually engaging venues.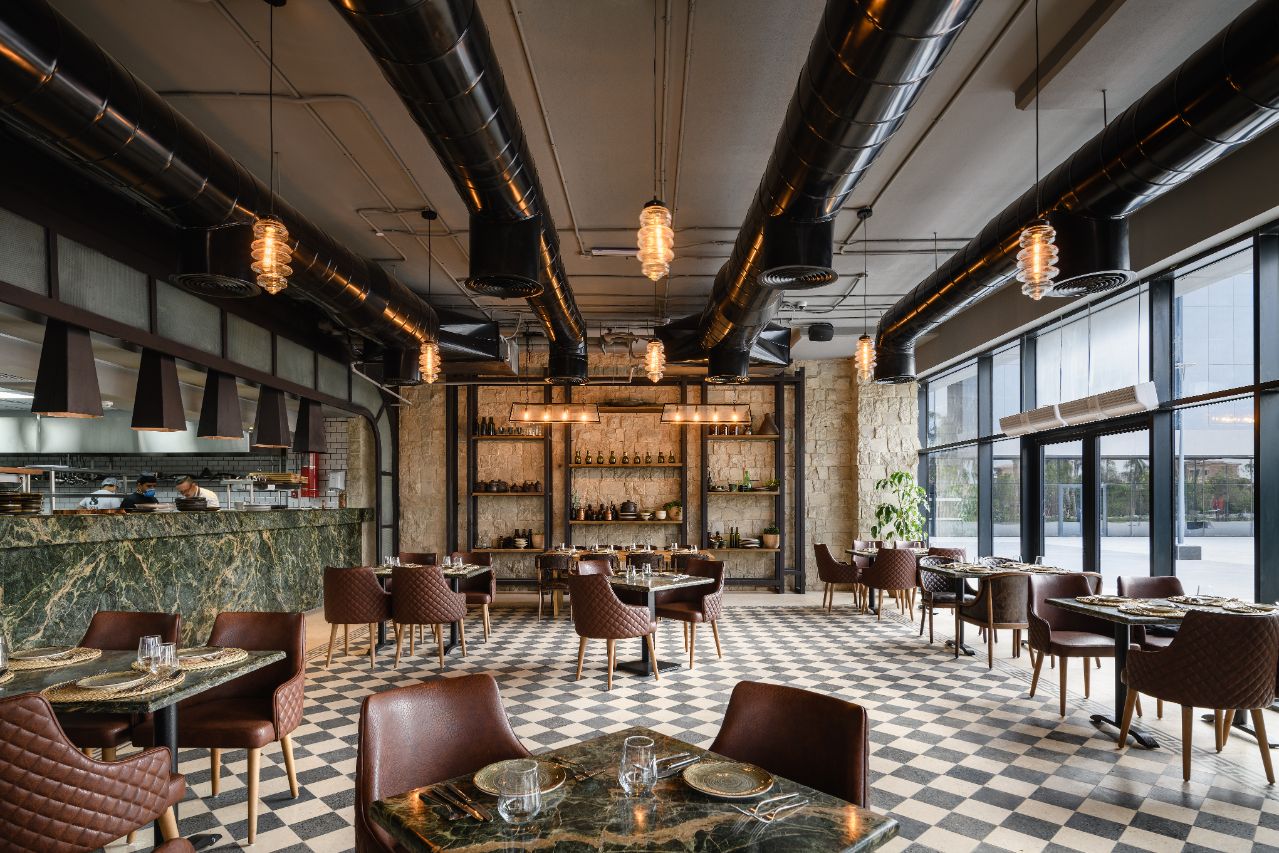 Aside from catering to our palettes,
When you walk into a restaurant, or a bar, or a coffee shop, you're surely looking for something that will cater to your palette. But before you even order your food, you need a reason to walk through the door - an atmosphere, a vibe, a visual element that immerses you into the narrative of the establishment and compels you to return over and over again. Segments Architects, a Cairo-based design firm, is behind some of the most popular hotspots in the city that are famed for their visual flair.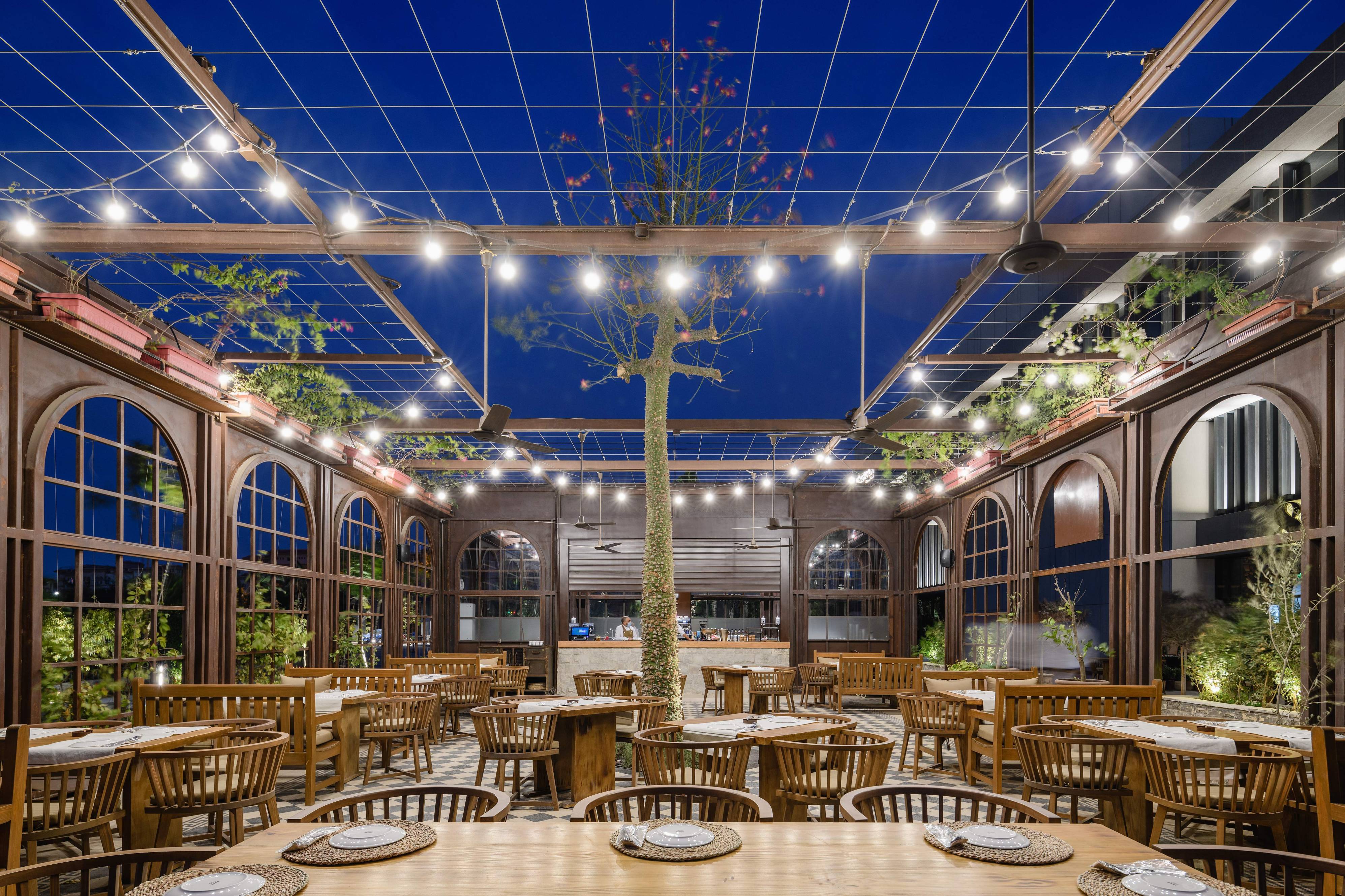 From fine Italian diners with rustic themes, one-of-a-kind restaurant concepts with aggressive industrial visuals, and ice cream shaped instagrammable corners, to dog-centric cafes, we're taking a closer look at some of the firm's visually inspiring work in the F&B industry. "Getting introduced to a brand gives us information about how it operates," Founder Karim Elassal tells #SceneHome. "There are two scenarios, either it exists and we're giving it a facelift or reimagining its visuals, or a new brand is being created and we have to start from the roots."
OTTO - Garden 8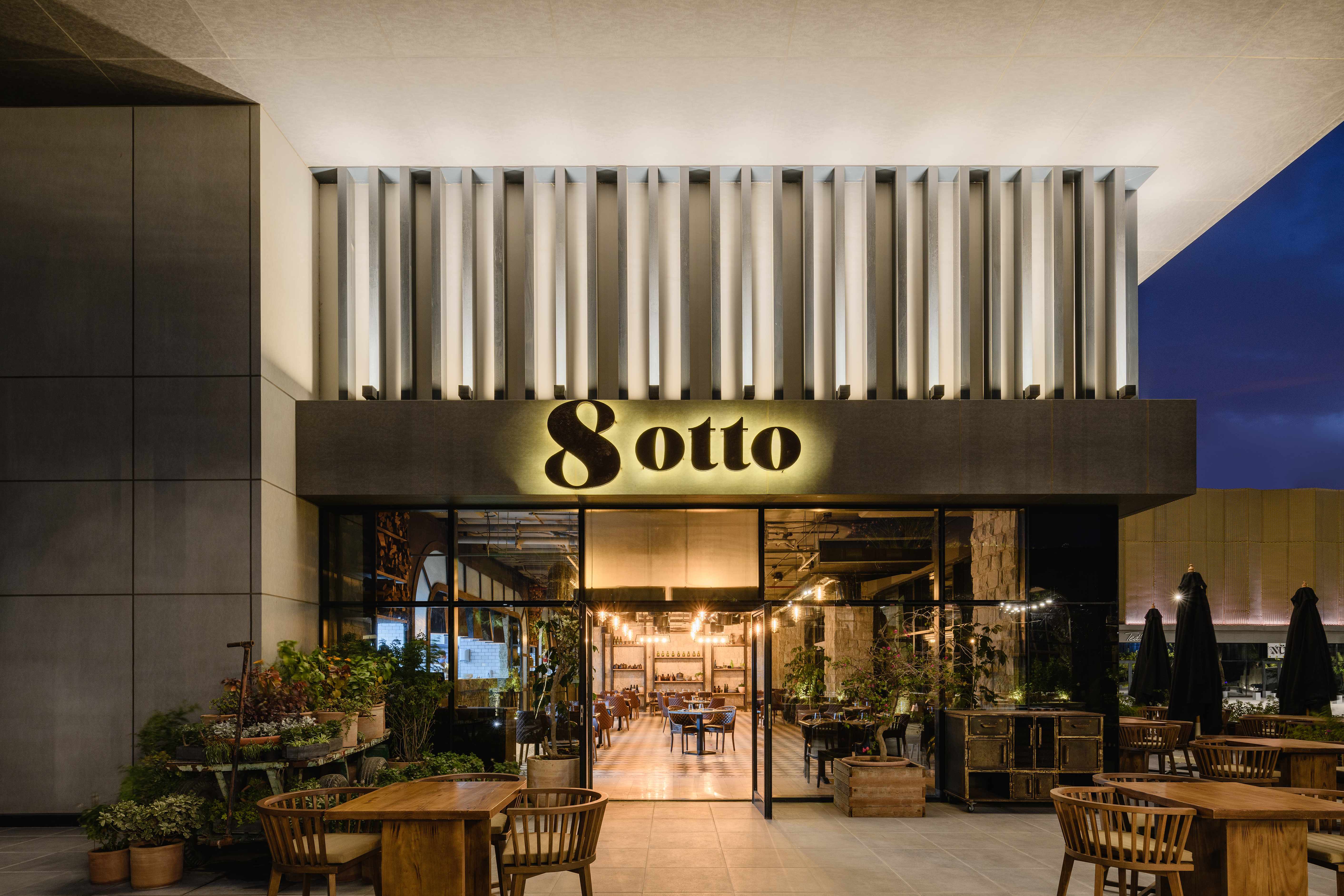 Photography Credit: Nour El Refai - Contractor: SCAS
The owner of Eatery wanted to create an Italian fine dining concept in Garden 8. Otto, which means 'eight' in Italian, was the result of this effort. "The owner frequently travels to Tuscany, and so he wanted to bring that rustic feeling into an ultra modern space," Elassal explains. "Authentic materials range from stones, wood and metal, while Mediterranean features are present."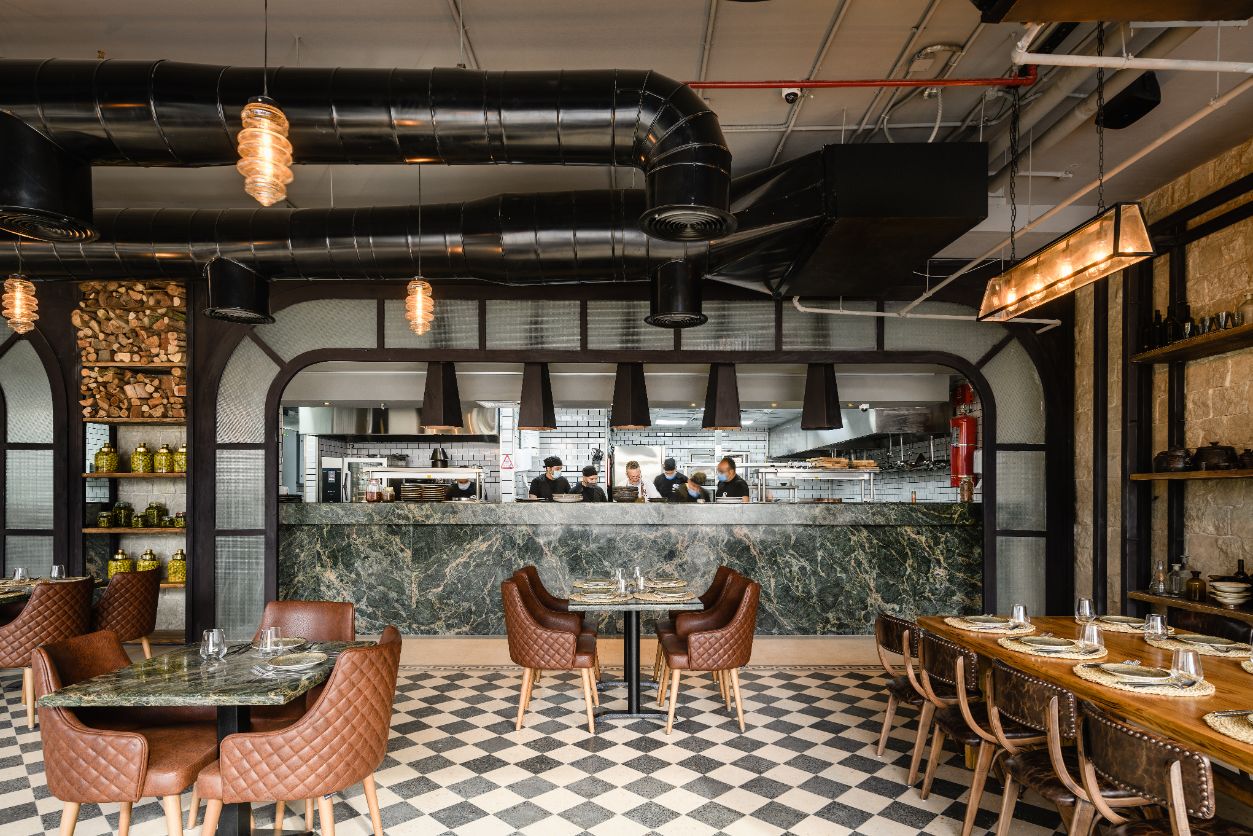 The floors are covered with patterned cement tiles from Nile Co, while Hashimi stone and Basalt cover the walls with rough textures. The materials blend the interior together. The stone wall is a key feature, while metal and wooden accessories are placed along it. Meanwhile, green marble is used on the bar counter and tabletops.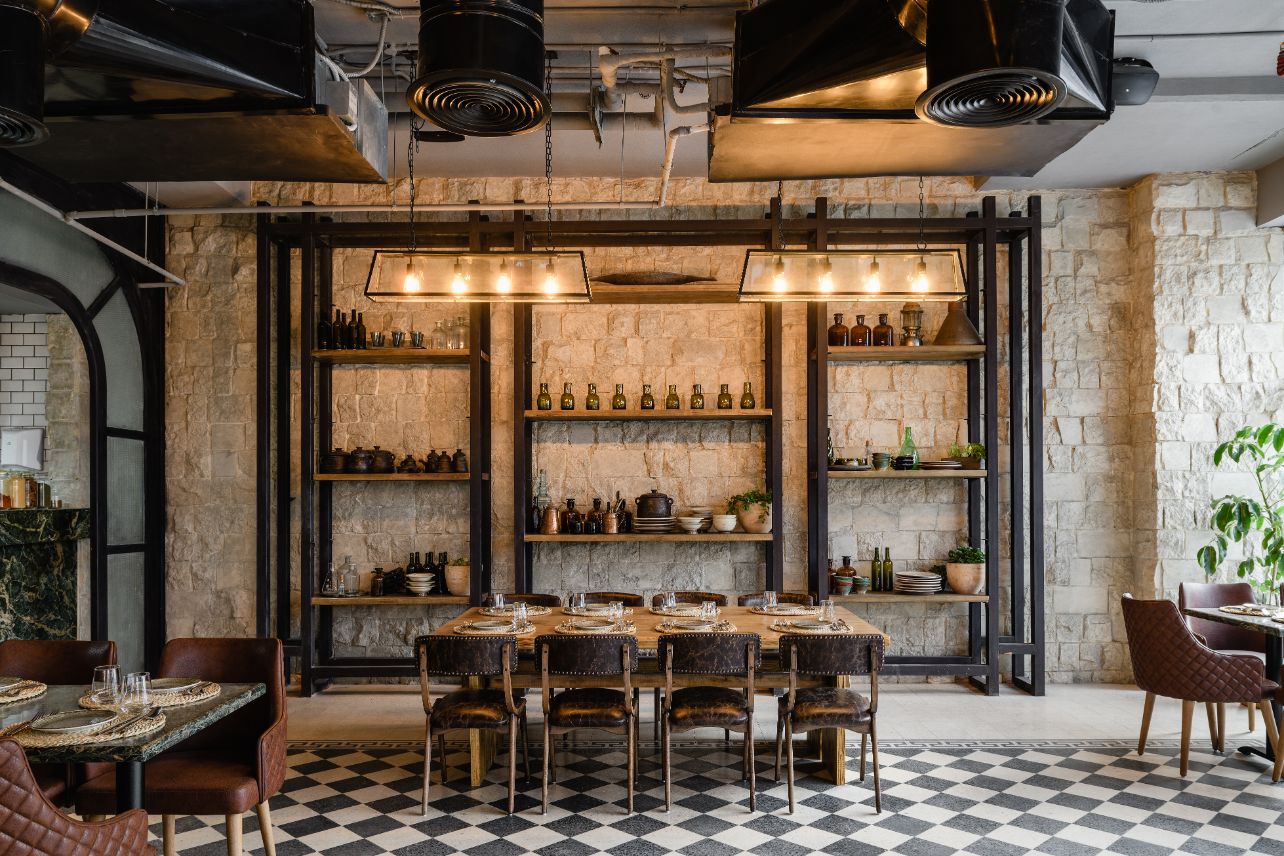 The seating features two types of Meubel El Charke chairs. They sit below an industrial ceiling with viewable ducts, a common feature in the firm's work. "We like having them exposed. It gives more room and makes the space feel bigger," Elassal says. "It's also challenging to coordinate ducts and pipes in order to work with the concept."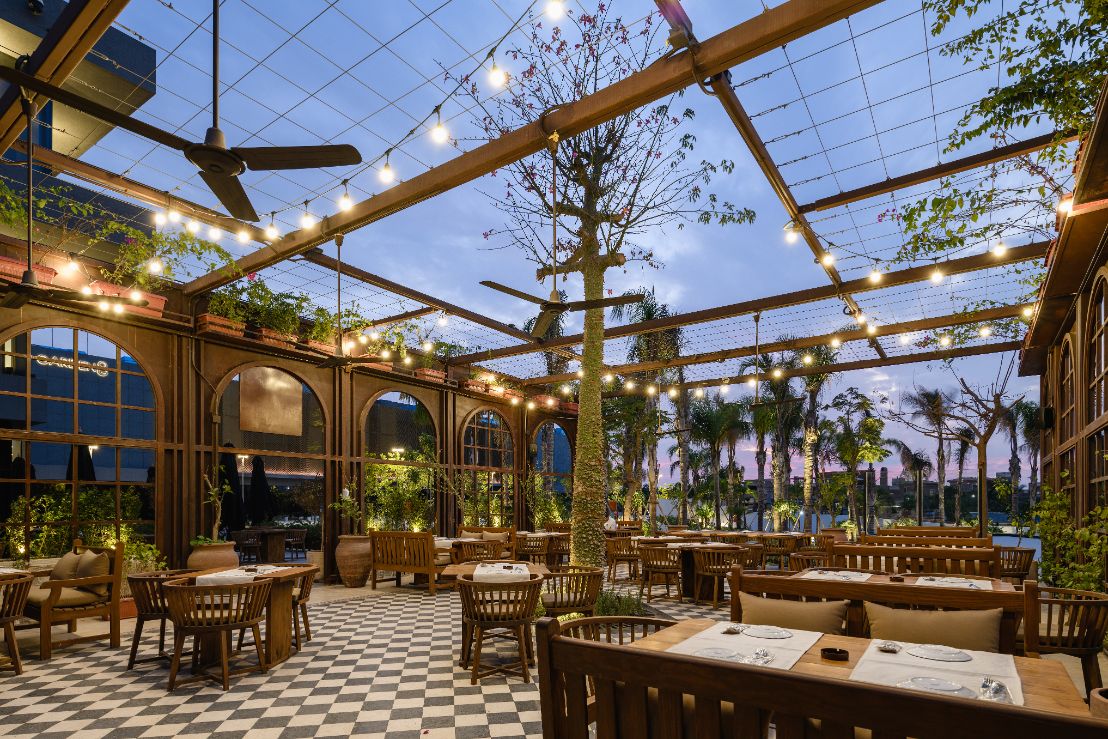 Outdoors, the gazebo is made out of rusted metal. The same black steel is used indoors, but outdoors, it's given a rusted effect. "It's a continuation of the approach outdoors, having a contained structure while being open," Elassal says. "You feel like you're inside the garden, close to where they plant their ingredients."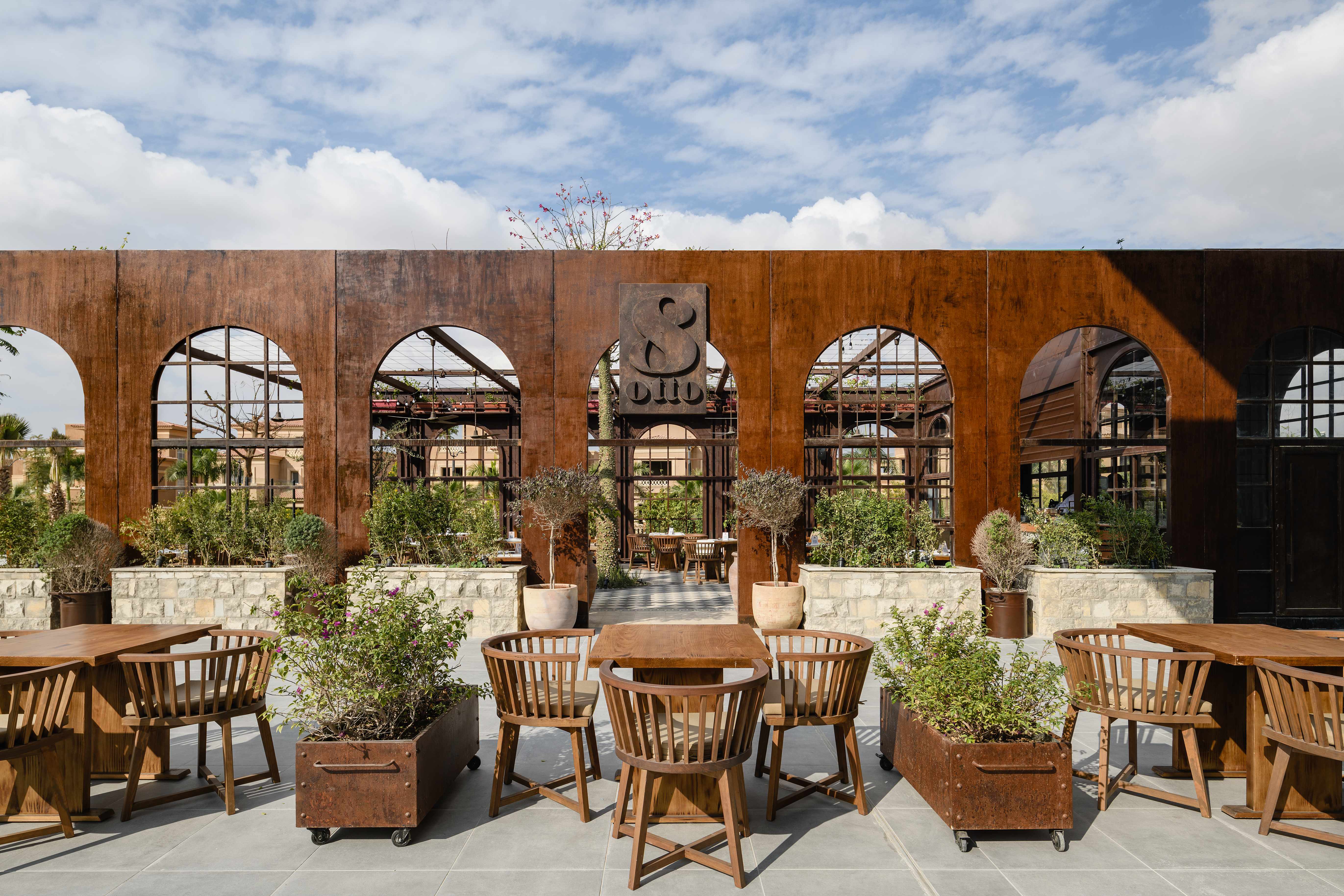 Ornamental Bougainvillaea move along the grid, while a thorny tree rests in the middle of the gazebo with a dramatic trunk. "At night, the environment is warm. The key was to draw inspiration and blend it with the surrounding architecture."
Salt of Earth - Garden 8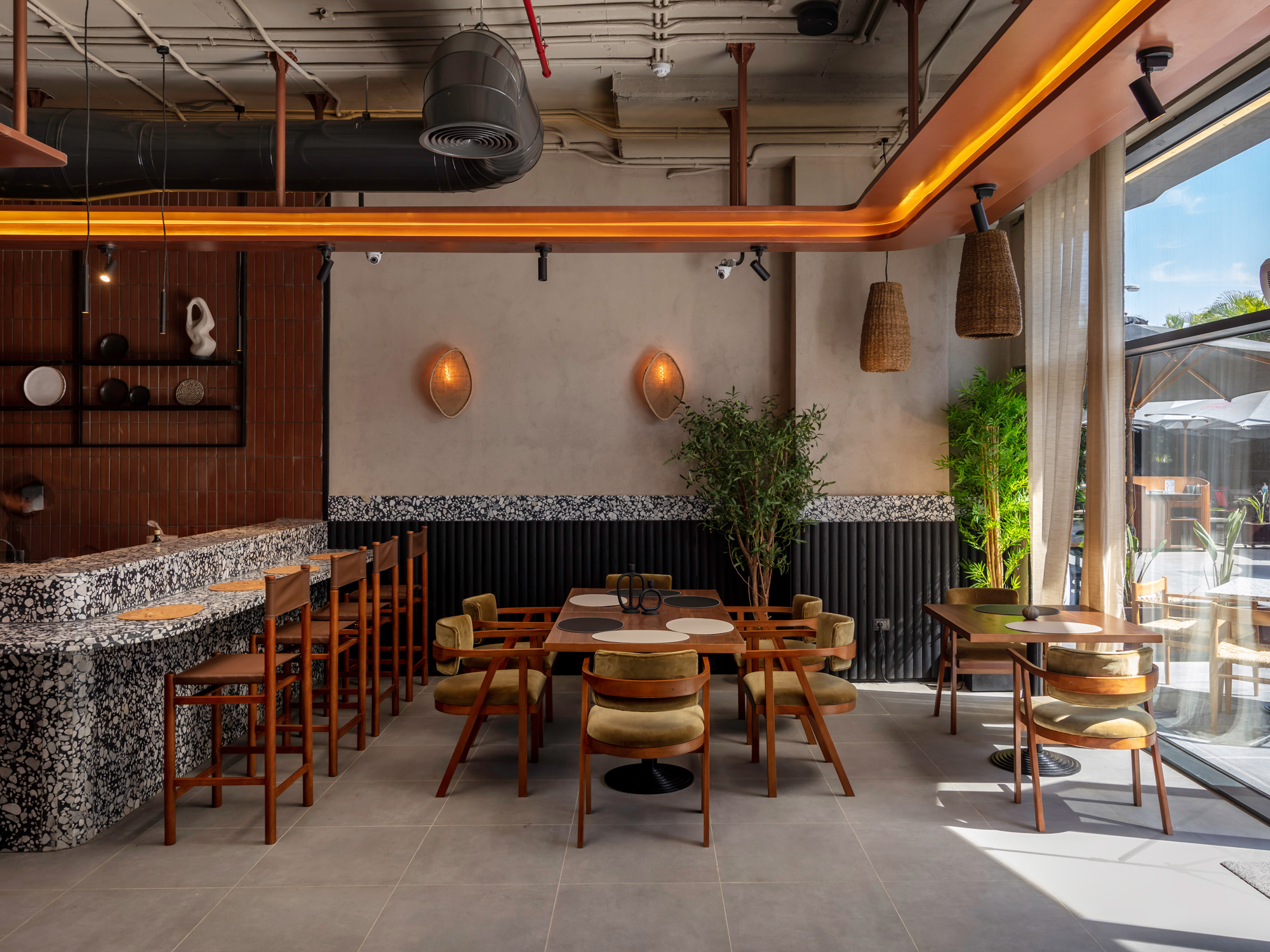 Photography Credit: Essam Arafa - Contractor: SCAS
Influenced by modern European philosophies, the owner of Salt of Earth and Boulevard wanted to implement a refreshing approach to the former international diner in Garden 8. Space proved to be limited and, therefore, challenging. Different types of seating was created to provide casual dining in a space that feels friendly and urban.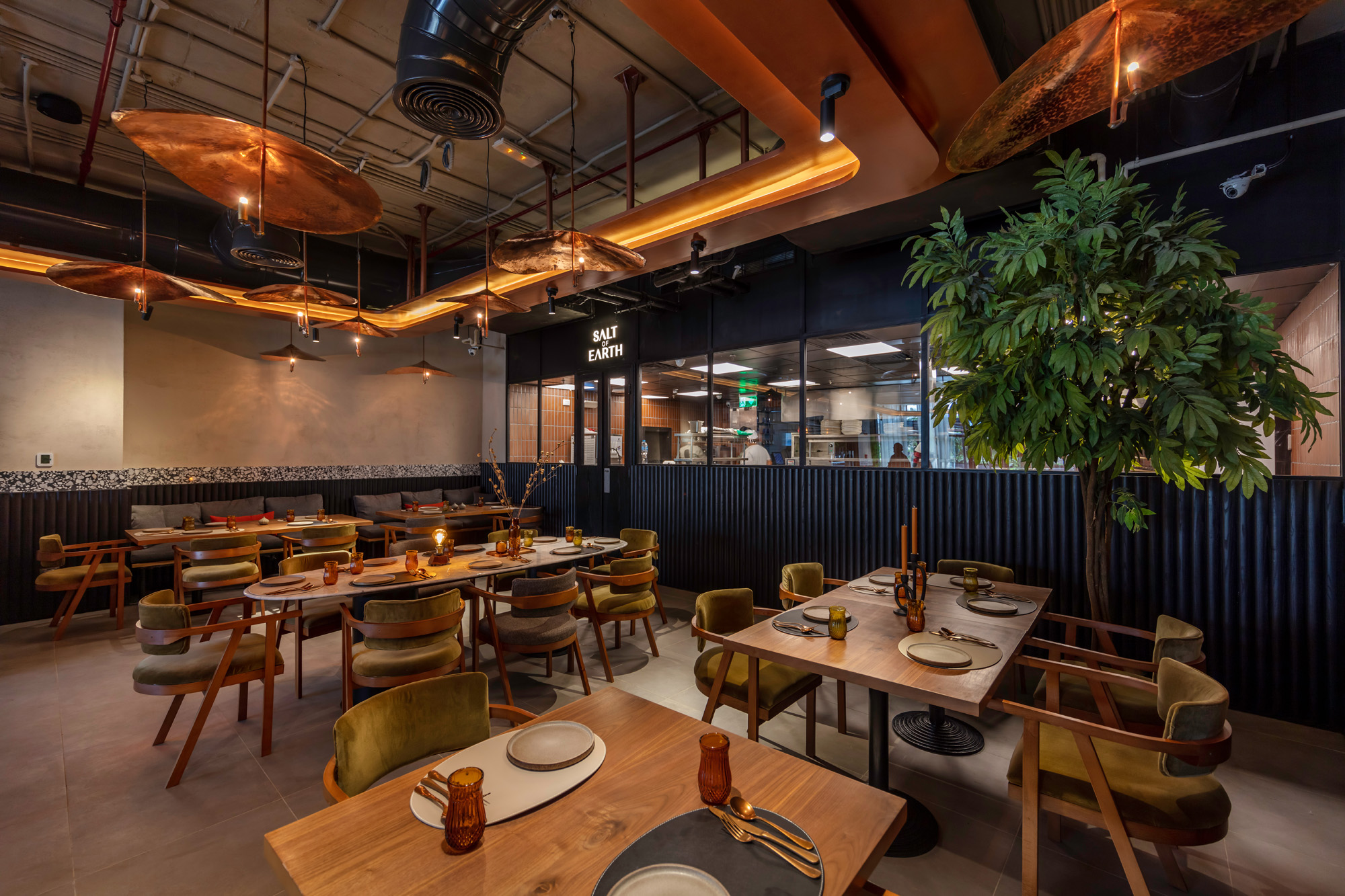 Kitchens usually take a third of a restaurant's total space, depending on the menu. Here, the space includes a pizza bar, a beverage station, and an exposed kitchen, where material was daringly used. Normally, kitchens feature plain white subway tiles but in Salt of Earth it's covered in the same terracotta slips that mark the bar and station, creating visual continuity.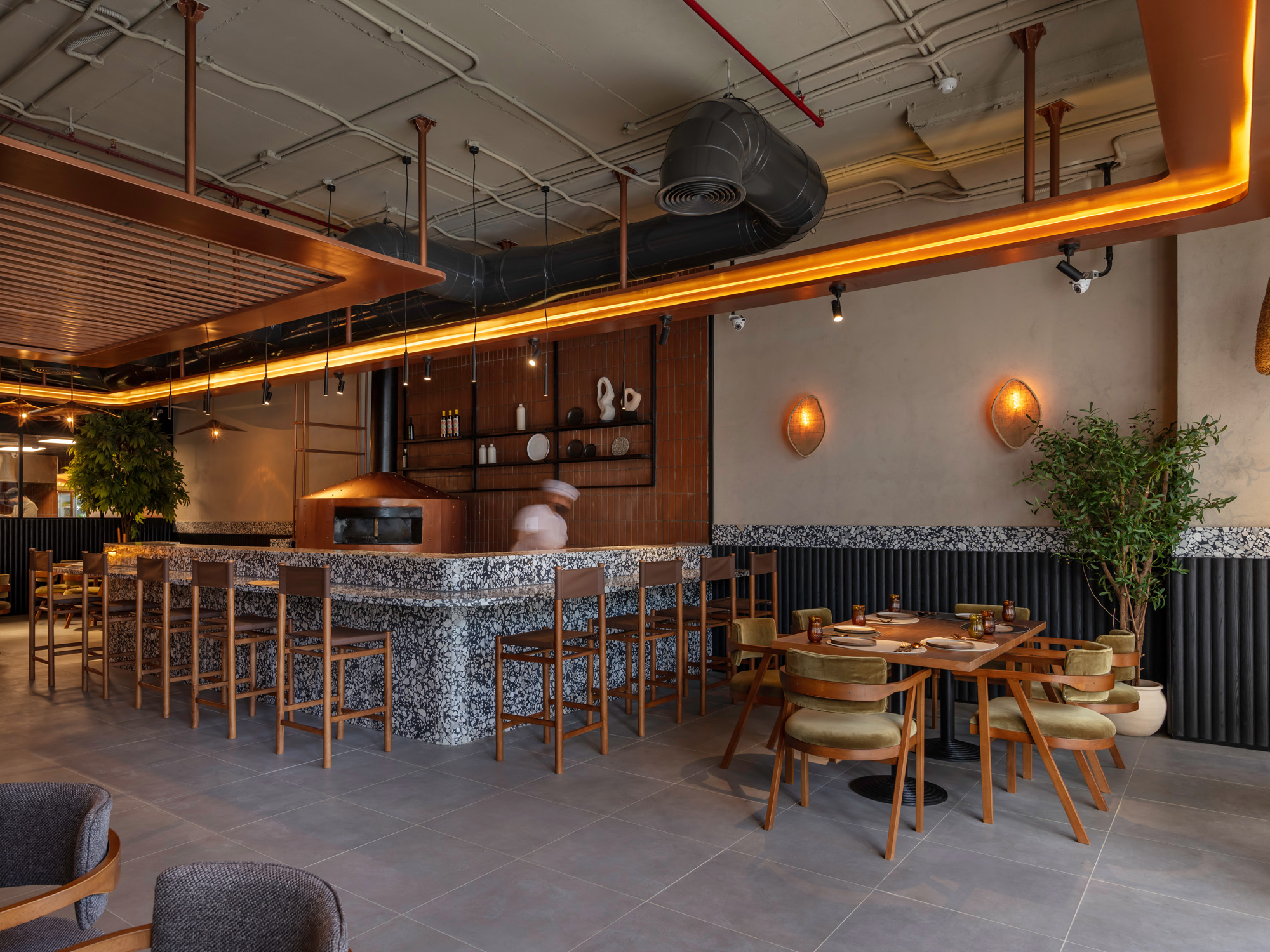 "It changed the visuals of the kitchen, providing depth and warmth, and a great connection with the seating areas," Elassal says. The warmth that Elassal refers to continues in the rest of the space. Furniture is influenced by Scandinavian design, while finishes provide an earthy and modern look.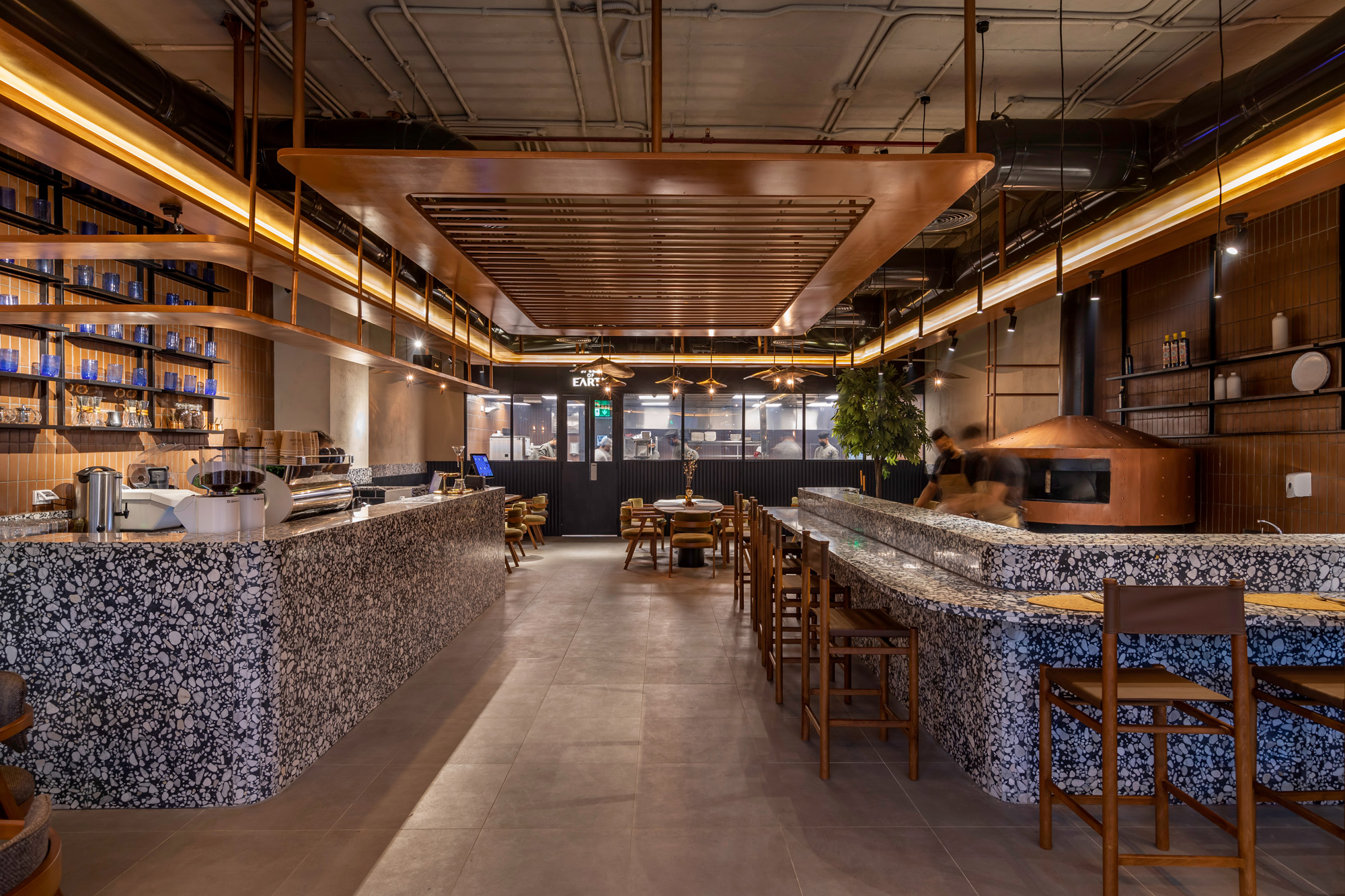 A metal structure hanging from the ceiling complements the brass look of the lighting pendants. Drawing brass into the space enriches its rather grounded materials. Natural terrazzo dresses both the bar and the station, which are situated in the middle of the space. "The seating arrangements end with a communal zone attached to the kitchen, it's a lively spot. I visit frequently to see how people are using it."
30 North - Garden 8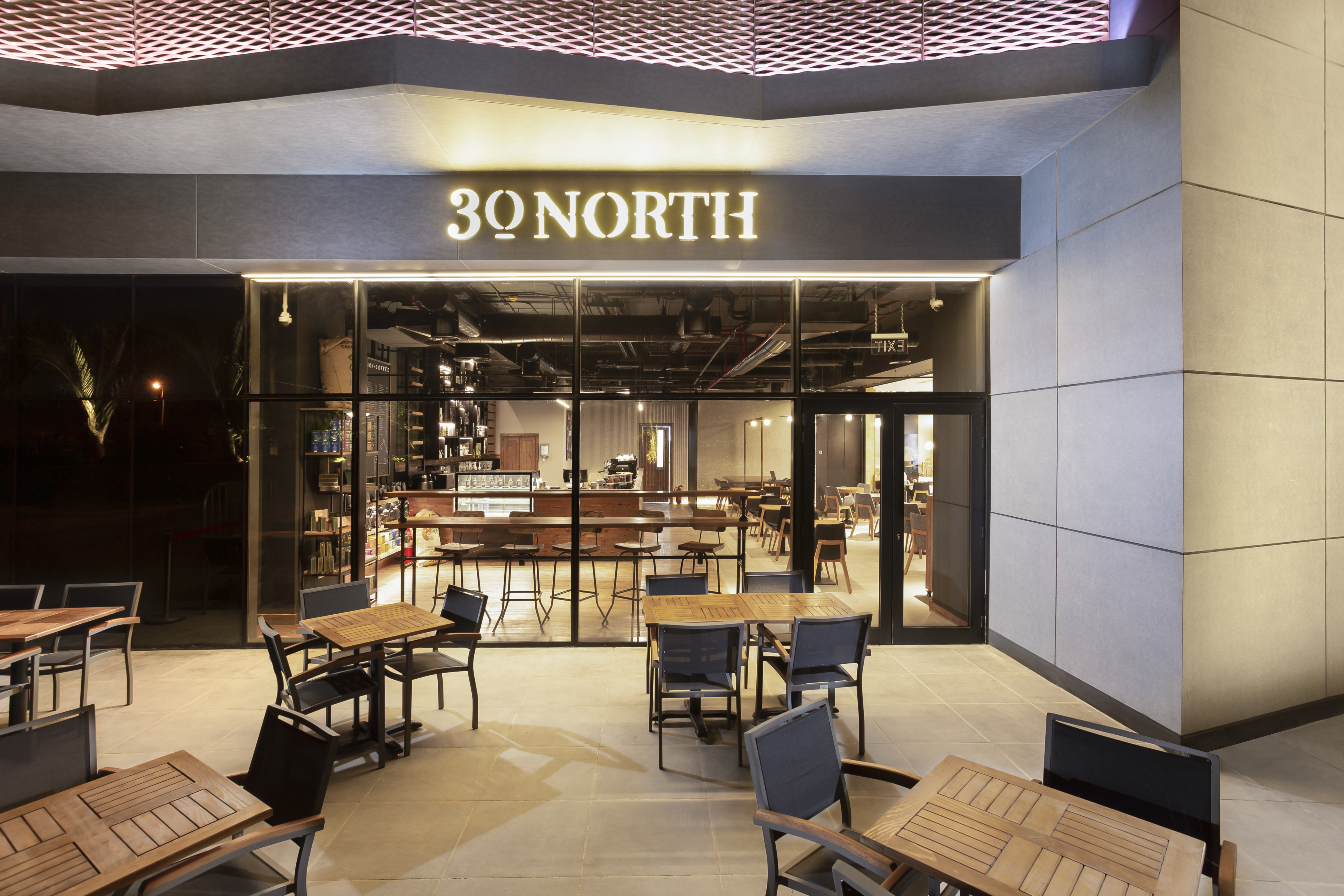 Photography Credit: Studio Karas - Contactor: SCAS
One of the major challenges in this Garden 8 coffeeshop was how to add or continue a brand's development and alter their preexisting theme. "This was their second branch after the first one which was designed by Karim El Hayawan from Design Point. It's an example of a client that has a clear brand identity."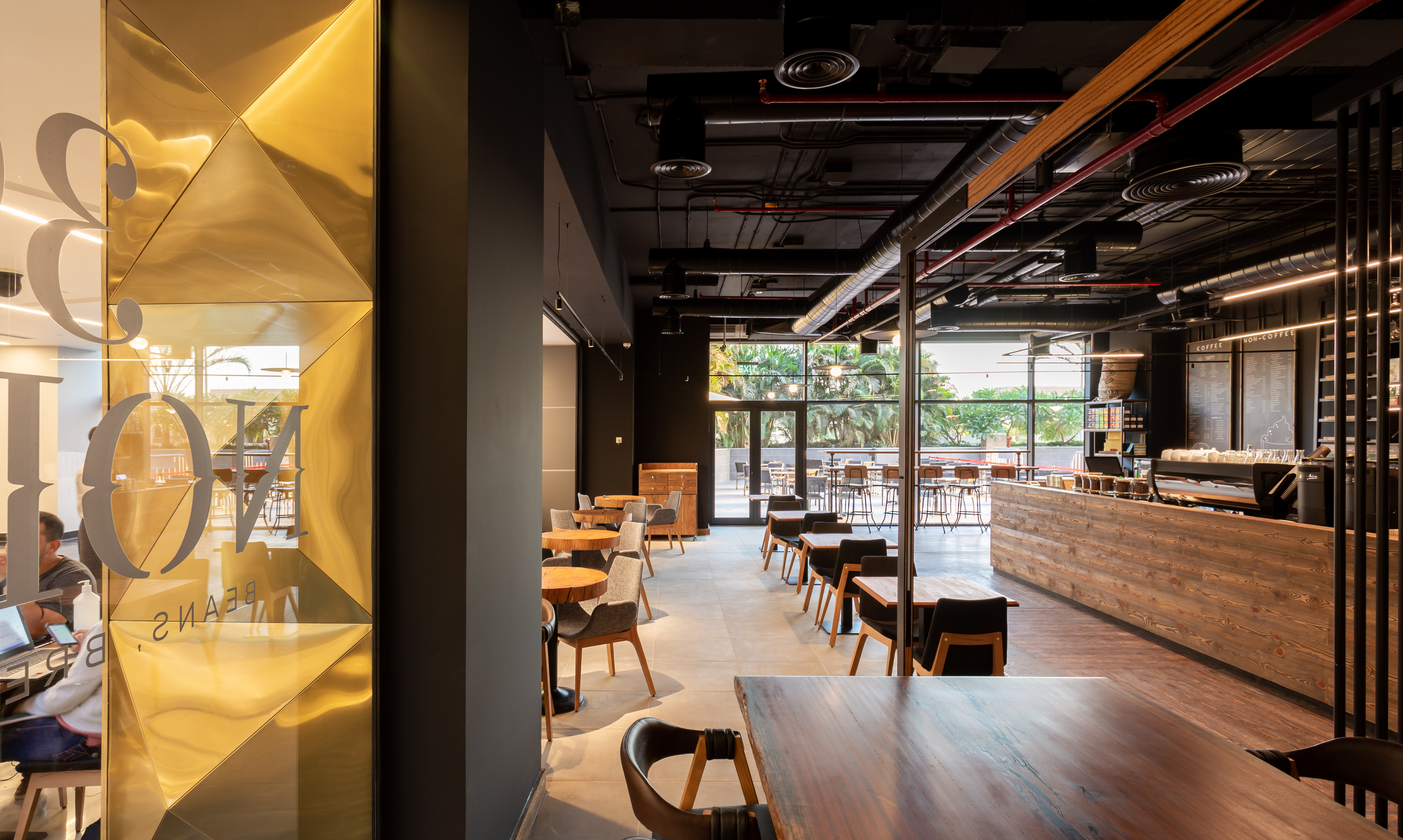 "It was a burden but I believe we managed to twist the concept. We wanted to move the brand away from the rustic look and a bit more modern," he continues. The communal zone has a table equipped with outlets and detailed woodwork and its separation is indicated by having tiled flooring instead of the common wood that runs throughout.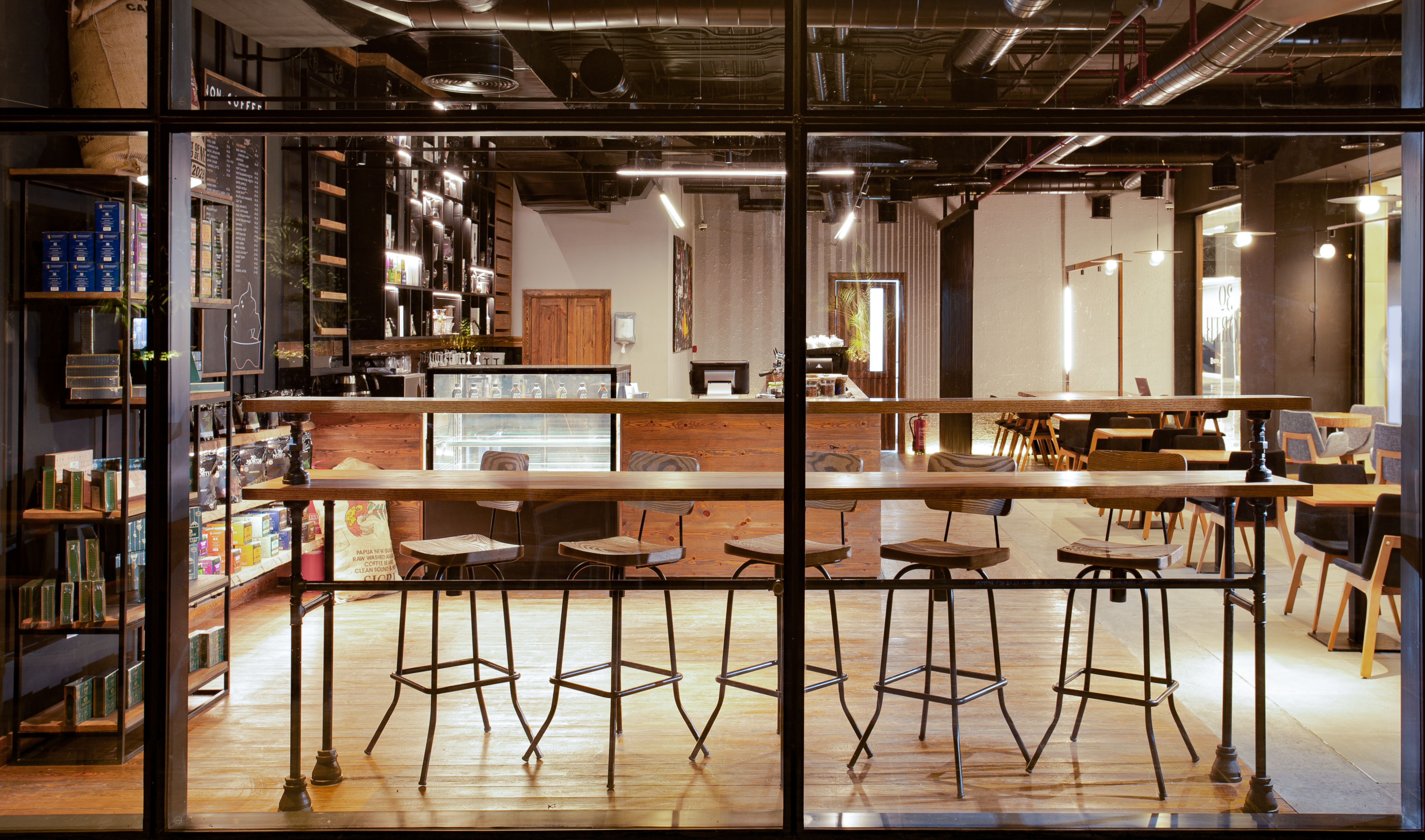 The feat was managed by installing sleek lighting elements by Enlighten, which set the ambiance to a space floored with beech pine wood in its entrance and porcelain further inside.
Eatery - Cairo Festival City Mall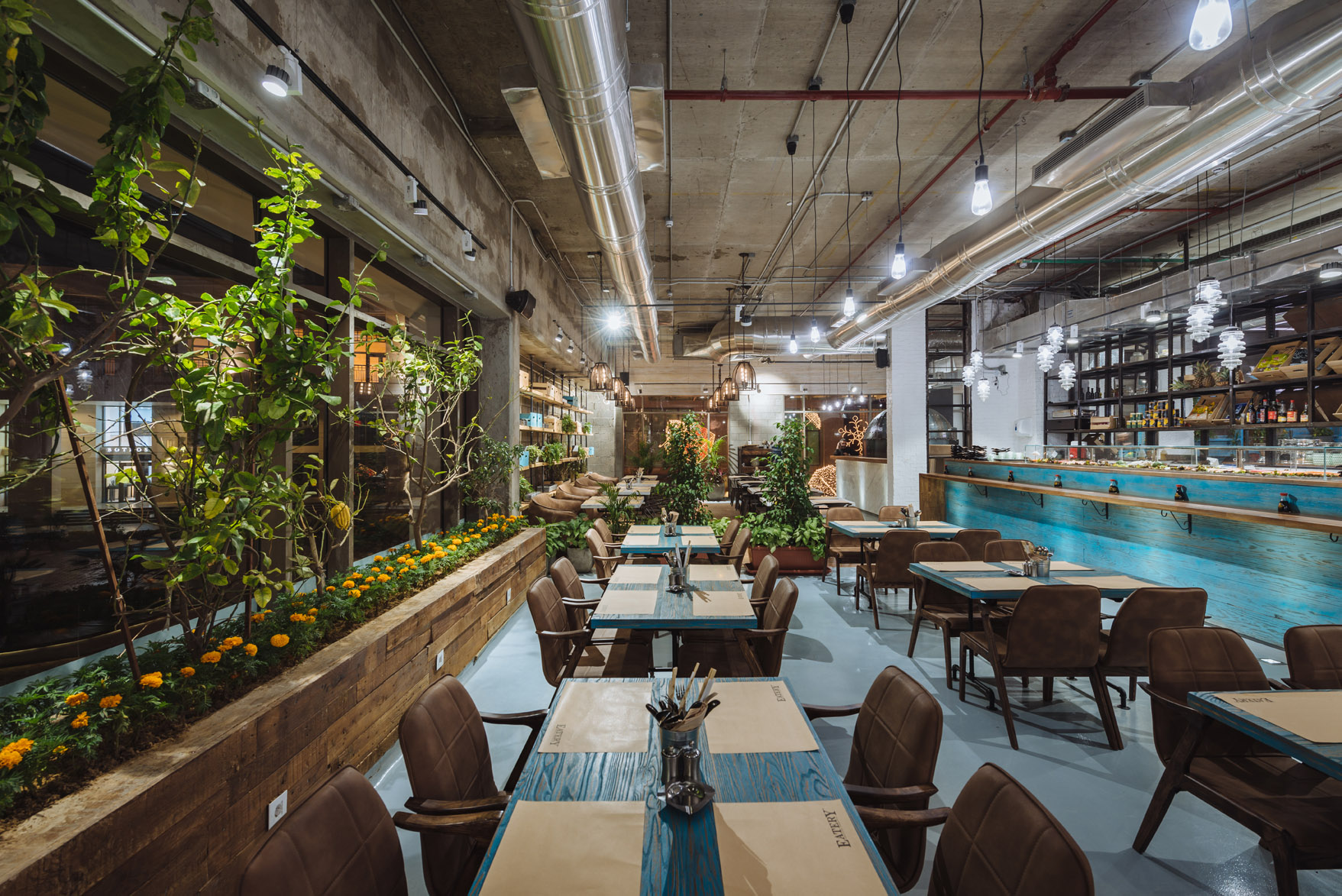 Photography Credit: Nour El Refai
At the time of its opening, Eatery stood out as one of the most unique dining experiences in Cairo. "The owner had a history in F&B, a clear identity and wanted something huge," Elassal says. The project took two years to complete.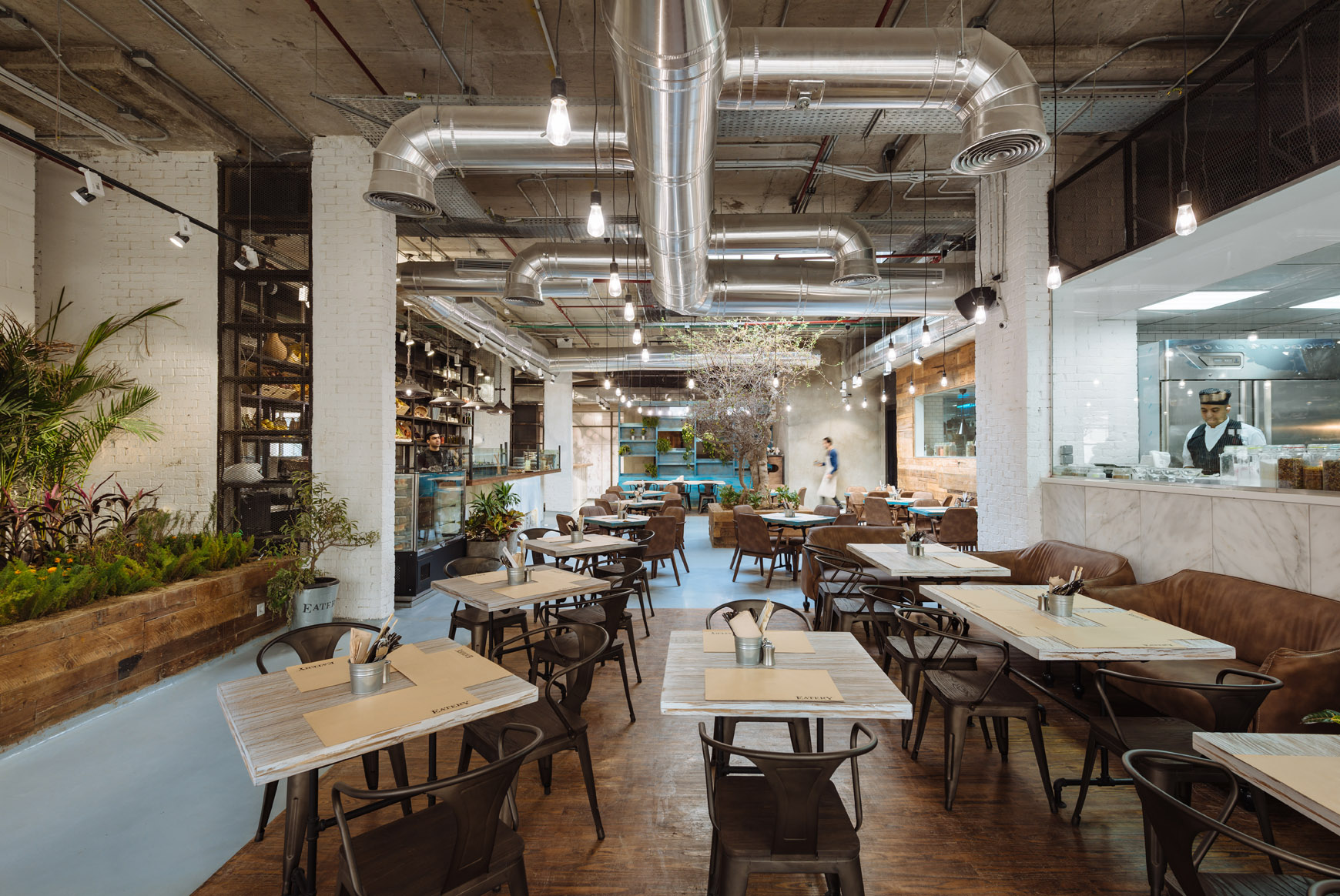 "He was introducing a new idea to the market with a massive menu, everything from sushi, pizza and salad bars to pastries, deserts and live cooking stations. Expectations were huge and he wanted a design that matched it," Elassal continues. "He had French and vintage inspirations but we went towards an industrial theme with an aggressive look."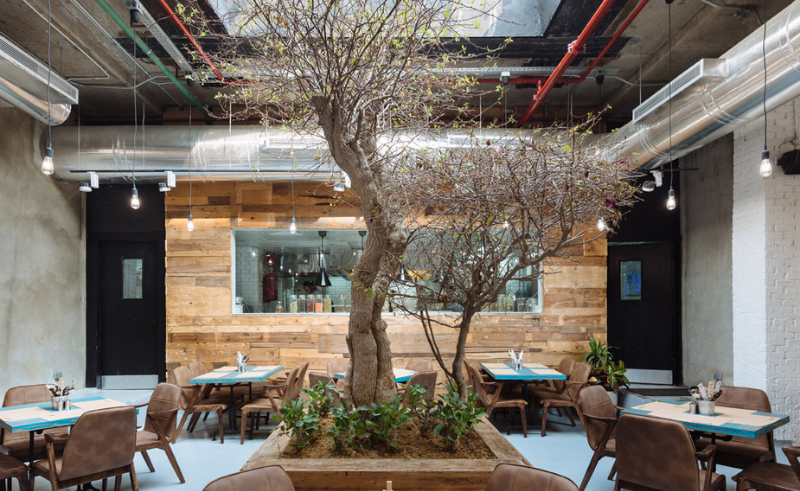 Eatery was one of the very first spaces to truly champion an industrial design. The space has an expansive depth of vision and that required plenty of lighting. To create different experiences, the ceiling opened and a skylight was added above an orange tree. "The owner got so attached to that tree that he called it 'Aziza'," Elassal says.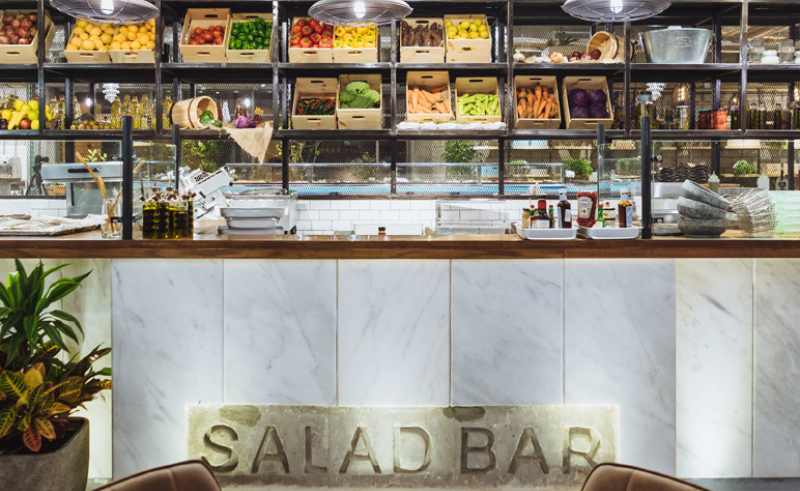 Salad and sushi bars were designed back to back, and open up to each other. Real leather is used on wooden furniture, while bathrooms epitomise the theme with corrugated steel sheets, reclaimed wood, and industrial water taps. "The design has a special place in my heart because it's unique and was one of our most important projects."
Eatery - Capital Business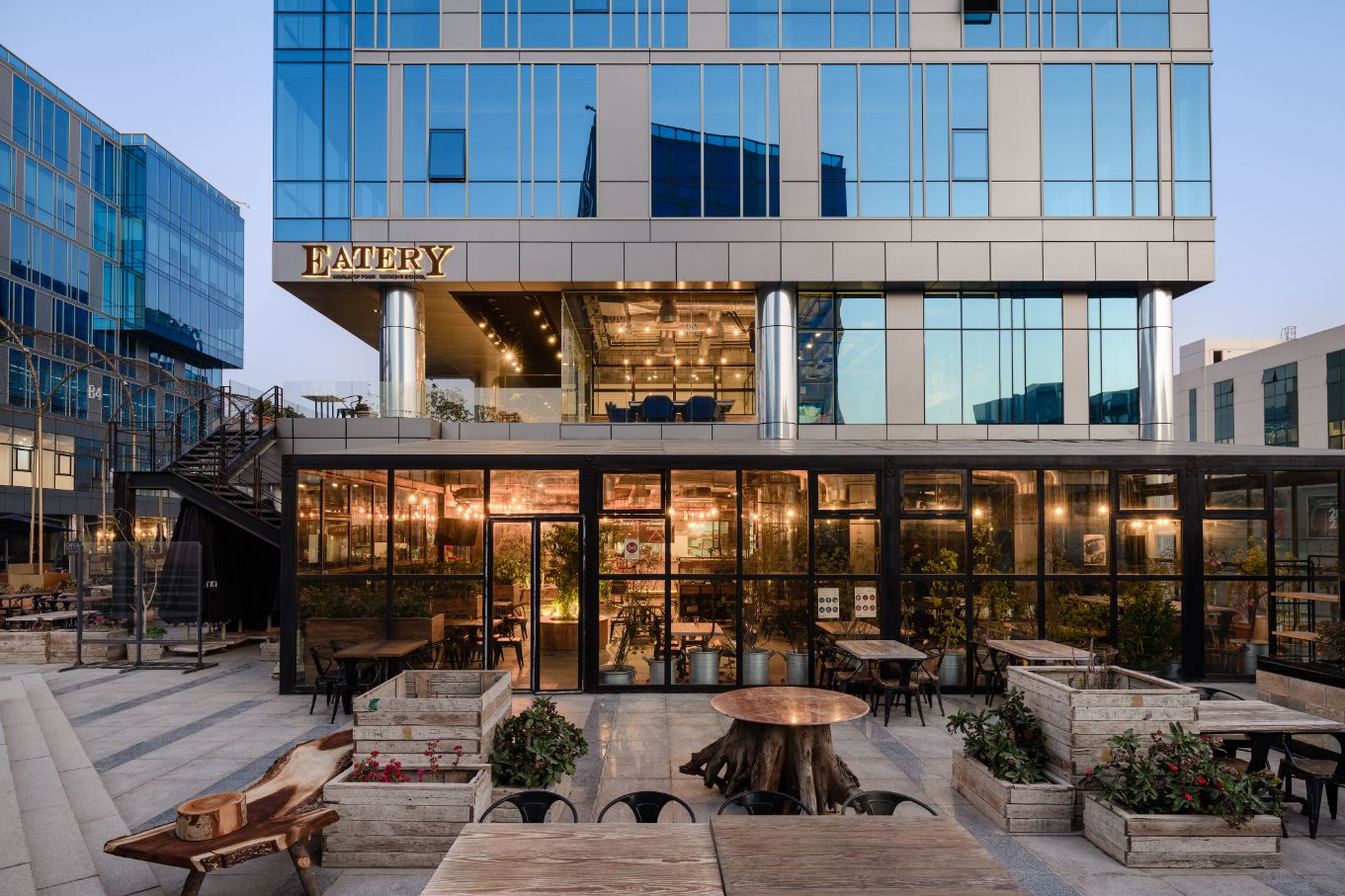 Park Photography Credit: Nour El Refai
In the same year, Segments Architects worked on a second branch for Eatery. The goal was to maintain the visual identity they created, while enhancing the materials and figuring out novel zones. The indoors are connected with the outdoors through a space enclosed with glass.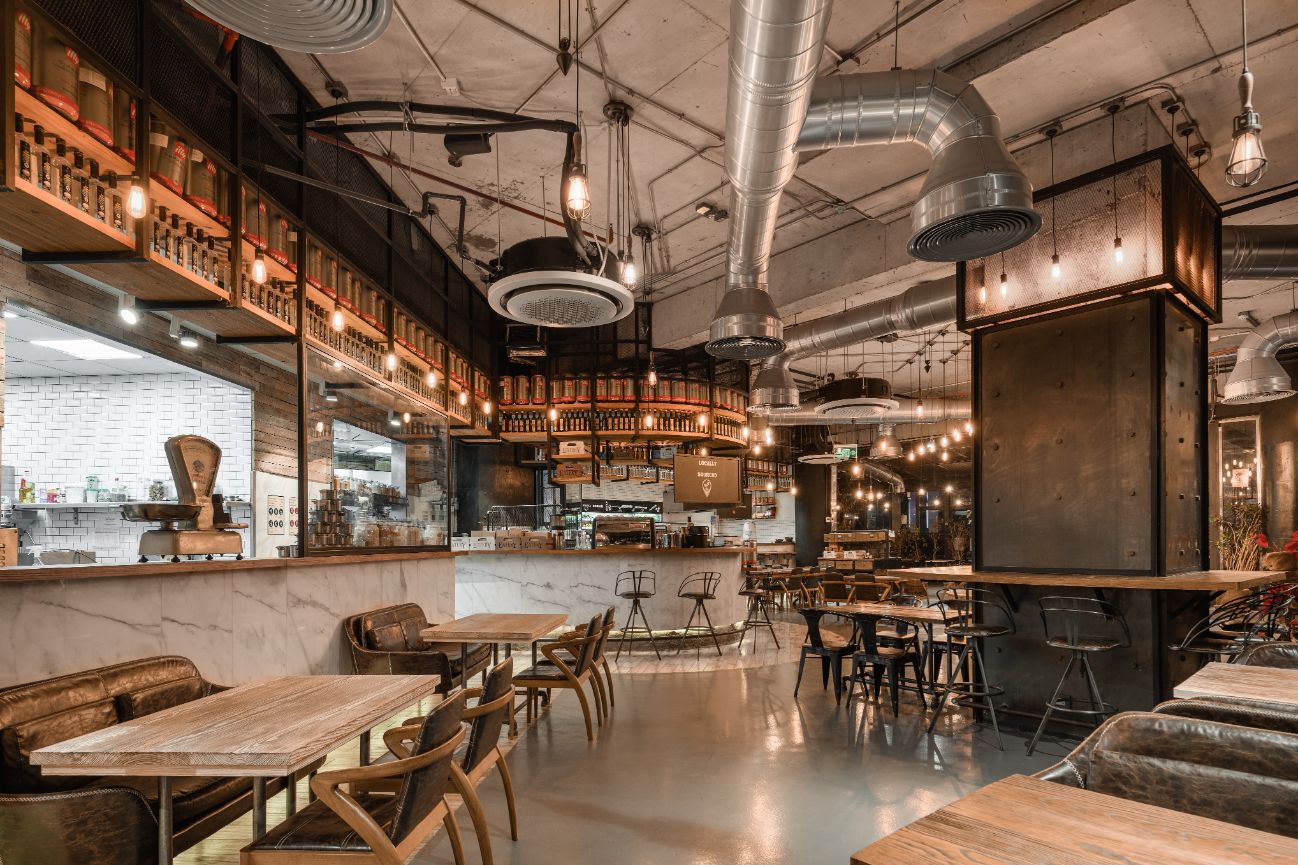 "The plan is rectangular but we decided to align the counter in a diagonal and create a nose that imposes itself into the space," Elassal says of the continuous space breaker that is marked from start to finish in white marble. It cuts through the space, linking the beverages station, as well as the sushi bar. Reclaimed wood is placed between the marble and coffee stock.
The Dog Cafe - Eden Plaza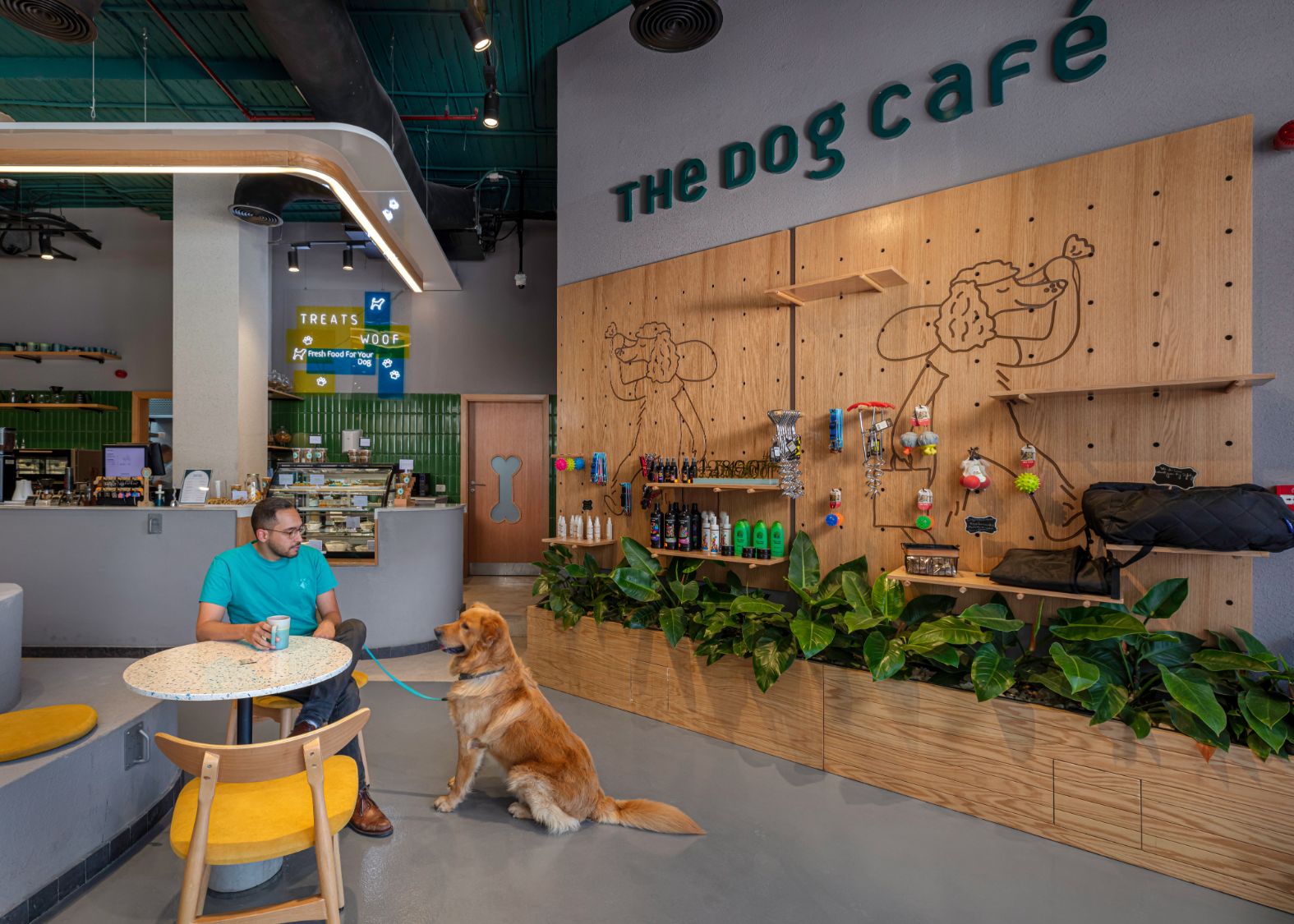 Photography Credit: Essam Arafa Contractor: Reference
In Sheikh Zayed, Elassal found himself tackling a unique assignment. Instead of catering for people, Elassal had to cater for dogs. "It was different, you're creating a restaurant that feeds dogs, wanting them to have fun," he says. "There was a need for this project because we all have dogs and we would like to take them out with us."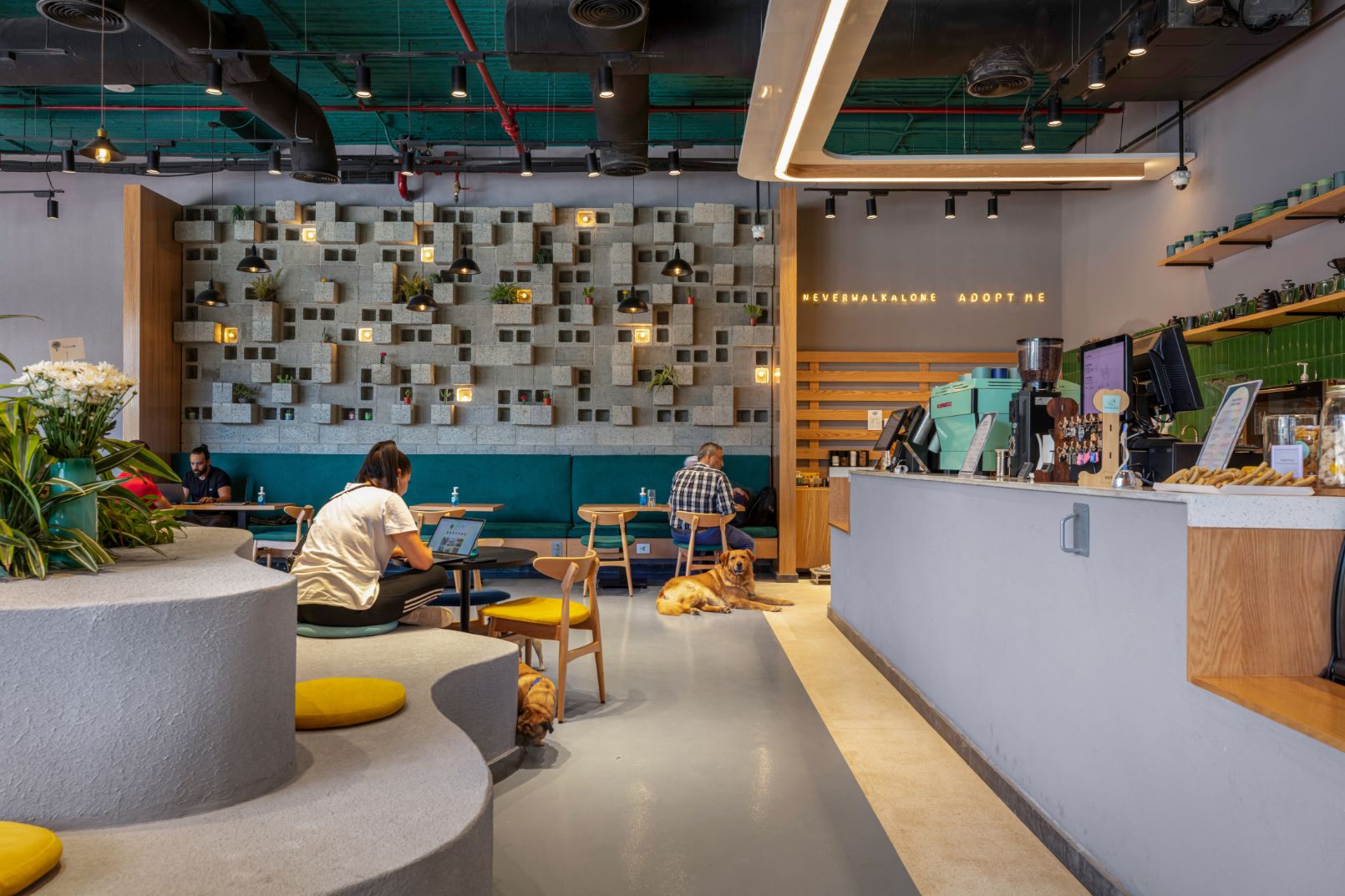 An island meanders through the indoor space and extends outdoors for dogs to run around and jump on them while featuring leash hooks. Planters imitate natural irregular forms while wood was used to provide a bright feel. Urban aesthetics run through the space, such as subway tiles and industrial features. Colours follow the brand.
GAVI - Open Air Mall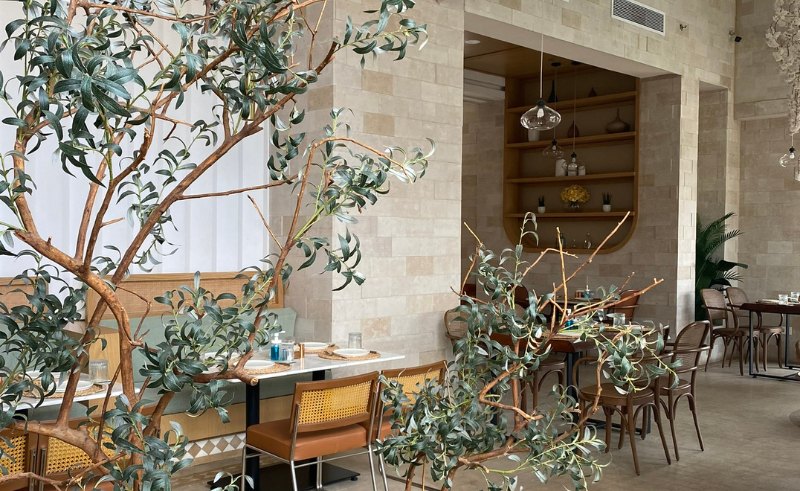 Contractor: Link
Gavi, an international cuisine restaurant in Open Air Mall in Madinaty, provided a refreshing twist to the firm's approach. "We left our colour schemes and industrial theme and went for a more bright approach." Using greenery indoors, another signature design feature, remained as it is.
Inside Gavi, marble stone is used on the floor with Mediterranean aesthetics. Galala, Carrara and Terriesta stones cover the walls with a state that alternates between polished, unpolished and half polished, while protruding to drop shadows and textures on the walls. This creates dynamic visuals.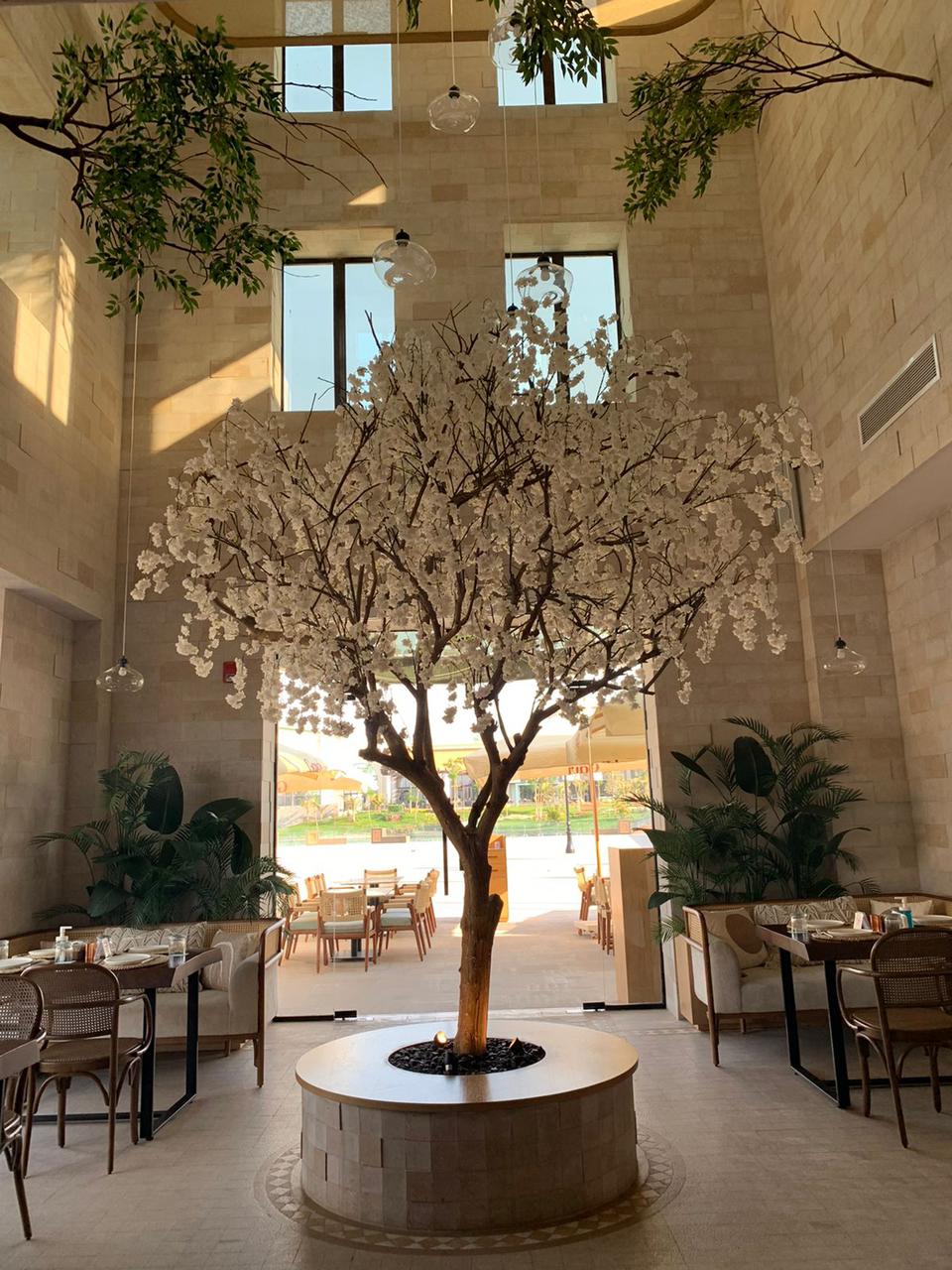 The space is centred by an artificial white tree which - even though it isn't real - still has a soothing effect on visitors. Cane furniture ensures that the space looks fair and feels open. Visually speaking, restaurants must follow their palette. A Mediterranean menu is best served in a Mediterranean interior.
Boulevard - Plaza Espana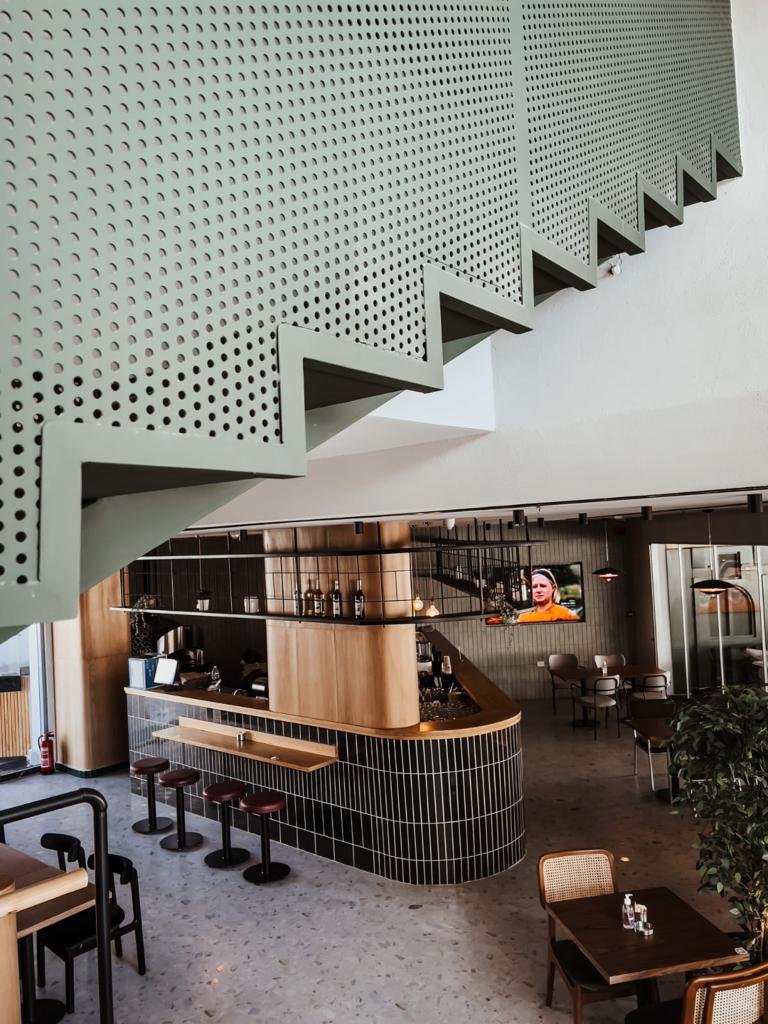 A feature wall greets Boulevard's visitors in 6th of October city. It's a double heighted design that abstracts urban features from with nuanced outline and an outright green. Mesh staircase features a Scandinavian twist as it ascends over a seating area with stylish cane furniture.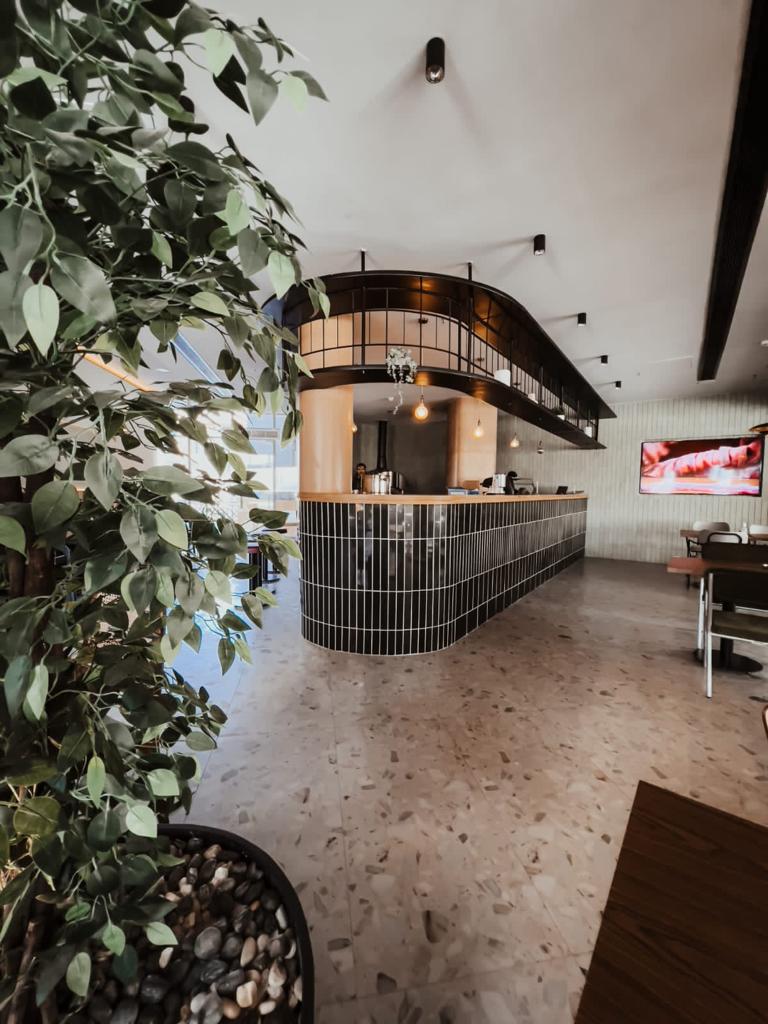 The beverage and pizza bar has black granite cut in a manner that mimics the cosmopolitan look of subway tiles. A built-in sofa has curvatures that hide embedded lights. From the bar to the ceiling, there are plenty of details. "It was the first refreshed look for Boulevard, mixing terrazzo with granite and metal, with a retro vibe being set in the space," Elassal says.
Skip and Scoop - Walk of Cairo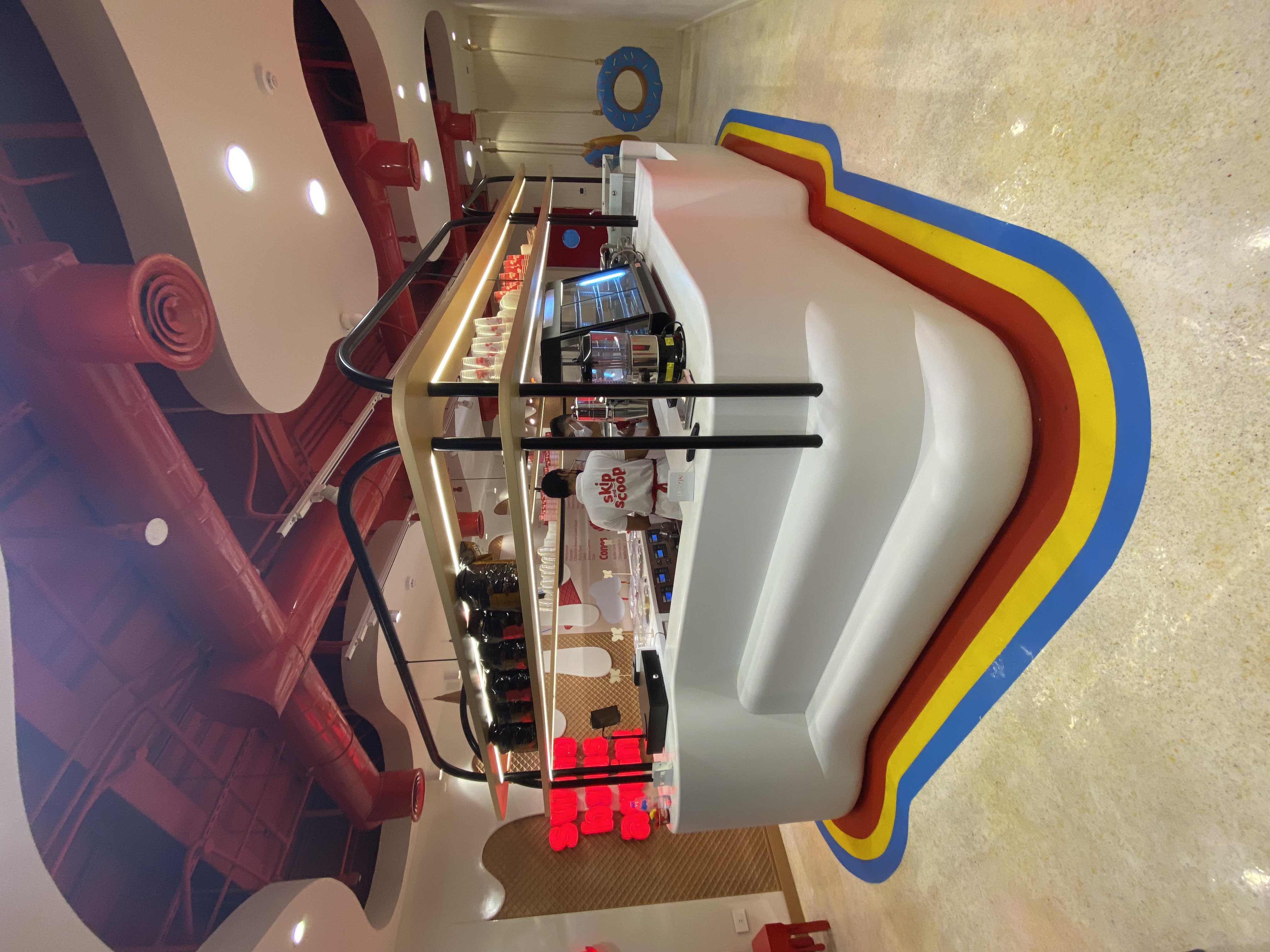 Here comes the funk. Skip and Scoop's design follows what we all associate with ice cream: fun. Installations by Artiora as well as artworks are scattered through the space to provide a joyful experience and create pockets of instagrammable corners. The central bar counter was made entirely out of corian, solid surface containing natural minerals.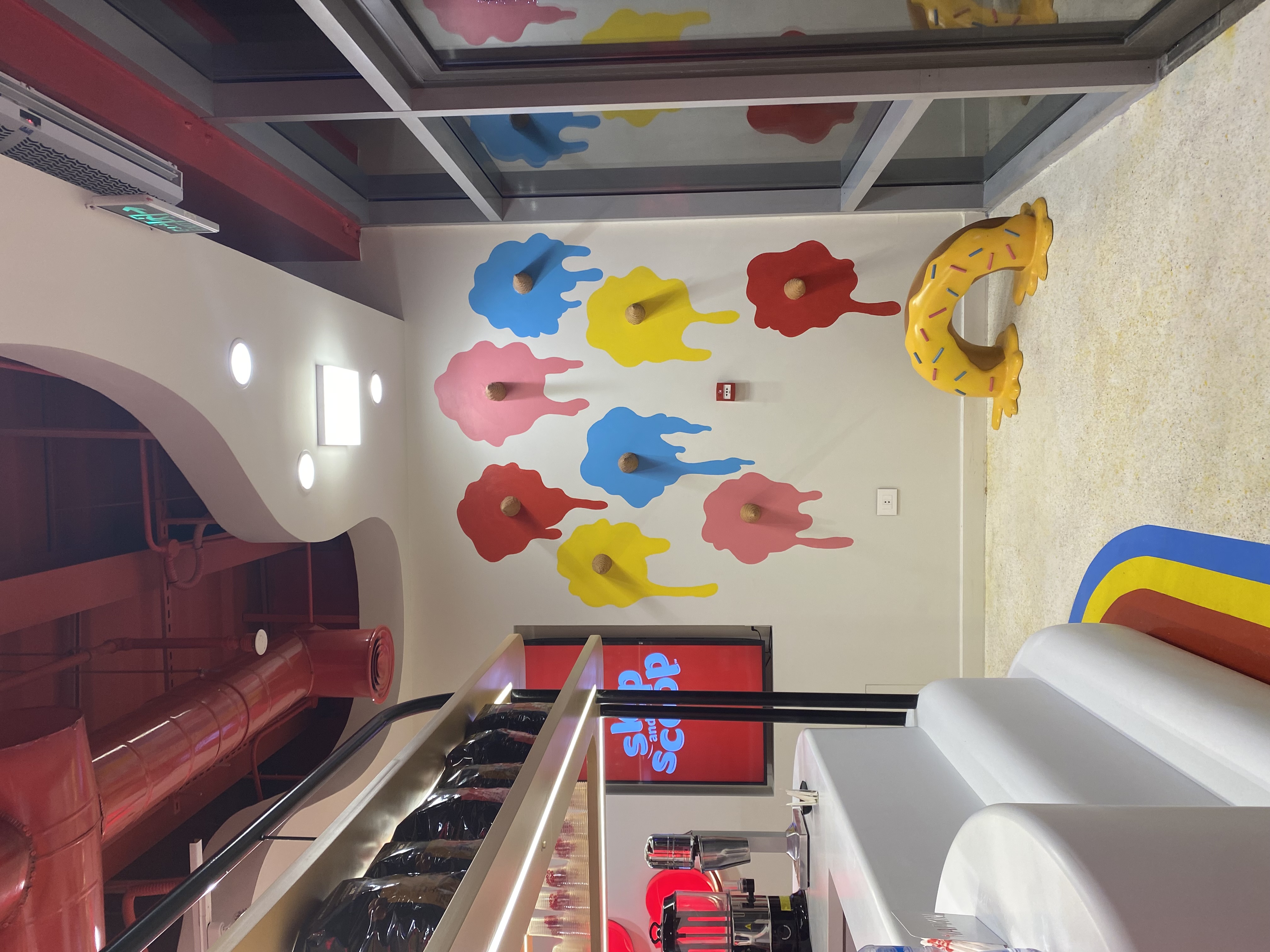 "Organic lines on the ground compel you to walk around the counter to complete the experience, from the toppings to biscuits," Elassal says of the tasty track. The ceiling is free in its shape while its lines imitate the softness of ice cream. Even when things got sweet, the theme remains industrial. The counter is synonymous with an ice cream turck, with red air conditioning ducts peeking from behind the white vanilla ceiling.