This Grandiose Garana Mansion Gives Off Serene Fairytale Feels
Compelled to deliver on a dream, Khalifa Architects designed a 4,200 square meter mansion that acts as a backdrop as horses trot around a lush, acre-large landscape.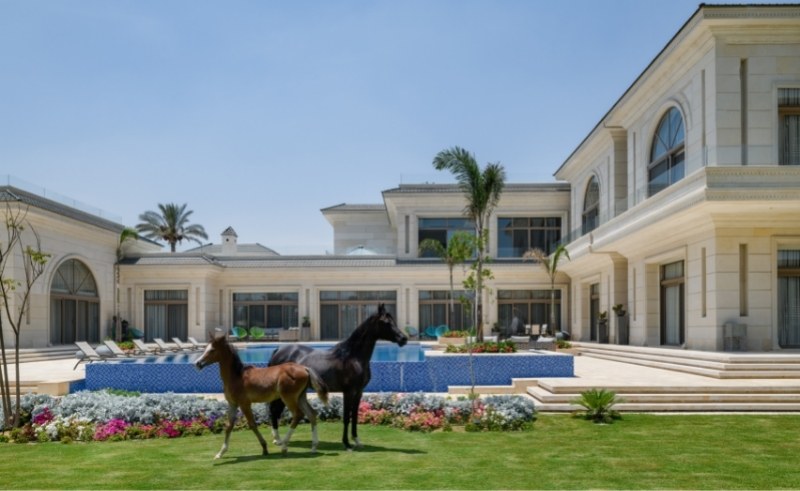 With 4,200 square meters to deal with, the Garana mansion is a grandiose dream come true on the Cairo-Alexandria desert road. A sophisticated facade evokes fairytale-like aesthetics, while an acre of greenery offers space for horses to trot upon.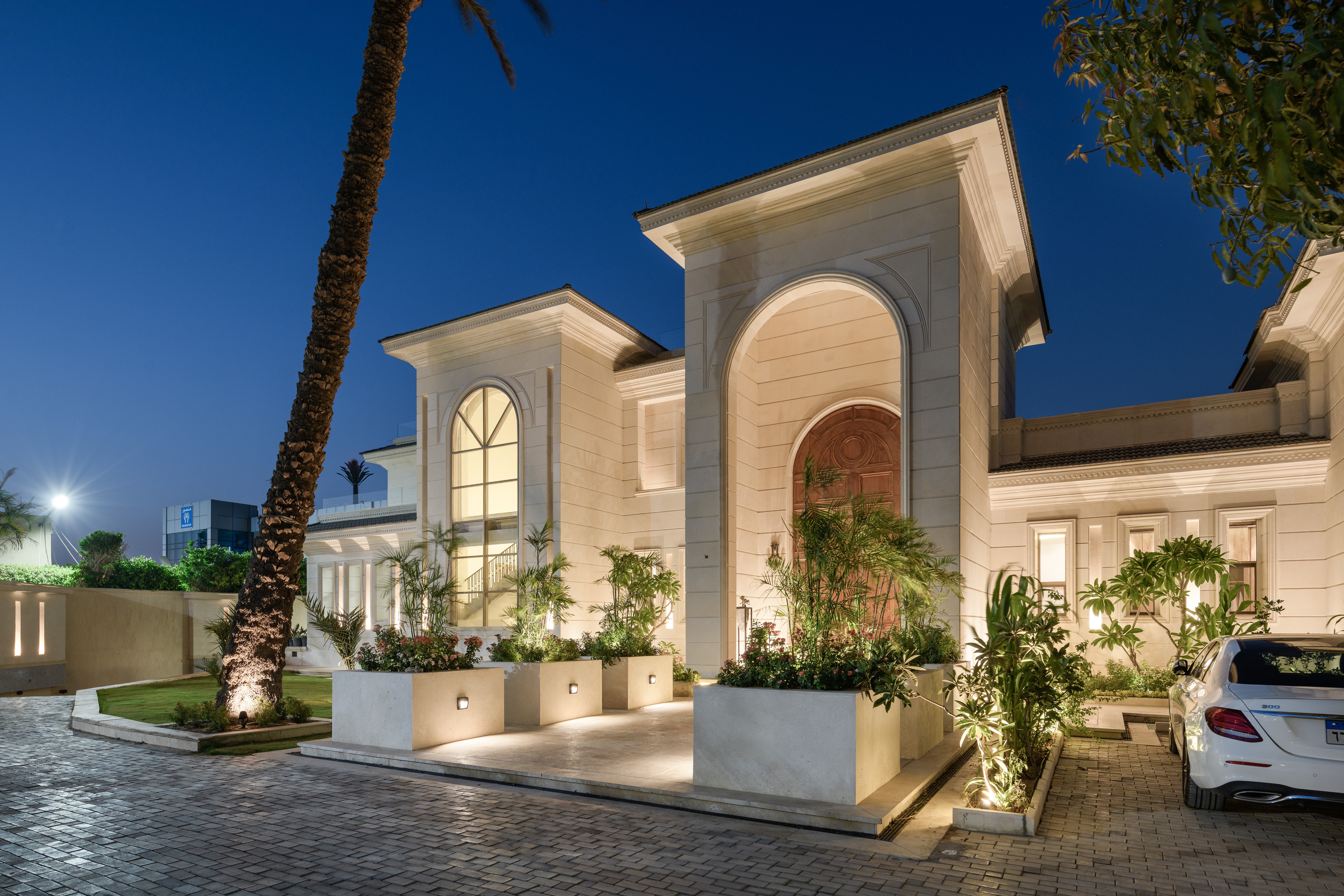 "It was one of our first projects and took a lot of time to execute due to its size. They were very flexible, allowing us to do a lot of things of our own accord," Mahmoud Khalifa, founder of Khalifa Architects, tells SceneHome. "When we met them, we understood their lifestyle and took their character into consideration to derive the notions they would want to experience at home."
Contrary to its surrounding environment, which includes a plethora of contemporary designs, the mansion is neither modern nor outrightly classic. Using stone cladding and hints of treated marble to portray a sense of grandeur that suits its unique position as the first property on the block. "It wasn't about being catchy," Khalifa adds. "It's more about truly taking on the perspective of the inhabitants and what represents them, their ethos, their home."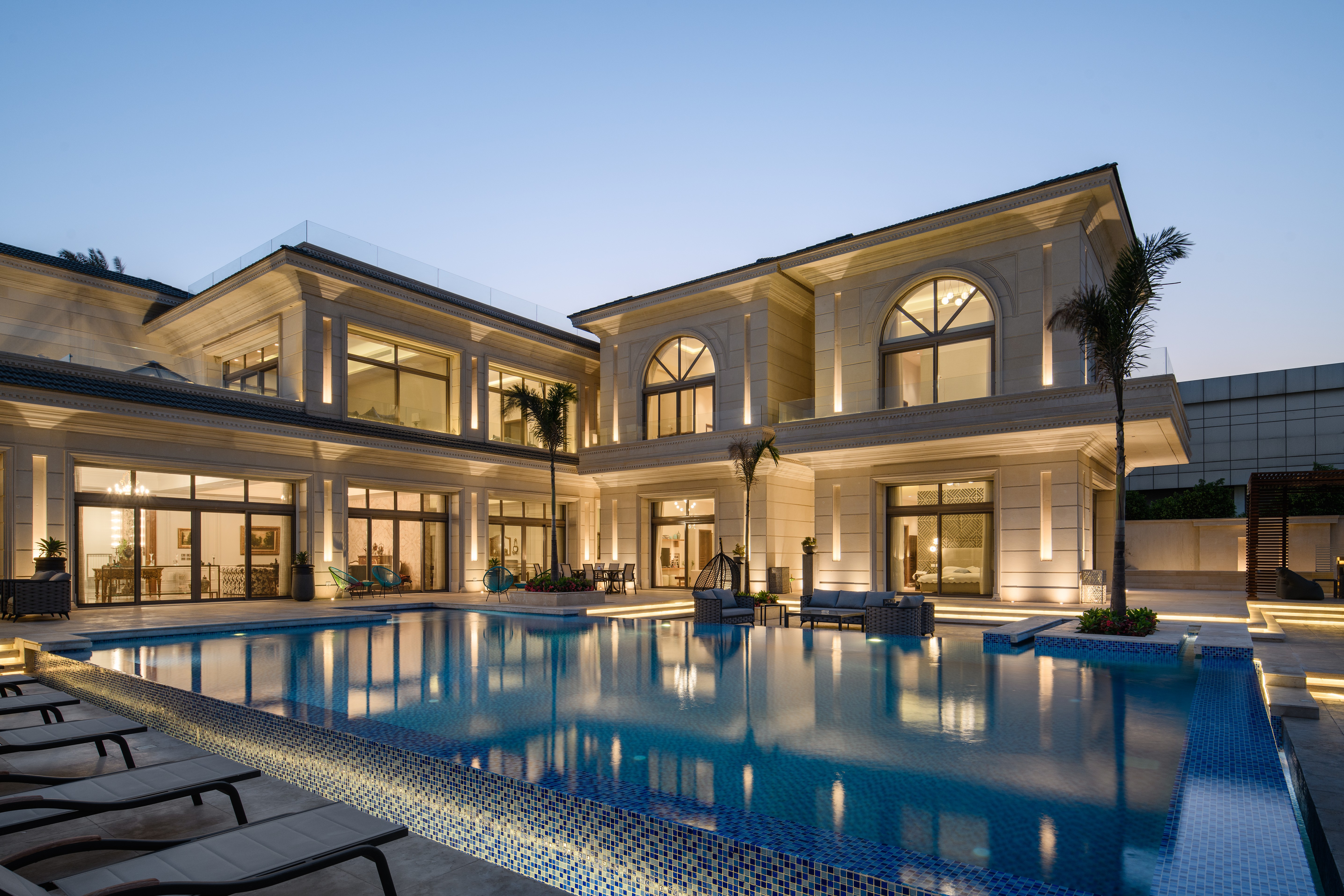 Head of design at Khalifa Architects, Mera Mostafa, led the design work on this mansion. "We have a branding approach to all our projects, tailoring the design process for the client," she tells #SceneHome. Her marketing background allowed her to tackle the issue with a client-centered approach. "The design had to provide fulfillment and actualization to the client, the spaces need to be imbued with joy, beyond mere aesthetics."
Lighting is major; a simple space can be transformed through subtle lighting, while a rich one can be further enriched with the right intensity. When approaching the facades of the building, the designers wanted to highlight the regal textures and subtle patterns. They created a warm ambiance through ingenious lighting that aligned with the architecture, showcasing the materials and giving off a feeling of visual serenity to the outdoors. "You would want to just lay back in the garden and marvel at the architecture," Mostafa nonchalantly explains. "This is the effect lighting can have. Think of how the temples in Luxor and Aswan would be illuminated."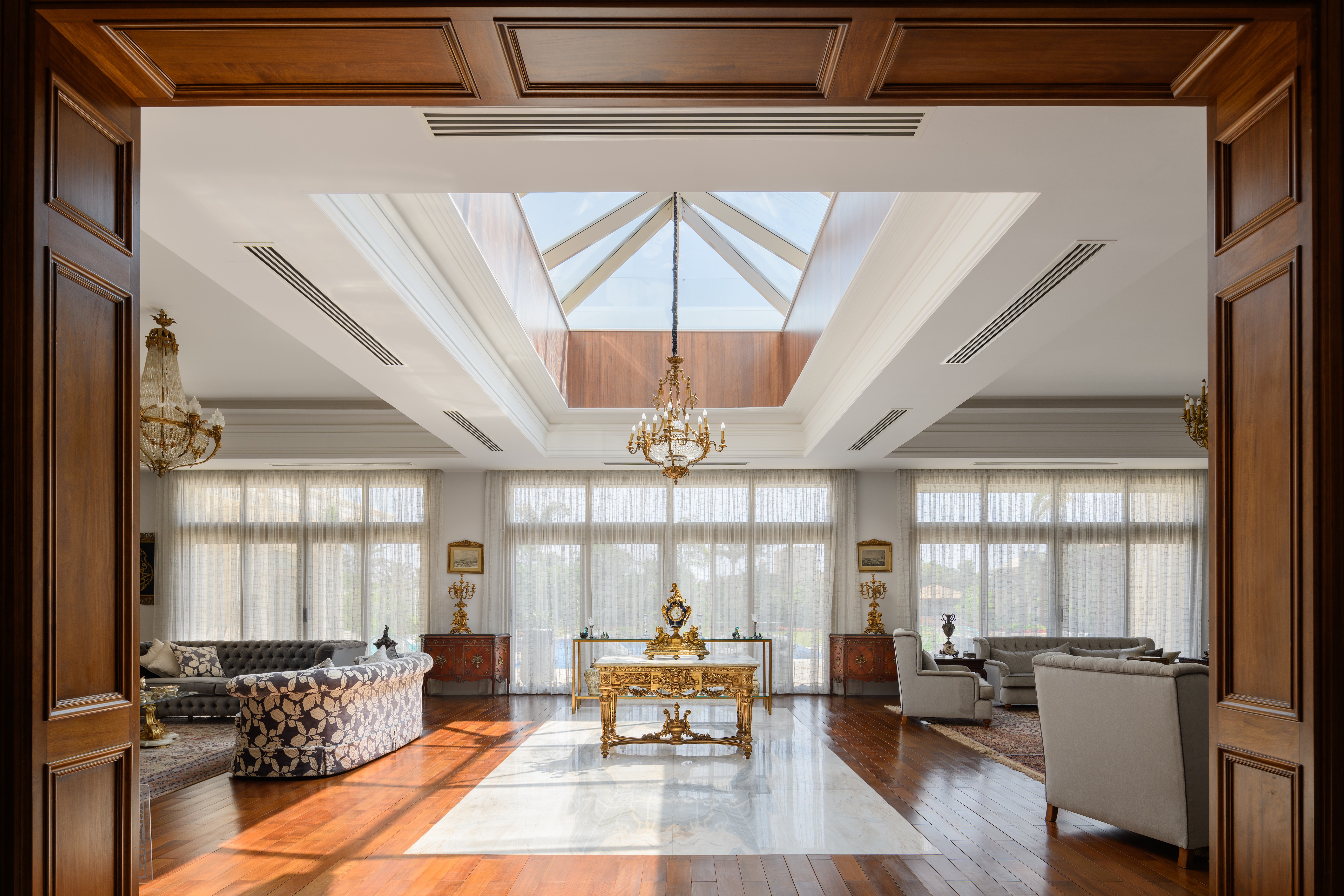 Going for continuity, a skylight of an uneven triangular shape was designed to offer openness, providing pristine tranches of the sky. While the pool supported a different function beyond its bodily fun. "It overflows onto the greenery, creating a therapeutic, elemental scene as horses run around in the morning. It is the stuff of fairytales," Mostafa adds.
"When the client is told to imagine a skylight, grandiose architecture and a pool overflowing onto greenery, you have to deliver it," Mostafa explains. "If you sell an idea and they get attached to it - in a dreaming state - you're effectively selling the surreal, and they expect it. So the renders had to be brought to life, that is the designer's accountability." The firm relies on their sister company, Sole Fine Works, to execute their designs. Having such a close-knit designer to contractor relationship ensures that however lucidly detailed a design may be, it will come to life smoothly, and precisely. In the end, it's all about bringing blueprints into the realm of reality - especially when those blueprints are the stuff of pure dreams.