Egyptian Singer Badr Medhat on Autism & Connecting Through Music
With the powerful emotion and unwavering melodies in his voice, Medhat and his family hope to change perceptions of people on the autism spectrum in Egypt.
On the eve of his debut single release, SceneNoise meets with Badr Medhat, an Egyptian musician whose talent is helping break misconceptions on people with autism.
Medhat is on the spectrum for autism, a lifelong developmental condition that affects how people interact with others, communicate and learn to varying degrees. In this light, his musical talents have opened up new avenues for the Egyptian vocalist and those around him, making people question their own assumptions of autism.
"Growing up, I loved listening to classic Egyptian singers like Abdel Halim Hafez and Umm Kulthum, but I didn't know I wanted to sing until I was 20 years old. I used to be a huge football fan, that was my thing," Medhat explains. One day in 2015, he asked his parents for singing lessons and spent the next three years taking classes at the Cairo Opera House, reciting verses of the Quran with his teacher, Dr Mohamed Abdel Sattar.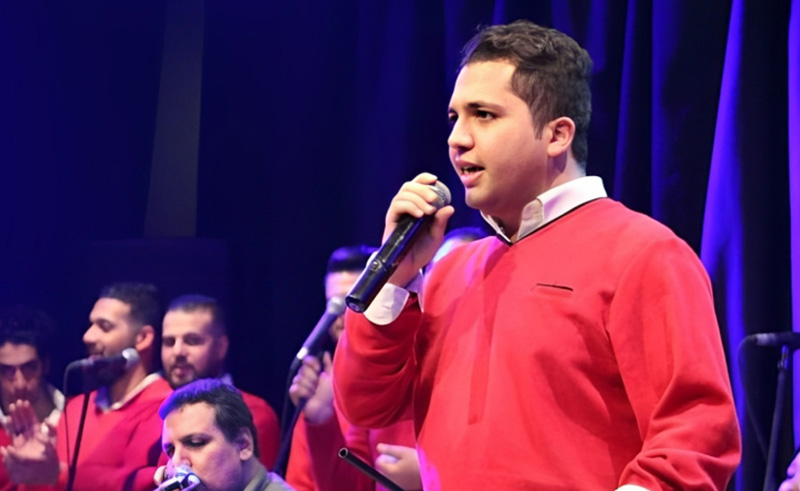 "I felt really happy when I began to sing. People would listen and encourage me. I joined a band called Zekrayaty with friends from the Opera," Medhat shared. "I still remember my first concert at El Sawy Culturewheel in Zamalek performing covers of Amr Diab. I was scared I'd get stressed when facing the audience, but it went really well, and I felt I could connect with the people in the room."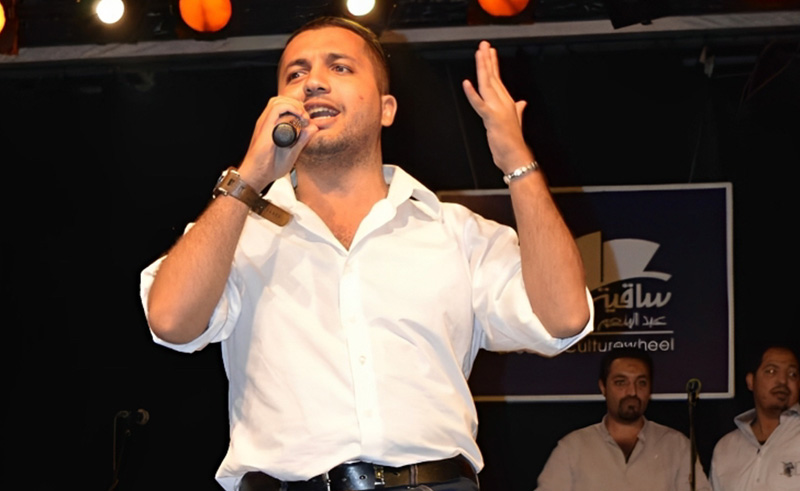 Some years later, Badr and his father started attending moltaqa gatherings in the Hussain district of Islamic Cairo, where musicians and poets regularly come together to discuss and present their art. This is where he began to shine amongst other musicians and vocalists, leading him to the esteemed classical Arabic musical composer and vocal coach, Mohamed Abdel Dayem. "I still remember the first moment I heard Badr sing and I went crazy," Abdel Dayem says. "I told his father, 'Your son is like a rare diamond. We can't find his voice right now'." Abdel Dayem has previously worked with the likes of singer Shahrezade, actor Shafik Galal, and Mohamed Al Azaby, who was a member of the folkloric Reda Troupe and is known for popular songs such as 'Baheya' and 'Luxor Baladna Balad Sowwah'.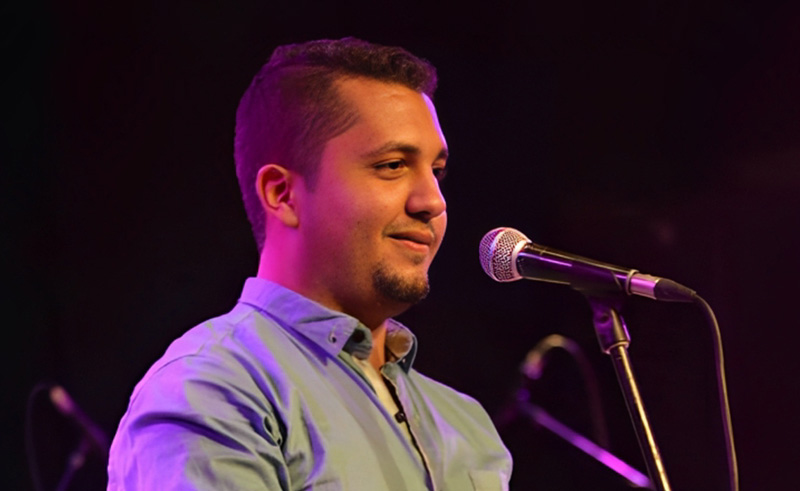 "Badr has a very unique talent for quickly picking up techniques and notes used in classical Arabic singing," Abdel Dayem explains. "He'd learn an entire Muwashah ballad in a few hours. I devised a programme of vocal exercises that usually takes two months to complete, and he mastered them in 10 days."
Having completed the vocal training programme with exceptional speed, Abdel Dayem sought out a poem that could serve as Badr's first musical recitation. 'Ya Garhy Kefaya Alam' is a poetic chronicle of pain and anguish by Mohamad Rashid, which he wrote in the 1990s. Rashid gave the poem to Badr to sing the minute he heard him. Rashid had given the work to others before, but apparently never felt that he'd found the right voice to carry his poem into song.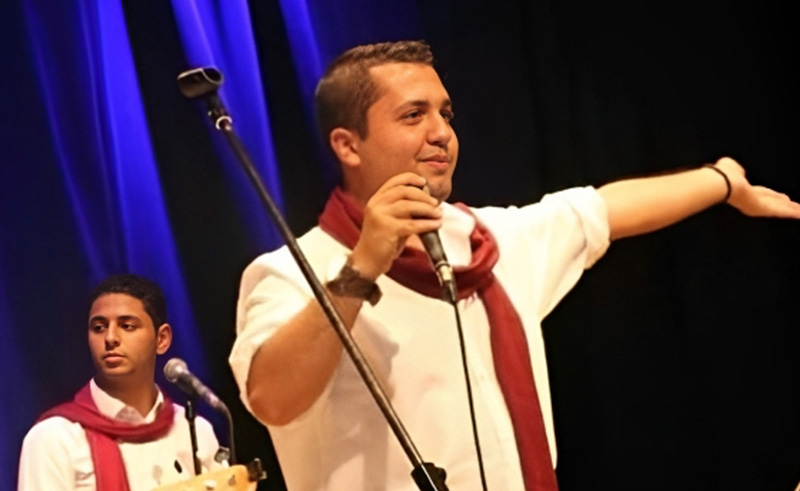 "The first time I sang it, I cried," Medhat shares. "I connected with the song because of how it expresses inner pain, and I liked how each person might have their own interpretation of it. I could tell Rashid was impressed by my voice."
A recent highlight for Medhat was when he sang live on television with Lebanese singer Ramy Ayach, during an episode of 'Abla Fahita'. Medhat is part of a group called 'Ramy Ayach Fans', which collectively bought tickets to watch his performance. There, the pop star invited Medhat up on stage to sing.
"What I hope for is to be able to show people like me that you don't have to fit into the narrative of 'normal' to pursue your dream. My perception of myself when I'm on stage is just a 'singer'. Where I am on the 'spectrum' or how other people might perceive me simply doesn't exist," Medhat continues. "This is exactly what I hope for others who don't fit into the classical narrative of 'normal', to be given the same opportunities as everyone else and to be recognised for talent, not for a diagnosis or an aspect of their presence that shouldn't and doesn't cancel out the rest of who one is."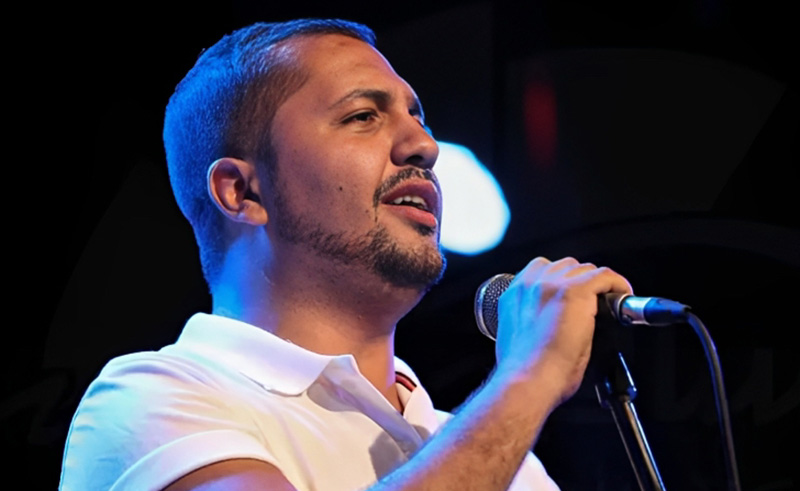 As a child, Medhat didn't have the easiest time at school. "Egyptian culture doesn't offer enough support or sensitivity to people on the spectrum, and a lot of people at school made his life harder," Bassem Medhat, Badr Medhat's brother, shares. "When he was growing up our family was quite protective of him growing up. I'd try to shield him from those who were standoffish or unwilling to understand him. Today, I think one of the things that attracts Badr to singing is that he has such a strong presence and charisma on stage, which is such a contrast to his usual shy nature."
"Perceptions of autism have improved over the last 20 years. In the 1990s it was often neglected or misdiagnosed," Dr Mayada Akbar, a special needs expert with a particular focus on autism, and a former professor at Ain Shams University, tells us. "Autism isn't a one-size-fits-all. It affects people in different ways, so it's important to understand in what fields individuals struggle in and what they excel in, in order to be best supported. Unfortunately, societal perceptions of those with autism in Egypt today are that they are unreliable, and consequently aren't presented with many opportunities and responsibilities."
"Today, we are seeing a shift as organisations such as the Egyptian Autistic Society, Challenge and the Egyptian Association for Special Needs Support are doing admirable work to lead awareness campaigns," Dr Akbar continues. "Visibility and awareness is key to the social integration and understanding of those on the spectrum. Better representation in Egyptian cinema and media, for example, would go a long way to clear up misconceptions about what it's like to live with autism."
Since he's started singing and performing publicly, Bassem is noticing a new sense of empowerment in his brother and a shift in how people perceive him. "People are starting to share and comment on his work," he says. "Beyond that, he's connecting with people in similar circles and has started to have more confidence in taking certain steps on his own."
Abdel Dayem, Medhat's vocal coach, was quick to agree that his perceptions of autism have drastically changed since working with Medhat. "I didn't have a lot of knowledge on autism beforehand," Abdel Dayem admits. "I perceived it as a disability, when in reality it is so much more. I'm constantly blown away by how intelligent and capable Badr is, able to perfect musical material far quicker than his peers."
In a recent collaborative project between Abdel Dayem and producer Sayeed El Sayed, Medhat's musical rendition of Ya Garhy Kefaya Alam was recorded in February of this year in the style of classical Arabic pop and is set to be released onto streaming platforms this week with the help of his brother Bassem. "I've been singing for years but mainly covers of already existing songs," Badr Medhat says. "With Ya Garhy Kefaya Alam, it's nice to be able to have something of my own out there."
"Music has the ability to empower anyone," Medhat continues. "In my case, a lot of the things I can't seem to express normally just slip out when I'm singing. This constantly motivates me to find new boundaries for me to cross musically, and maybe in the future explore different genres and singing styles. My plan is to continue to use my voice to express myself and present people with an older, traditional genre of music that seems to be disappearing from the younger generations."