Peace Boat Docks in Port Said Calling for Ceasefire in Palestine
Peace Boat has operated since 1983, calling for educational and cultural dialogue between Israeli and Palestinian Youth.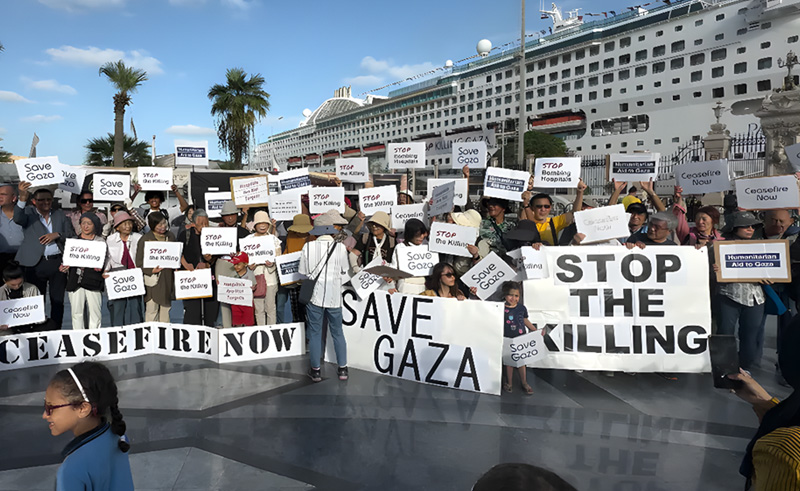 Peace Boat, a Japan-based NGO, raised international awareness for Gaza this week after docking a 77,000-tonne Pacific World liner in Port Said with a massive banner condemning Israeli killings of Palestinian civilians, and promoting the NGO's call for a ceasefire. Its 30-metre flag reading "Stop Killing Gaza!" has previously sailed before crowds in Greece and Turkey.
According to Peace Boat spokesperson Karen Hallows, the global cruise aims to stage rallies at ports along its usual sailing route. "We feel that as an organisation which sails with the word 'Peace', we have a responsibility to speak out about the horror of what is currently happening in Gaza," a statement from Peace Boat said.
In Port Said, Egyptian journalists, including the head of the Egyptian Journalists Syndicate, Khaled El Balshy, joined the passengers' ceasefire event, before the liner sailed for its next docking in Sri Lanka.
Launched in 1983, Peace Boat has historically fostered Arab-Israeli cooperation, and historically has docked at various port cities in the Occupied Palestinian Territories, including Haifa and Ashdod, conducting educational and cultural exchanges between Arab and Israeli youth.