Calm Aesthetics Inside One of Egypt's Busiest Studios: Design Point
Egyptian photographer Ehab Behairy captures quiet moments inside the Zamalek office.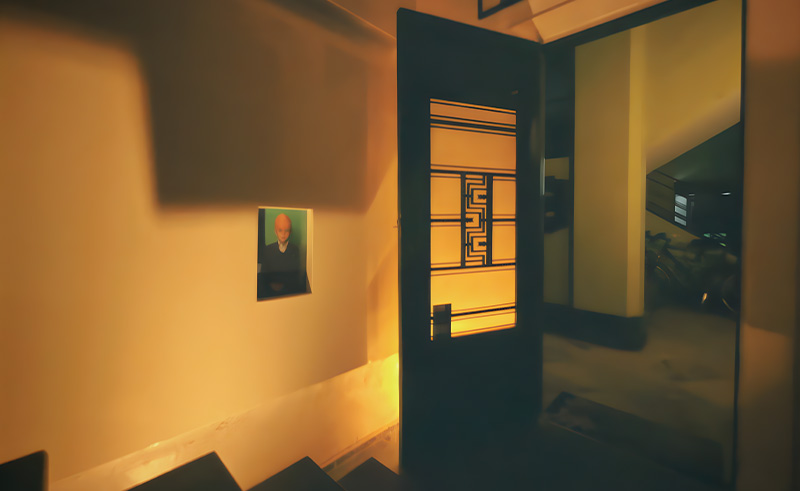 Design studios are usually buzzing with creative thought, usually squeezed by tight deadlines. Their environments can get quite chaotic in the pursuit of fruitful concepts, pretty visuals and great design. Design Point, an award-winning firm in Zamalek, is no different. However, after everyone's gone, things take a calming turn.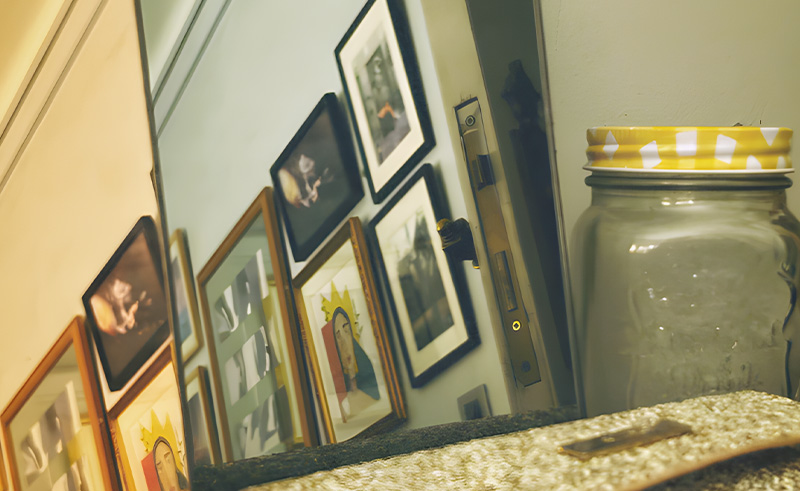 "I wanted to experience the environment and I was given freedom to capture scenes that reflect the essence of the office," Egyptian photographer Ehab Behairy tells SceneHome of a photography collection titled 'Quiet Moments at the Office', which he compiled over the course of two years.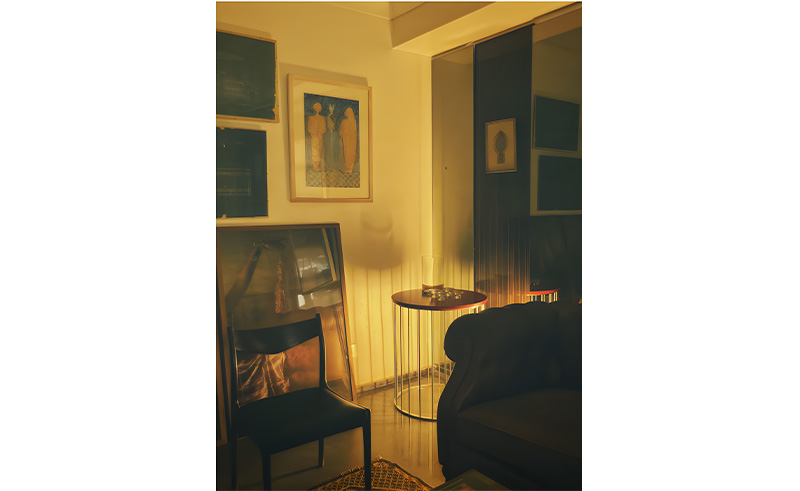 At first, Behairy would shadow designers as they worked, prayed and ate. Sort of like an observer, constantly fluctuating from an outsider to an insider's point of view. "I would roam and take photographs, but I didn't know the people in the beginning. It was slightly awkward," he admits.
Karim El Hayawan, the renowned architect-artist who co-founded Design Point with Nehal Leheta, sheds more light on the nature of those encounters. "Oh, it was really awkward. The office is like a beehive, people running around chasing deadlines, but Beheiry had plenty of time on his hands to capture moments that carry within them chaos, play and life."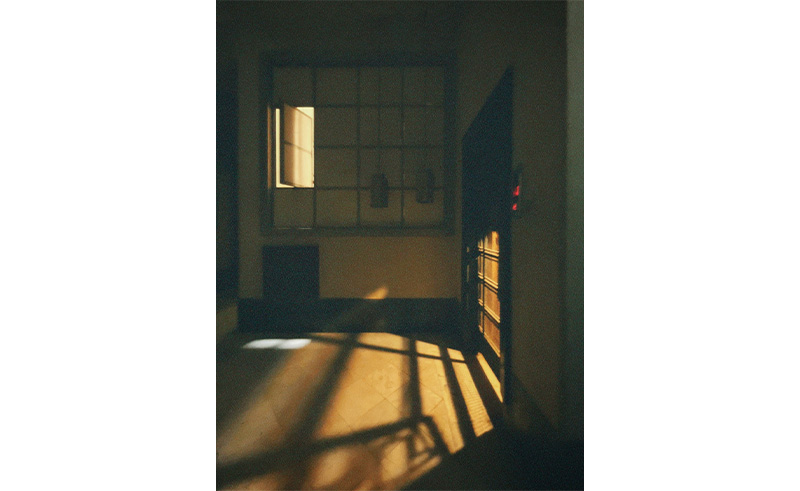 Behairy would photograph everything he comes across, from meetings to dish parties. That said, he was more inclined to compile the moments when everyone's gone. "You could still feel the energy of the people, leaving their mark after they're gone," he says of objects left on desks, reflecting their people. Like, samples placed as decorations between two table mirrors or cutlery set over a work schedule.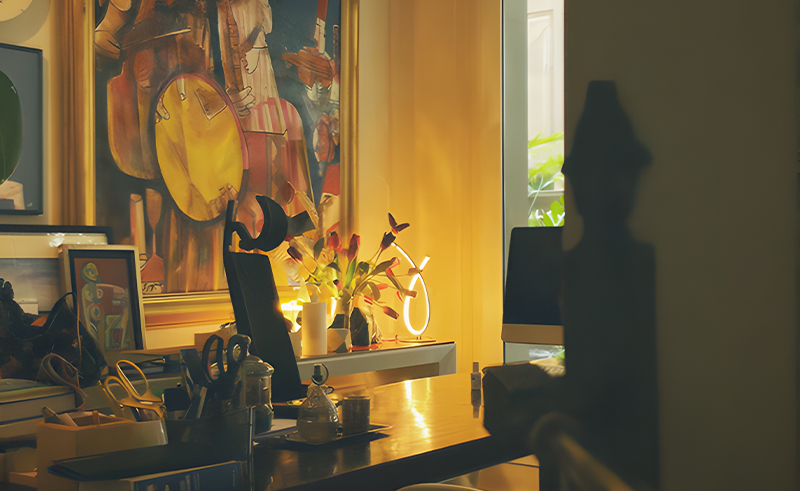 Moments of calm allow us to take in spaces differently. One of the main things that grabbed Behairy's attention in Zamalek was the mood. "The collection has everything I love, set in a calm atmosphere dictated by indirect lighting," he says.
While the office offers an abundance of nuance, there's the life surrounding it. It's situated in a historic building in Zamalek, connected to the neighbours and the neighbourhood. "We've been here for 12 years and whether it's the building, the cats or the noise, our context gives us energy," El Hayawan says. "This isn't your average corporate space. It's more of a home than an office. Work is work, but we can still feel at home."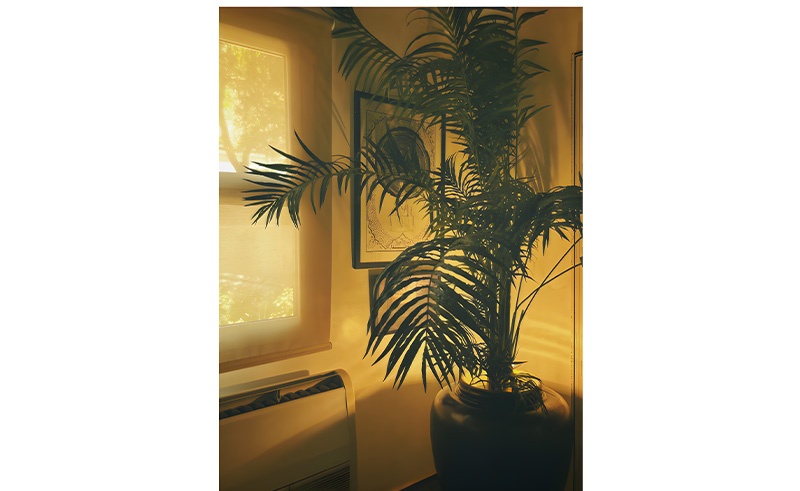 It's part of everyday life at Design Point to have bedsheets hung to dry by the neighbour above. "There's a neighbourly bond between us. She usually calls us in advance to give us a heads up," Behairy recalls. Beyond the sheets, if you step out the outdoors seating area to grab a bite or breath of fresh air, you won't be alone.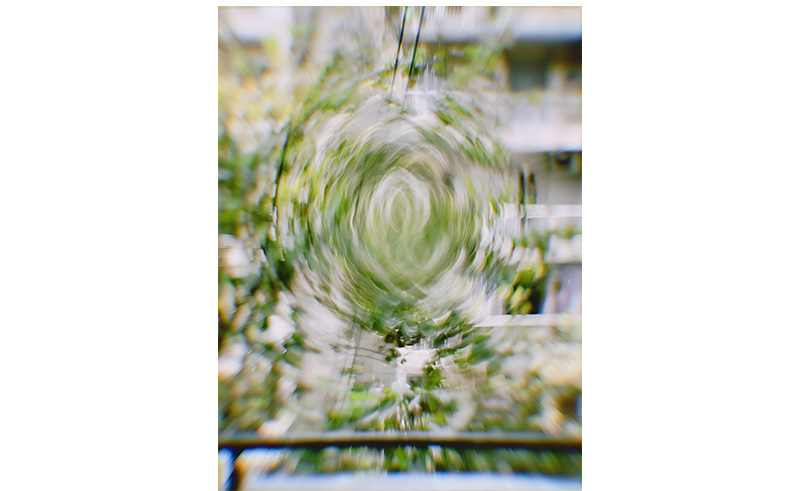 "I love cats and the office has plenty of them. They join us to eat in the outdoors area. It might look random, but cats feel at home here," Behairy says. "The people, the greenery, the art. I spent a lot of time observing these scenes and I found things I love in the space, each adding a layer to the environment."
The office has two floors and Behairy would get on the top balcony to completely disconnect. "I would look at buildings in the street, observing their different facades, ages and balconies. One of them was reflected on the phone," he recalls.
With plenty of time to roam around and take in his environment with a slow pace, it's unsurprising that Behairy found meaning in the most mundane of observations, such as a window stain - or what looks like one. "Initially, you'd think that this is a stain but if you get close enough you'll realise it's a distortion in the window's glass," he says. "It felt like a daydream, like when your mind's in a whirlwind trying to come up with a creative design."
While composition and mood are often Behairy's go to when capturing stills, in this project he looked at reflections. "The reflections in the mirrors tell the office's soul; artworks on the wall," Nehal Leheta says. Aside from the greenery that exudes life into almost every corner of the office, art is literally everywhere.
"Karim and I share a passion for art, whether we're creating it, collecting it or gifted it by those who love us," she admits. Going through the images El Hayawan also admitted to walking barefoot in the office, something that only makes sense if you view your office space like home. "Since we're in the business of designing homes, it makes a lot of sense for our office to feel like one. It's very personal," Leheta adds.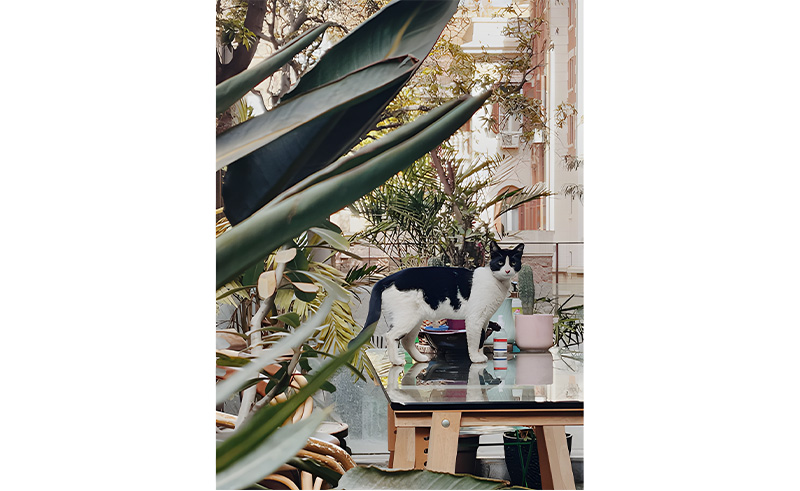 The designers often host friends and family in the office, transmitting its energy to the visitors, whether they're cats or humans. "Behairy managed to reflect our spaces and translate what they feel like visually," Leheta continues.
It's true that design studios can be quite overwhelming when it comes to their high intensity and tight time workframe. Images of those moments remain with Behairy, as he preferred to share the calm. "This is what keeps me here, I would live here. Why go home when I already feel at home?"
Photography Credit: Ehab Behairy