Serve in Style: A Tasteful Selection of Aesthetic Trays
Whether it's breakfast in bed or a picnic outdoors, treat yourself and your guests with the right aesthetic.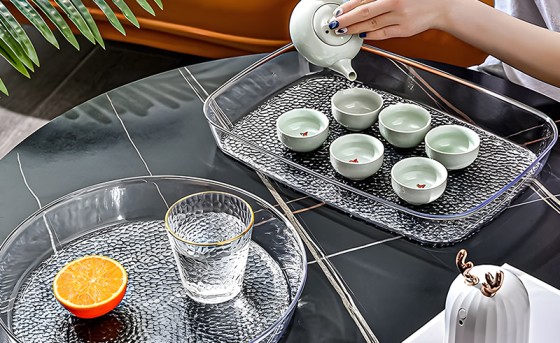 When you're hosting friends or family, trays are likely to be the first show of your character, courteousness and style. Whether they're nuts, fruits or refreshments, why miss an opportunity to impress while serving? From intense foliage to delicate florals, these trays feature handcrafted pieces inspired by the timeless beauty of Arabia, and whimsical designs created by renowned chefs.
If you've ever thought of grabbing a handful of pistachios from a tray shaped after the palm of your hand, or having breakfast in bed using a tray exuding the artisanal heritage of Cairo, you can check out our selection of tastefully aesthetic trays. And if any of these catch your eye, you can shop all of these products with same-day delivery on Botit if ordered before 2 PM.
Cherry Blossom Square Tray | Bright Design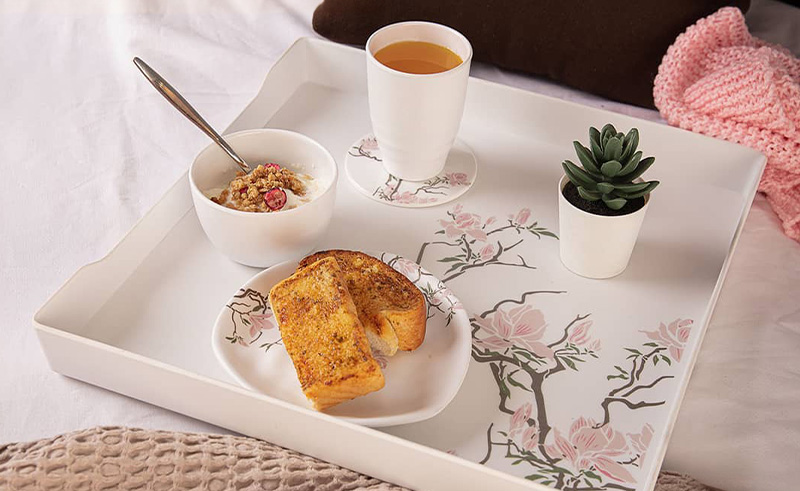 Start your day with the subtle florals printed by Bright Design on this square tray. If Cherry Blossom is your kind of aesthetic, the design is available on plates and coasters.
Très Bien Tray | Chef May Shop
There's tableware designed by designers and then there's tableware designed by chefs, like the Très Bien tray by Chef May Shop. The tray was created by Egyptian chef May Yacoubi, whose mastery of delectable delights poured over into the realm of kitchenware design.
Divided Board | Homepro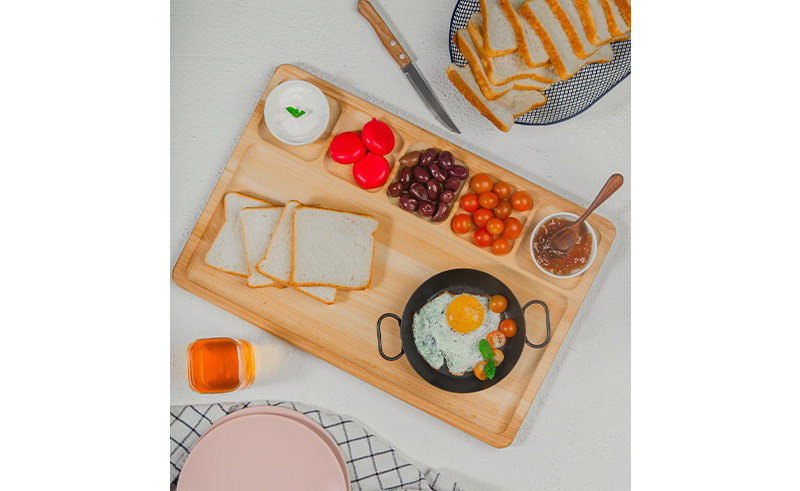 Regarded by many as a go-to when it comes to kitchen supplies, Homepro produces a wide variety of necessities with neat and functional designs. This divided board features subtle enclaves that are deep enough to hold your preferred fruits and nuts.
Yaqeen Tray | Shen Home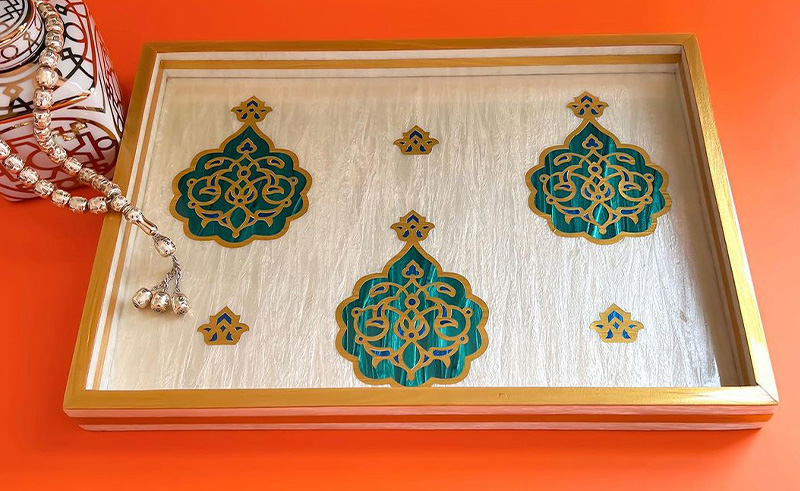 Derived from the timeless beauty of Islamic art, Yaqeen Tray caters to the arabesque-lovers of us, exuding oriental beauty through its use of Mother of Pearl.
Afnan Tray | Knana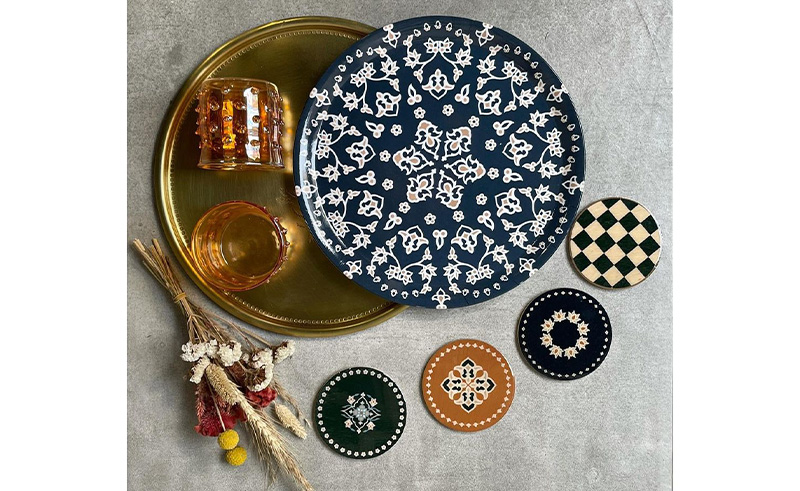 Sprouting from its heart and running along its edges, Afnan Tray hosts intense foliage that takes you back in time. The tray is part of Knana's Afnan Collection, which looks back at the heritage of Cairo.
Crystu Tray Set - Kitchenkey
Maybe patterns and colours aren't your thing. In this case, the Crystu Tray Set by Kitchenkey claims transparency through durable acrylic crystal serving trays, which are big enough to host almost everything you'll need in your gathering.
The Palm Nut Tray - Aneya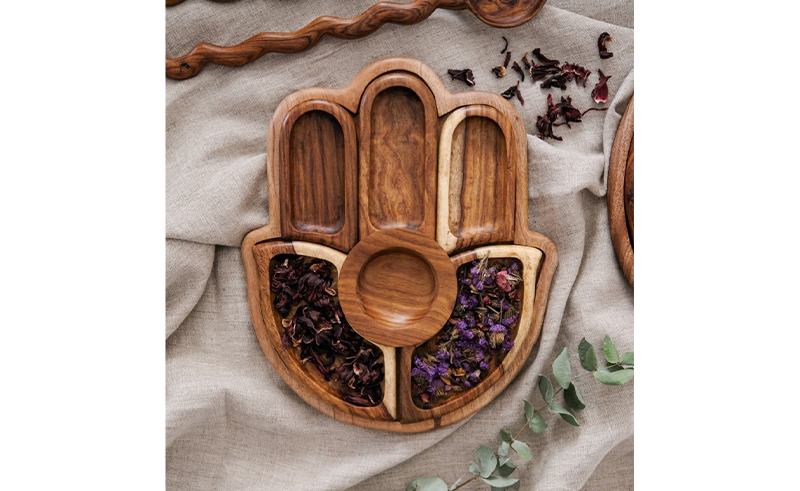 Pistachios, almonds and peanuts are classic munchies, certainly. Now imagine grabbing a handful of those from a tray shaped after the similarly classic palm-shaped amulet, Hamsa.
Wooden Tray - Ezazty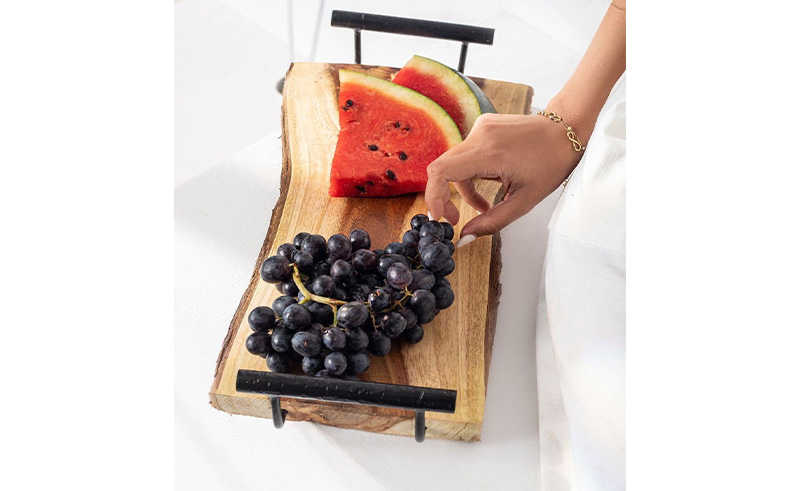 If you're familiar with Ezazty, you'll know that the homegrown brand creates all of its pieces using raw wood. This tray, carved out of a solid piece of wood, will help add an organic aroma to your home.
Boat Tray Set - Chez Maleeha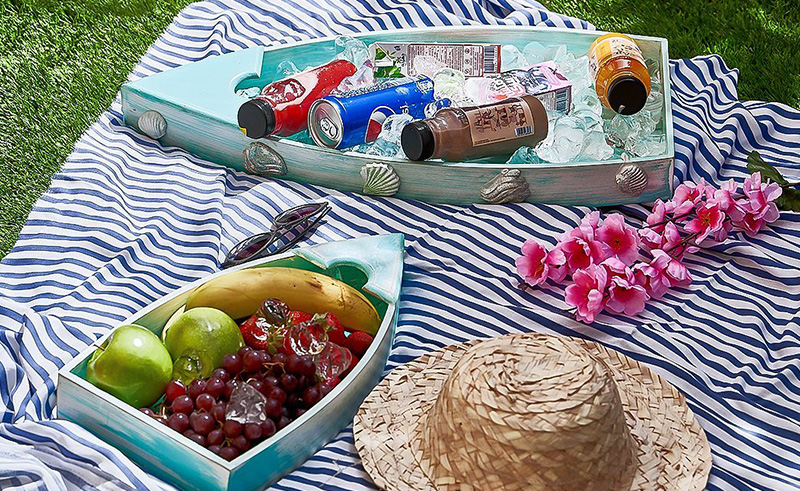 There's a delightful aspect to home accessories that take mimicry to the extreme, whether it's chicken-shaped egg holders or boat-shaped trays. The Boat Tray Set by Chez Maleeha will add a nautical theme to your next outdoor picnic.