25 Regional Stars Unite to Raise Relief Funds for Gaza in 'Rajieen'
The region's most popular acts unite to spread awareness about the catastrophic events in Gaza, and raise funds for the PCRF.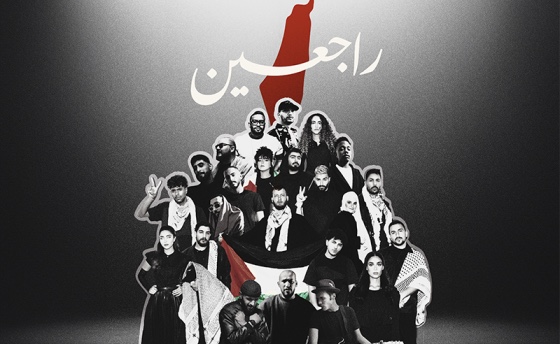 In response to the ongoing crisis in Gaza, 25 of the most prominent artists of the West Asia and North Africa (WANA) region have banded together to show their unwavering support for the people of Palestine through their newly released track, 'Rajieen'. The track is an anthemic fusion of hip-hop, rap, Arabic backbeats, and soulful ballads.
Recorded and produced at Levant Studios in Jordan under the executive production of Nasir AlBashir, and with additional production of Marwan Moussa and Amr Al Shomali, the track features Saif Safadi, Dana Salah, Ghalia Chaker, Afroto, Nordo, Saif Shroof, Akhras, Issam AlNajjar, Amir Eid, Balti, Wessam Qutub, Dina Wideidi, Bataineh, Omar Rammal, AlYung, Randar, Vortex, Small X, ALA, Fuad Gritli, Donia Wael, Zeyne, Marwan Moussa, Marwan Pablo, and Dafencii.
With such an influential list of contributors, the track aims to deliver a contemporary reinterpretation of beloved anthems such as 'We are the World' and 'The Arab Dream' that echoes the struggles and emotions of a new generation.
Shot in Olive Wood Studios in Amman, Jordan, the music video is directed by Omar Rammal and Hayat Abu Samra, with creative direction under Farah Hourani. The video conveys the unwavering support of the artists, whose unity represents a collective stand for Palestine. It includes footage from Gaza, as well as historical footage of the occupation in Palestine, in an attempt to raise awareness around the narrative that has been underrepresented in Western media.
The project was organised by a team of creatives including Nasir AlBashir, Palestinian-Jordanian writer and actor Hayat Abu Samra, Jordanian creative director Farah Hourani, Reem Kanj, co-founder of Ego & East Talent Management, Founder of Beirut Records & International Artist Manager Hiba Abou Haidar, Libyan director Ahmad Kwifiya and Palestinian filmmaker Omar Rammal. All revenue generated by this track and video will be committed to supporting the Palestine Children's Relief Fund.