Need a Break? Get Some Breakfast at Garden 8's Sumptuous Spots!
Because sometimes all you need is a good ol' recharge…in the form of a Curled Salmon Toast and maybe even a Coconut Latté.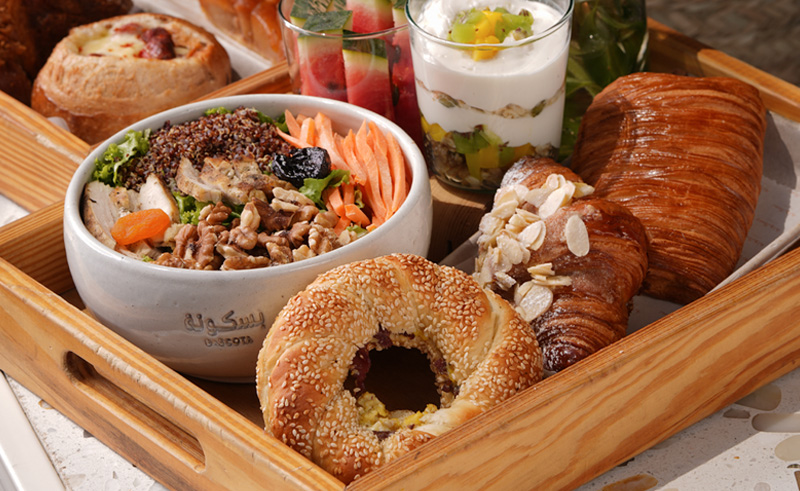 One may find themselves facing a weekday morning, gripped by the lamentable plight of craving a hearty breakfast yet lacking the time or motivation to embark on culinary exploits. Perhaps, in a moment of resigned exhaustion, they whisper, "Well, I suppose a bowl of cereal will suffice... again," surrendering to the spirit of culinary defeat. But, fear not, for this is no time for despair.
Amidst the hustle of a rushed morning routine, a treasure trove of indulgent breakfast options awaits at Garden 8. With an array of more than ten delightful destinations, armed with the finest ingredients and ready to appease even the hangy-iest (we understand, especially in the morning), your breakfast dilemmas are on the brink of resolution.
Whether you're a frazzled parent, facing a day of remote work in dire need of edible inspiration, or simply someone seeking to relish life's simple and often overlooked joys through the medium of a morning meal, Garden 8 is where breakfast dreams have the chance to become a scrumptious reality.
And if you're feeling indecisive, then oh do we have a treat for you…
Pink Blanket Mama
Recommended Dishes: Shakshuka, Acai & Orange Juice, and Calzone Calezione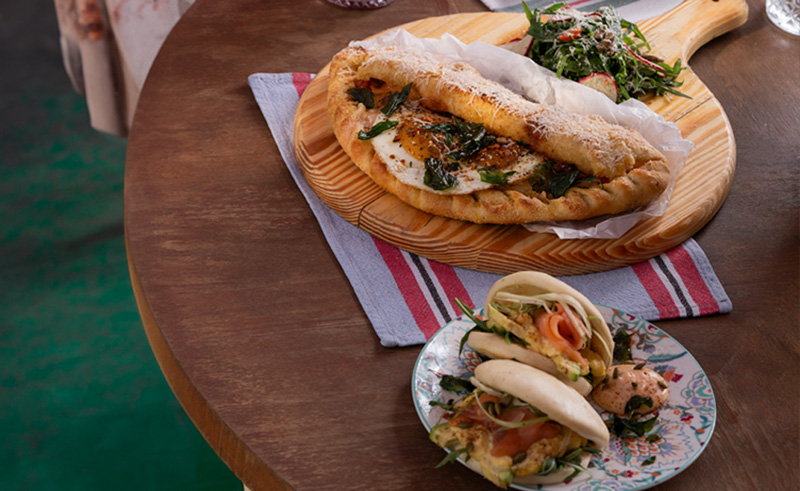 An enticing blend of poached eggs enveloped in a spiced tomato and bell pepper sauce, accompanied by a lively medley of acai berries and zesty oranges, and crowned with a fluffy oven-baked Calzone pocket bursting with savory sweetness—Pink Blanket Mama offers a breakfast trifecta poised to set your taste buds dancing with delight.
Salt of Earth
Recommended Dishes: Curled Salmon Toast and Truffle Egg Bake & Egg Scramble French Toast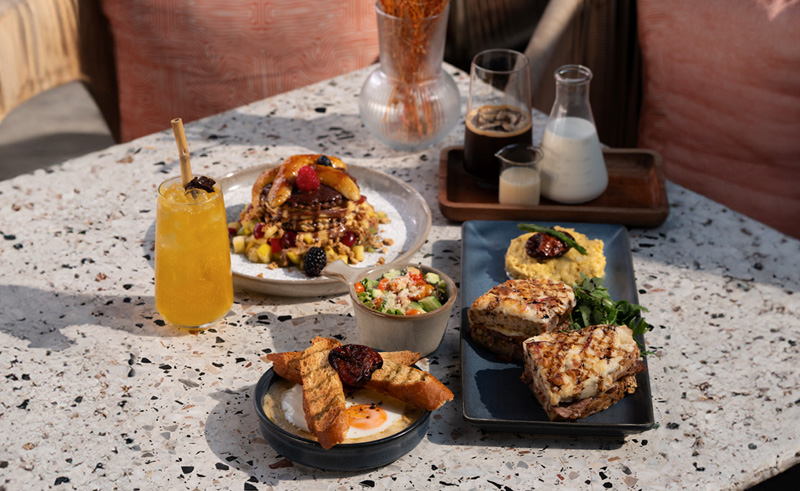 Salt of Earth's Curled Salmon Toast features tender, impeccably cooked salmon, elegantly arranged on a bed of toast. Paired with the Truffle Egg Bake, you'll relish the earthy richness of truffle-infused eggs, expertly baked to perfection. And for those with a sweet tooth, the Egg Scramble French Toast offers a delightful fusion of fluffy, golden French toast harmoniously mingling with soft scrambled eggs.
Ozel
Recommended Dish: Mediterranean for 4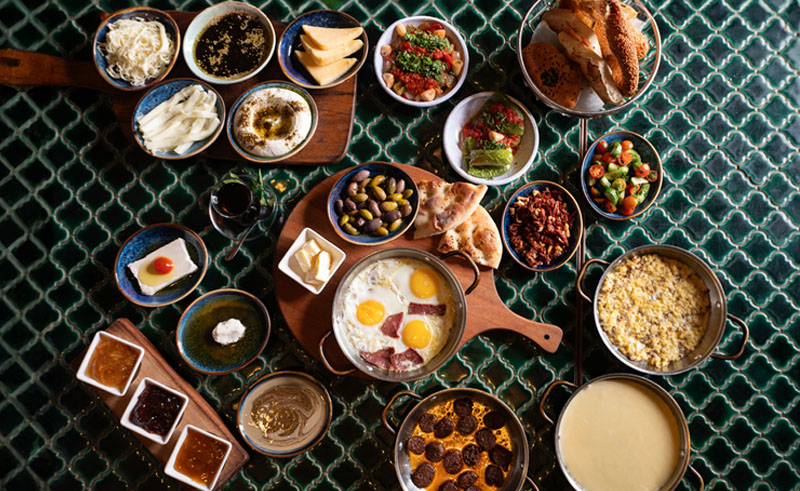 Ozel's Mediterranean for four (or just one, we won't judge) is essentially a Turkish breakfast extravaganza. It includes a variety of dishes, from sujuk-infused omelettes and shakshuka to an assortment of cheeses, salads, olive dips, jams, and, of course, Pide bread (because Pide bread is a must).
Umami
Recommended Dishes: Baked Feta Skillet, Scrambled Eggs and Sausage & French Toast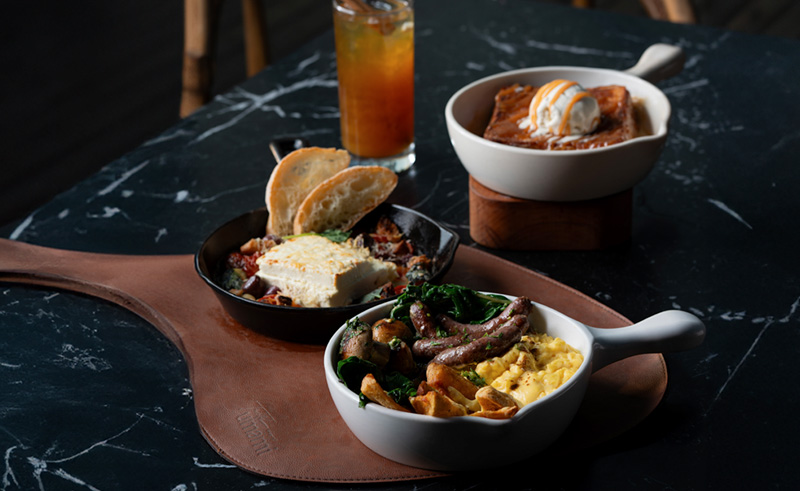 Umami's Baked Feta Skillet delivers a savoury delight by harmoniously blending the creamy richness of feta cheese with hearty skillet-baked veggies. If you're craving a savoury breakfast, the Scrambled Eggs & Sausage is a satisfying symphony that will keep you full, while the French Toast offers a sweet sensation with its golden slices of toast soaked in delectable syrup and crowned with a generous scoop of ice cream.
Otto
Recommended Dishes: Blueberry Brie Melt and Golden Eggs & Panino Salsiccia e Scamorza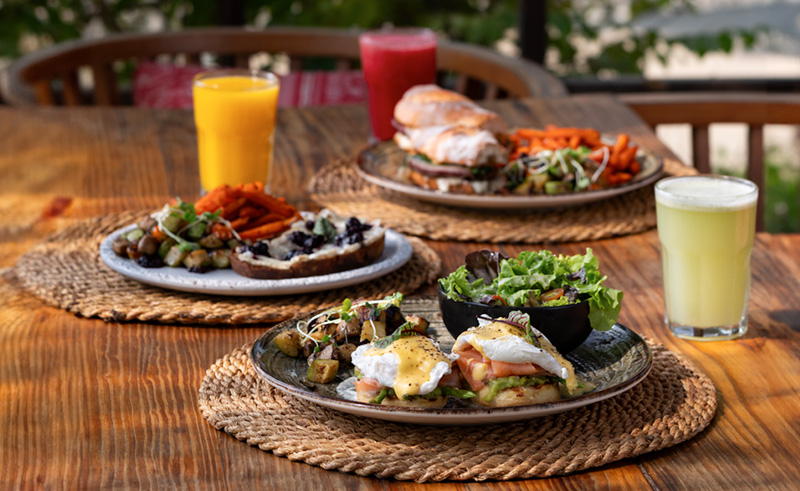 Fresh blueberries generously piled on a bed of Brie cheese, accompanied by a side of grilled greens, showcase Otto's innovative take on a sweet and savoury classic. For those craving an extra dose of Italian flair, their Southern Italian Cow's Milk Scamorza cheese panini guarantees a tantalising experience with wholly unique flavours.
Bascoota
Recommended Dish: Assorted Bakeries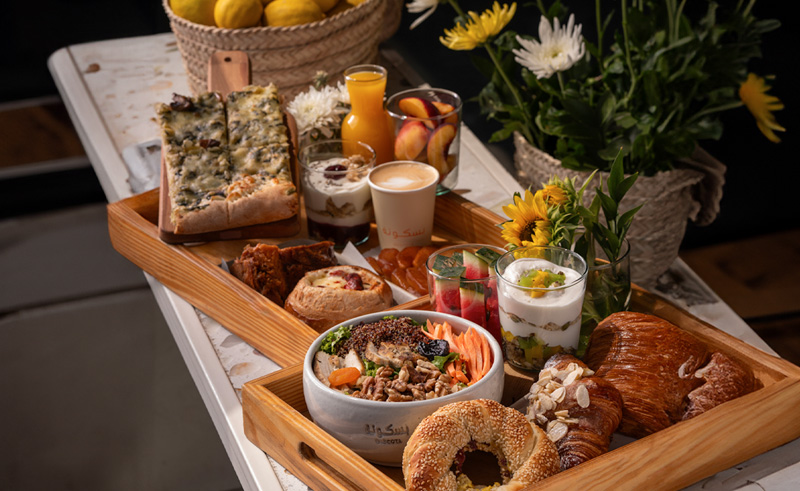 For those seeking a lighter breakfast option, Bascoota delivers with a fresh and flaky assortment of pastries, salads, and, of course, a steaming cup of coffee.
20 Grams
Recommended Dish: Croisandwich Smoked Salmon & Coconut Latté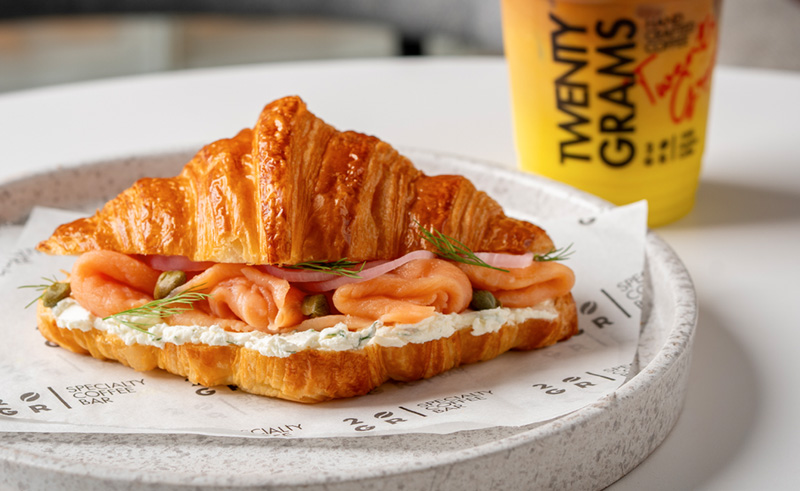 Known for their viral coconut-infused latte, 20 Grams offers a delectable culinary pairing to accompany this brew - a freshly baked, flaky croissant sliced in half, generously filled with smoked salmon, and complemented by a soft spread.
30 NORTH
Recommended Dishes: Sweet Potato Eggs Benedict & Smoked Turkey and Avocado Croissant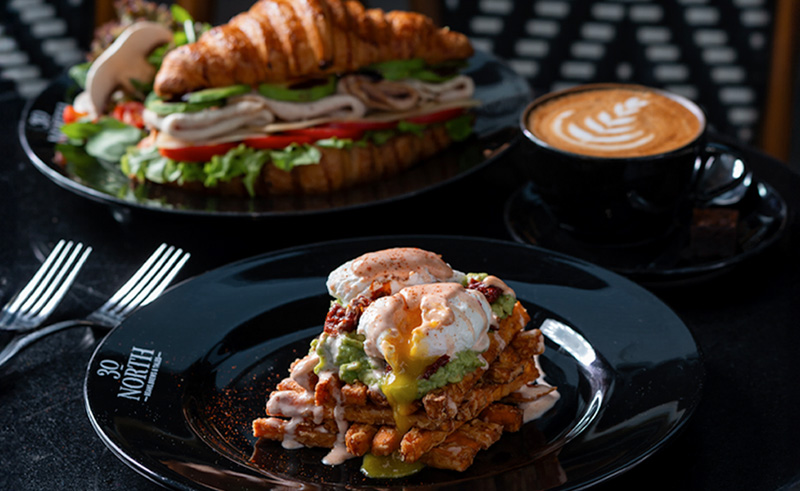 When 30 NORTH says sweet and savoury, they mean it. Presenting a traditional eggs benedict on a not-so traditional sweet potato base, 30 NORTH's Sweet Potato Eggs Benedict puts a truly innovative twist on the traditional egg breakfast. If perhaps you find yourself craving something solely savoury, their Smoked Turkey and Avocado Croissant is a literal filler.
Al Beiruty
Recommended Dishes: Zaatar Labna, Grilled Halloumi, Foul Medames & Eggs and Makanek
Al Beiruty delivers precisely the kind of breakfast you'd anticipate from an establishment with such a name – authentically traditional and bursting with flavour. From the beloved Egyptian classic, Foul Medames, to the savoury and decadent Grilled Halloumi, every dish is a delightful journey for your taste buds.