Playing With Fire: Kokomo Sizzles on the Shores of Somabay
Like a moth to a flame, Kokomo investigates the ancient art of flame in modern-day cooking.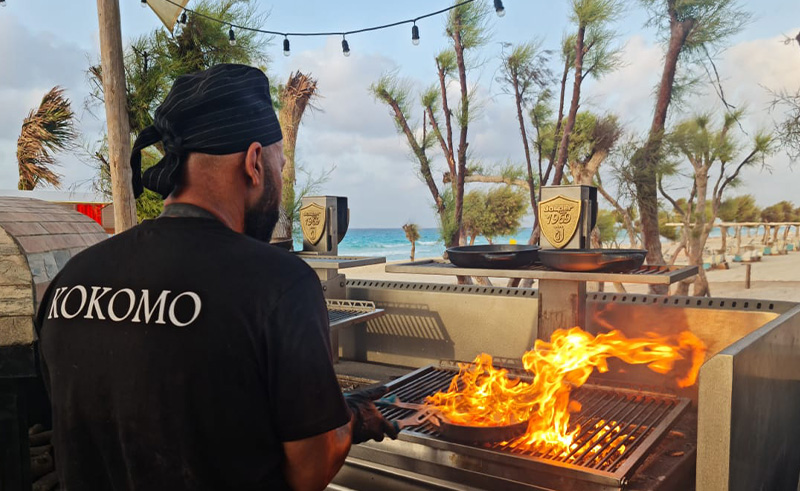 The world of intuitive eating has been dead and buried, or so we thought. Our dreams of eating organically, wood-firing warm meals and dining on terrenal elements have long been thrown out the window when all-natural eatery Kokomo entered the scene, CPR-ing the smoky embers back to life.
After an original inauguration on the coast of Sidi Heneish in the summer of 2022, Kokomo headed east to redder shores. It is now open on the serene shore of Somabay, and is in preparation for a Cairene opening in Marakez' District 5 later this year.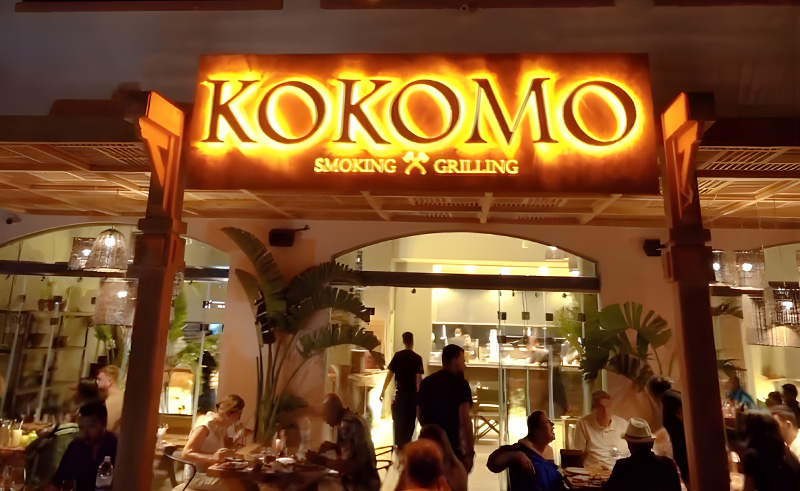 We look out for Kokomo's moves across the country simply because the restaurant gave us no choice but to. Kokomo stole our hearts with the warm kindness of its intuitive cooking and the natural nonchalance of its seasonal ingredients. In a conversation with the restaurant's business development director, Ahmed El Meghalawi, he explained that, "the Kokomo kitchen is entirely powered by wood and everything will be cooked to order. A variety of woods will be burned daily to create embers that expertly enhance the natural characteristics of the ingredients with an underlying smoked flavour."
It is precisely this commitment to natural elements that so compelled the creators of Kokomo to head to Somabay. "Somabay is a truly enchanting destination, one that bestows its natural splendour upon domestic and international visitors alike. To us, it made for an exceptional location perfectly aligned with our mission to offer a menu that would harmoniously complement its exquisite surroundings."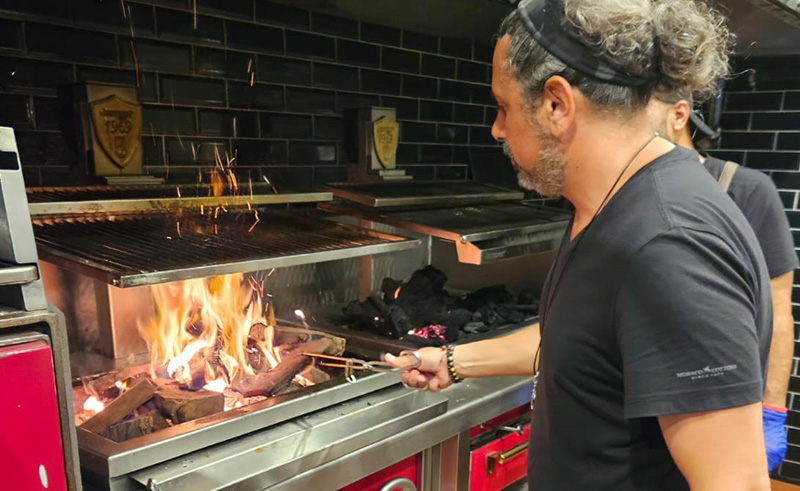 Powered by the creators of beloved Cairene restaurant Eatery, the gurus behind Kokomo come armed with good taste and holistic cooking practices. "Our Kitchen is an open-plan, allowing guests a clear view of the action unfolding in the kitchen. It is important for us to invite diners into our world and show them how enjoying cooking can be, and how good ingredients can become great when grilled over the wood fire."
At its core, Kokomo is like a moth to a flame. The restaurant is entirely built around the harmonious matrimony between food and flame, a meeting that makes it into various food types, like burgers, briskets, salt beef, paella, artisanal pizzas, and an array of delicious seafood creations.
Kokomo's founder and executive chef, Omar Fathy, possesses an enduring fascination with the elemental force of fire, "I have an unwavering passion for the culinary arts which, when coupled with a relentless dedication and determination, converged to establish Kokomo as a distinctive destination unparalleled in our community. At the core of this culinary vision lies the elemental act of cooking over an open flame, a practice that goes back to the origins of gastronomy. The primal use of fire as a cooking medium transcends cultural boundaries, uniting societies through this shared, time-honoured tradition."