Le Phare: How This Egyptian Design Lit a Path to Nutrition in Africa
Five Egyptian Architects represent Egypt at the UIA 2023 World Congress in Copenhagen with their award-winning proposal.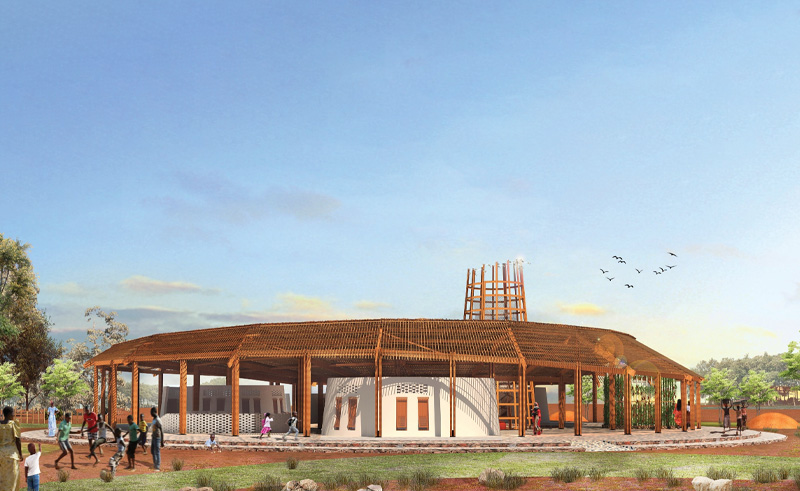 Located in the Sédhiou Region in Senegal, a community centre proposal that represented Egypt at the UIA 2023 World Congress in Copenhagen, Denmark won first prize in the 'Innovation of the Year' category at Big 5 Construct Annual Impact Awards 2023.
Titled 'Le Phare: An Architectural Prototype for Combating Hunger in Polluted Areas in Africa', the project was designed by Cairo-based design firm Five Egyptian Architects' co-founders Ali Khaled Elewa, Mostafa Ahmed Zakaria, Sherif Khaled Abdelkhaleq, Hoda Essam Abdelmawla and Ebtesam Elgizawy, in collaboration with Essam Abdelmawla, Dean of Aquaculture Research Center at the Arab Academy for Science, Technology and Maritime Transport.
"The design introduces self-sustaining, flexible spaces that address hunger by ensuring food security in areas that face challenges of soil and water contamination which lead to malnutrition," Elewa tells SceneHome. Le Phare, French for 'Lighthouse', symbolises enlightenment and hope for the lives it's meant to impact. "It features circular, free-standing structures that enclose a courtyard, serving as a secure space for children and their mothers."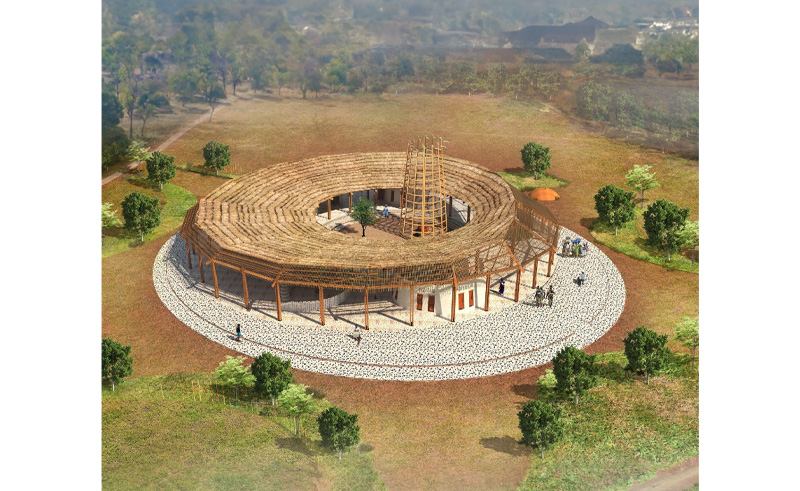 On land spanning 1,560 sqm, Le Phare is built on 220 sqm, leaving the rest open. It's divided into two primary zones: the habitation zone comprises of a hospitality space with eight beds, changing rooms, toilets, administration facilities, and indoor and outdoor recreational areas, and the productivity zone which incorporates a spirulina ponds, hydroponic systems, a cooking area, a production unit, storage, a biogas setup and a dew harvesting tower.
"Spirulina ponds serve as an effective solution against malnutrition while hydroponic systems use recycled water pipes to cultivate fresh vegetables," Elewa says, explaining how their technology addresses soil contamination. "Organic waste, biomass and agricultural residue are collected into an on-site bio-digester, generating biogas that serves as fuel for cooking, lighting and heating."
As for water contamination, a hattrick of approaches were applied for collection and purification. "Firstly, the roof was designed as an impluvium to gather rainwater. Secondly, a dew harvesting tower captures moisture from fog. And thirdly, an underground well extracts and treats groundwater for safe consumption," Elewa explains.
"Water collected from the dew harvesting tower and impluvium roof is directed through channels filled with rocks and Moringa seeds, facilitating its purification before being stored underground," Elewa continues, referring to the seeds sourced from the project's green belt; Moringa and Neem trees that encircle the design. "Moringa was chosen for its nutritional and pharmacological properties; it produces essential seeds used for water purification. Neem, on the other hand, serve as mosquito repellents and offer remedies for malaria and skin ailments."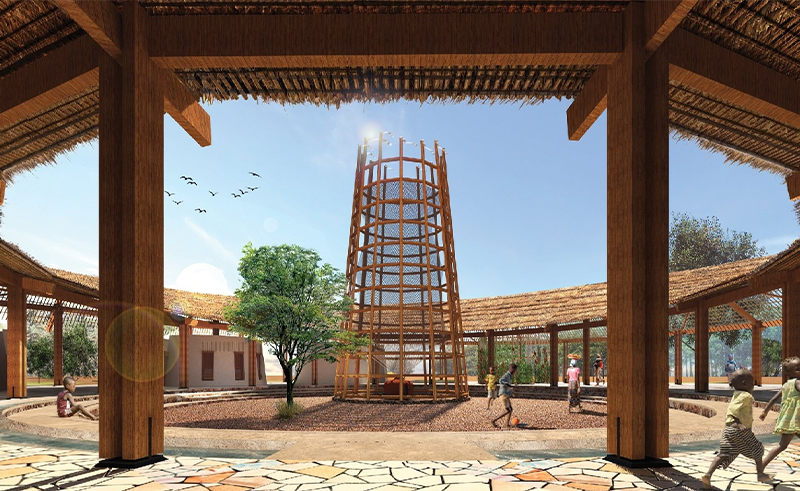 The design allows air to circulate between its elements and, if needed, enclosed spaces can be either added or removed. "Intimate spaces between the design's elements provide an enriching and playful environment, contributing to children's physical and psychological well-being," Elewa adds.
"Our concept was manifested through a circular periphery, incorporating essential spaces in freestanding conical frustums inspired by traditional African settlements. Its circular layout evokes a feeling of protection and safety."
A circular roof is positioned atop the conical frustums, forming a double roofing system with an independent structure to optimise flexibility. "The roof's design is responsive to climate conditions. The southern side is perforated to allow filtered sunlight to penetrate and create a semi-shaded environment for the spirulina pond and hydroponic crops." In the middle of it all, the courtyard is designated for outdoor activities. At its heart, sunken seating arrangements resemble an amphitheatre, catering to gatherings and celebrations.
"The project operates as a self-sustaining architectural prototype that combats hunger and serves as a community hub," Elewa says. "It's flexible enough to expand and contract based on evolving requirements without impacting the primary structure." The design emphasises constructability by using affordable, long-lasting and readily available materials.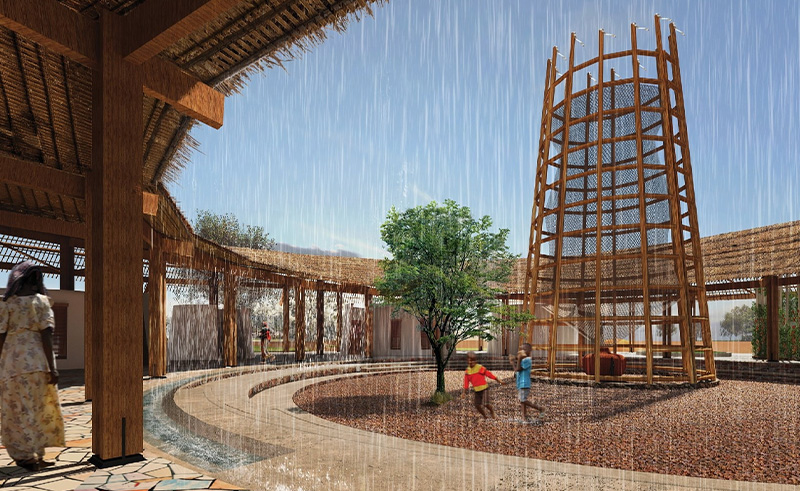 Stabilised clay bricks are employed in the conical frustums, offering environmental benefits. "The stacking arrangement of these bricks allows for perforations in the upper sections of the walls, facilitating upward movement of hot air. Each conical frustum is topped with a reciprocal roof, where each bamboo beam is supported by the one before it. The result is a robust, self-supporting structure that's covered with woven bamboo," Elewa explains.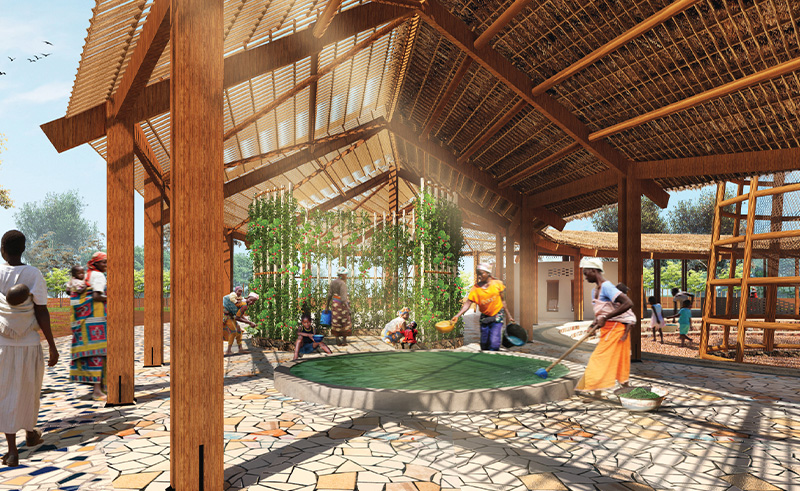 To minimise heat transfer between layers, an additional circular roof was constructed. "It consists of columns and beams made of rosewood, which was chosen for its rigidity and termite resistance." Bamboo frames were used on the dew harvesting tower, keeping it lightweight and stable, and a permeable mesh is affixed to the main structure to allow air circulation. "This mesh captures water droplets descending with gravity and directs them to the collector," Elewa adds.
"To conserve natural resources, waste materials are repurposed in the construction process. Broken tiles are used as finishing materials for the ground floor and tires were transformed for children, adding a fun, eco-friendly element to the design. Furthermore, the foundation of the project is constructed using laterite stone, providing a durable base."
To streamline the construction, all of the aforementioned design elements are individually separated. Each space is meant to be built using the stabilised clay bricks and conical shapes, allowing for efficient construction while maintaining the design team's initial form.
With its many, carefully considered approaches, Le Phare managed to cover a slew of Sustainable Development Goals, such as SDG Goal 2: Zero Hunger, SDG Goal 3: Good Health and Well-Being, SDG Goal 6: Clean Water and Sanitation, SDG Goal 7: Affordable and Clean Energy, SDG Goal 11: Sustainable Cities and Communities, SDG Goal 12: Responsible Consumption and Production, SDG Goal 15: Life on Land.
While these goals may seem distant and abstract, the design hopes to address immediate concerns for long-term sustainability, lighting a path to nutrition in Senegal and across the continent.