The Visionary Architecture of Yehia El Zeiny
Taught by visionaries Hassan Fathy and Ramses Wissa Wassef, the Egyptian architect produced designs across continents
Back in the day, architects would spend weeks manually visualising their designs - a thought that some may find difficult to relate with the emergence of AI text-to-image generation. But it isn't really the same is it? These incredibly detailed drawings by Egyptian architect Yehia El Zeiny are proof.
Born in Cairo in 1919, El Zeiny went on to lead a new generation of Egyptian architects who masterfully blended vernacular, Islamic and modernist architecture. Taught by pioneering architects Hassan Fathy and Ramses, El Zeiny's work catered to modern vision across the world from Spain and Austria, to Uzbekistan and the Ivory Coast.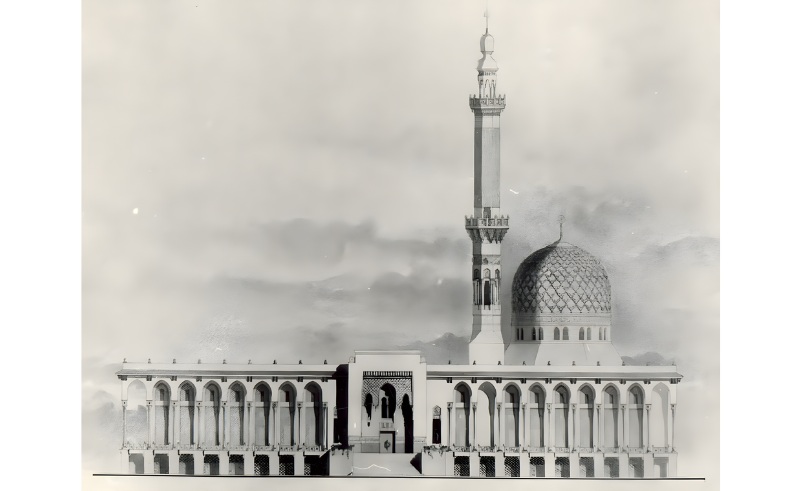 El Zeiny went to the same school as former Egyptian president Anwar Sadat, graduating a year after the late leader. Concluding his Bachelor's studies, El Zeiny's graduation project - a Journalist Syndicate Country Club - was unveiled in 1942. El Zeiny obtained his Master's degree in architecture and Islamic arts from Cairo University in 1947. Meanwhile, his graduation project during his postgraduate degree in France would become the first of many design proposals that garnered world-wide acclaim.
Some of his visionary works include a memorial in 1956 (which granted him a meeting with then-president Gamal Abdel-Nasser), Cairo International Trade Center in 1962, Vienna Islamic Centre in 1969 followed by the Islamic Centre in London, and proposals for the urban development of Port Said in 1975.
Following his design of Niger Islamic University in 1977, his work on Basra University in Iraq began construction in 1979, with elements of his design still acting as a landmark today. In 1980, El Zeiny completed the design of the Islamic Cultural Center and Mosque in Madrid.
Aside from the architectural projects, El Zeiny also participated in master planning and urban redevelopment projects, including the Master Plan of Northern Gamalaya in 1982 and the revival of the Cultural Centre in Tashkent, Uzbekistan.
When African countries began celebrating their independence, a slew of modernist architecture with Avant Garde forms popped up across the continent. El Zeiny followed suit when he envisioned the African Development Bank's headquarters in Abidjan, the economic capital of Ivory Coast.
The architect's extensive portfolio of designs granted him a plethora of honorary medals from the Egyptian state, universities across the country and various architectural bodies. El Zeiny held a number of illustrious positions, including consulting the Ministry of Housing and Urban Development while teaching at Helwan University.
When he wasn't designing, El Zeiny would write about architectural theories, publishing a host of works including one that explores the architecture of Hassan Fathy.

Photography Credit: Waly Center