Special Interview With Halle Bailey on Disney's 'The Little Mermaid'
In this special interview, singer and actress Halle Bailey talks about the challenges of embodying a Disney princess in the live action remake of 'The Little Mermaid'.
Disney's live-action adaptations of beloved classics continue to captivate audiences, and the upcoming release of 'The Little Mermaid' is no exception. Set to premiere on May 25th, Halle Bailey takes on the iconic role of Ariel, the young mermaid who dreams of exploring the human world. Halle, known for her exceptional vocal abilities and songwriting talent as one-half of Chloe x Halle, brings her own unique charm to the character.
Halle's musical journey with Chloe x Halle has been meteoric. The duo's rise to success began 14 years ago when their cover of Beyoncé's 'Best Thing I Never Had' went viral on YouTube, leading to appearances on the Ellen DeGeneres Show. Their dedication and artistic growth ultimately caught the attention of Beyoncé herself, resulting in their signing to her Parkwood Entertainment Company.
From cameo appearances in Beyoncé's 'Lemonade' to performing as her opening act on the 'On the Run II Tour', Chloe x Halle have continued to make waves in the music industry. Their self-produced and self-written debut album, 'The Kids Are Alright', solidified their position as a highly acclaimed duo. Alongside their music, Chloe x Halle have made memorable appearances on national television networks, including their starring roles in the 'Black-ish' spinoff, 'Grown-ish'.
Venturing into her first feature film, Halle Bailey dives into the deep end of the movie industry, taking on a role that is rife with high expectations. In this special interview, Halle Bailey shares the challenges of embodying the essence of a Disney princess, and the joys of reinventing this fantastical magical adventure for a new generation.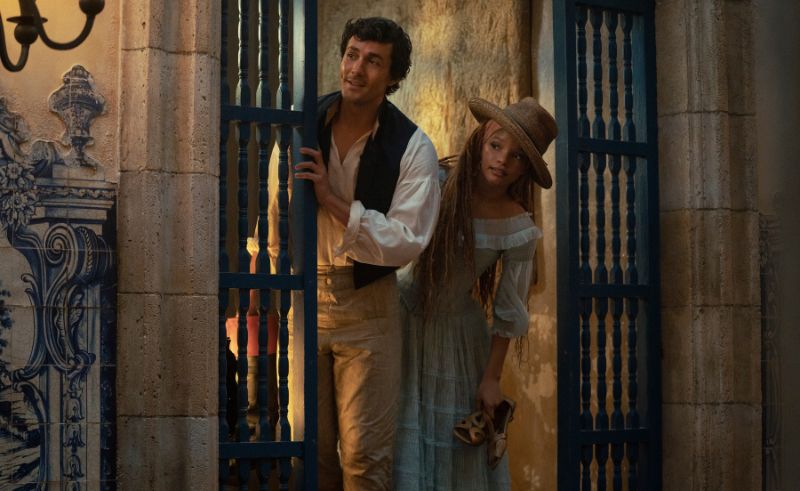 Tell us how this project and role came to you.
This dream job really began for me in 2018. My sister and I are musicians, and we had two very big performances early in the year with the Super Bowl and the GRAMMY Awards®. A few weeks after that, I got an email asking me to audition for 'The Little Mermaid'. I was like, "What, me, audition for Ariel?" And I was so excited because this film has always been one of my favourites, ever since I was a little girl. Shortly thereafter, I auditioned and met with Rob Marshall and John Deluca, and they told me their vision. Before long, I had been catapulted on this amazing journey to becoming Ariel.
What can you tell us about Ariel and how you relate to the character?
Well, I have always loved the water. I grew up in Atlanta, Georgia, and we had a swimming pool where we would just splash around all day in the summertime. I remember watching 'The Little Mermaid' on repeat and pretending that I was Ariel, swimming in the water and singing the songs, but never in a million years did I think that I would ever be able to play her.
There's something so special about being a mermaid because it's a mix between this mythical, beautiful creature and your authentic self, and I think that's why so many children respond to the character. Because it's like, yes, I can be this sort of magical creature by just being who I am. That's why it really resonated with me. It's just so special to see her go on this journey and fight for herself and what she wants. I feel like we are on similar journeys, and that is why I have been so dedicated to the role and so very honoured to be able to play her.
Before this film I had always considered myself a musician, so now that I am venturing into acting, it feels like I'm hopping into this whole other world. There are things that I'm learning every day, like Ariel, who doesn't know much about the world above water and is constantly stunned and shocked by all these new things and realisations. We both come from big families, and I am the baby out of the girls, just like she is. And my father, like Ariel's, always wanted to protect me and shield me from certain things in the world. Which made working with Javier Bardem so amazing, because I was able to feel like I was really talking to my father about venturing out and growing up.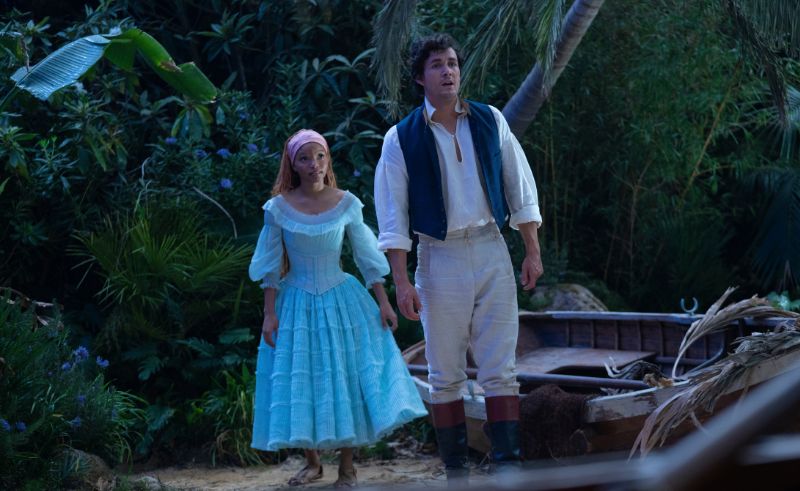 Tell us about the story.
'The Little Mermaid' is the story of this young, beautiful mermaid who is willing to give up her voice, give up her life under the sea, to see the land above water because she's just so passionate about it. She's so filled with curiosity and is willing to do anything to fulfil her dream of seeing beyond her world under the sea. So, she makes a deal with Ursula where Ursula will take her voice in exchange for human legs, but she goes above and beyond to make sure that Ariel does not get the prince to kiss her.
Ariel's dream is to meet the prince, so it's a bit heart-breaking because she gives up so much, and the one thing she needs to be able to communicate with Eric is her voice. It's just a beautiful journey of two people who are passionate for different worlds and want to know more. But it's also about a girl who wants to grow and experience things beyond the only world she's ever known.
How would you describe Ariel?
She is passionate, has so much wisdom, and is wise beyond her years. She knows what she wants, and I feel that I connect with her in so many ways. I don't know if you're into zodiac signs, but I'm an Aries, and I'm a fire sign and I feel like Ariel would be an Aries, too, because she doesn't back down.
How was it working with Rob Marshall as a director?
Working with Rob Marshall was an amazing experience. It was inspiring to see somebody be so passionate about their work and so particular about every little thing, and I think that's what makes an artist an artist; you know what you want, and you push until you get it. I'm happy I was able to work with him and have him guide me along this journey because this was my first big film. But at the same time, he pushed me and challenged me, and I learned so much from him.
Talk about the music in the film. Can we expect any new songs?
Oh, my goodness, I love the music in the film. First, the iconic songs that were in the animated film are just legendary. Those songs will never die, which is one thing that I especially love about music, it can live on forever. It was exciting to be involved with the original songs as well as some new ones. Ariel has a new song called 'For the First Time', which she sings when she goes on land and discovers all these new things, and everything is scary and frightening and yet exciting and new. It is a beautiful addition, and in fact, I think it might be my new favourite song; that and 'Part of Your World'. Eric has a new song called 'Wild Unchartered Waters', which is this big, beautiful song that is basically a cry out to Ariel, like, who was this woman who saved me… the song is just so heartbreakingly beautiful.
Of course, working with Alan Menken was wonderful. I was stunned when I first met him and tried not to look star-struck but seeing what a beautiful person he is and how normal and cool he is made me feel very comfortable and happy. He has written so many amazing songs that have stuck in our hearts, and he's still filled with so much passion and excitement for what he does. As a musician, to just be in the same room with Alan and see how he builds and puts it all together, I feel like I learned so much from him. And Lin-Manuel Miranda, I love his work. He brings such a fun energy to every project that he's on and working closely with him and having him guide me through the songs was such an honour. I enjoyed seeing them work up close. There's not much more you can say about Lin-Manuel Miranda that hasn't already been said. He is simply brilliant.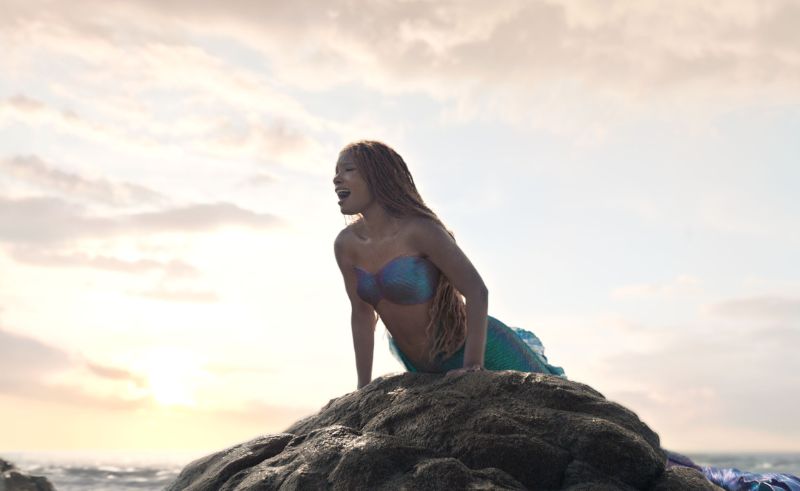 How was it doing pre-records with the other actors?
Recording with Awkwafina, Daveed Diggs, and Jacob Tremblay was a memorable experience. I love them all so much, especially Jacob. Every time I looked at Jacob, I thought of my baby brother, and the relationship between Flounder and Ariel is such a beautiful one where she is there to guide him, and he's there to always protect her and do the best that he can, and it's just the sweetest thing. And Awkwafina as Scuttle is hilarious. She knows who she is, and she knows what she wants, and I was inspired watching her every day. She is just authentically herself, and I think that's what makes her so very beautiful. And then Daveed Diggs, as Sebastian is so great; he can talk and rap fast. He has a special relationship with Ariel and really wants to be there for her and protect her. Even though he was kind of given that role by her father, he is still very concerned for her, and watching him try to control her is one of the funniest parts of the movie.
The pre-records were used for the blue screen scenes with their characters, and filming those was one of the highlights of the entire production. Basically, we had puppets of Scuttle, Flounder, and Sebastian and puppeteers who were guiding me along through the dialogue, when it was just me in a grey cap against this blue screen in this rig talking to the air when nothing was there. It was really challenging and fun to discover new ways of filming.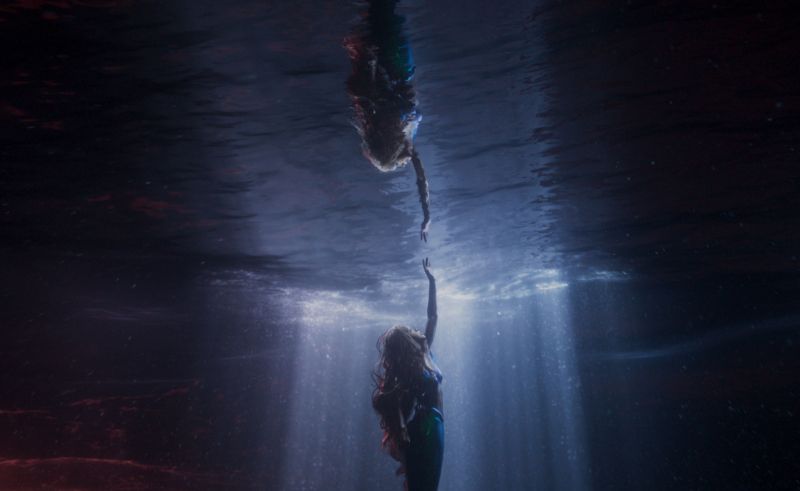 Talk about filming the scenes underwater.
I loved the tank work. It really made you feel like you were in the middle of the ocean, which helped me to connect with Ariel and feel like I was a real mermaid. There was so much stuff going on around you and all the hecticness with cameras and lights and all of that stuff, but to get to my safe haven, I could just go underwater. It was so very important for me to be in that environment as Ariel, even if it was during the storm because I could truly connect to who she is and what she was feeling as she was discovering all these new things for the first time. Being surrounded by water and having the waves really thrown in your face was just a powerful experience, and I'm so grateful for it. All the stunt training was very difficult, but it was fun.
How was it working with the rest of the cast?
Jonah Hauer-King is the perfect prince because he is the epitome of greatness, number one, and then also because he is himself in every way. He's so tall, so he gives off this very royal kind of feeling when he walks into a room. He is just a beautiful spirit inside and out, and I truly feel like that is who Eric is. He is an adventurer, but this gentle soul as well.
Working with Melissa McCarthy was quite an experience, too. I've always been such a huge fan of hers because she is hilarious and an amazingly talented actress. Watching her become Ursula was quite a transformation because she is a lovely, smiling human being, and then you see her become this amazing, dark, twisted, but hilarious Ursula, and it was the greatest thing you could ever witness. Doing rehearsals with her for 'Poor Unfortunate Souls' was a memory I'll never forget. Yes, it was funny, but a bit scary, too, because Ariel is nervous and trying to decide what decision she should make, and Melissa, as Ursula, does this marvellous job of pulling Ariel in. She's smart because she pulls her in with this sort of motherly love that she knows Ariel is missing in her life, so Ariel gravitates towards this new figure of comforting love that is promising her everything that she wants.